How to become a yoga instructor and travel the world
The best investment you'll ever make is doing your yoga teacher's training. It has allowed me to travel on a budget while teaching around the world and really connect with amazing people along the way.
5min
Becoming a certified yoga instructor through yoga teacher training programs doesn't necessarily mean you'll become a full-time teacher. But there are many reasons why you might want to pursue this career path, including the following:
1. To increase flexibility and awareness
Yoga expands our physical and mental flexibility. It teaches us the true definition of the mind-body connection.
2. To share
Teaching yoga requires a lot of different skills, specifically because you are working with people on an emotional, physical and mental level. And it can also be very satisfying to guide someone through this transformative journey of self-discovery.
3. To build confidence
Taking on the role of a teacher ultimately makes you a student as it teaches you so much about yourself, the world, and others. Being able to help and guide people along their physical and mental journeys through the tool of yoga can be very empowering and enriching. I have learned just as much from my students as they have learned from me and that is a beautiful exchange.
4. To create and meet a like-minded community
Teaching yoga connects you with lots of people on a similar life journey to yourself. People tend to open up when they feel safe and comfortable around you. This safe space forms the basis of self-development and personal growth for them and you. Remember: you are as much a student as you are a teacher.
There are plenty of places where your practice can take you. From big cities to small towns, hostels, hotels, resorts, yachts, and even cruise liners are always looking to offer their guests yoga classes, so you will have no shortage of yoga job opportunities around the world.
6. To make money
If you have a passion for yoga and wish to help others find joy in their practice, then being a certified yoga instructor could be a great way to do that while getting paid. Teaching yoga is also a great opportunity to make money while you travel.
How to become a certified yoga instructor?
Yoga has been around for thousands of years and has been practiced by people all over the world. Yoga is not just about stretching your body but it also focuses on mind-body wellness. It is a mental practice over and above a physical form of exercise.
Nowadays many people are becoming more conscious about their health and wellbeing. The demand for yoga instructors has therefore increased, and doing a yoga certification program has become more accessible.
A yoga course will train you in various aspects of yoga such as anatomy, philosophy, meditation, pranayama, and relaxation techniques.
Types of courses available are based on hours of training: 200-hour programs (done first), 300-hour programs (builds on the 200hr) as well as different styles of yoga that you can specialize in (Ashtanga, Vinyasa, Yin, Kundalini, Hatha, and Restorative Yoga to name a few).
Once you have completed your qualification — which can take from a few weeks to a few months, depending on the studio — you can teach anywhere in the world (as long as your course is Yoga Alliance certified).
Whether you use this to teach online or become a nomadic yogi is up to you, but the options on where to take and evolve your teachings and practice are endless. Never mind the immense personal growth and spiritual journey of self-awareness doing this takes you on.
Yoga teacher tranings can cost anywhere from $1000 to $3000 for your 200 hours of training and from $1000 to $6000 for 300 hours, but it gives back so much more in return. This is also dependent on if you are traveling to a different country to do it or not.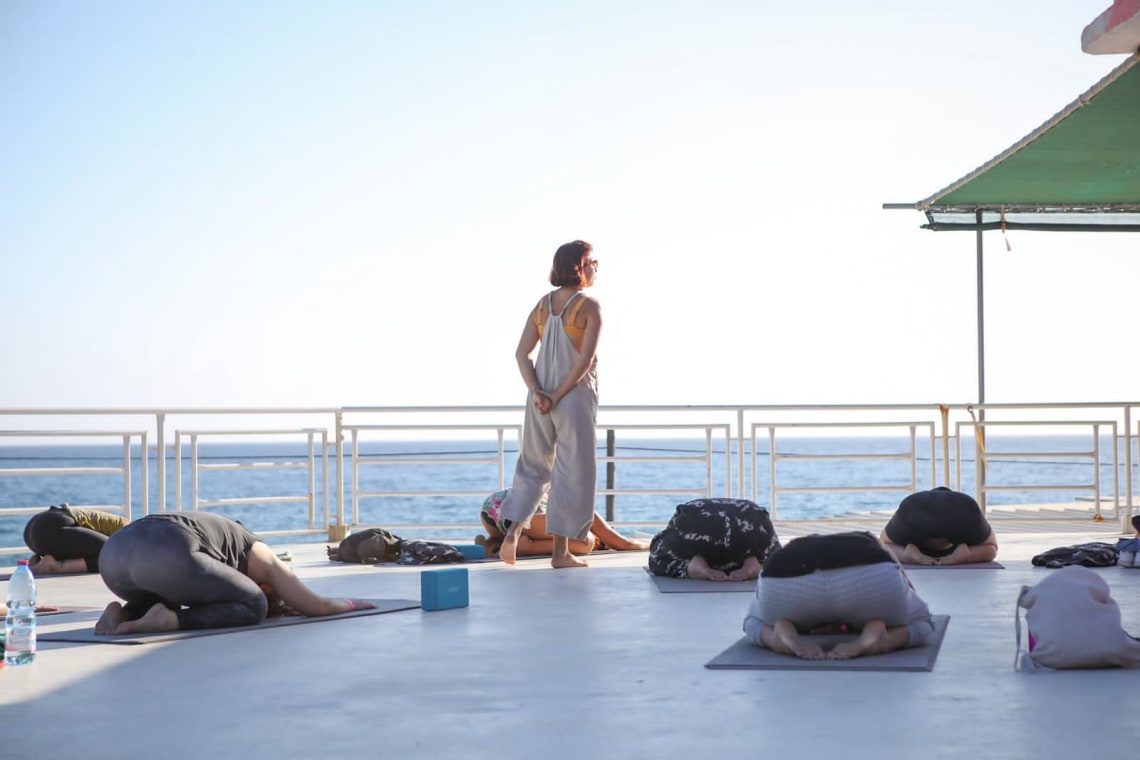 Is it possible to get yoga certified online?
Yes, absolutely! In fact, this is exactly how I did my 200-hour registered yoga teacher training. As with anything, there are pros and cons to doing your training online.
A big pro is that you can really expand and get comfortable in your own practice and own space. It takes away the element of comparison and "showiness" that can often be attached to doing yoga. This is not what it is about. It allowed me to integrate my yoga practice and its philosophies into my everyday life a lot more than a studio space provides.
You are able to become comfortable with where you are at and really focus on your own personal journey while connecting you to a group of amazing like-minded yogis all over the world — so it is a big cultural exchange too.
This can further become a great benefit when you one day want to travel because you have an international network to connect to and guide you on places to visit and people to work/collaborate with. Most of my travel experiences have been made possible through the people I met on my online training.
Just be sure to properly research the studio you want to do your training with (online or in-person) as quality is everything (this does not always mean the most expensive). I would suggest picking a studio/teacher you are comfortable with and that aligns with what you want.
Traveling while teaching yoga — how to make it possible
In my personal opinion being a registered yoga teacher has really helped me travel on a budget as it opened so many doors to different yoga instructor jobs (both paid and volunteer base). It has also connected me with the best people along the way.
Online platforms to join for jobs:
1. Worldpackers
2. Yoga Trade
3. Facebook Groups
Apart from this, you can also teach yoga online as you travel. However, this means being inventive in finding a quiet space and good wifi connection (or investing in a sim card with a good data plan to hotspot from) especially if you are living in hostels.
My top tips for traveling as a yogi:
1. Be adaptable
You have to adjust to the space you are currently in and find ways to make your environment a part of your personal practice or teaching.
2. Forget the yoga mat and pack a lightweight towel/sarong instead
A mat can be a hassle especially if you are traveling light. I have always managed to find or borrow a mat wherever I go, and if not the towel/sarong does the trick. There is also the option to buy a fold-up travel yoga mat.
3. Follow your intuition
Listen to your guts when deciding on jobs, and be open to the experiences that unfold.
Places to teach yoga as a volunteer around the world

For me, volunteering was the best way to get my foot into the door and Worldpackers really helped me find these jobs.
If you want to know more about Worldpackers, you can read: What is a work exchange and how does it work? and Traveling with Worldpackers: your top questions answered.
List of destinations seeking yoga teacher volunteers currently:
On a more philosophical level, my yoga practice and the lessons I have received from it have helped me so much with traveling and vice versa. An increase in awareness, intuition, connection, and openness has guided me through some stressful travel times as well towards really beautiful experiences.
Traveling on the other hand has also influenced my yoga journey by connecting me more globally, exposing me to different cultural practices, and showing me the true meaning of adaptability and flexibility in surrendering to the plan. When you really look at it, the philosophy of the yogi and of the traveler are one and the same.
Did you like these ideas? Subscribe to the Worldpackers Community for free and start saving your favorite volunteer positions until you are ready to get verified.