Get paid to travel: 9 ways to make money on the road
In this article I'm going to share 9 ways that you can get paid to travel, being a digital nomad or not.
7min


The words 'get paid to travel' sound crazy, right? How can you get paid for travelling around the world? Well, that's a good question, and I have the answers.
Today's world is better equipped than ever to allow for more flexible and remote working. We're doing away with the traditional 9-5, glued to office chairs and barely getting a glimpse of the outside - only to do the same 5 days in a row, constantly craving the weekend.
We're realising now that life needs to be lived! There is so much more to it than just working. We need to broaden our horizons, grasp the opportunities and experience the incredible variety of countries and cultures that we are blessed to have.
How to get paid to travel
If you've not had the chance to travel much in life, or are getting bored of your daily routine then maybe it's time to switch things up. Travelling the globe doesn't have to be expensive - it's much more accessible now thanks to work and lifestyle changes.
I'm going to share 9 ways that you can get paid to travel and even begin doing right now. Curious? Read these tips:
1. Become a video creator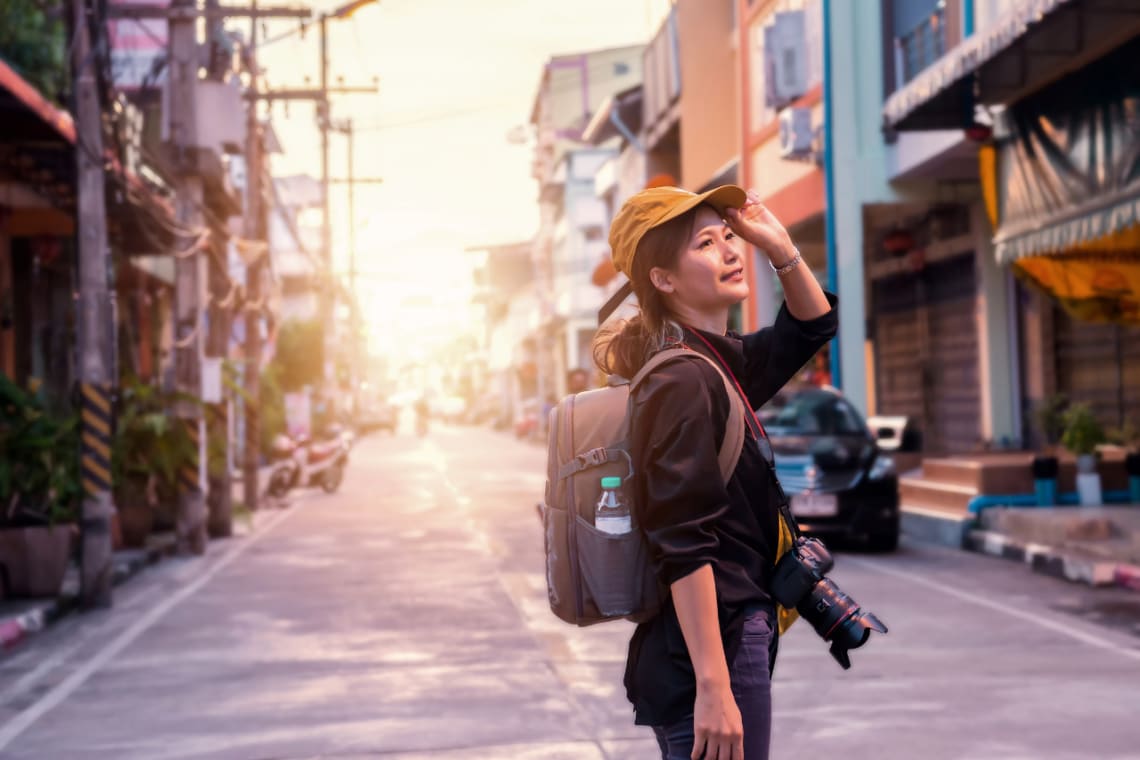 You don't have to be some amazing film producer to do this. In fact, as long as you have some form of filming equipment (can even be a phone) and the right attitude, then you're pretty much set.
Video creation entails a wide range of genres, from lifestyle vlogs to intricate short films - what matters is finding your style and giving it all you've got.
If you're a natural at being in front of a camera and have a knack for talking to people then try vlogging and/or lifestyle videos about a topic of your interest. If you're more of a creative and prefer to be behind the camera then perhaps travel videos (very fitting) or short films is better suited.
You're probably thinking 'okay I can do that, but where does the payment come from' - I hear you. If you post videos to YouTube then you can monetise them, meaning you get a small amount of money per video after a certain amount of views. If you make it big you can earn a lot!
Other ways include freelancing to create videos for brands and companies such as advertising for a travel business.
Also, in the Worldpackers platform there are a lot of places where you can volunteer making some videos in exchange for accomodation, such as these ones:
2. Brand partnerships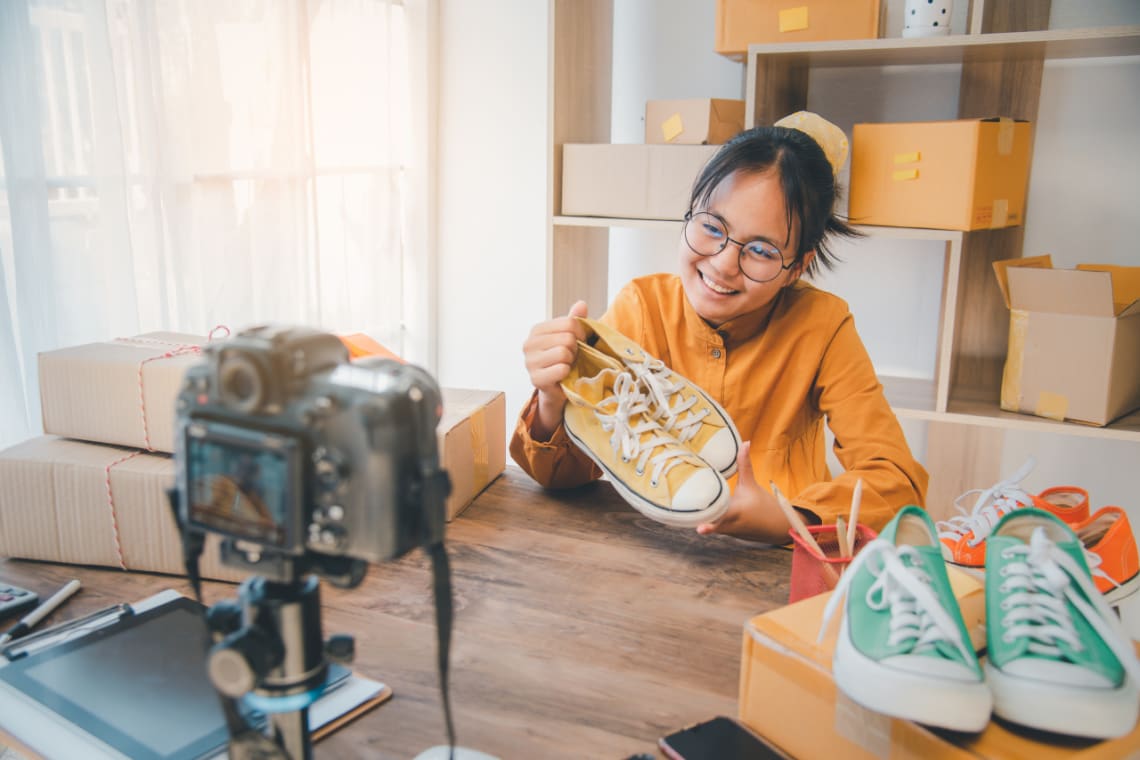 Speaking of working with brands, have you seen how popular brand partnerships have become?
If you really love a brand and you have an Instagram page, then you're already halfway there. A lot of this comes down to influencing i.e. having an online personality that people relate and look up to. This could be on social media like Instagram, Twitter and YouTube.
What brands look for is someone who truly loves their product or service and is willing to shout about it all over the internet. If you can create a good online presence and are willing to reach out to brands then you too can be an influencer, like these travel influencers.
However, though it sounds simple, it will take a lot of initial work to get going. That said, once you're up and running, as long as you're invested in it, you could work from anywhere in the world and all from your smartphone!
If you master your social media skills, you'll have many opportunities for working in exchange of accomodation and save a lot of money while travelling:
More inspiration of fellow travellers: Volunteering as a social media manager in Las Palmas de Gran Canaria, Spain.
3. Become a Fitness instructor or Yoga teacher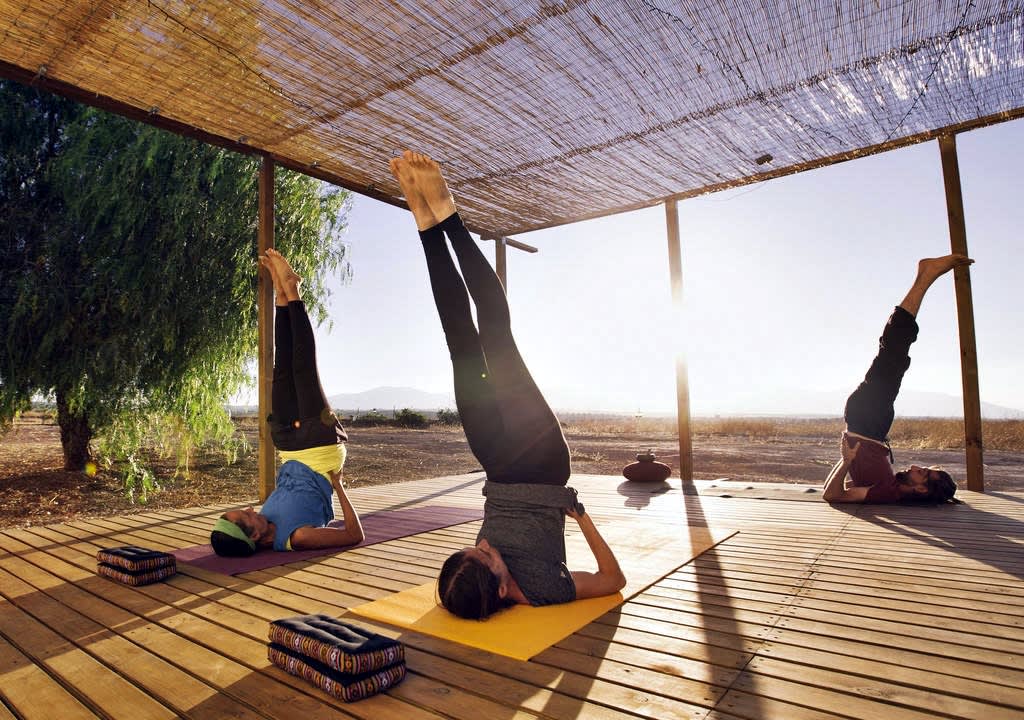 Do you live and breathe fitness? Wish you could workout with others across the world and earn money from it? Well, you can!
If you're already a qualified fitness instructor or yoga teacher, with the right insurance, you can teach in other countries.
A good way to start, or even an alternative to in person teaching is to teach online. YouTube has become the ultimate hub for fitness and wellbeing, with people teaching from all across the globe.
The best part is it's accessible and free for viewers, but you can make money from the monetisation!
Another option is to find studios that provide online classes and ask to teach for them, or if you're more of an entrepreneur you could set up your own online classes.
Also, you can travel the world teaching yoga in exchange of a place to stay:
Keep reading: How to become a yoga instructor and travel the world
4. Get paid to travel and review hotels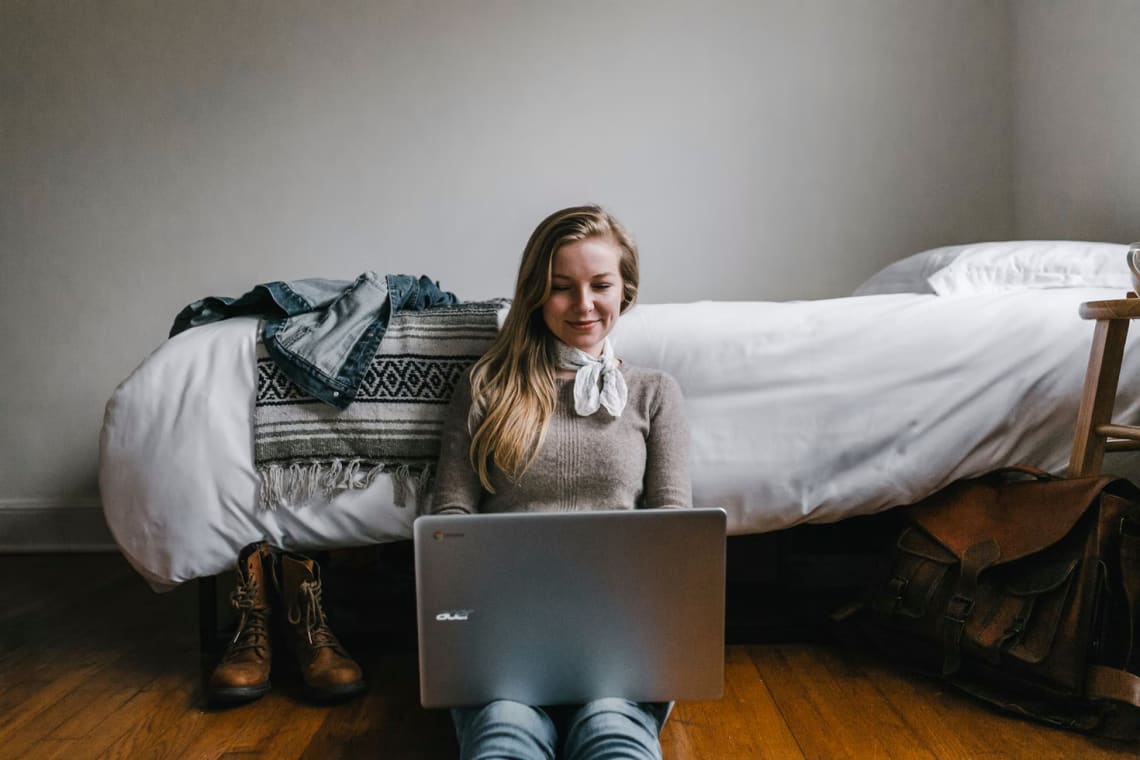 Okay this might be the best one yet and you did read that title right, yes you CAN get paid to review hotels. Whaat? Somebody pinch me. It's true though.
Have you ever seen those travel shows where people live it up in luxury hotels all around the world? Yep, they get paid to do that.
But how? Some hotels will seek out travel bloggers and pay them to leave a review - think of it like being a hotel inspector. Aside from that, there are programs on sites like Trivago where people stay in hotels for free so long as they leave a review.
5. Create a digital product
If you're tech savvy and have a product idea in mind, you might want to think about selling it.
For example, if you're a fan of no-code (tools to create web apps without coding) then you can create your own no-code products on tools like Notion. Templates have become very popular on Notion and if you can create a nice one, you can sell it!
Another idea is creating travel guides or tutorials - the main goal is creating something that is timeless and makes people's lives easier.
This allows you to have 'passive income', meaning once you've created a product and it's selling online, you've already done the work but will continue to generate income.
More ideas to get paid to travel
6. Do work exchange
Do you dream of being by the sea and soaking up the sun? Or perhaps you want to wake up to the views of snowy mountains every morning. Well stop dreaming and start believing because this could be your reality.
Work exchange is a great way to "pay" for your accomodation and part of your meals.
If you want to become a nomad or just save money in your vacation, this could be ideal for you.
You could spend up to 3 months working and living near the beach, go to a snowy mountain and many other places. All you have to do if help your host a few hours per week.
Read what other travellers have experienced: Traveling in the USA as a work exchanger and Backpacking in Central America as a couple and doing a work exchange for the first time.
7. Spread the word as a public speaker
If you know enough about a topic and can communicate well, then public speaking may be for you. Often large events (especially corporate) will look for public speakers to present a talk and generally shout out about their event.
Take a tech incubator like CodeBase, for example, they are always on the lookout for tech, startup, and community-based people to speak at their events.
Top tip - whatever your industry is, make sure you're engaging with the wider community. This will open up more opportunities and hey, you could be invited to be a speaker at an event!
Some companies will only pay travel and food fees, but others will cover the costs of hotels etc, so be sure to check what you will get in return.
8. Teach English Online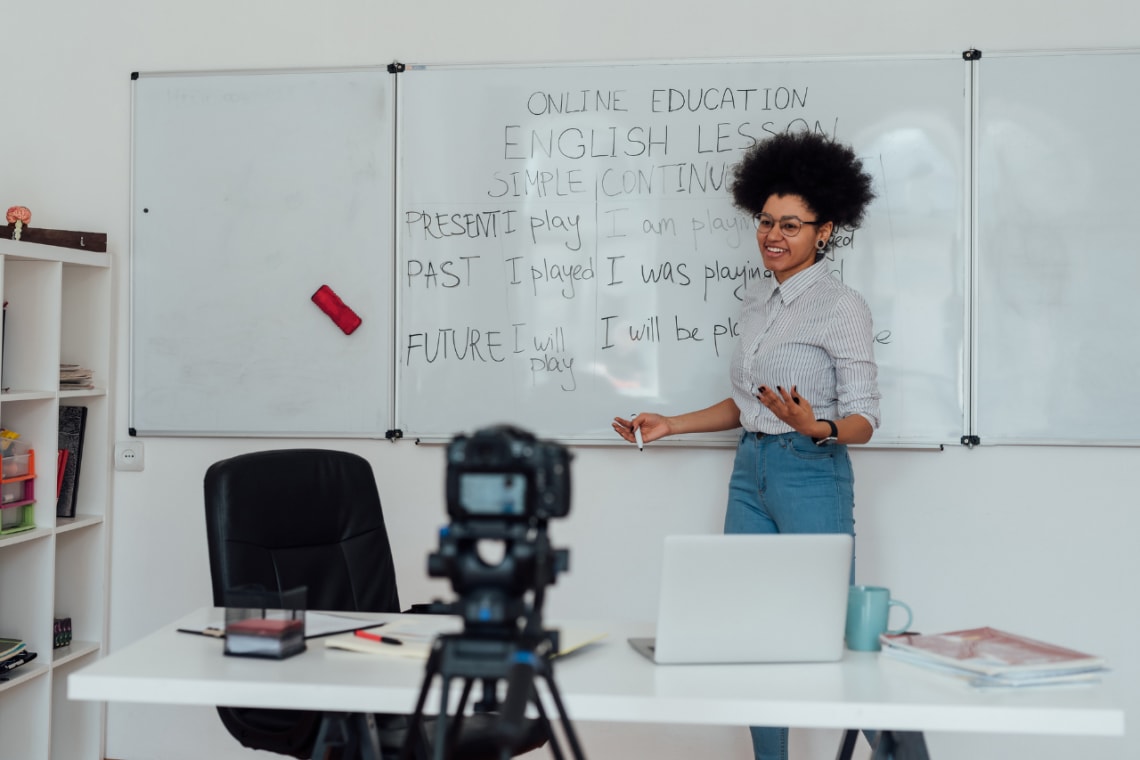 If you're a native English speaker, or just very fluent, then you can teach English online through different agencies. This allows for you to have a lot of flexibility with your time as many of the agencies let you pick your hours of work, meaning you can work from any country!
The money isn't necessarily the best however it's better than having no income at all. A job like this will provide you with teaching, communication and tech skills and are typically fairly easy to get in to.
As with other ideas that we have seen so far, you could also use this knowldege to exchange it for accomodation around the globe (in face-to-face classes, of course):
More about travelling the world as an English teacher: Teaching English and becoming part of an Italian family in Genoa.
9. Freelancing
If you have skills in a certain field and are passionate about it, going freelance could be ideal for you.
It's easier than ever now to have an online freelancing business and work from anywhere in the world. Websites like Fiverr allow people to market their businesses and skills to a wider audience who are seeking freelancers.
As those who freelance will already know, this is not the easiest option. Setting your own prices and working hours is a blessing and a curse, as most freelancers tend to work extra hard in order to find new clients and keep a good online presence.
However, if you can gain a few trusting clients and grow from there, you have a good shot.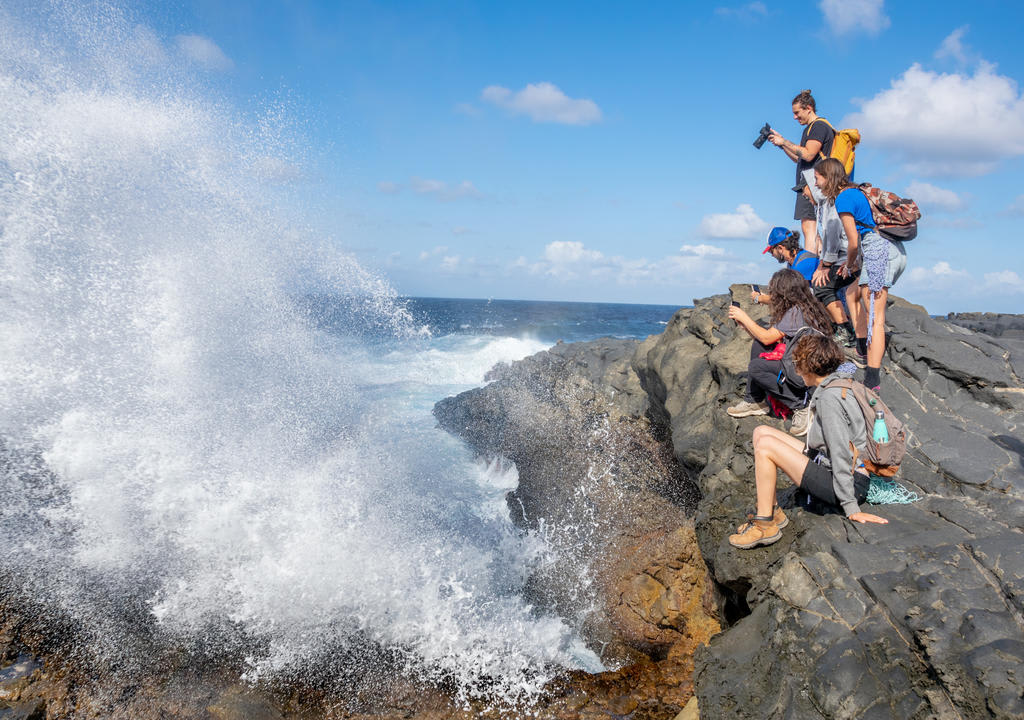 Ready to get paid to travel?
So, now you've read this you're probably tempted to pack a suitcase and go to the airport right away, am I wrong?
It's so exciting, the thought of having all these opportunities available to you! You can make travel your whole lifestyle if you wanted to, you just have to go out there and grab it.
If you're already planning some trips ahead but are worried about money, then read this article on how to be a budget backpacker and see the world with little money.