How to rock any hostel reception job like a pro
Have you ever considered being a receptionist at a hostel, but aren't sure if you are prepared? Here's your guide to being the best hostel receptionist ever!
12min
If you've been to many hostels, you've probably encountered that special kind of receptionist on your travels: the one that's juggling five different tasks with the calm capability and skill of a knife juggler.
They greet you with a relaxed grin, and as they take you through the check-in process, they chat and joke with you, and you feel like you belong there, like you already have a new friend in a strange city.
If you're like me, once you'd traveled to a few different places, you wondered how these people (usually from countries other than the one you were staying in at the time) came to work those hostel jobs, and you tried to picture yourself in their place.
If you haven't, try to imagine yourself now: the confident receptionist at a hostel, welcoming guests from all over the world and being their first impression of a new place.
Are you electrified by the idea? Maybe you're also nervous to try, and think that you'd never be able to learn how to do the receptionist job?
I was a little bit of both!
That's why today, I'd like to tell you all about working reception in a hostel, so that you can picture what it's like and perhaps better prepare yourself for a job in reception in your future Worldpackin experience!
Here's the scoop on what it's like to be the Person Behind the Desk.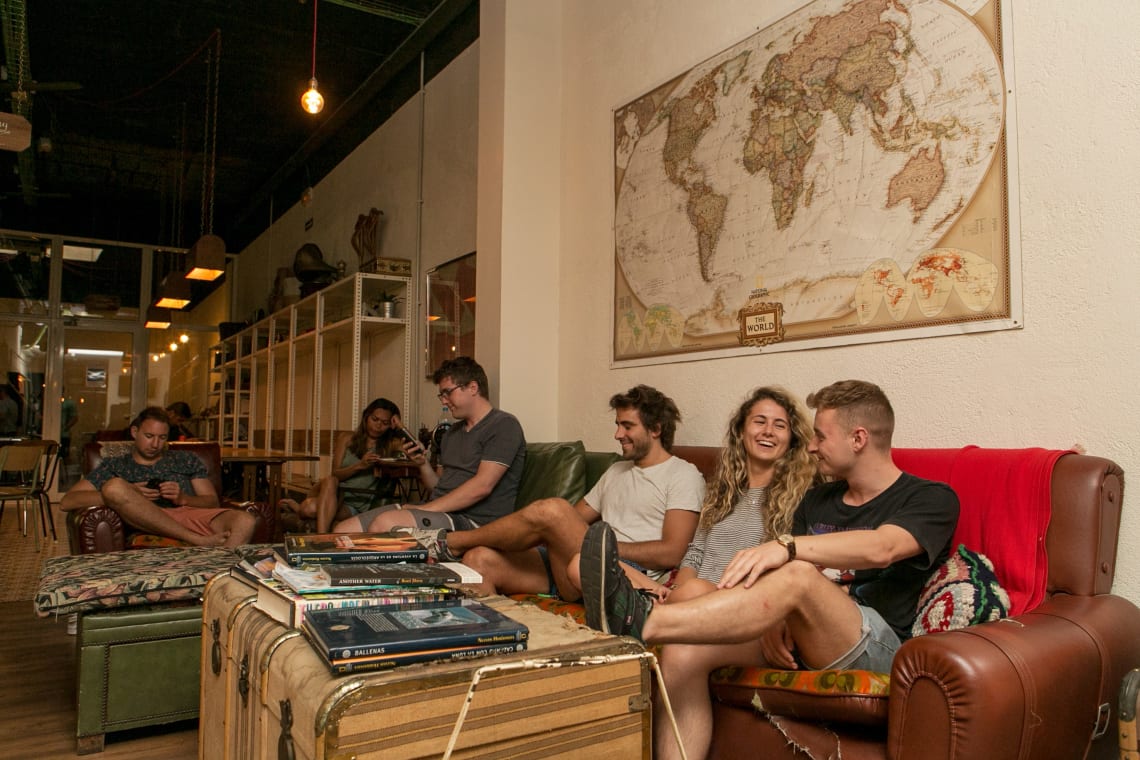 1. It's not only a Reception job
First, I'll set your mind at ease. Your host won't throw you straight into reception work!
When I arrived at the Murray Library Hostel in Anstruther, Scotland, the manager Sophie let me have the rest of the day to unwind from my traveling and jetlag.
She gave me a tour of the hostel, told me a bit about it, and then let me explore the town and sleep! My other hosts did the same thing.
Most hosts are also looking for someone to do some housekeeping, cleaning, or general tidying around the hostel, in addition to reception work. While browsing potential hosts, you'll be able to see the list of tasks they require of Worldpackers.
When this is the case, they won't start you out at the reception desk straight away! Your host will want you to be familiar with the hostel, first, and often that will begin with learning how it's run day-to-day.
Also: Work exchanges: what kinds of positions are there?
2. What is the Reception training like?
When I started volunteering at both of my host hostels, the first tasks I learned were the cleaning.
I learned the names and numbers of each room, what kind of accommodation each one offered, and the general hostel rules, along with a basic overview of how reception worked.
Once I was settled in and comfortable with my way around the hostel a day or two later, I shadowed the manager while she ran reception. The next day, I shadowed another volunteer who'd been working for several weeks longer than me. That's when I was finally given the keys and got to check in my first few guests!
If you're afraid that you won't know what to do, I'm here to tell you: don't worry about it.
Your host wants the guests (and you!) to have the best experience ever, and that includes having a receptionist that is confident, friendly, and knowledgeable about the hostel and the city it's in!
They won't throw you into the job without teaching you how to do it.
PRO TIP: To get off to a great start in your new position as a volunteer receptionist, I recommend exploring as much of the city as you can. Don't wait to enjoy your surroundings! You may be tired from traveling, but not only will all of the exploration give you a good night's sleep, but you'll also start to learn the area around your hostel. That's good for you, and even better for your host and the guests you'll be assisting: you will be able to answer questions, give directions to local attractions, and recommend places to eat and party! After all, a good receptionist is friendly and attentive, but the best receptionist also knows all about the place they're working!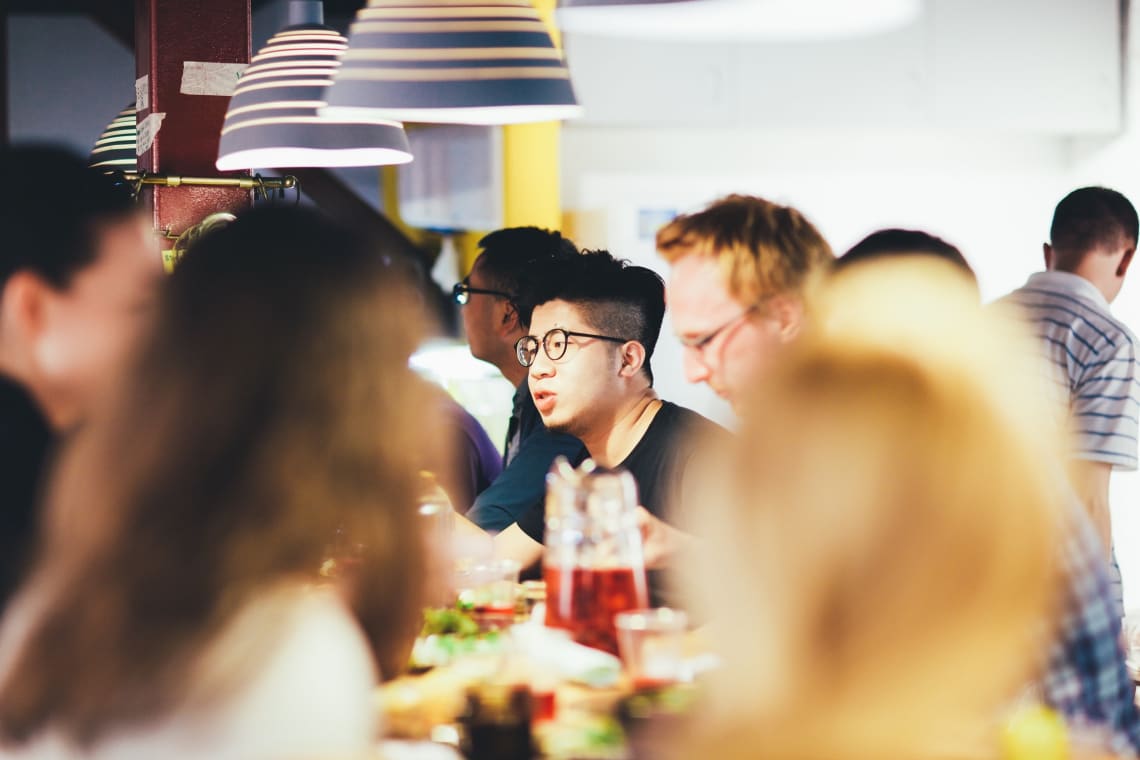 3. What exactly will you do working at the Reception?
Most reception duties consist of the same basic components, but each hostel is different and will have its own system for making sure everything runs smoothly. Let's take a look at what you may be expected to do.
After you've shadowed another receptionist, once they're sure you can do the job, they'll give you a chance to run reception while they are there to assist you. Now is your time to shine!
When you are in charge of receiving guests and checking them in, whether you are actually sitting behind a desk and waiting for them or running around the hostel doing other work with a pager and phone in case they ring for you at the door, your job is to greet guests quickly - with a friendly smile.
You are the first impression they will have of the hostel, and the way you start the interaction will flavor the rest of their stay with you!
Guests come first, over the other jobs that need to be done, so make sure you can assist them as quickly as possible.
PRO TIP: As you welcome them, be sure to ask how you can help them. Don't always assume they've pre-booked online - you may get a lot of walk-ins who want to book once they arrive, or even people who just want to see what's going on in this exciting-looking building!
After you know what the guests are there for, you can figure out how you can help. If they are there to check in to a room, you'll be able to guide them through.
Each hostel has a different booking and check-in system, and you will need to learn how to use yours. Some consist of paperwork, others are all done by you on the computer... And others are a combination of both!
Either way, you'll usually ask for personal identification, like a driver's license or passport, to confirm the correct information for the booking - and make sure you're giving them the right room!
You'll also check the booking information to make sure they've paid, and if not, you will take their payment, and sometimes, a room-key deposit fee.
If you have a card payment machine, you'll have learned how to use it. It's important to be friendly but professional so that each guest feels secure and taken care of!
PRO TIP: If you aren't sure about something, or have forgotten how to do a part of the check-in process, never make something up just to get through it! It's possible to handle the situation professionally: just tell the guest something like "I apologize for the delay, but I need to double-check something with my manager." It's not wrong to ask for help if you need it, and this will save you more trouble down the road if you get things right the first time!
Once the payment is taken care of, you'll give the guests a rundown of the hostel: rules, check-out time, the wifi password.
Some hostels have their receptionists give a little tour of the hostel, showing the facilities for cooking, storing food, relaxing in a lounge, where the bathrooms are, and then take them to their rooms - even offer to carry their luggage upstairs for them!
If yours does not, you'll still give the guests this information verbally to make them feel at home, and point them in the direction of their room as you hand them their keys or door code.
Most guests will have questions about the area, and it will be your job to answer them to the best of your ability. It's useful to know the main bus lines, street names, and be able to give directions and recommendations for a night out on the town. Large city hostels tend to provide maps for their guests, in which case you can show your guests how to get around.
It's important to understand that your customer service won't end here - when guests need help during their stay, it's up to you and the other volunteers on duty to solve any issues cheerfully, with attention to detail.
The more personal your service is, the better experience guests will have - meaning reviews will be glowing, and more guests will want to stay there… And your host will be happy with your work!
You may be a little nervous, or not have answers for every question right away, but that's okay. You'll be welcoming guests like a pro in no time!
PRO TIP: Some key characteristics of a great hostel receptionist include: hospitality, strong problem-solving skills, a cheerful attitude, and willingness to learn. Also, it's very important to be able to communicate well with others (teammates as well as guests!), so know which languages are spoken in the country you want to volunteer in, and have a good grasp of local customs and culture.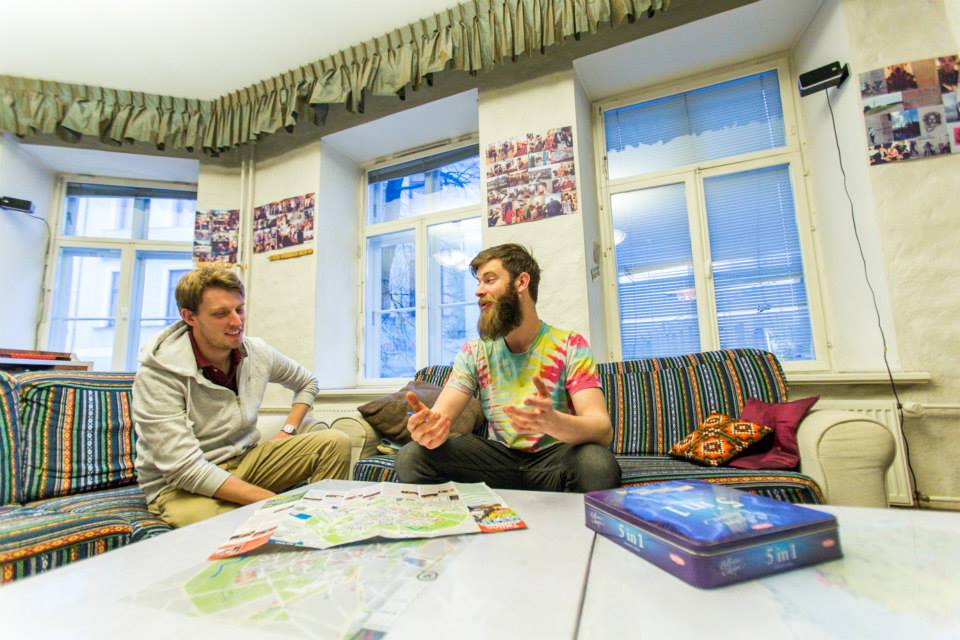 Reception Desk: Check-out
Check-out tends to be an easy shift: most hostels have a designated check-out time, in order to have enough time to prepare the rooms for the guests staying the next night.
During a check-out shift, you are typically responsible for making sure guests turn in their keys (and therefore giving back their key deposit), and for answering any last questions guests may have about where to go next or how to get there. They may need you to call a taxi for them.
If the hostel is a busy one, the check-out shift may be a stationary one, with you behind the desk for the majority of the time.
At smaller hostels, such as the ones where I volunteered, I was much more active. Aside from checking guests out, taking keys, and answering questions, the morning check-out shift was also filled with laundry tasks.
As guests checked out, they would strip their beds and deposit them in bins by the desk, and it was important to start on it as soon as possible so that the laundry would be done in time for the next night's guests. This kept me busy, and I set timers on my phone so I could be more efficient and keep up with the task.
Another common duty for check-out shift is that of keeping the kitchen clean and monitoring the breakfast (if the hostel offers one). If it doesn't, it's important to set the food out on time and keep things clean and well-stocked so that guests have a great start to their morning.
The kitchen can get dirty and cluttered quickly when everyone is preparing food and in a hurry to leave on the day's adventures, so it must be checked frequently in the morning to keep everything clean and orderly.
One important extra task of check-out duty is making a list of the check-ins that will be arriving that afternoon and evening. Most hostels will have you compile a list of which beds in each room need to be cleared, and which rooms need to be prepared for new guests.
This list is important because the cleaning shift will use it to get everything ready, and if it is not accurate, you may not have the right amount of beds or rooms ready to receive guests later in the day, making for a frantic scramble on the evening receptionists' part to fix any mistakes made in the morning!
After all of the checkouts are done, you may also participate in the cleaning shift or the cleaning of the reception area, depending on the specifics of your host agreement.
4. Other Reception duties
While working any reception shift, it will often be your job to keep an eye on the common areas of the hostel (the lounge, the kitchen, etc.) and keep them clean and organized.
There might be plenty of free time, but be sure to take care of your tasks before settling down to read a book or use your phone!
One important reception duty is answering the phone: you will need to have good phone and language skills for this! Always be polite, be careful to speak clearly, and make sure to tell them who is speaking. (Example: "Hello, this is Madelyn at the ______ hostel! How may I help you?")
Answering the phone is much like helping guests who come to you with questions. Just be sure to get any relevant personal information if they are calling to make a booking, such as their name, the number of guests, what kind of room they want, and what time they will check in.
Be sure to repeat everything back to them to confirm you have the correct information before hanging up: the dates, the cost of the booking, and the facilities they have booked.
Also, be sure that you'll be able to call them back or reach them by email, and inform them of your hostel's cancelation policy. Don't forget to take payment details if they are booking for that evening!
Part of your reception duties may be answering emails and sending reminders. Many hostels have a system for form emails, so be sure to learn how to use this if this will be a part of your job. Always maintain polite, businesslike interactions online, and be sure to follow through when you say you will do something.
PRO TIP: When you are on reception duty for the day, it's important to check the hostel email and booking system regularly for last-minute online bookings. This way, you don't get caught unaware when guests show up and you haven't prepared a room for them, because they booked an hour ago online and you didn't notice! Guests may be tired, and will likely be annoyed at the appearance of unprofessionalism, even if it was a simple mistake. It's best to avoid this altogether and be as prepared as possible!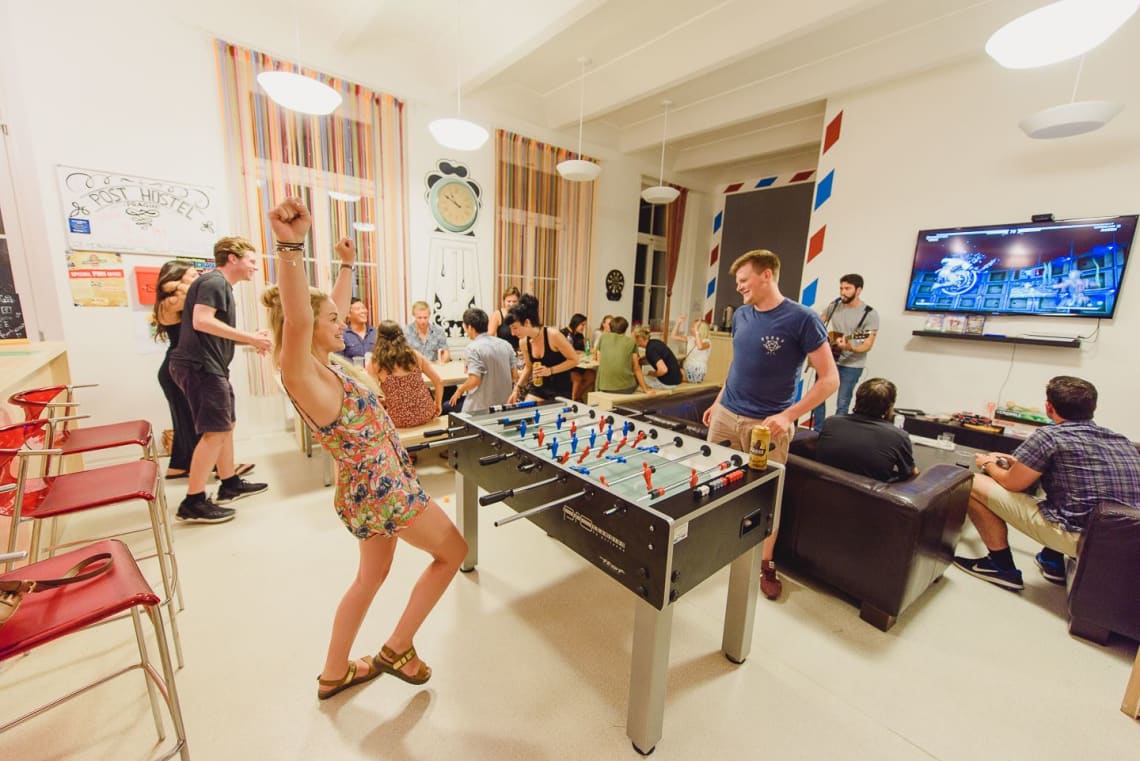 5. The typical Reception schedule
Every hostel has a slightly different division of shifts, but I'll describe how the one's I volunteered at worked.
The check-out shifts were from 8 am to 10 am, during which I would start the laundry, tidy the kitchen, and make the list of rooms and beds to clean and prepare.
I'd start folding the laundry in my free time, but spent lots of time rotating between tasks to keep on top of them all.
The cleaning shift would run from 10 am to 12:30 or 1 pm, the cleaning shift would run, and then there would be free time for all the staff in the afternoon before check-in time from 4 pm to 9 pm.
If we were on evening reception, we'd be responsible for staying in the hostel with the pager and phone to check people in, and for keeping the kitchen tidy as guests cooked meals.
It was fairly light work, but sometimes guests would call in to tell us they'd be late - meaning we would need to stay up to receive them.
In our free time, we were able to read a book or do whatever we needed to do, as long as we were paying attention to the needs of guests.
Now, let's talk about the most challenging aspect of reception work: the customer service.
6. What you need to know about customer service
While talking to people and helping them during their stay can be the best part of your job, any receptionist will also tell you that it is the hardest, too.
When people are traveling, they can often be tired, frightened, uncomfortable, or frustrated - and this can make anyone difficult to deal with.
Keep in mind that people from different cultures handle things in different ways, and that any frustration a guest expresses to you is probably not personal or meant to hurt you!
While you can try your hardest to please people, you won't be able to please everyone or solve every problem. Many things will be out of your control, so keep in mind that even when a guest comes across as rude, you should refrain from returning the same behavior. If a guest is being unsafe and affecting the stay of other guests, let your manager know so they can take care of it!
If a guest is checking in and you are concerned about their behavior, or if something feels off, it's important to talk to your manager before checking them in or making a booking for them. This will keep you and the rest of your guests safe.
PRO TIP: When dealing with a difficult situation, remember to take deep breaths, stay calm, and be professional. To diffuse a tense situation or an angry guest, follow these steps: apologize for the situation, acknowledge their feelings, tell them what's going on, and end with what you can do to resolve the issue. Sometimes, the guest will be unreasonable, and your manager may have to take action. Just remember to keep perspective: if you can see the humor in the situation, you will always be less stressed… And it will make a good story one day!
To be prepared, ask your manager how to handle situations like this before they happen, so that everything goes more smoothly when situations do arise! Most managers will not expect you to handle things like this.
While it can present many challenges and stretch your skills beyond belief, volunteering as a receptionist in a hostel is an amazing opportunity for any traveler: you will enjoy the variety in your duties, strengthen your customer service and communication skills, and meet amazing people from all over the world!
I loved my volunteer positions, and the things I learned from them will stay with me for the rest of my life.
I'm so thankful that I decided to take a risk and apply to some hostels through Worldpackers. It's more than a little life-changing, so if you think this might be the job for you, I encourage you to take this opportunity.
Thanks for reading, and I hope this article has encouraged you and prepared you for your very own experience!
Happy Worldpacking!