Work exchanges: what kinds of positions are there?
Have you heard of doing a work exchange for accommodation, but don't have any idea what kind of work there is? The answer is simple: the sky's the limit! Some positions are more common, like helping with reception at hostels, but you can also find more varied work exchange positions too.
7min
Some of these tasks can be done by anyone who's willing, while others require specific skills. In this case, volunteers can take advantage of the chance to not only save money and have incredible experiences while traveling, but also add to their resumés!
Want to see some examples of the things you can do in exchange for accommodation, which you can find on sites like Worldpackers? Then just keep reading!
Typical volunteer positions which offer accommodation
1. Receiving and attending to guests
As I mentioned, these are some of the most popular positions published by places which offer work exchanges for accommodation. Usually, no experience is required for this kind of position, which generally consists of working at the reception of a hostel or hotel.
Checking people in and out, showing guests to their rooms, and answering questions about accommodation and the area are some of the most common tasks in this position. It's a good option for people who like to have contact with others, and especially for those thinking of working in hospitality who want to really understand how the industry functions.
At some places, you'll take on full shifts at reception, and at others you'll only have to cover employees' break times or help them out while they work. How about going to incredible places like Buenos Aires, for example, doing this kind of work? Also you may get these tips for a hostel life:
2. Communication and marketing
If you have experience in marketing, studied (or are studying) communication or web design, or just have a lot of these skills to offer, you can find work exchanges for accommodation in this field.
Many places, from hostels to NGOs, are looking for creative people to help them market themselves, almost always with a focus on digital communication. In this case, they could require specific skills depending on the work. Some examples of tasks are managing social media, content marketing, graphic design, photography, and video creation.
I worked in this field in Hungary, living together with people from different countries while discovering the city and creating content for the hostel. It was one of the best experiences of my life!
3. Entertaining guests
If you're really good with people and like to socialize, this kind of position won't even seem like work at all. I know it seems too good to be true, but a lot of places around the world offer accommodation in exchange for you to entertain people :)
This kind of position can involve things like playing instruments for people in a hostel, or being a guide for pub crawls and day trips around town. It's a great way to meet people and explore the place you're going, right? And all of this without any requirements except for being a fun and entertaining person.
You may want to develop your social skills in volunteering experience:
4. Renovation and decoration
These positions are for people who are good with their hands, with experience in construction and renovation or decoration. Right now as you're reading this article, many different hostels, small businesses, homes, and NGOs are looking for someone to fix something or give their place a new look. This can really include anything: painting walls, building furniture, creating artwork, doing small repairs, etc.
Interested? Check out all the open positions at Worldpackers.
5. Teaching and sharing
Language skills, IT knowledge, being good at sports – these are some of the skills that you can share with others through work exchange programs. Whatever the case may be, one thing is certain: you'll learn much more than you teach.
6. Community work
Want to bring more meaning to your travels? If you're looking for a chance to do community work, there's no shortage of that: teaching lessons, doing artistic projects, helping with administrative tasks, fundraising... There are tons of possibilities in this area, from musical artists needed in Tanzania to personal coaches in Lebanon.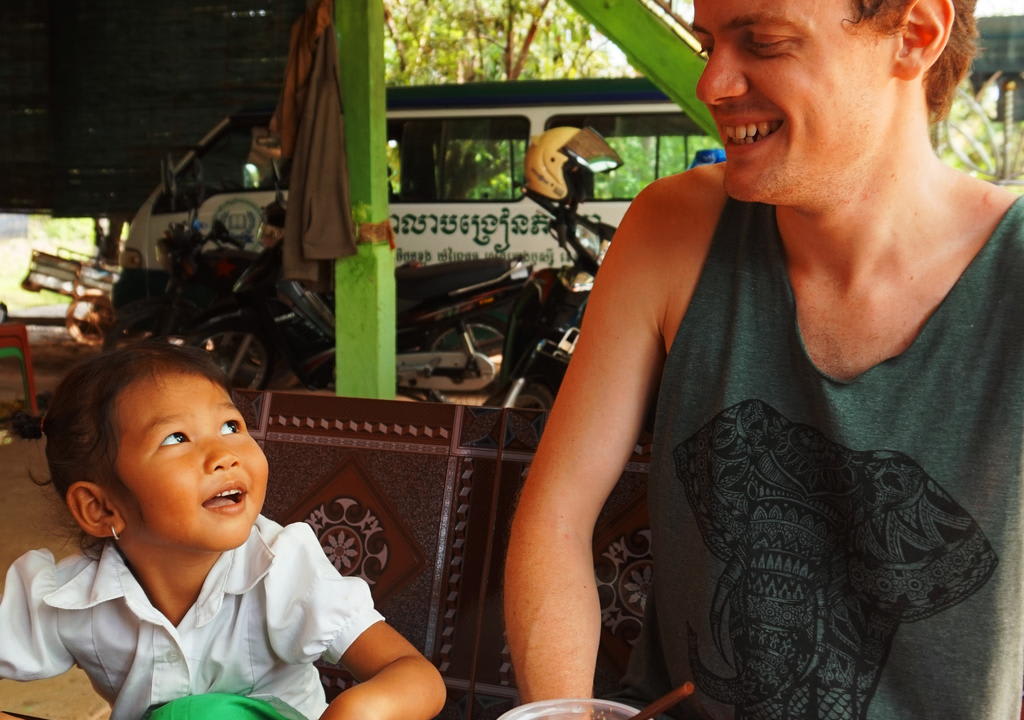 7. Taking care of nature
For people looking to have more contact with nature and get a new perspective on our relationship with the environment, I recommend looking for opportunities with an environmental focus. In some cases, you'll need to have some previous experience in farming or gardening, but many places offer to train their volunteers in these areas.
Many of these places work with permaculture and practice spirituality, offering meditation, yoga, and other similar mindful activities.
8. Cooking and bartending
If you have experience working in bars or restaurants, studied gastronomy, want to work in the field, or are just a boss in the kitchen or mixing drinks, these positions await you. You can prepare food, help the chef, wash dishes, bartend, make cocktails, or even create the menus.
Depending on the specific job, you can learn new recipes and develop useful skills for various areas of life, like speed and teamwork. Or at least have a delicious time! Is this your cup of tea? Then check out these cooking positions in Portugal.
9. Website and SEO optimization
Are you more of a programmer than a people person? No worries – programming skills are very much in demand at establishments that need to create or make changes to their websites and improve their search rankings.
If you have the necessary skills, take advantage of the chance to get new work experience in exchange for accommodation, and even add to your resumé. There are opportunities in this field in all corners of the world, from Recife to Myanmar.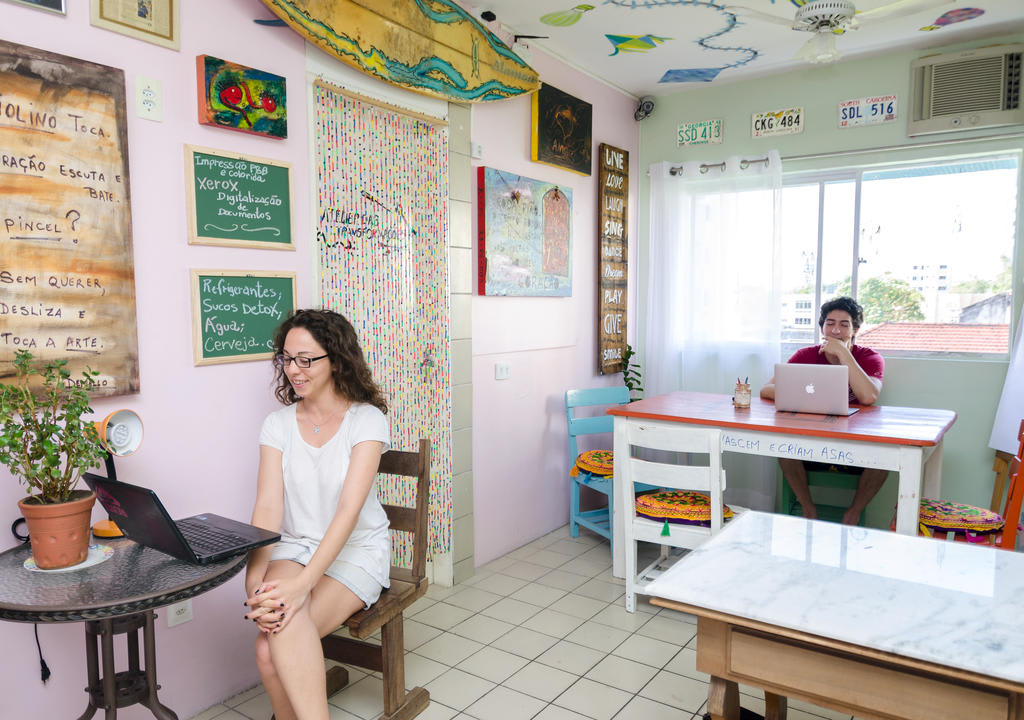 10. Household tasks
Do you think it's only businesses that offer this kind of work in exchange for accommodation? No way! Small farms and people's homes are also options for those who are willing to help with household tasks like organizing, cleaning, and taking care of animals or children. You could stay in Hawaii or Switzerland, for example. Not too shabby, huh?
What's included in a work exchange?
The basic premise is simple: you work for a limited amount of hours each week (generally between 20 and 30), and in exchange, you receive free accommodation. This is required, but the kind of accommodation varies, and can range from a bed in a shared room with other guests to a private room with a bathroom to yourself.
In my travels with Worldpackers, for example, I stayed in accommodations from a bunk bed in a female room in Budapest, sharing a bathroom and kitchen with other volunteers, to a room with two beds in Paraty (when I arrived, I shared it with another worldpacker, but she left soon after and I had the whole room to myself).
However, accommodation is very rarely the only benefit offered in a work exchange.
The majority of hosts provide breakfast, and many serve three meals per day. In these cases, the cost of your stay will be super low, unless you want to spend money on other things like parties, tours, and trips in the area.
So, go and ask yourself these 10 questions before traveling with a work exchange and get some encouragement with these 10 reasons why you need to do a work exchange trip once in your life.
Other benefits offered by hosts
You can even save money doing fun things! After all, hosts can offer various extra benefits that are really cool.
Here are some examples of benefits that you can receive in exchange for work:
Free laundry
Discounts on tours
Free tours, parties, and events
Bicycle use
Discounts on drinks at pubs, restaurants, and parties
Rides to the your destination
Language lessons
Volunteering certificates
Yoga, dance, or surf lessons
Surfboards to use
Permaculture classes
And even holistic therapies!
Remember that all of the benefits offered by a host are listed on their Worldpackers profile, always in the "Benefits" section of the page. If a benefit is not listed there, it's because it is not offered by that host in their work exchanges.
You can even search for hosts on Worldpackers and filter by the benefits you'd like to receive in your exchange. Just start any search, and at the top left of the page, you'll find the filter for "Other benefits".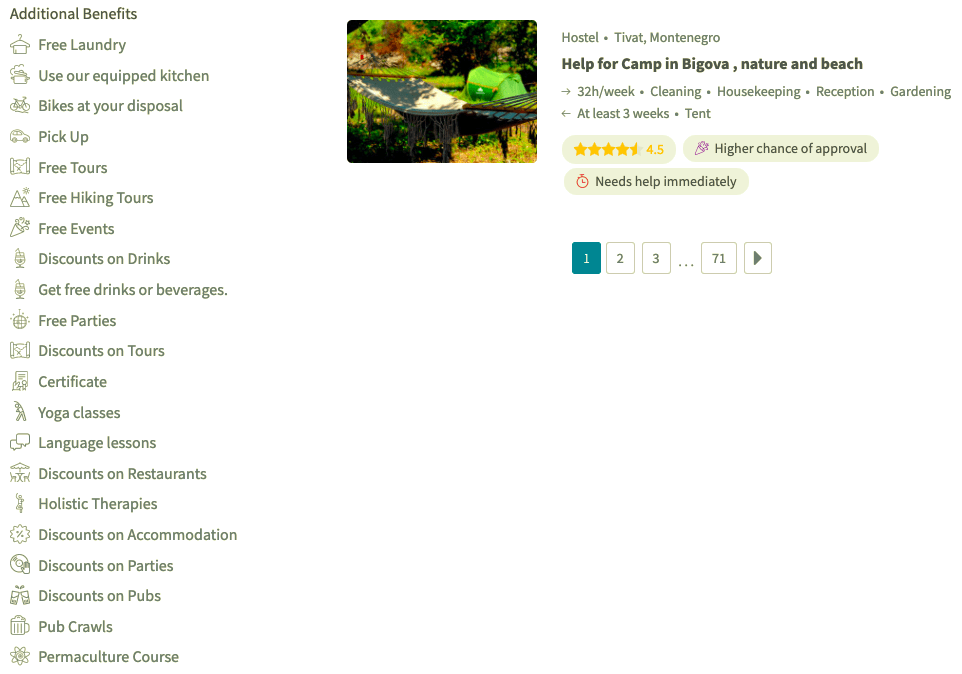 How do collaborative exchanges work, and what is not included?
Before confirming your trip, it's important to carefully read the position description and communicate with the host to clarify any questions about the responsibilities you will be required to fulfill, as well as what will be offered in exchange. This avoids any chance of misunderstandings and guarantees that both parties will have a positive experience.
In these conversations, you can confirm, for example, if you'll have access to the benefits for your entire time staying with a host. Usually, benefits are offered not only during your work hours, but also (or primarily, in the case of recreation) during your time off.
Also try to learn if you'll have access to a kitchen on site to make your own food, especially if meals are not included. This is almost always possible, which also really helps you to save money.
Some things that are never included in an exchange of work for accommodation, on the other hand, are the cost of plane tickets or other transportation to arrive at your destination, as well as visas (if necessary) and travel insurance (extremely important when traveling abroad). So you should always remember to include these expenses in your travel budget.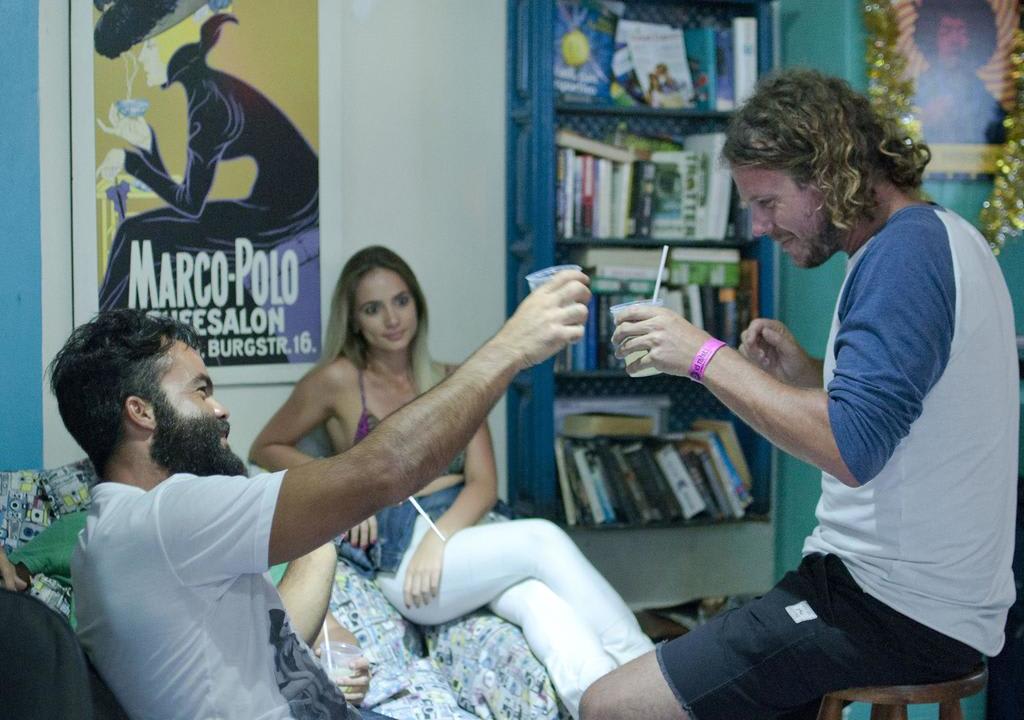 You've just learned that there are many benefits that may be included in collaborative travel exchanges. Saving money is only one of the advantages, and collaboration creates a win-win situation for everyone, travelers and hosts alike.
Any questions about how these exchanges work or how to find the ideal host? Just send me a message here at Worldpackers! Read more: