A local's guide to London on a budget
Big Ben, Buckingham Palace, Abbey Road... the UK capital is full of unique and incredible sights. Having the holiday of a lifetime in London doesn't have to break the bank. Keep these tips and tricks in mind and you can easily explore London on a budget.
7min
London... the heart of the UK and one of the most-visited cities in the whole of Europe, but is it possible to visit and travel around London on a budget? Absolutely!
While it may also be one of the most expensive cities in the UK, it's jam-packed with amazing things to see, do and explore, and lots of them are free!
If you want to know how to visit London on a budget, this blog is for you. Read on to discover everything you need to know about traveling to London on the cheap.
Traveling to London on a budget
If you're flying to London be sure to check out this article about how to find cheap flights any time of year.
If flying isn't an option then it's possible to travel to London on a budget from Europe via either bus or train.
The bus is a much cheaper option, takes around eight hours and drops you off in Victoria station in the heart of London. If you book well in advance you can still find cheap trains, and they'll drop you off at St Pancras International station.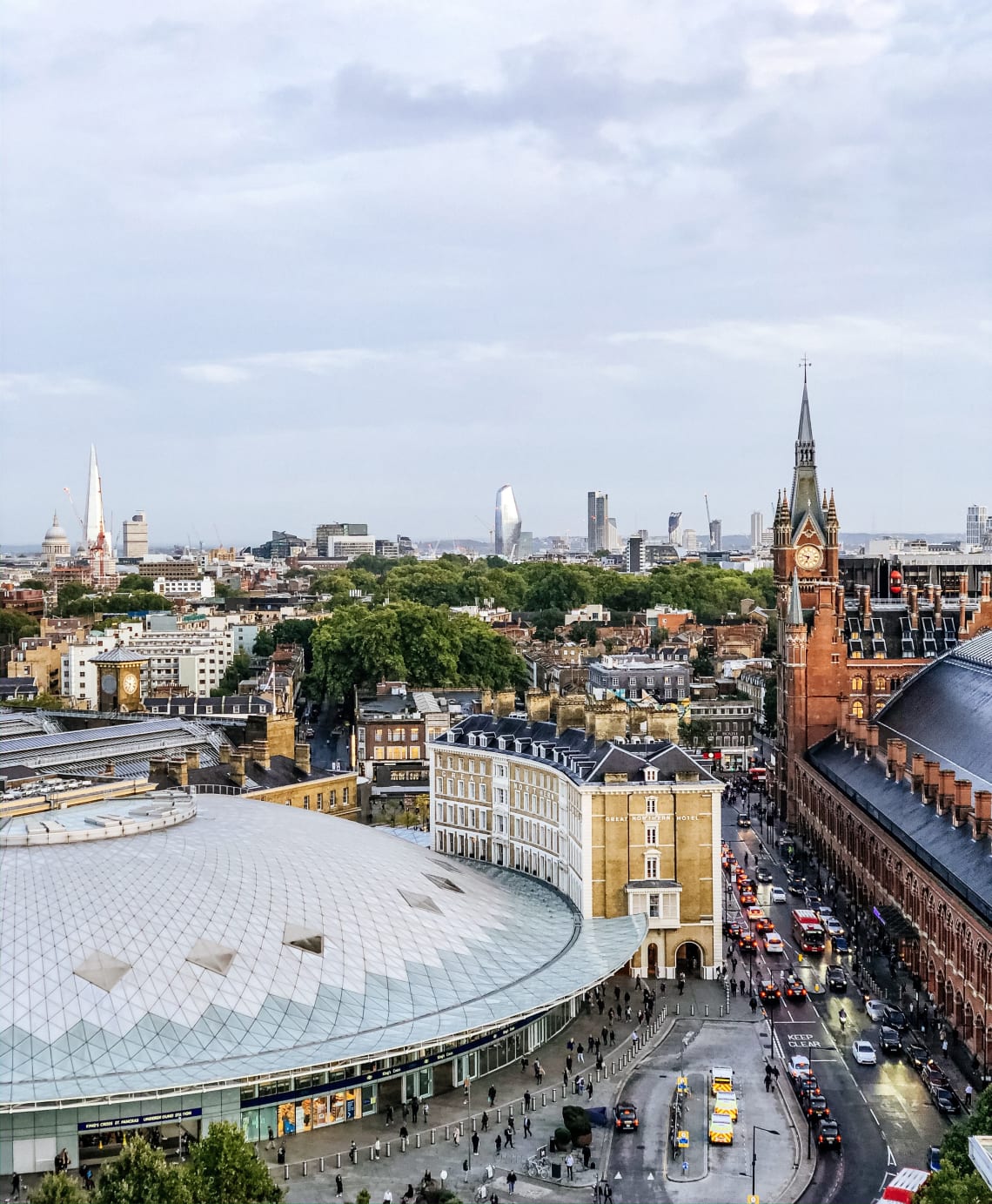 London accommodation on a budget
Once you're in London you'll want to find your accommodation. This can be the biggest expense and something that puts people off visiting London. Don't let it! It's totally possible to find cheap accommodation in London and save money while traveling.
While you can find reasonably priced hostels and Airbnb on the outskirts of the city, why not do a work exchange and live right in the center for free? If you want to know where to stay in London on a budget, look no further than Worldpackers.
Worldpackers offers various projects in the heart of London which will allow you to trade your time and skills for free accommodation. Most Worldpackers hosts in London are considered "top hosts", meaning they've been selected by travelers as some of the best Worldpackers experiences available. Moreover, many of the top-rated hostels offering exchanges are already some of the best places to stay in London on a budget, featuring excellent facilities, co-working spaces, and an emphasis on community.
In a city where a hostel bunk can average around $50 a night, finding a Worldpackers placement is the way to go.
Getting around London
Once you've found a Worldpackers experience that suits your skillset then it's time to start exploring.
The cheapest way to get around London on a budget is by using an Oyster Card. This is a prepaid card which allows you to travel on all forms of transport in London — bus, London Underground, tram, DLR, London Overground, TfL Rail, Emirates Air Line and River Bus.
You can get one from any of the machines in the London Underground or from London Heathrow Airport. Compared to buying a single ticket each time you travel, you'll save a ton of money.
Aside from being generally cheaper, there's also a cap on the amount you're charged per day. On buses it's £4.50 per day and if you're using the underground in zones one and two (which most visitors do) there's a cap of £6.80.
Travel as much as you want and those caps are the maximum you will be charged.
Read more: 10 best places to visit in Scotland + essential tips from a local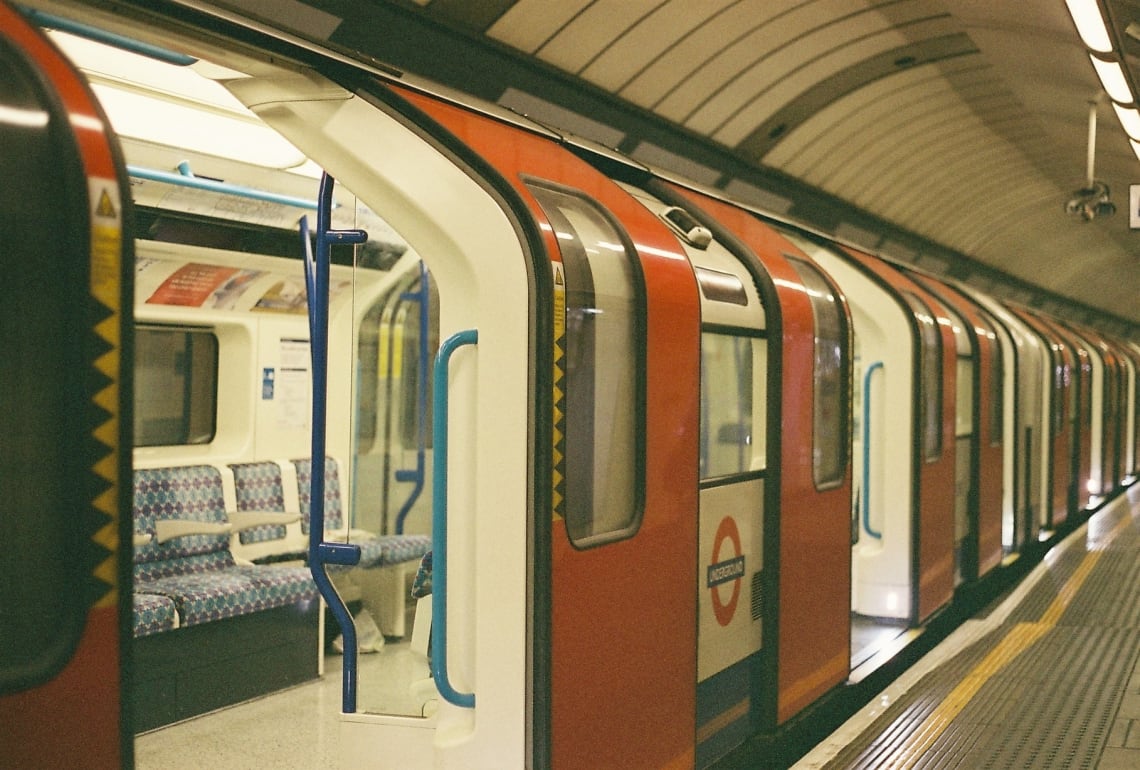 London also has a Hopper ticket. This means that you pay the initial £1.50 fare and then you can take as many buses as you want within one hour. As London is so big many of the journeys take two or more buses. As long as you take them within the hour then you can ride as many as you need.
Oyster cards never expire so you can keep hold of it until your next visit or pass it on to a friend if they're visiting. If you'll never return, then you can also get a refund on any money you haven't spent up to £10.
London attractions on a budget
Now that you know how to get around London on a budget, it's time to go out and explore! So many of London's attractions are giant, iconic buildings so it's easy to spend a week or two wandering around taking amazing photos.
There are lots of free walking tours (you decide how much tip to leave at the end depending on your experience). Depending on your taste you can take a Harry Potter, Shakespeare, Jack the Ripper or World War II tour to name a few. Your Worldpacker host will be able to recommend excellent tours in your area.
The London free walking tours will give you a feel for the city and then you'll have the confidence to go out exploring on your own. Once you do, the options are almost limitless.
The architecture in London is incredible. Even if you're not a big city person you must be a robot if you're not blown away by the many churches and cathedrals scattered around London. On the list of things to see in London, the cathedrals and abbeys should be high up there.
Southwark Cathedral is the oldest cathedral in London, dating back to 606 AD. Located near Tower Bridge on the Thames, it's an incredible sight to behold. It's also completely free to visit!
Central Hall Westminister is across the road from the Houses of Parliament and Westminster Abbey should also be on your list. Free to enter and guaranteed to explode your Instagram account.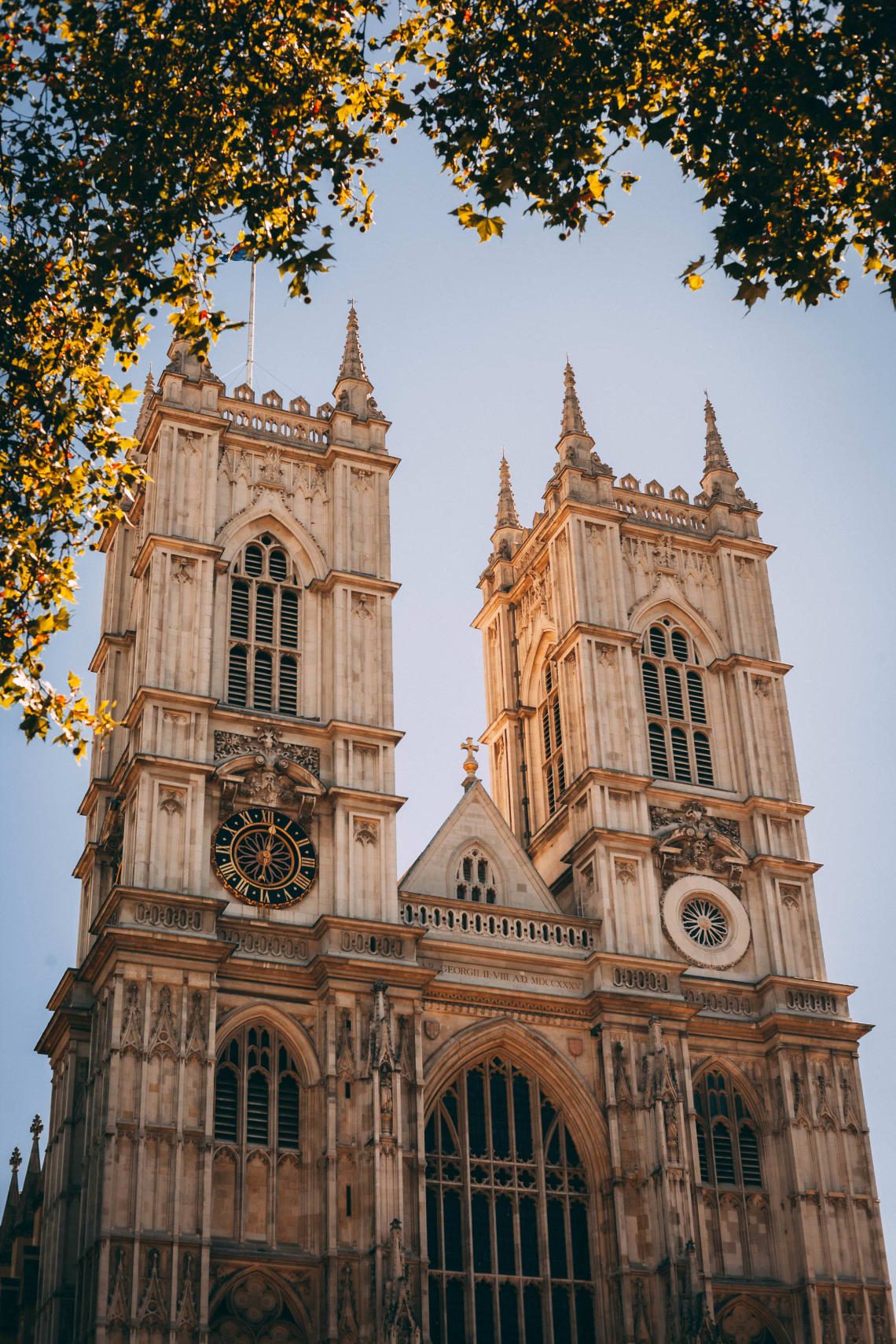 Westminister Abbey costs £21 per adult which is expensive, especially if you're traveling with others. How would you like to get in for free? Five nights a week they have Evensong where you can go and watch the choirs practice for free. It's a different entrance to the main one used for paid tours. It starts at 5 pm so try and get there a little early and ask for the Evensong. Not only do you get to see the amazing building for free but you'll also get an incredible experience.
Please don't leave London without visiting St Paul's Cathedral. You can pay for tours of the galleries and tombs but you can also get a real flavor for the building by attending a service there. You won't be disappointed.
The Houses of Parliament are free to enter and watch, although I can't guarantee how exciting this experience will be. It's certainly something I would recommend though as it will give you an insight into UK politics. It's also a magnificent building with plenty of photo opportunities.
The Museum of the City of London is like a time machine back to ancient times. It documents the history of London from ancient Roman times up through the ages. If you have any interest in history then a free trip to this museum should absolutely be on your list of things to do in London. Interactive exhibitions take you from the very first settlers up to modern times and will keep you entertained for a good afternoon.
Other iconic things to see in London are Tower Bridge, Big Ben, The London Eye, The Shard and the changing of the guard which you can see in three separate locations — Buckingham Palace, St James's Palace and Wellington Barracks. They all have paid options but you can get close to them all and take great photos for free.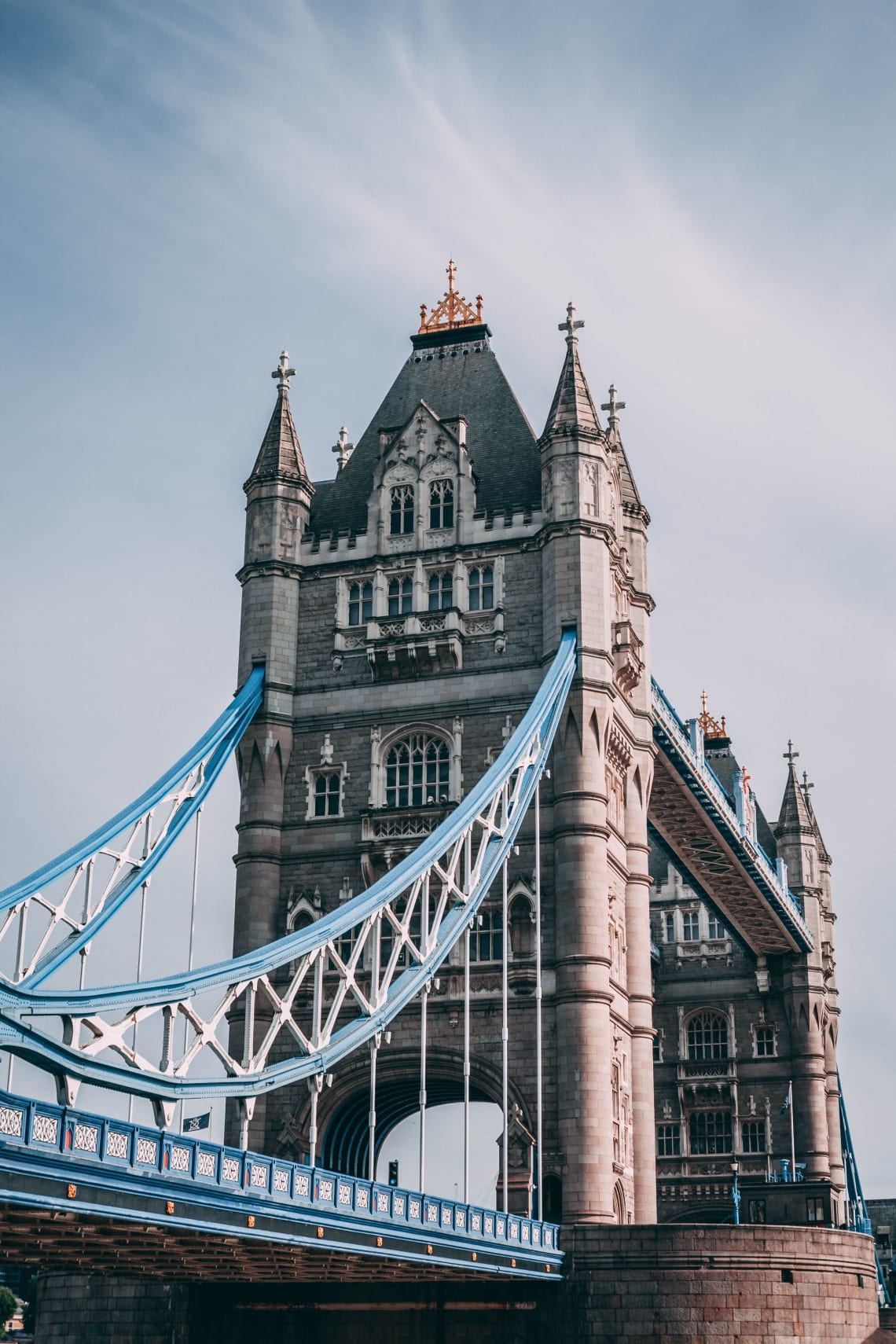 Eating in London on a budget
If you're wondering where to eat in London you have so many options. Your Worldpackers host will be able to give you great ideas for good restaurants to eat on a budget in your area. They will have all the local knowledge and advice you'll ever need.
Soho is somewhere you'll definitely want to visit. It's been the fashion, music and entertainment centre for decades. Hip and trendy, there's a great vibe as you walk past the endless restaurants, music shops and theatres. If you have a bit of money then it's a great place to experience London nightlife.
If you're on a budget that's no problem. Head to Brick Lane. Located at the east end of London, Brick Lane is famous for the many curry houses. You can find some incredible restaurants and meals at great prices.
I'd personally recommend Beigel Bake. It's a 24-hour bakery which serves cheap Jewish-style bagels and sandwiches. Either at the end of a long night or the start of your day, you can find a great meal for less than £5.
If you don't want to eat out and like to cook for yourself then you'll want to visit the excellent street markets in London. The most famous one in London is Camden Market. As you exit Camden Town underground station you'll feel the vibe.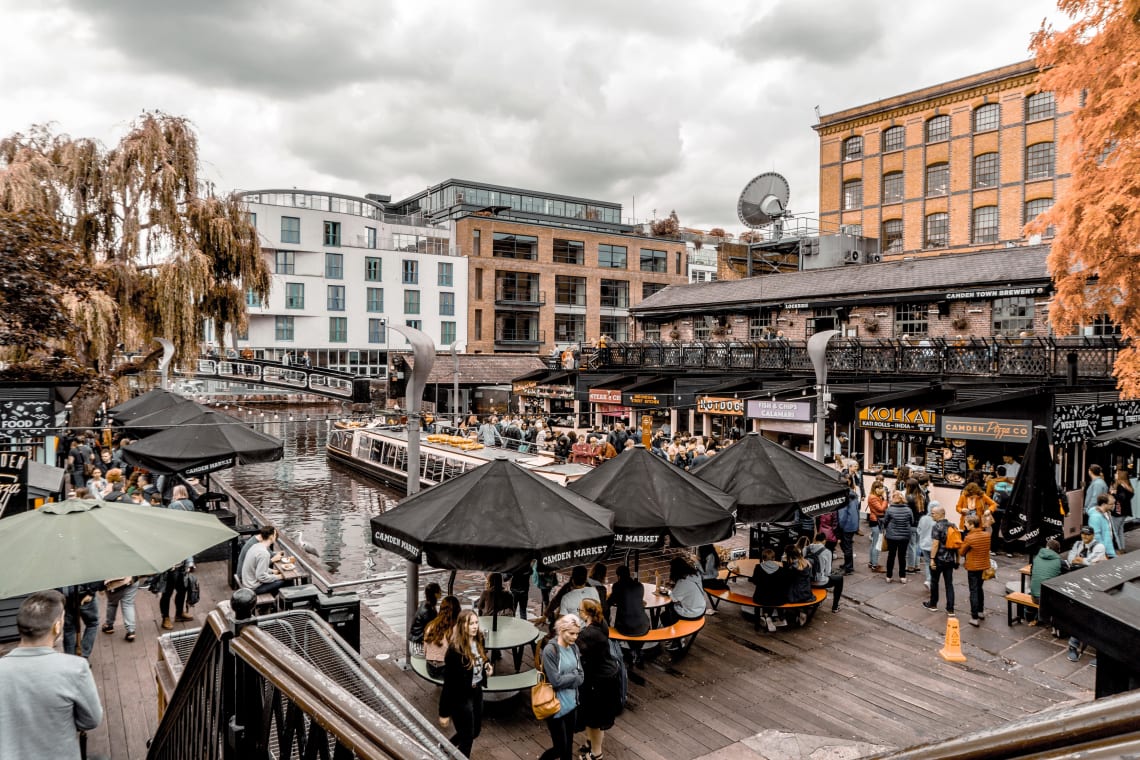 At Camden Market you can find pretty much anything you want. If you're in London on a budget then this is your happy place. Food, clothes, cheap souvenirs... whatever you need, you can find it here. This is also one of the best places to eat in London on a budget. It's open seven days a week from 9 am to 6 pm so you'll have lots of time for exploring.
There are many more street markets in London worth visiting. Borough Market, the oldest in London, dates back to at least the 12th century. You'll only find food here, but they have a fantastic selection. You can find it near London Bridge Wednesdays to Saturdays, from 10 am to 5 pm.
Covent Garden is much more upmarket and expensive, but it's beautiful. Found between Leicester Square and Trafalgar Square (both of which you should visit), you can explore the tea rooms, boutiques, excellent live street music and then emerge out into the West End theatres, the Royal Opera House and Theatre Royal being just two of hundreds.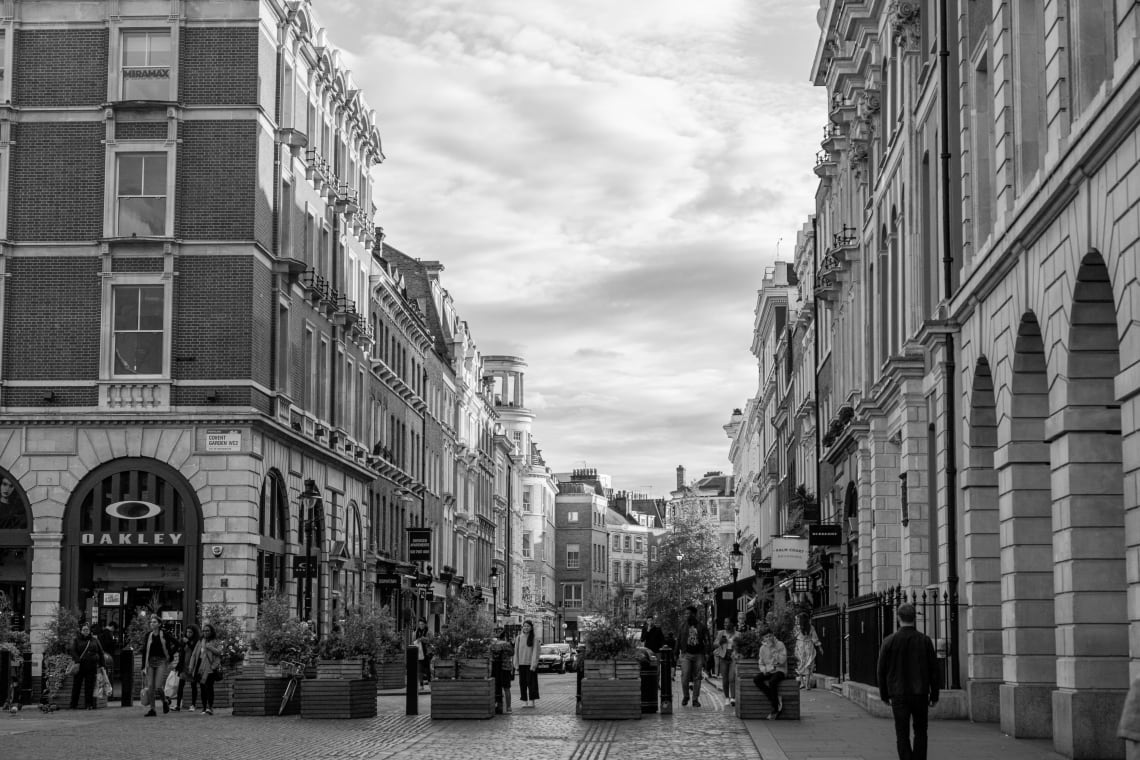 Hopefully that information will make your time in London as excellent and cheap as possible. It may seem huge and overwhelming but it's definitely possible to travel around London on a budget. Once you choose your Worldpackers placement, you'll receive lots more useful practical information from your host and the other volunteers.
When you choose to exchange your time for accommodation it will introduce you to travelers from all over the world who are also equally excited about exploring the capital. In short, this means you'll have travel companions to go exploring and partying with.
Once you've explored all London has to offer then check out the ultimate UK travel guide and the guide for bikepacking through the Chiltern Hills for more travel ideas and even more money-saving tips!