The best time to visit Ecuador: a guide to plan your trip
Wondering when is the best time to visit Ecuador? This guide will explore the best time of year to travel to Ecuador based on the different areas of the country that are popular for travelers.
6min
For a relatively small country in South America, compared to some of its neighbors, Ecuador is incredibly diverse.
It has the Amazon Rainforest, which is hot, humid, and tropical, and is filled with unique, exotic plants and animals. Also, it has the Andes Mountains. This area of Ecuador is full of volcanoes, crater lakes, interesting natural rock formations, and lots of national parks.
Ecuador has beaches, surf camps, and the fascinating islands of the Galapagos. You can even visit the Equator, which the country was named after.
In between all this nature there lies big cities like Quito, Cuenca, and Guayaquil. There are small towns and traditional villages. Ecuador has a special indigenous culture as well as modern cities with backpacker hostels and new technologies.
Ecuador is a very special country also for solo travel in South America. So if you're wondering when is the best time to visit Ecuador and Galapagos, this article should make it clear for you!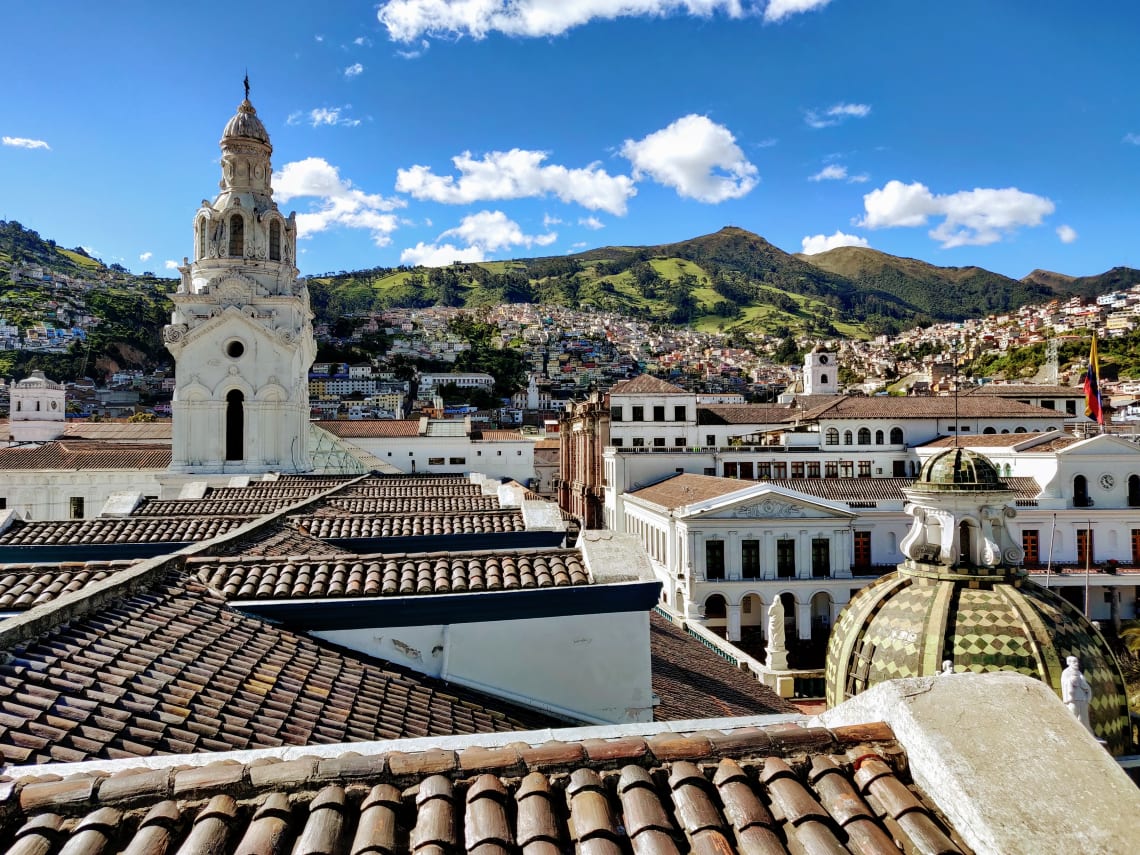 When is the best time to visit Ecuador?
Most of Ecuador has a humid tropical climate, except the highlands which are in the Andes Mountains. Because the country is very diverse, the weather and crowds may vary depending on region.
I'll first give a brief overview of Ecuador weather, and then explain the best time to visit Ecuador based on region.
Overview of Ecuador weather
Ecuador generally has two seasons: wet and warm, and dry and cool.
Wet and warm season in Ecuador: December to May
These months have warmer temperatures, more humidity, and more rain.
December through February usually doesn't have rain all day, so this is still a great time to visit Ecuador. Most days will begin with clear skies and sunshine, with potential rain showers in the afternoon.
Holiday season increases tourism in December and January, so flight prices and crowds also increase. By February, crowds drop and the rain increases.
March and April are extremely rainy, often with rain all day long. By May, the temperatures get cooler and rain drops off. May and June could be considered shoulder season, as they are in between the wet and dry season.
Dry and cool season in Ecuador: June to November
June marks the start of the busy season. June, July, and August are the busiest months in Ecuador. The weather is nice, with lots of sunshine and cool but pleasant temperatures. It usually doesn't rain, except for the occasional shower. Crowds and flight prices are also high at this time due to Summer Holidays in Europe and North America.
September, October, and November are less crowded and touristy. Dry season is ending, the rain may increase a little bit, and crowds will decrease. This is also shoulder season.
Now let's break down the different areas of Ecuador and when is the best time to visit each.
Andes Highlands
Includes: Quito, Cotopaxi National Park, Quilotoa Loop, Cuenca, Otavalo.
The climate in the Highlands is a subtropical highland climate. That means the weather feels like spring year round. It never gets too hot or too cold.
Daily temperatures are usually between 60 and 75 degrees Fahrenheit (19-25 Celcius). Night temperatures are usually around 50 degrees Fahrenheit (10 Celcius). At high elevations, especially around volcanoes, the weather can be very unpredictable and storms can occur at any time.
Dry season is more favorable for hiking in the Andes Highlands. A bit of rain here and there is fine, but consistent rain makes hiking much less enjoyable and more dangerous. Anytime from May to October is ideal for visiting the Highlands.
If you're hiking or camping in the mountains at high elevations, the nights and mornings can get very cold, with snow or hail occurring occasionally. Pack warm layers and cold weather gear just in case.
If you want to avoid the crowds during peak season of June through August, go hiking during shoulder season. May is great, and September through November as well. Those times will have fewer crowds and cheaper prices.
Ecuador Beaches and Coastal Cities
Includes: Montañita, Salinas, Puerto Cayo, Canoa Beach, Guayaquil.
Ecuador's coast has a humid tropical climate. You may think that the best time for enjoying the beaches is the Dry Season, but that isn't necessarily the case.
Dry season from June to November is actually quite cloudy and has cooler temperatures so it's not ideal for beach days. This season is best for hiking and exploring the Highlands.
If you want to enjoy the beaches and go surfing and swimming, the start of the warm and wet season is actually best.
From November to January the temperatures are much warmer, and it most likely won't rain all the time. You'll still get some amazing weather for enjoying the Ecuador beaches.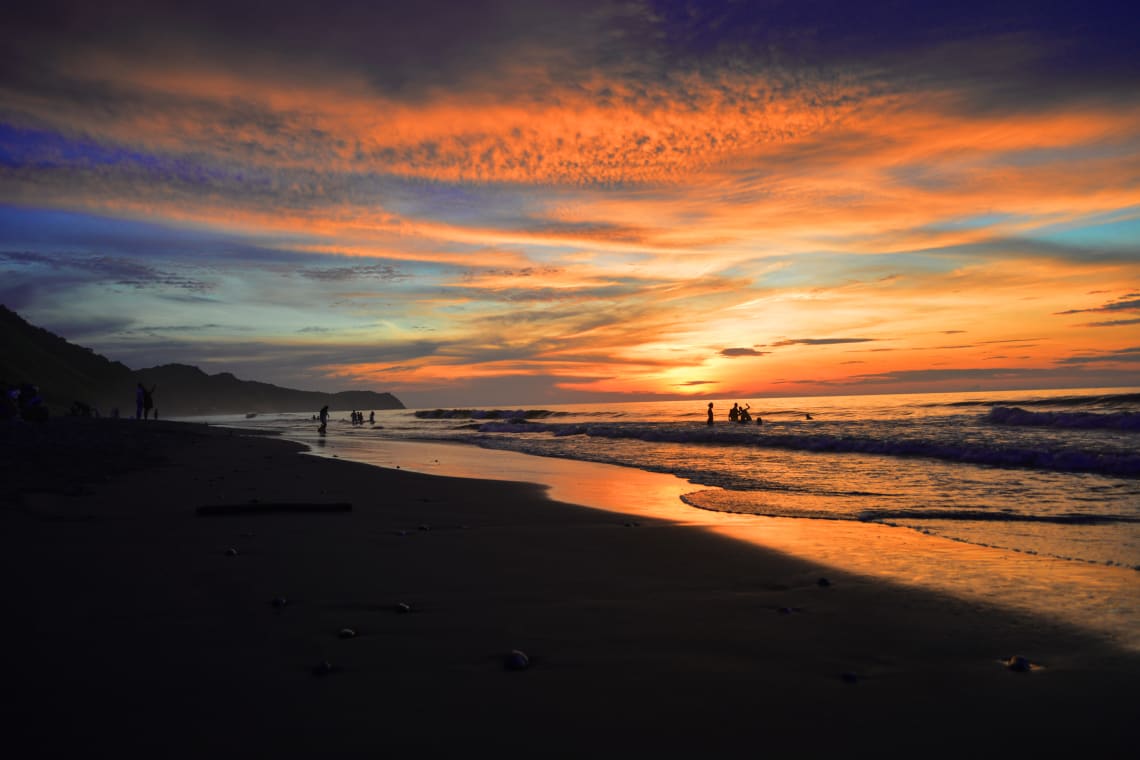 The Amazon Rainforest
Includes: Baños, Puyo, El Coca, Yasuni National Park, Cayambe Coca National Park.
Because the Amazon Rainforest is a tropical climate, it rains year round. This keeps the land lush and green and the biodiversity thriving. If you are planning on visiting the Amazon in Ecuador, you'll want to go during the dry season.
December through May in the Amazon is extremely wet. Floods may occur, and road closures are common. Wildlife is also harder to find while they are seeking shelter from the rain. However, crowds will be very low and prices on tours in the Amazon may be on sale.
From June to October, the weather in the Amazon will be a bit cooler and more enjoyable, and the rain won't be too intense. This is the best time for exploring the Amazon!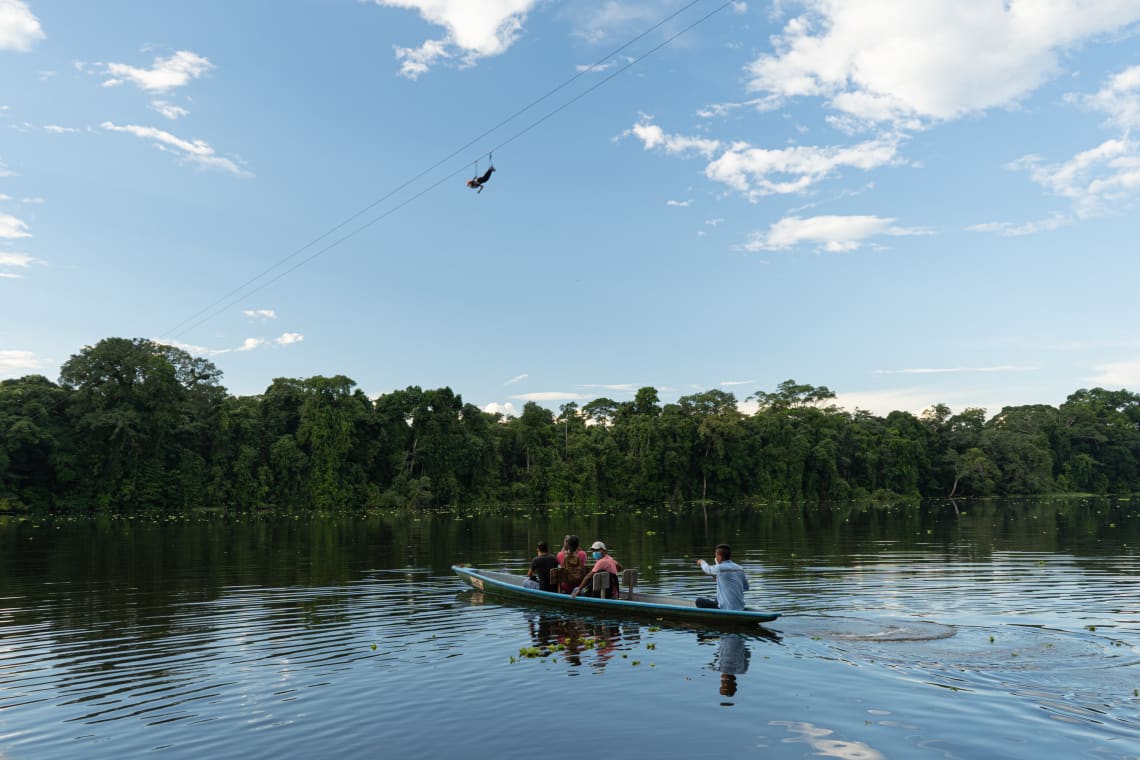 The Galapagos Islands
Includes: Isabela Island, San Cristobal Island, Santa Cruz Island, Santa Fe Island, Baltra Island.
June through September and December or January are peak seasons for the islands because of the holiday season. If you're traveling to the Galapagos Islands during the peak season, book everything far in advance as tours, flights, and accommodations may sell out.
However, the temperatures are a bit cooler so it's not necessarily the best weather. The wet season is actually ideal for visiting the Galapagos, as the weather is warmer and there may be fewer crowds if you avoid the Christmas and New Years holidays.
The best weather in the Galapagos is from December to May. The weather is warm and more pleasant, and the ocean is calm because the wind drops off. This also means better water visibility for snorkeling and diving.
You can spot wildlife in the Galapagos year-round. But some specific events are time-sensitive. For example, humpback whales are active in the waters from June to September.
Sea lions are born in August, and they take to the seas in November if you want to swim with them.
Green turtles lay their eggs at the start of the year. The babies hatch in January through March. Giant tortoises start hatching in December.
Keep reading: How to plan your dream Galapagos Islands vacation on a budget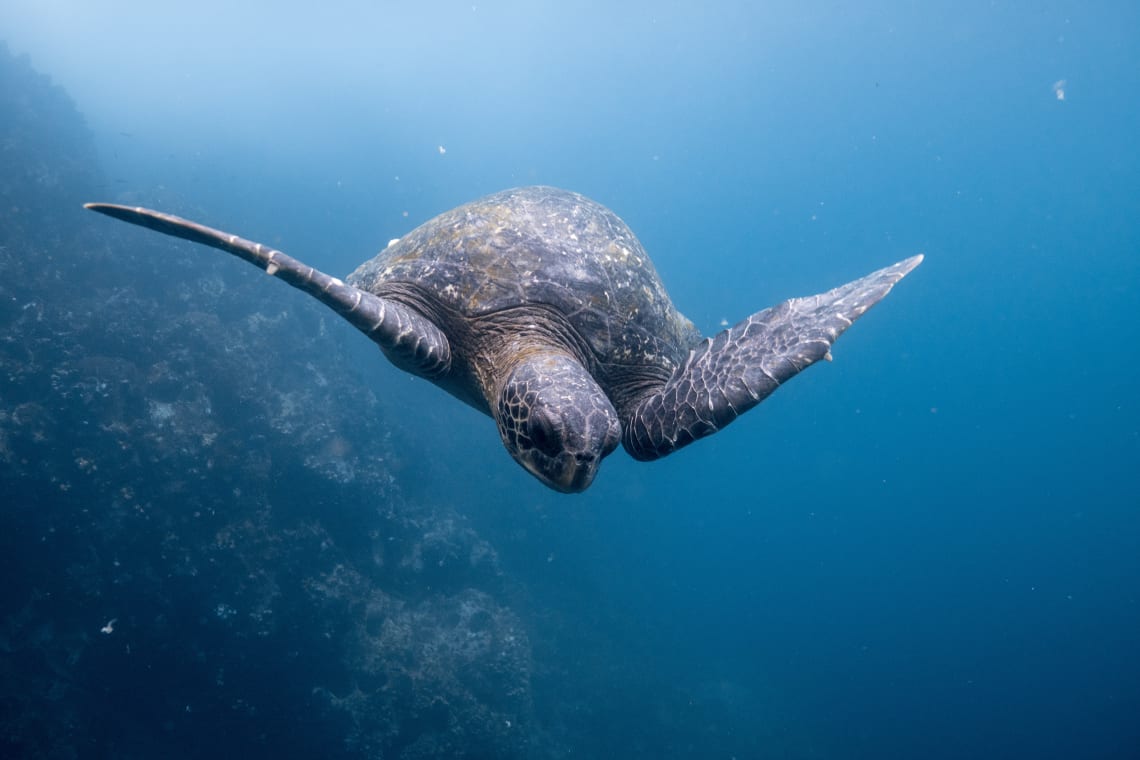 Work Exchange in Ecuador
Now that you know the best time to visit Ecuador, let's discuss some of the best work exchanges here. If you're looking for a unique experience in Ecuador, a Worldpackers work exchange is the best way to get involved in the local culture.
There are over 200 Worldpackers work exchanges available in Ecuador.

Here are a few of the top rated and most reviewed Ecuador work exchanges:
Cook in an eco lodge in the amazing rainforest: This eco lodge in the jungle accepts volunteers to help with cooking as well as other tasks like translating, cleaning, and media. It has 20 five star reviews from other travelers!
Volunteer at a dog rescue near Cotopaxi Volcano: This big farm in the Andes Highlands has lots of dogs that need love and care. You can practice your Spanish here, help animals in need, and explore the gorgeous Cotopaxi National Park on your days off.
Promote a hostel in the beach town of Montanita: For a fun, social, beachside experience, volunteer at this hostel. You will help with promotions and general tasks around the hostel, and you'll get to meet guests and other volunteers from all over the world.
Work as a textile designer in the capital city of Quito: This homestay in the bustling city of Quito allows you to learn new skills regarding textile design and production. You'll stay with the family who owns the business and learn about their work.
If you want to know more, check out How I had the best Worldpackers experience in Ecuador.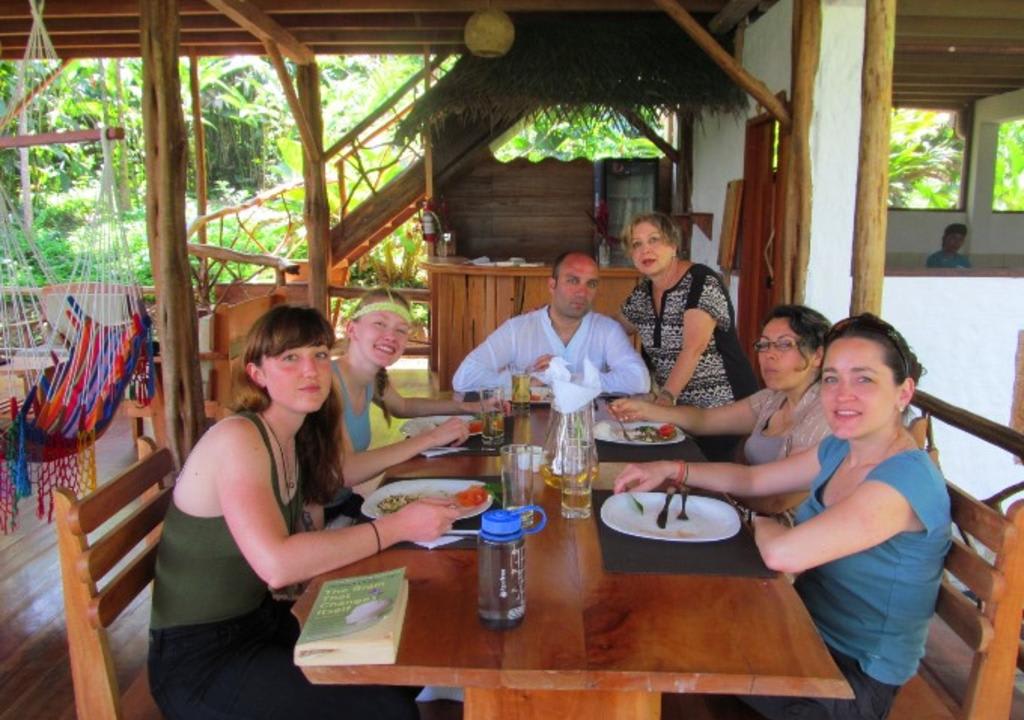 Recap: The best time to visit Ecuador
So whether you are backpacking South America, doing work exchanges, or just planning a quick trip to Ecuador, now you know the best time to visit Ecuador.
Just do a bit of research on the weather patterns depending on where you want to visit. The weather and crowds may vary from the volcanoes of the Andes Highlands, to the jungles of the Amazon Rainforest, to the coastal cities and beaches.
And the Galapagos Islands are some of the most unique and special places on the planet, so you want to make the most of your visit.
For more travel inspiration about South America, check out these articles: