How to live for free: 10 places to stay at without paying
Wondering how to live for free? In this article you'll find 10 places where you can stay for free, including hostels, local homes, and eco villages all over the world.
7min
If you're wondering "How to live for free?", you would be surprised at the number of options! Living abroad without paying for your stay may sound like an impossible dream, but if you have the right resources and the right mindset, it is definitely possible.
There are a few different ways you can live for free, but volunteering with Worldpackers is the easiest and most accessible way in my opinion.
For those who don't know, Worldpackers is a platform that connects travelers with hosts from around the world. Travelers can work a few ours a week for their hosts in exchange for free accommodation.
So although there is some work required, this is essentially living abroad for free. It's supposed to be a collaborative exchange, different from regular work relationships.
Worldpackers hosts live in many different countries and areas. You can do this type of work exchange in a hostel in a big city, in an eco farm surrounded by nature, helping an NGO, and more.
Here are some examples of places where you can live for free!
How to live for free in hostels
If you want to know how to live for free while enjoying a social atmosphere, then hostels are perfect. Especially if you are a solo traveler who wants to make friends, consider doing a work exchange in a hostel.
Because hostels cater to tourists, they are often centrally located in cities and popular destinations. So if you want to live somewhere that is easily accessible with internet access, public transport and such, hostels are ideal.
The types of work that might be needed in hostels include reception, housekeeping, bartending, maintenance, guiding tours, promoting parties, and more. That is how you can live for free, while meeting travelers from many different countries, learning about other cultures and having a super fun time.
Most hostels have a staff dorm room where you can stay for free in exchange for your work. Some hostels also offer free staff meals and discounts on laundry, tours, and other things.
Every hostel is different, but working in one is an amazing way to live for free in many countries. Here are some examples of places where you can volunteer in hostels:
Live for free in a hostel in Spain
Work at the reception in a hostel in San Sebastian. In exchange for 24 hours of work per week, you will get free accommodation, free laundry, access to events and parties, and discounts on other fun activities and hostel stays in other areas of Spain.
You can use the shared kitchen to cook your own meals. This hostel has over 50 positive reviews and is well loved by many travelers.
Check out more opportunities for volunteering in Spain.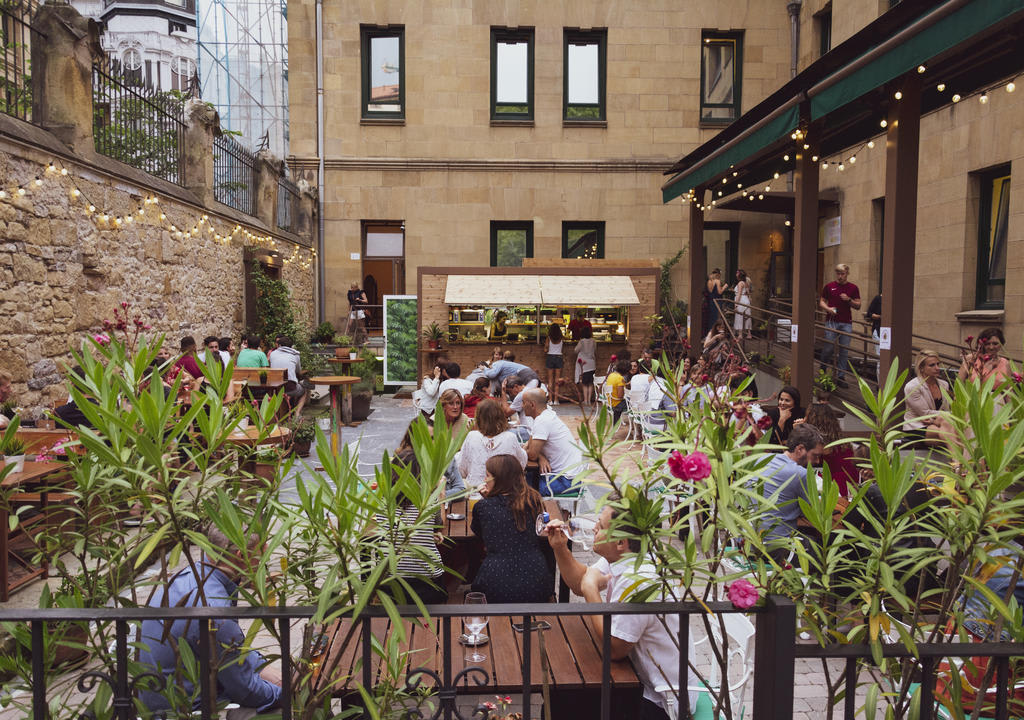 Volunteer in India
Volunteer in a well-organized and laid back hostel in Jaisalmer, India. Whether you're a solo traveler or a couple, this hostel accepts volunteers to work 25 hours per week in reception or housekeeping. You can also work as a tour guide or party promoter.
In exchange, you'll get to live in a private room and enjoy free breakfast, as well as receiving discounts on tours and events.
Planning to spend a long time in the country? Why don't you have a look at other work-exchange possibilities in India.
Help in a hostel in Perú
Be a bartender in a party hostel in Lima. You will work in the bar for 30 hours a week and enjoy 2 days off. In exchange, you can live in Perú for free!
Sleep in a staff dorm, have free breakfast and lunch, and enjoy partying and socializing with other volunteers, staff, and travelers who pass through the hostel.
This hostel is one of many volunteering opportunities in Perú.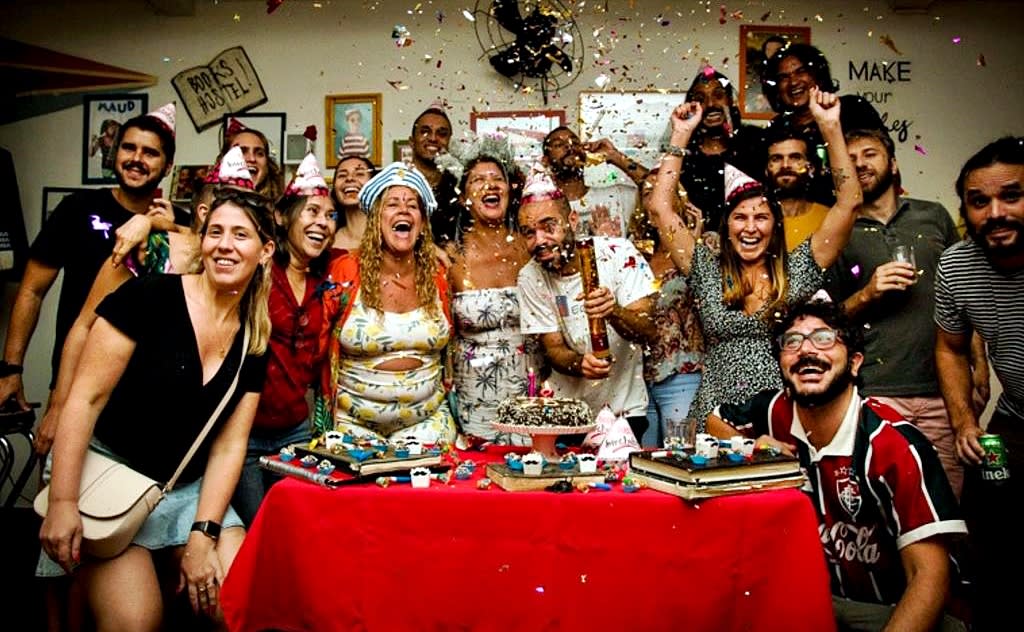 To know more about how to live for free in a hostel, read these articles:
How lo live for free at a local's home
If you want to live abroad for free, but you want a quieter, more culturally immersive experience, consider volunteering with a local in their home.
There are people all over the world who accept Worldpackers volunteers for a number of different reasons. Mostly they need some type of help at home, and they find it interesting and culturally enriching to open their home to a traveler.
These types of work exchanges generally mean you will be doing child care, tutoring, language lessons, animal care, maintenance, or working as a general handyman.
In exchange, you will get to live in a spare room, guest house, or something similar. Because you are living in a home, these work exchanges often include meals as well.
You are probably going to be the only volunteer living with the family. So you won't have a super social experience, but you will get quality time with a local family. This is a great way to practice language skills and form connections with people outside your comfort zone.
If you're wondering how live for free in a home, these are some of the opportunities:
Helping a homestay in Morocco
Help create videos and work on social media and photography in Marrakech. This home stay requires only 4 hours of work per day, where you help your Moroccan host out with photography, videography, and web development.
You can advance your skills and also experience the real Moroccan lifestyle. You get a free stay in a private room and free breakfast in exchange for your work.
Also in Morocco, there's an opportunity to live in a local's home at the Sahara Desert, definitely one of the most unique stays around the world!
Check out the current available opportunities for volunteering in Morocco.
Volunteering in Canada
Live for free in the Yukon and experience the North American wilderness! This Canadian local lives off the grid and accepts volunteers to come help with daily chores and tasks in exchange for an epic adventure in northern Canada.
Help out for 12 hours per week, and in exchange enjoy free meals and all the fun sports and exploring in the wilderness.
There are also many other opportunities to volunteer in Canada.
Check out the best things to do in Canada.
Live like a local in Guatemala
Help a local learn English in Guatemala. With 11 five star reviews from past travelers, this local woman in Guatemala accepts volunteers to come and stay with her, so she can practice English.
You can live for free in a beautiful area of Central America, explore the surrounds in your free time, and make a difference in someone's life.
Check out more volunteering opportunities in Guatemala.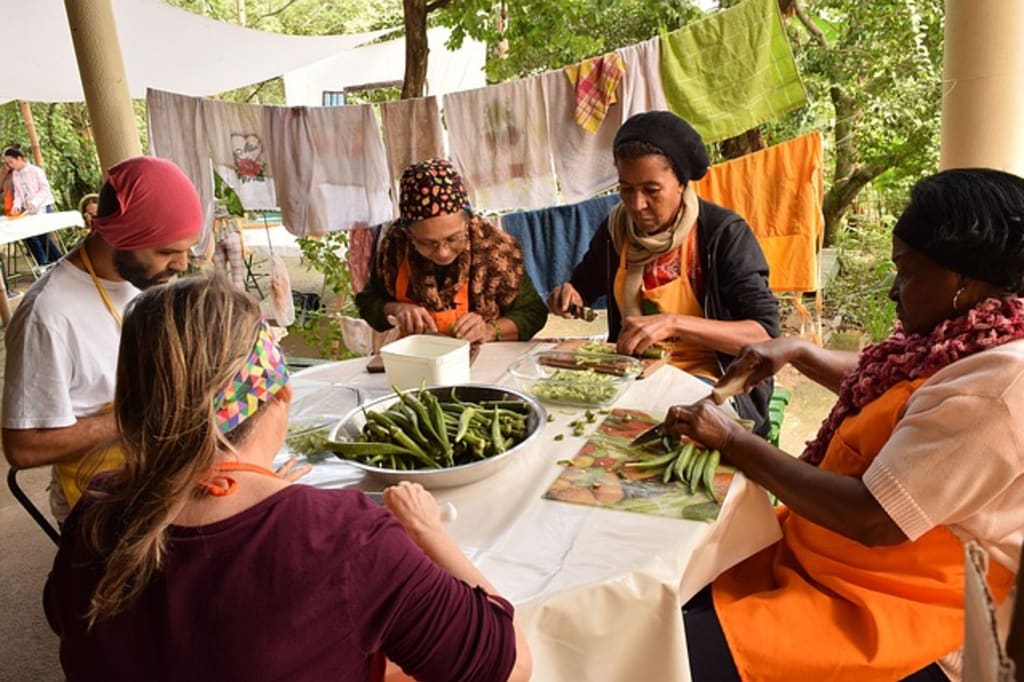 Know more about the unique experience of living with a local family in this article: What it's like to experience a Worldpackers homestay in Madrid.
Places where you can live off the land for free
Most work exchanges include free accommodation, some include meals and other amenities. Some work exchanges do not include food. So if you are really trying to save money, you may be wondering where you can live off the land for free.
Eco villages and permaculture farms are great places to get off the grid and grow and cultivate your food. That way, you can truly learn how to live for free.
These types of places usually accept volunteers who don't have any experience as well. Hosts are happy to teach you about all things related to farming and permaculture, so this is a great way to learn new skills.
Here are some examples of how to can live for free while helping off grid projects.
Learn while helping in Sri Lanka
Volunteer on a coconut farm and learn about permaculture and farming in Sri Lanka. In exchange for 25 hours a week of farming and gardening work, you can enjoy a free stay in a shared dorm with free meals.
This is an amazing way to immerse yourself in the farming culture of Sri Lanka, live with locals, and reconnect with nature.
There are many volunteering opportunities in Sri Lanka.
Stay for free in Belgium
This permaculture project in Herzele, Belgium is a social and fun place to volunteer and live for free. The locals run a sustainable farm with lots of food and animals, and they need volunteers to come and help maintain the area.
Work for 20 hours a week, and enjoy free meals and parties with the fellow volunteers and locals.
Check out all the opportunities of work-exchange in Belgium.
Live for free in a farm in Thailand
Learn about organic farming in Thailand. You will learn about the ecossystem in the subtropical highlands of northern Thailand and support the team in building new spaces for the farm.
Want to see more volunteering possibilities in Thailand? There are a lot to choose from!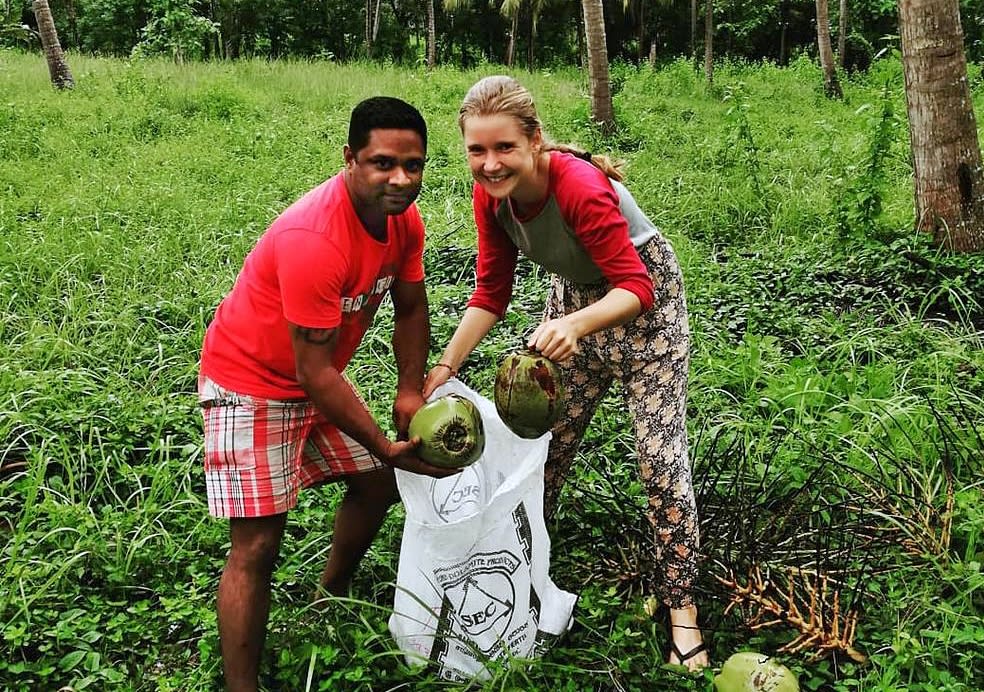 So those are just a few examples of how to live for free! From the farms of Southeast Asia to the hostels of Europe to the local home stays of Africa, there are plenty of places to volunteer all over the world.
If you are looking to expand your horizons, try new things, and meet people from different countries, consider doing a work exchange with Worldpackers. Not only will you have a unique cultural experience, you will save money traveling and get to live for free in beautiful places.
Did you like this article about how to live for free? Keep reading about volunteering while travelling: