16 cheap vacations in the US: touristy and non-touristy destinations
Here are 16 cheap vacations in the US that allow you to explore amazing cities, towns, and national parks in the US on a budget.
7min
When looking for cheap vacations around the world, the USA generally doesn't come to mind. Notoriously affordable countries in Southeast Asia, Eastern Europe, or Central America are definitely more popular for cheap places to vacation.
However, there are plenty of cheap vacations in the US! It is possible to travel the US on a budget, and there is a wide range of interesting, multicultural cities and stunning national parks to satisfy travelers.
To further help you travel on a budget, consider checking out work exchanges in the USA. Using the Worldpackers online platform, you can find more than 180 volunteer opportunities all over the country.
A work exchange will help you save money and learn new skills, as you'll get to work for your accommodation. Accommodation is generally the biggest expense while traveling in the USA, so a work exchange can be super helpful for finding cheap places to travel.
Whether or not you want to try a work exchange, here are 16 of the best cheap vacations in the US.
Best cheap vacations in the US: the big cities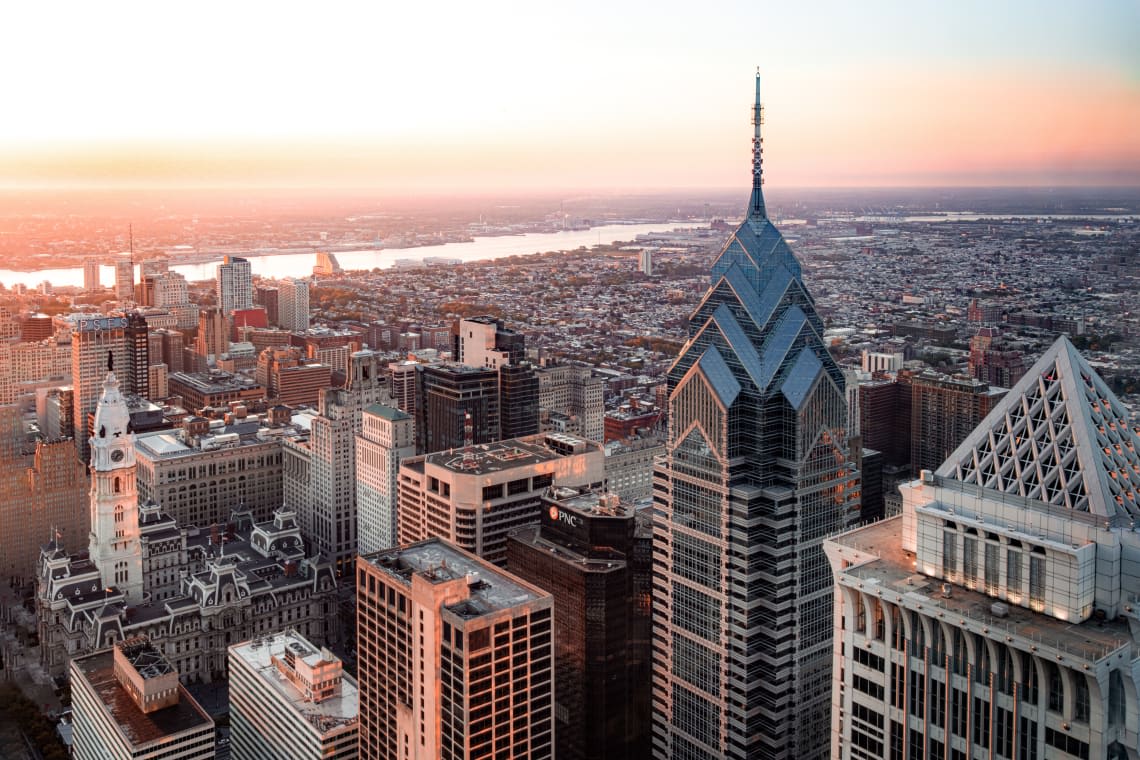 1. Philadelphia, Pennsylvania
For a vacation filled with history and excitement, Philadelphia is an amazing place to visit. With cheap public transport, cheap hotels, and lots of free attractions, you can easily explore this vibrant city on a budget.
Be sure to check out the Liberty Bell, the National Constitution Center, Independence Hall, and the United States Mint. All are free to visit and are vital pieces of American history.
2. Portland, Maine
New England is generally an expensive area of the USA, but visiting outside the busy summer season will save you money on flights and accommodation. Portland, Maine, is a trendy town full of unique shops, art galleries, amazing restaurants and nice bars. Take a day trip outside the city center to visit the rocky beaches and lighthouses of the wild, beautiful Maine seashore.
Try to visit between September and November. The weather will be a bit cold, but the cheap prices and smaller crowds during autumn will be worth it. You may even get to see some famous New England fall foliage!
3. Washington DC
Washington DC is definitely not one of the cheapest places to live in the US, but it is a cheap vacation spot. If you're just visiting for a few days, find a budget hotel or stay in a hostel.
You can spend your days enjoying the world-famous attractions like the Washington Monument, the White House, Capitol Hill, and the multiple incredible Smithsonian Museums. All of these are free to visit!
To further immerse yourself in the culture and history of the US Capital city, while saving money, consider volunteering in some project. You can work for your accommodation, meet lots of interesting people, and get a local's insight into the city.
Top Worldpackers work exchange in Washington DC: Make Memories that will last a lifetime helping a project in Washington DC.

4. Miami, Florida
Miami is surprisingly one of the best cheap tropical vacations in the US. If you fly outside peak times, such as weekends and holidays, you can find really cheap flights. Food is also affordable in Miami, Florida. Spend your vacation soaking up the sun, lounging on the beach, and just walking around sightseeing. If you limit your partying, Miami is actually really affordable!
5. Chicago, Illinois
As one of the most popular places to travel in the USA, Chicago is a very well-known tourist spot. It isn't known for being cheap, but there is lots of sightseeing and museum-touring that can be done for free. You can also volunteer in a hostel doing basic housekeeping work in exchange for free accommodation. With a free stay and lots of free time, you can easily explore Chicago on a budget.
Top Worldpackers work exchange in Chicago: Volunteer in a Hostel in Chicago, get new friends and skills and explore this amazing city!

6. Memphis, Tennessee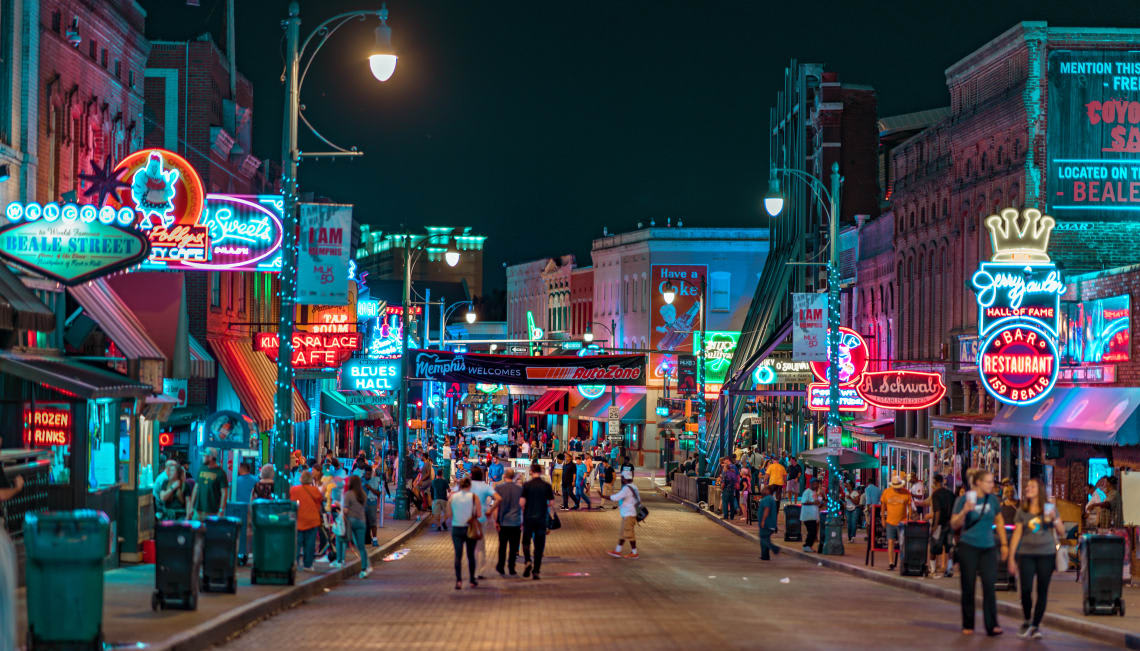 Memphis embodies the musical spirit and Southern charm of Tennessee, and it's affordable to visit. So as far as cheap vacations in the US go, Memphis is a great option. Cheap motels and a few hostels offer cheap accommodation for young people, and even budget hotels are plentiful.
There are so many live music venues, music studios, museums and landmarks, and historic sights to see in Memphis. Beale Street Historic District is the main hub for music, and you can often find venues with little to no cover charge. Indulge in some cheap eats at local BBQ joints as well.
7. Detroit, Michigan
Michigan's largest city is known for its unique museums and interesting landmarks, with the Motown Museum being one of the city's top attractions. Detroit isn't normally a contender for the best vacation spots in the US, but there is a cool work exchange opportunity that can offer travelers a fun experience. You can work in a family-run guest house working on social media, maintenance, or teaching English to other volunteers.
Top Worldpackers work exchange in Detroit: Help greet new people in a Guest House and give tours in Detroit.

8. Phoenix, Arizona
The capital city of Arizona is another one of the best cheap vacation spots in the US. Surrounded by unique desert landscapes, there are lots of cool hikes and nature to explore. South Mountain Park and Camelback Mountain are top hiking destinations, though it is recommended to visit outside summer as the heat can be extreme.
Highlights within Phoenix city include the Desert Botanical Garden, the many fascinating museums, and the exciting nightlife.
9. New Orleans, Louisiana
Lovers of art, music, and architecture will absolutely thrive in New Orleans. This exciting Southern city is the perfect place for cheap vacations in the US, as it is truly very cheap here year-round. Accommodation and food are affordable, and there is so much public art on display that won't cost you a dime.
Check out the regal architecture of the French Quarter and the artwork on display in Jackson Square. Also just wander around and you're sure to discover lots of street art and free jazz clubs, and if you go in January you can attend the parades of Mardi Gras!
Top Worldpackers work exchange in New Orleans: Be part of an amazing hostel in New Orleans and help at the front desk.

Best cheap vacations in the US: towns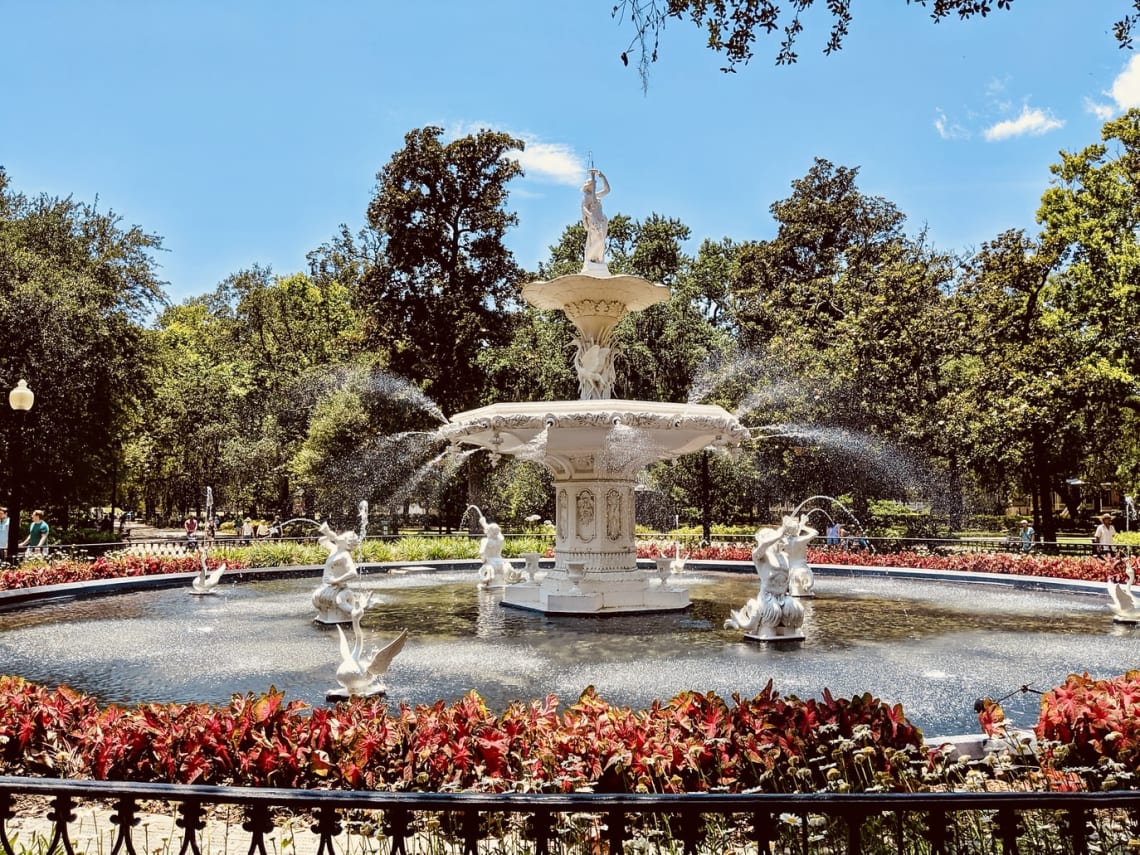 10. San Antonio, Texas
San Antonio, Texas, is a colorful town with a fusion of Mexican and Texan cuisine, architecture, and culture. You can visit the Alamo, stroll along the River Walk, eat some authentic Mexican food, or relax in one of the many parks and green spaces.
This is one of the best cheap places to vacation in the US, due to its cheap public transport prices, cheap accommodation, cheap food, and abundance of cheap or free attractions. Flights are generally cheap as well!
11. Savannah, Georgia
Full of lush green gardens and historic buildings, Savannah is a truly beautiful place. Flights, transport, and accommodations are cheap, and most of the sightseeing can be done for free. Check out the museums, the historic district, and the magical Forsyth Park, all for no money at all. Savannah is an amazing place for cheap vacations in the US.
Best cheap vacations in the US: nature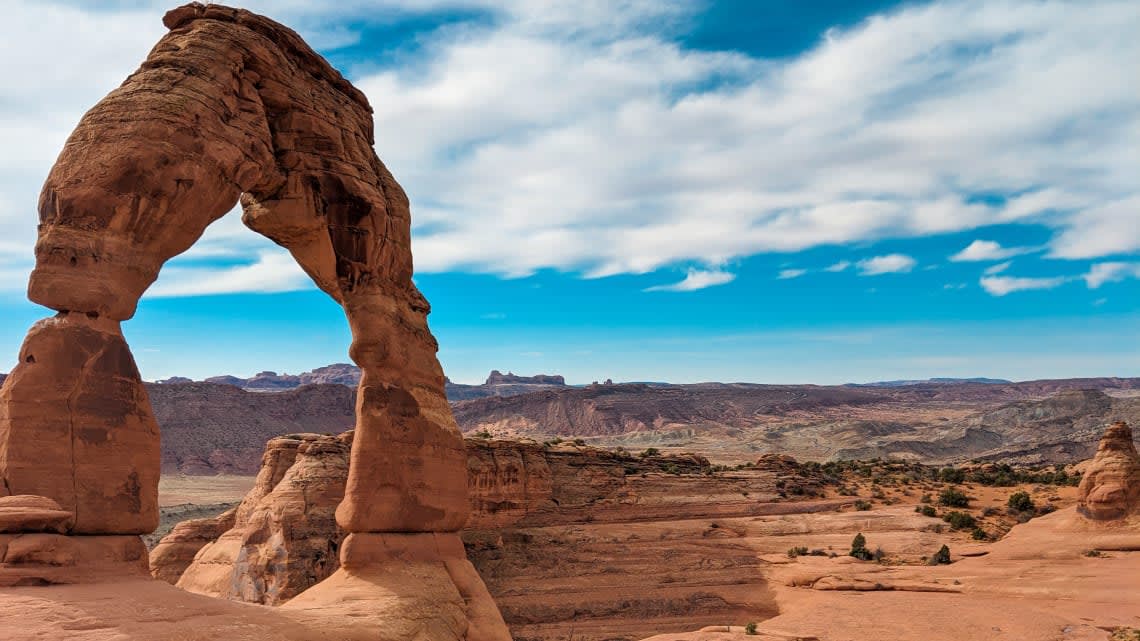 12. Moab, Utah
If you're interested in camping, exploring the desert, and seeing mind blowing natural rock formations, Moab is one of the best vacation spots in the US. Moab, Utah is not far from Arches National Park, a hotspot among backpackers and road-trippers in western USA.
The park entry fee is only $15 per person, which is affordable for an entire day of exploration through one of the USA's most famous national parks.
13. Glacier National Park, Montana
Another one of the best vacations to go on in the USA is Glacier National Park. Located in the Rocky Mountains of northern Montana, this massive expanse of wilderness is heaven to travelers seeking some real quality time with nature.
The rangers here often lead free activities such as hiking and stargazing, and there is plenty of exploring you can do on your own. The entry fee is $25 per vehicle, which isn't too expensive for an incredible national park in the USA.
14. Boulder, Colorado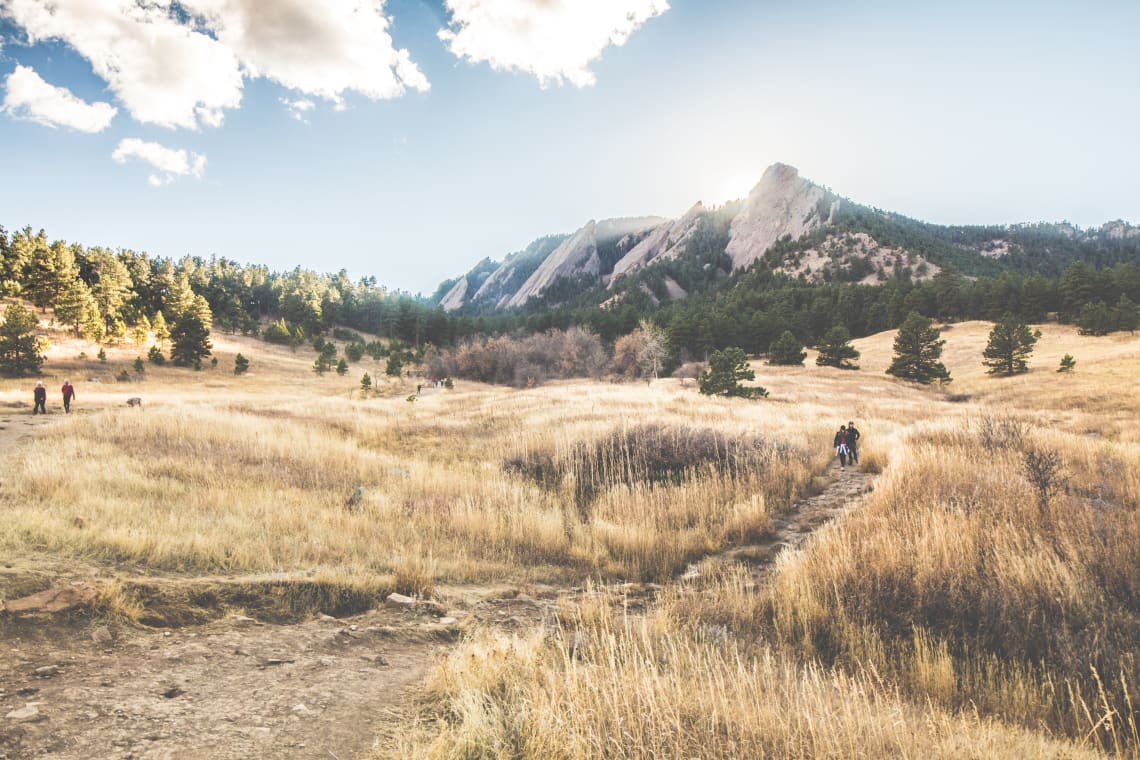 Boulder is a top vacation spot for young people in America. It's also one of the cheapest places to live in the US, and an amazing place to travel on a budget. While visiting Boulder, Colorado, visit the cheap eateries, bookstores, art galleries, thrift shops, and live music gigs. Or venture outside the city for canoeing on the Boulder River and hiking in the Rocky Mountains.
15. Hawaii
Hawaii is the stunning island paradise that doesn't really feel like it's part of the USA. Flights and resorts can be expensive in Hawaii, but I added it to this list because it is one of the top places for work exchanges in America.
Worldpackers currently has many volunteer opportunities in the Hawaiian Islands. Most of them involve permaculture and working on a sustainable eco-farm. There are also hospitality venues and homestays. So if you want an immersive cultural experience in the diverse nature of Hawaii, this can be one of the best cheap tropical vacations in the US.
Top Worldpackers work exchange in Hawaii: Be part of our permaculture project in Hawaii, connect with the locals and expand your environmental consciousness.

Wondering if you need a passport to go to Hawaii? Check out this article.
16. Olympic National Park, Washington
To experience the lush, diverse Pacific Northwest on a budget, visit Olympic National Park in Washington. This is one of the best vacation spots for nature and wildlife enthusiasts, as you can hike, camp, bird-watch, mountain-bike, kayak, swim, and more. Full of forests, mountains, rivers, and wildlife, this national park is a nature-lovers heaven.
It's only $30 to enter, with annual passes costing $55. Since all the outdoor activities in the park are free, the entry fee is worth it. Pack your own lunch and consider camping to further save money in Olympic National Park.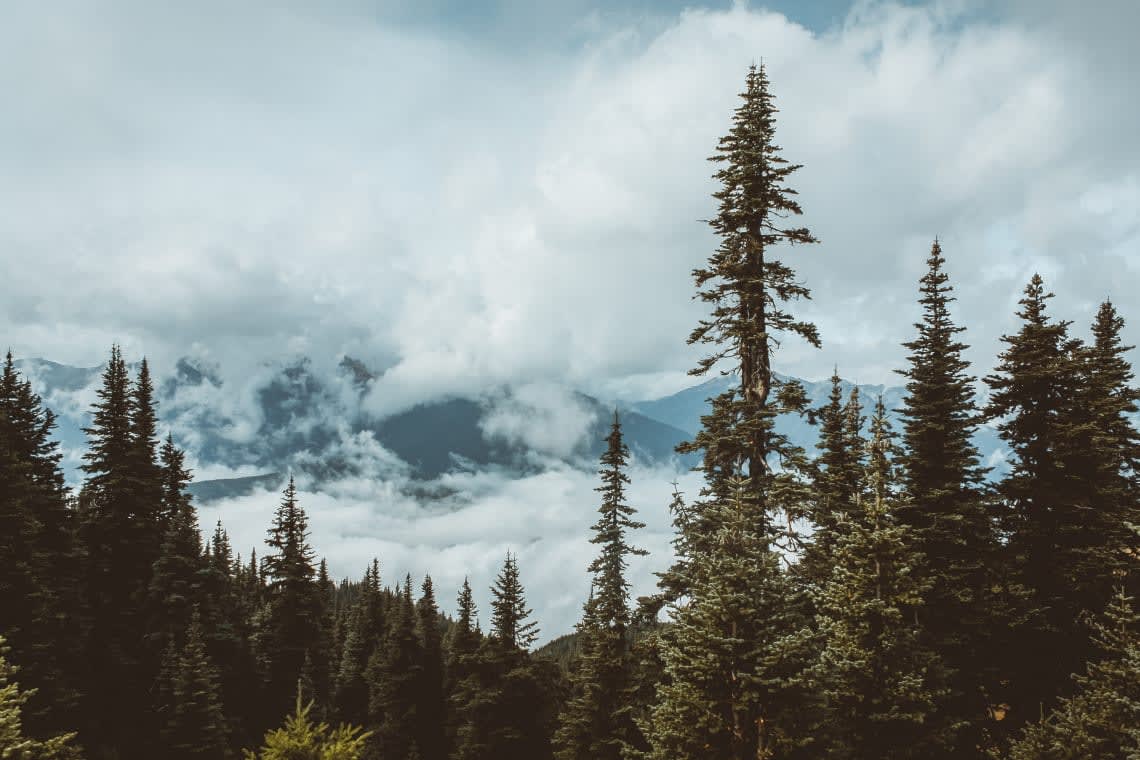 Now tell me in the comments: which destination has caught your eye? Have you started making any travel plans yet?
Keep exploring our blog and read a worldpacker story about being a volunteer in Nashville!