How much does a trip to Hawaii cost? Learn different ways to save money
In this blog article I'm going to talk about how much a trip to Hawaii cost and how to to save money taking a trip as solo traveler, couple or family.
9min
Hawaii, the place everyone wants to go and typically known as one of the most expensive island destinations.
In this blog article, we're going to discuss the cost of a trip to Hawaii and how to save money on your adventure. Come on, let's hop into it!
How much does a trip to Hawaii cost?
Alright, I know when we think of Hawaii we picture the most beautiful beaches priced at expenses that are not so beautiful. It's everything a budget traveler dreams of but doesn't necessarily have the funds to get around to. Hawaii can be ridiculously expensive if you allow it to be ridiculously expensive.
The key to Hawaii is knowing the right places to go and exactly HOW to budget your expenses.
If money is not properly budgeted, people usually fall into the trap of spending thousands of dollars on something they don't necessarily have to spend that much on.
If you opt for more of the budget activities, lodging, and transportation, you'll be sure to save hundreds (or even thousands).
In this article we're going to talk about the main ways to save money while traveling to Hawaii (where to stay, transportation, and activities) as well as the different types of vacations.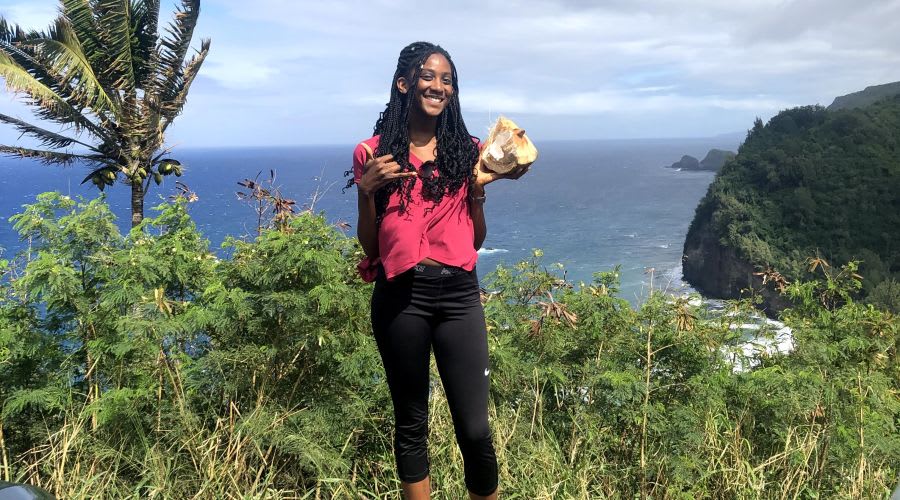 Cost of a trip to Hawaii: Accommodation/Lodging
Accomodation is probably the main place people throw away thousands for a simple or short vacation (next to activities) in one of the Hawaii islands.
It doesn't have to be this way! Many people don't realize that it's possible to go to Hawaii and not spend a single dime on a place to stay. You may be wondering how in the world that it's possible, a free place to stay in Hawaii?! Never! I assure you I'm telling the truth!

Many solo or couple travelers go to Hawaii and spend so much money on luxury hotels or overpriced airbnbs.
If you're a boujee person that absolutely has to have everything, then expect to pay astronomical prices when traveling to Hawaii. But if you're truly on a budget and want to save a buck, consider doing work trade for free accommodation.
All you have to do is work a few hours a day and you get a free place to stay in Hawaii for however long you desire. That's it, that's all you have to do! Now let's talk about the details and reality of work trading in the Pacific Islands.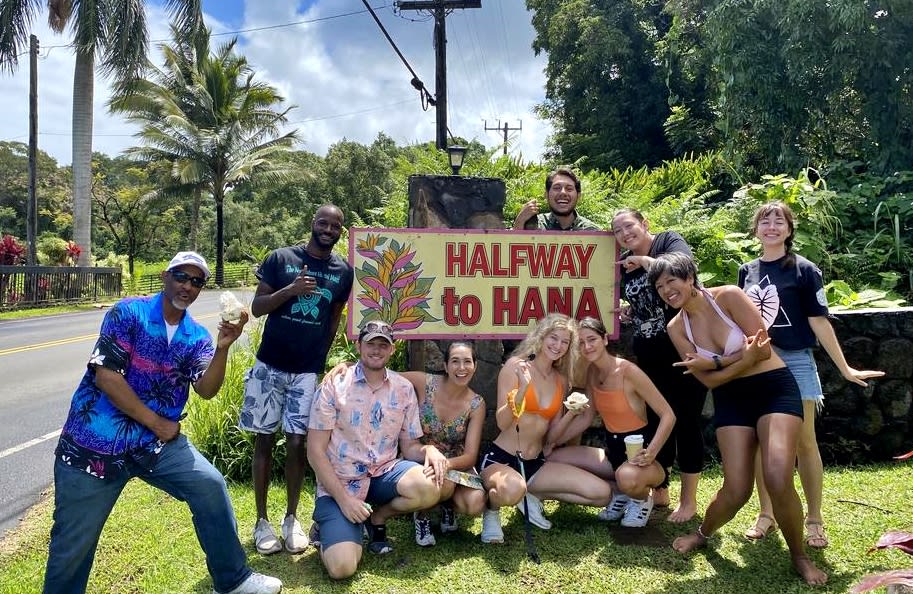 Volunteering in Hawaii for accomodation
Want to stay in Hawaii long term? There are plenty of Worldpackers opportunities that allow you to stay for months at a time, basically turning your initial week vacation into a long term tropical Pacific stay!

Worldpackers offers many volunteer opportunities in Hawaii that all allow solo travelers and couples to save a big buck when planning a trip to Hawaii.
If you're not the type that needs to stay in a five story resort right by the beach, work trading in the Hawaiian islands is definitely the way to save hundreds (or even thousands) on accommodation.
Let's talk about some of the possibilities and opportunities found there:

Are you good at construction and lifting things? Why not help out this Eco program farm on the Big Island? You'll get a chance to experience the authentic and rural part of Hawaii while contributing towards a good cause. What's better than that?!
Do you like pets and live a plant-based lifestyle? Stay a while at this Vegan Visitor Center located on the Big Island. You'll be provided with a private room and fed breakfast, lunch, and dinner.
If you've always wanted to live in Maui, you're in luck! This hostel is looking for a long term recepcionist (three month minimum) to help them out with checking guests in and out. Doesn't that sound awesome?

If you're interested in working less hours per week and want a more off grid living situation, help out this airbnb/guest house near a beautiful waterfall.
Know more about volunteering with Worldpackers at Traveling with Worldpackers: your top questions answered and How to volunteer abroad using Worldpackers.
The best time to fly to Hawaii
Another way to master remaining on budget when planning a trip to Hawaii is deciding when the best time to fly out to the islands is.
Looking at budget flight websites including skyscanner.com and kiwi.com, you can find affordably priced one-way tickets from San Francisco California to Honolulu for as low as $90 during the month of April, but that same flight goes up to as much as $300 during North-American summer months.
The key is also knowing where to fly out from. Leaving from California is the best option to fly to the Hawaii islands. It's just the itinerary that makes the most sense and will save you the most amount of money.

Now, although leaving from California is the best option, it's also important to look which city of California has the cheapest flights.
Los Angeles and San Diego are hot Cali destinations for tourists and offer pretty decent flights to the Pacific tropical paradise, but if you head up north to the Bay area, then San Francisco and Oakland airports offer the best priced flight to Hawaii with some tickets as low as $94 for a one way to Honolulu.
Another flight hack tip. If you're leaving with more than one person or in a group, never purchase your tickets together. Buying more than one ticket in a single purchase does not guarantee the cheapest price.
Airlines typically try to find seats that are together and may price a low priced ticket with a high priced ticket just to keep the family or group together. Take the chance, purchase the ticket separately and worry about the seats once you actually get to the airport and board the plane.
Since California is the best state to leave from and board to Hawaii, why not make a little trip out of it? Worldpackers offers over 90 work-trade positions in California. You could spend a week (for free), or even longer if you wish.
Do you enjoy camping and are skilled in social media? Try helping this accommodation in San Bernardino for two weeks before heading to the Pacific.
Consider helping out this hostel in the city center of San Francisco for four weeks before hopping on a plane to the Hawaiian dream destination.
There are so many ways to break up a trip to Hawaii and make it not cost a fortune, it just takes smart planning.
Discover how to find cheap flights to anywhere and check the entry requirements in Do I need a passport to go to Hawaii?
Cost of a trip to Hawaii: Affordable Activities
Sitting at one of the areas where travelers tend to spend the most money set aside for their Hawaiian Paradise trip is activities.
Hawaii is, as we all know, one of the most gorgeous places on earth but finding things to do can get a little pricey if you're a luxury person.
Have a free fun beach day!
Hawaii quite possibly has some of the most beautiful beaches on the earth- and a lot of them are completely free!
Hawaii consists of a total of 7 islands including: The Big Island (Hawaii), Honolulu, Oahu, Kauai, Molokai, Niihau, Maui, and Kahoolawe.
Even though there are plenty of expensive tourist attractions, there are the same amount of free and crystal clear beaches waiting to be enjoyed by budget backpackers and others wishing to save a buck.
Take a hike at a national park
Diamond Head Trail is a beautiful hiking location that only costs one USD per hiker, how could you not visit? (Cars cost $5 per vehicle).
If you find yourself on the big island, it's imperative you visit different volcano sites to see how the past eruptions have affected the land, just don't take any volcanic rock home! Tourists have reported to have extremely bad luck when they removed volcanic rock from its rightful land.
Hawaii is indigenous ground so be sure to be respectful of the people and their customs/traditions.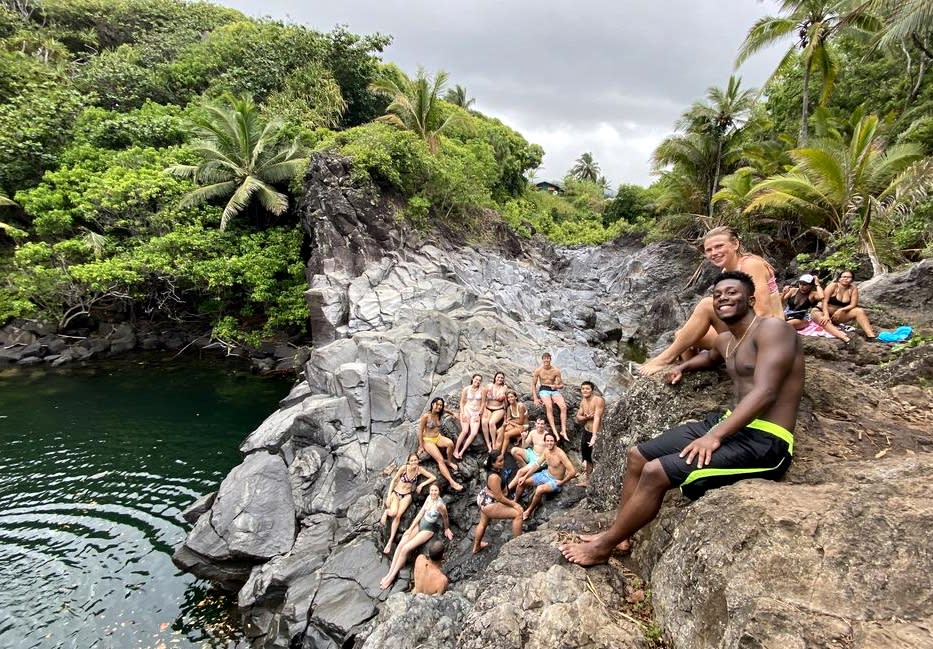 Visit Pearl Harbor
Surprisingly, a visit to Pear Harbor is technically free (there is a ticket service fee of $1.50).
Being such a popular tourist attraction that is priced extremely low, the tickets sell out very quickly as they're given out on a first come first serve basis.
If visiting Pearl Harbor as part of your solo (or family) itinerary, be sure to plan ahead!
Visit a Waterfall
We all know that Hawaii is home to a series of popular and stunning beaches, but there are also plenty of waterfalls to see and capture the perfect instagram worthy picture as well.
Some of the most popular waterfalls visited by tourists are: Manoa, Kahiwa, Wailua, Pu'uka'oku, and 'Opaeka'a falls.
Located on the island of Oahu, Monoa Falls entrance fee is completely free of charge needing to only pay $5 for a car parking.
Although these are the most visited waterfalls, the islands have tens and possibly even hundreds of lesser known and beloved waterfalls. Get some hiking boots on and be up to discover a never before seen water beauty!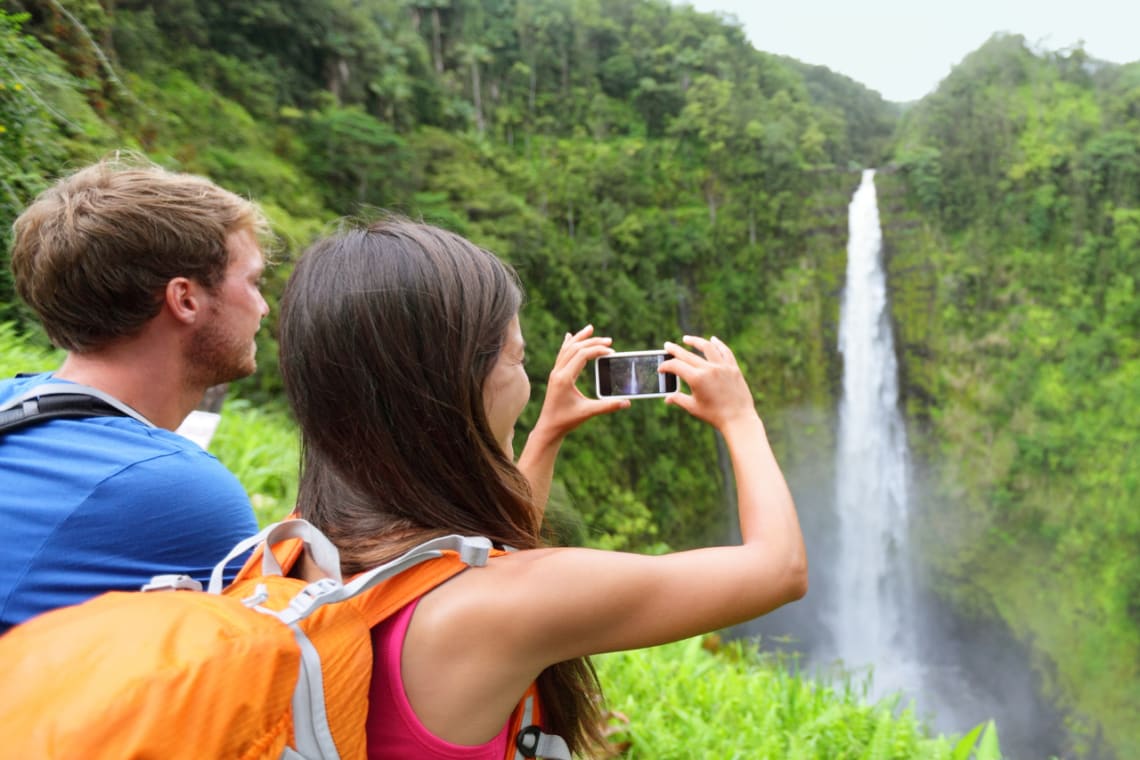 Hawaii State Art Museum (free)
This interesting museum offers something all budget conscious travelers love, a free tour.
Make sure you're in Honolulu during the first Friday or last Tuesday of any given month and you'll get a chance to join a free tour or lecture.
Go camping
Camping is actually a very popular activity on the islands. Majority of the campsites are located on Hawaii aka The Big Island and Honolulu (where the capital is located).
A quick google search will unleash all the possibilities and locations to camp in Hawaii that are priced frankly low or better yet- free!
Don't miss: 24 best places to go in Hawaii and feel the magical Aloha Spirit.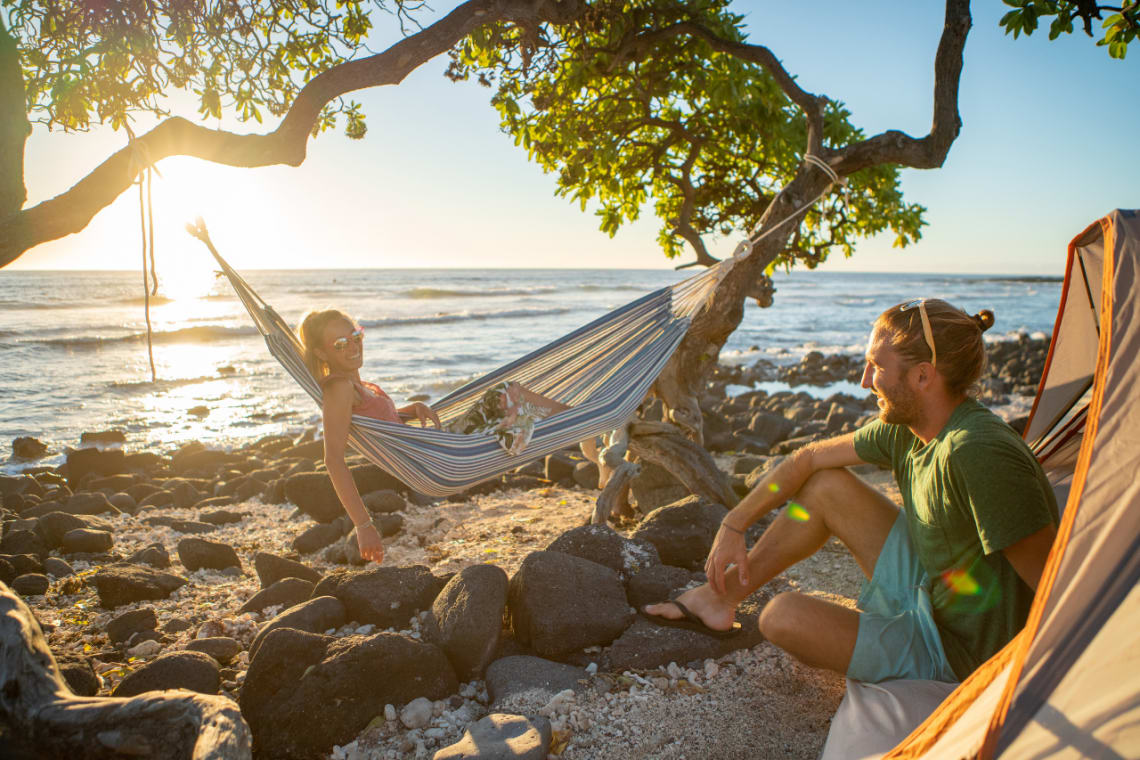 Now that we've talked about some unique and common ways to save money while traveling to Hawaii, let's dive into the different types of travel (solo, family, and couple) to consider while planning a trip to the Pacific islands.
Family Vacation
Family vacation is definitely going to be the highest costing vacation out of all three options due to the amount of people present, but it's still possibly to have a budget friendly family visit to the islands.
Getting prepared and ready to bring a family of three, four, or more to Hawaii can be a bit stressful, but no worries, I'm here to help:
Look for different budget accommodation options that are near to the city or else you will find your family spending lots of money on constant transportation.
Book flights to the islands during OFF seasons. Going to Hawaii during summertime or spring break is sure to make the flights go up a couple of hundred dollars.
Instead of taking the entire family on a sunset yacht that costs $500 for the night (funny right), spend some time for genuine down to earth family fun.
Rent a car on any of the islands (be sure to rent from affordable companies as many overcharge) and drive to one of the waterfalls before mentioned.
Take a quick trip to Costco or any supermarket near the family lodging area to stock up on sandwiches and other possible snacks/meals. Enjoy a fun hike and talk about how much money was saved from doing more nature based activities!
Couple Vacation
Planning a couple (or friend) vacation to Hawaii is a bit easier and less cost effective than taking an entire family to the islands.
A note of consideration: when booking flights, consider buying your couple tickets separately, it's cheaper than getting them together on purchase.
Talk to your accompanying partner about their preferred accommodation setting. Some travel companions need to have high-end amenities and others wish to set up tents at a free camping site.
Sit down to discuss both of your budgets and decide what the best middle ground would be.
Last but not least, there are plenty of Worldpackers work trade opportunities available for couples. A perfect way to spend a fun trip together and witness a new experience and culture while helping out an important cause.
More on this topic: The comprehensive guide to couple travel.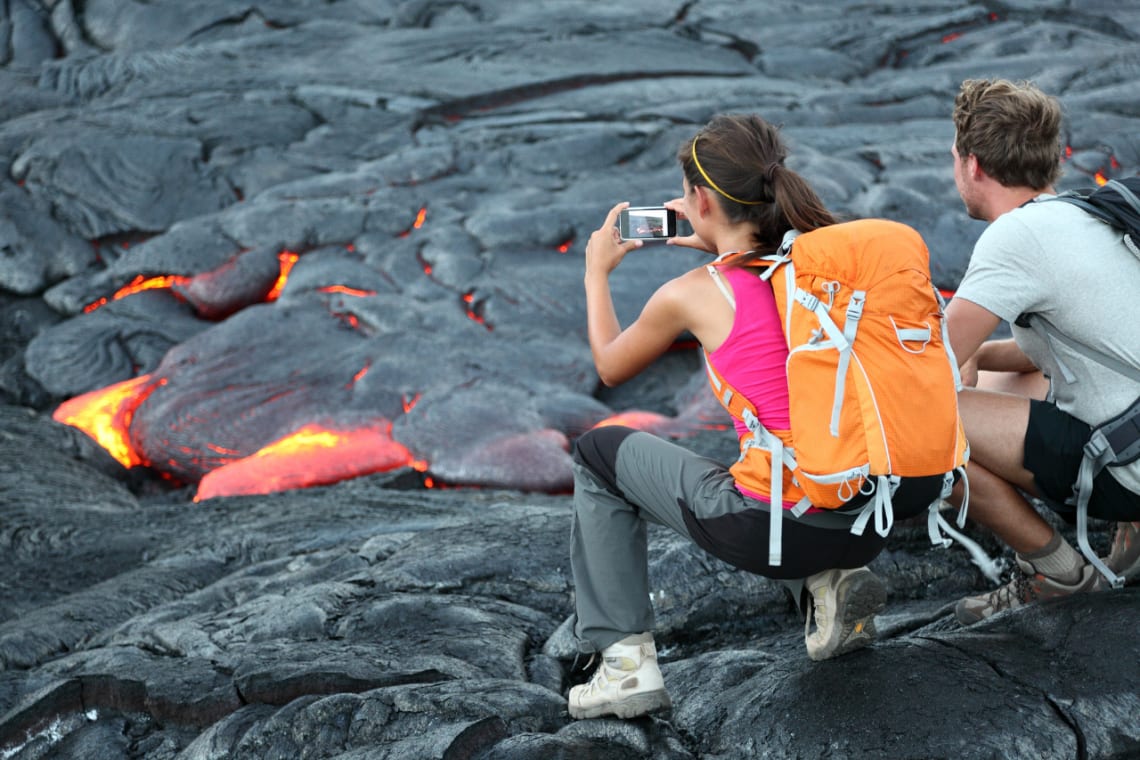 Solo Vacation
Going on a solo vacation to Hawaii is one of the better options (in my opinion as a full time solo traveler of 2 years) because all of the decisions are on a single individual. Solo Travelers to Hawaii have the independence to make their own schedule and itinerary without needing to consider another person's budget or wants.
Consider what type of traveler you are. Do you enjoy luxuries and boujee accommodation or are you more of a laid-back backpacker type of traveler?
Hostels for one bunk can range from $25 USD for one night whereas luxury private rooms can get up to as much as $100-$200 per night. Of course if you don't feel like spending any money, you can volunteer for a hostel downtown and get a nice place to stay absolutely free by volunteering with Worldpackers in Hawaii.
Are you the kind person that likes to take private helicopter rides over Honolulu or do you prefer taking free hikes with a group of friends? Of course there are activities where you'll spend a pretty penny but there are also just as many free or low cost ways to have fun as well.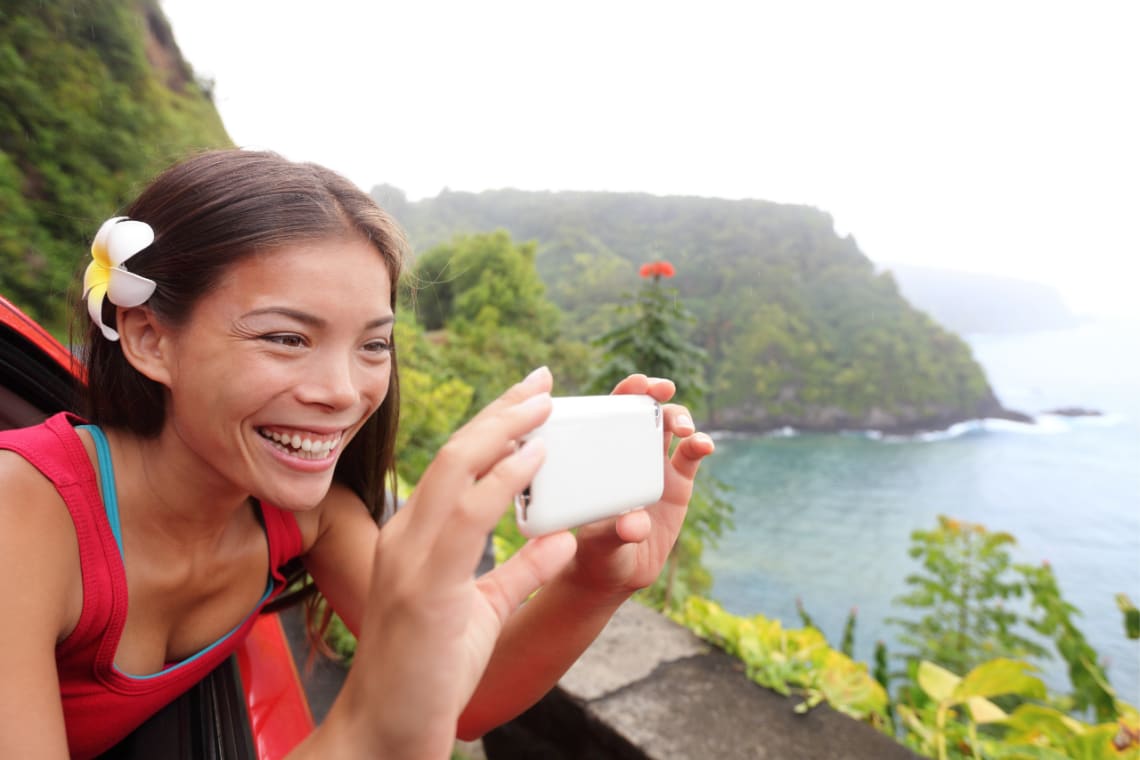 What's the cost of a trip to Hawaii?
Overall, there are so many ways to save money while taking a vacation to Hawaii. Whether it may be finding affordable activities and ways to have fun or finding the best flights and most affordable time to travel to the islands.
Try out at least one of the Worldpackers opportunities mentioned to not only save some money but for a life changing and mind-altering experience.
Traveling Hawaii does not have to be as expensive as it's made out to be!