The best guide to backpacking Puerto Rico
The Caribbean has plenty of beautiful islands with great food, culture and beaches. Out of them all, Puerto Rico has a special feel. Here is the best guide to planning a backpacking trip in Puerto Rico.
7min
Of course you could go to Puerto Rico and stay in a 5 star resort the entire time and drink piñas coladas all day. Puerto Rico is one of the many Caribbean islands that offers luxury travel and fancy hotels, but where's the adventure in that?
Puerto Rico is the fourth largest island in the Caribbean and offers endless rainforests, Spanish colonial architecture, and crystal clear beaches.
There are so many things to do in PR, it's practically impossible to get bored. Whether you want to explore Old San Juan or look for monkeys in El Yunque National Forest Park, the possibilities are endless.
The Caribbean is quite a pricey region but Puerto Rico has different ways to save money for budget backpackers.
Backpacking Puerto Rico: The best places to visit
Of course there are many activities to partake in while in Puerto Rico, but here are a simple few loved by visiting tourists.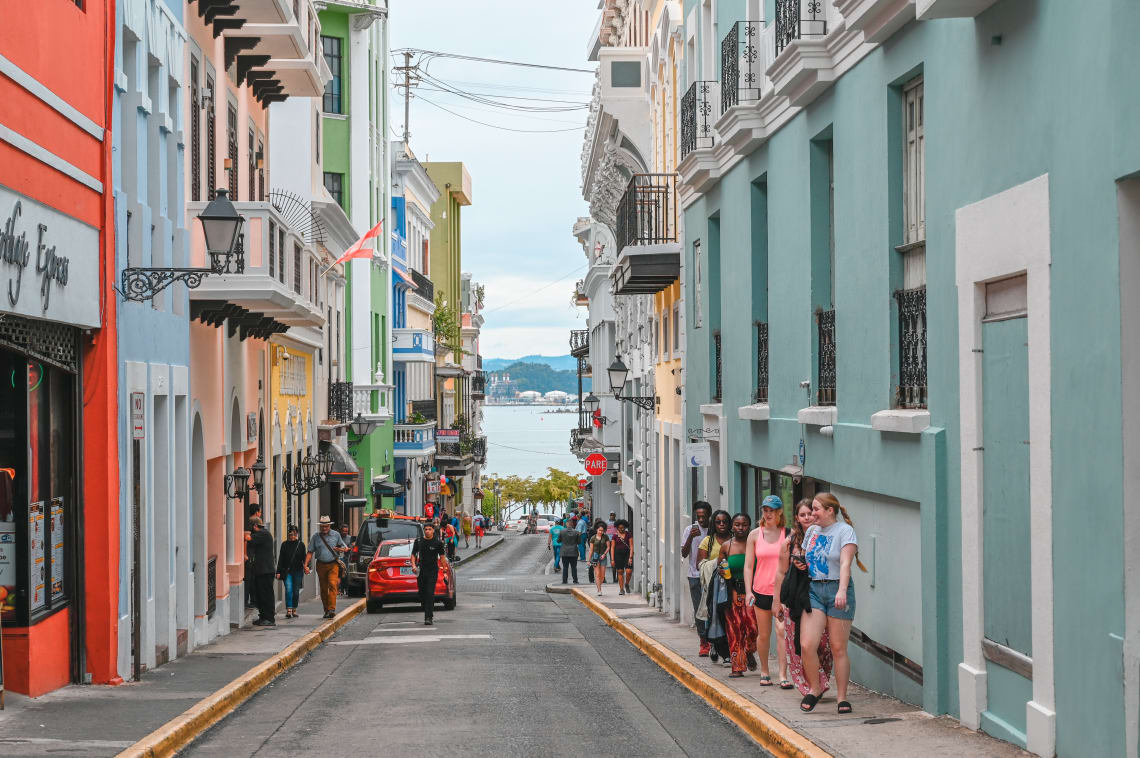 Old San Juan
Get lost in the colorful historical town of Old San Juan.
The capital city has so much to offer, such as delicious food, colorful streets, and enjoy live Puerto Rican music.
Culebra Island
Located on the eastern coast of PR, Culebra Island offers gorgeous beaches and magnificent snorkeling views.
El Yunque National Rainforest
Probably the most visited site on the island. The forest is free for entry and has nearly 30,000 acres of land.
Bioluminescent Bay
Also referred to as Bahía Bioluminiscente in Spanish. This place is so special because it has blue algae that lights up at night when touched.
Cueva Ventana
Translated to "Window cave" in English, Cueva Ventana offers picturesque Instagram worthy scenery looking from outside the cave.
Just bring a flashlight as it grows darker the deeper in.
San Cristobal Canyon
This one is a great option for hike lovers. It's a canyon with a fresh flowing waterfall and blue lagoon making the end a mighty treat for those who wish to take up the challenge.
Backpacking Puerto Rico: Best hiking trails
Out of all the Caribbean island, Puerto Rico is possibly one of the best for hiking due to its geographical landscape. There are countless hiking trails but here are a popular few to mention.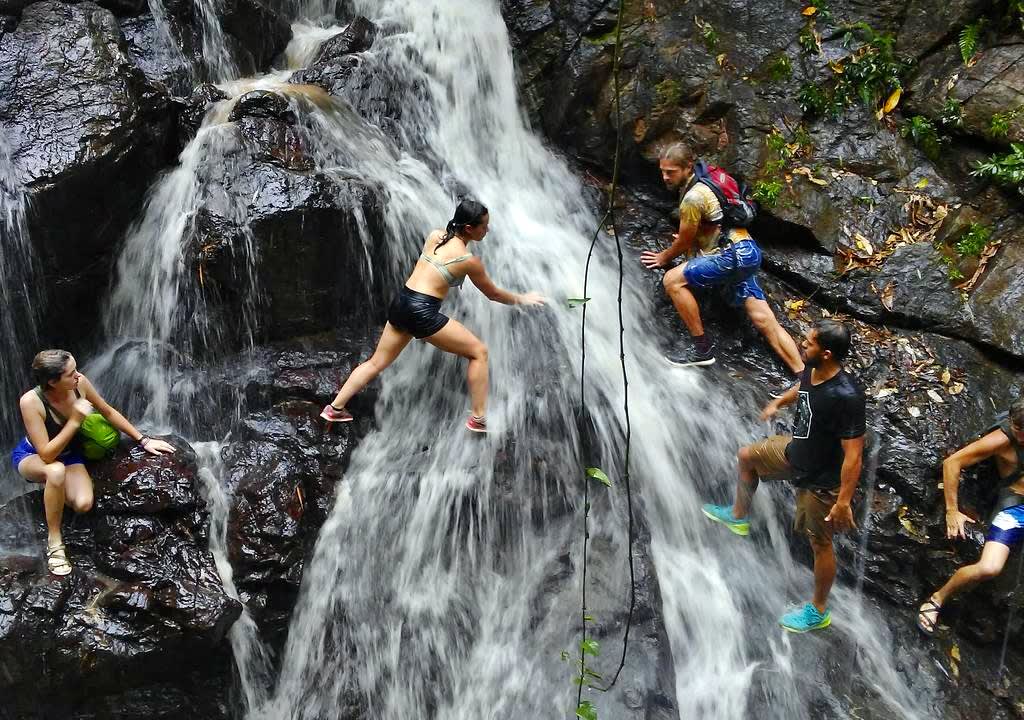 Guanica Dry Forest reserve
The perfect place to watch birds, ride a bike, and enjoy nature. Guanica is in the southern part of PR and makes for a great getaway from the busy streets of San Juan.
La Zanja Trail
A laid back hiking trail with natural pools and rocky shores. The end of the hike rewards travellers with beautiful crystal waters.
Guataca Forest
A little under 3,000 acres, Guanaco Forest Reserve offers typical hiking trails and possible wildlife sightings.
Cambalache State Forest
Located in northern Puerto Rico, the trail has been rated simple by several hikers and offers camp sites.
Angelito Trail
Hike along El Yunque's rivers and take in the natural beauty of Puerto Rico. Angelito takes about 20 minutes to finish and is a great vacation workout.
Backpacking Puerto Rico: Must visit beaches
Soak in the hot sun at your Puerto Rican beach of choice.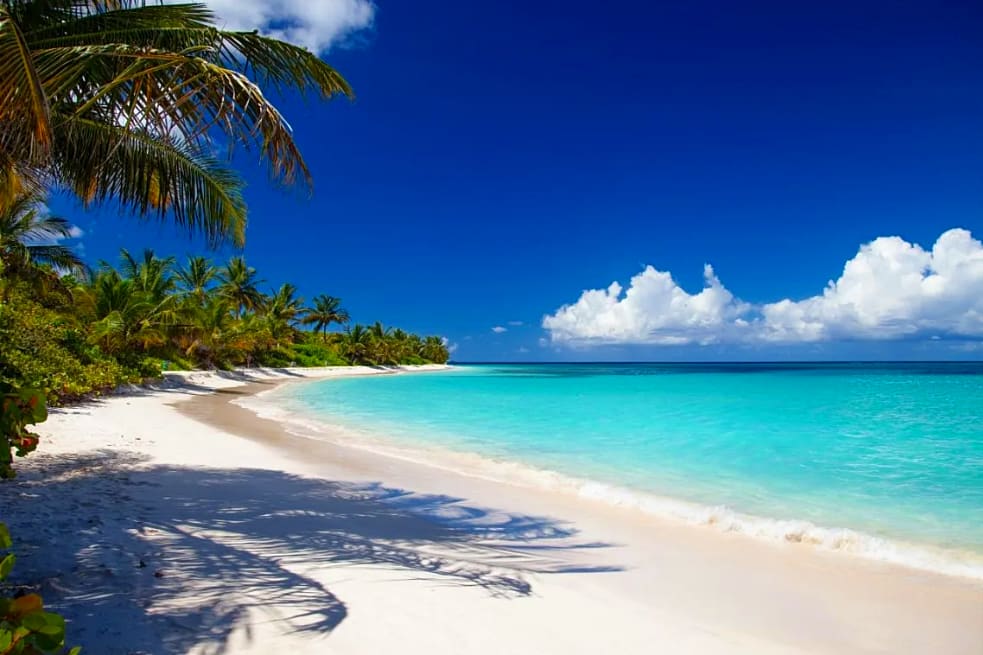 Rincón
Rincón is a section of Puerto Rico located on the west end. There are plenty of enjoyable beaches to soak in the hot Caribbean sun and sip a piña colada on.
Some notable beaches in this area include Playa Corcega, Almendros beach, and Playa Escalera.
Playa Mar Chiquita
Take a dip into the Atlantic Ocean and explore the northern shore of Puerto Rico. This beach has especially beautiful views and fun tour experiences.
Flamenco Beach
Flamenco is quite a popular beach in PR for good reason. The water is a perfect blue, the waves aren't too rough, and the sand is white.
Backpacking Puerto Rico: Accommodation
Looking for good accommodation can be the most daunting part about planning a trip. Yes you may be able to score a cheap ticket for $100 USD or less, but where will you stay? Puerto Rico has hostels all over the island for an affordable price.
Hostels are a great option if you are traveling alone, especially solo female adventurers like myself. Hostels are the best way to meet new people and make friends while on the road.
For me, grabbing a bunk bed for $20 USD is a much better option than a hotel room for $100 USD+. I mean, why spend all your money on accommodation when you'll only be there to sleep?
Budget travel is always the way to go in my opinion. The more money saved on accommodation can be spent on more plane tickets and fun Caribbean festivities.
There are several hostels around San Juan and a couple of others in different parts of the islands. If bunk beds aren't your thing, Airbnb is also an option. Private rooms in San Juan (capital) range at $35 per night, a great bang for your buck.
My only thing about staying in private rooms/guest houses is the feeling of loneliness. The great thing about hostels is meeting people from all over the world. A lot of times when I have an activity planned, if I'm staying in a hostel I'll find a buddy to explore with me.
Out of all the options, the best form of accommodation is definitely volunteering with Worldpackers in Puerto Rico. Matter of fact, accommodation in Puerto Rico is FREE with Worldpackers! There are different work exchange opportunities to engage in.
Volunteering with Worldpackers in Puerto Rico
One of the best ways to see Puerto Rico on a budget and interact with locals is by volunteering!
The exchange is never more than 32 hours a week, for which you'll receive accommodation and -in most cases- food and other perks.
There are experiences in San Juan and in more rural areas, lots of places to choose from. Check out these rad volunteer opportunities located throughout PR and see which position is best for you:
Safety in Puerto Rico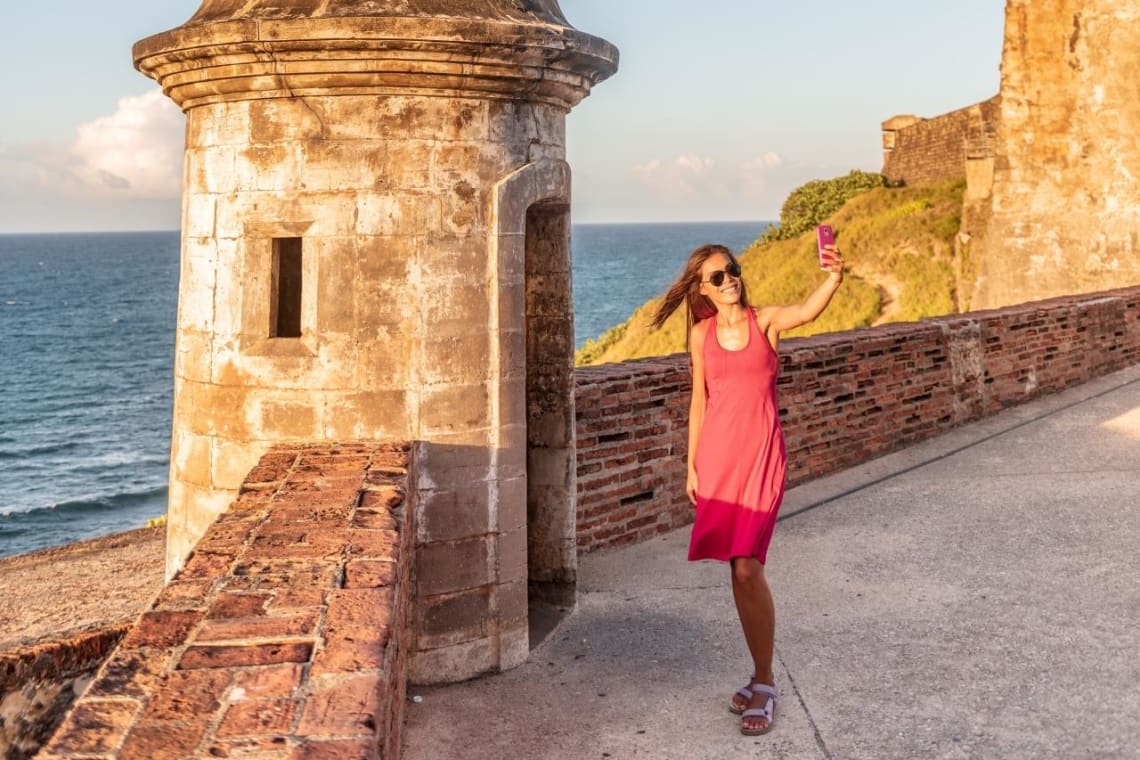 Staying safe while backpacking in Puerto Rico is a bit similar to staying safe in day to day life. Don't go out late at night (especially for solo women).
Avoid wearing fancy/flashy jewellery. Although PR is USA territory, Spanish is still the first language. It is best to familiarize yourself with a few terms such as greetings and common questions.
I've found blending in is also key to staying safe in numerous places. Even when I find myself freaking out on the inside and am clearly lost. I hide my frustration or concern, find a safe place to sit down, and figure out where I need to be. Looking lost is the best way to be seen as a target anywhere in the world.
Read more about travel safety tips and wich are the safest Caribbean islands to travel.
What to bring in a backpacking trip to Puerto Rico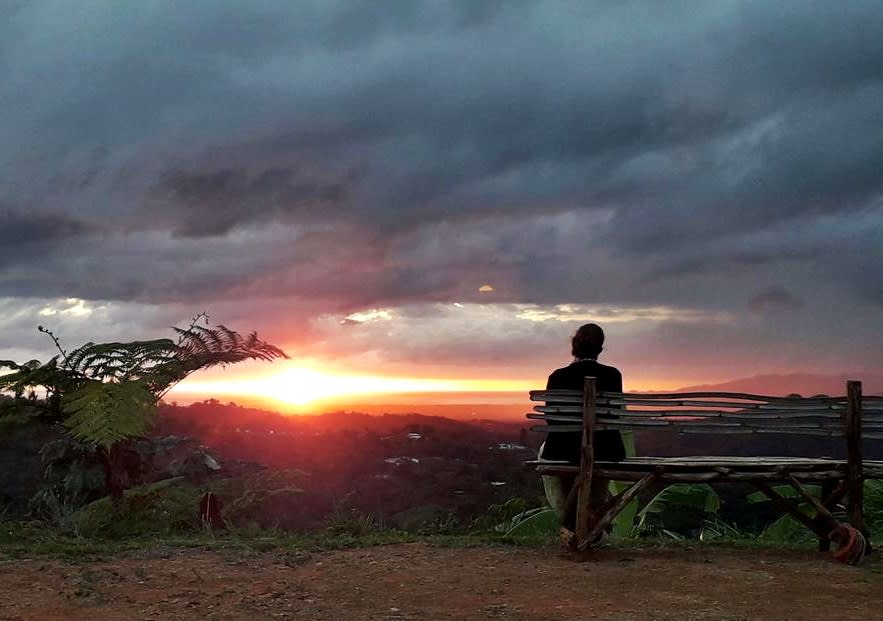 Traveling Puerto Rico as an adventurer is best done in a minimalist sized backpack or carry on suitcase. With all the places to explore, it's best not to have lots of luggage to bring around.
Although every traveler has their own ideal and specific set of items they stick to, here are a few things I would pack in my backpack for Puerto Rico:
A quality carryon sized backpack: I've had the Osprey 40 L for almost 3 years and it has done me well.
Bathing Suits: For swimming in the beautiful Caribbean sea of course!
Hiking boots/sandals: For exploring the many trails on the island.
Good daypack: A daypack is a bag that will be taken around on day to day adventures. It's best to invest in a quality back that won't rip after a few months.
Camera: Any type of camera will do. Whether it's a phone or professional Canon; you don't want to miss out on the gorgeous PR views.
Wet bag: To protect electronics and other items from getting wet during water activities.
Rain Jacket: Although it is an island, the weather is still quite tropical and a bit unpredictable in certain areas. It's best to stay prepared just in case.
Reusable water bottle: Tap water is generally safe to drink so save money and fill up.
Necessary travel documents: Unless you're a citizen (or resident) of the USA, a passport is needed. Be sure to do research on any and all travel documents needed to enter Puerto Rico.
Appropriate clothing wardrobe: Shorts, tank tops, basically tropical suited clothes.
A few tips for what not to pack:
Puerto Rico is a tropical Caribbean island but it is a part of the USA (territory). There are many convenience stores that would be found back in the USA such as Walgreens.
It may best to save room for other items and pick up toiletries (body wash, toothpaste, etc) once you arrive.
Check out this article if you want to learn more about minimalist packing.
Budget tips for backpacking Puerto Rico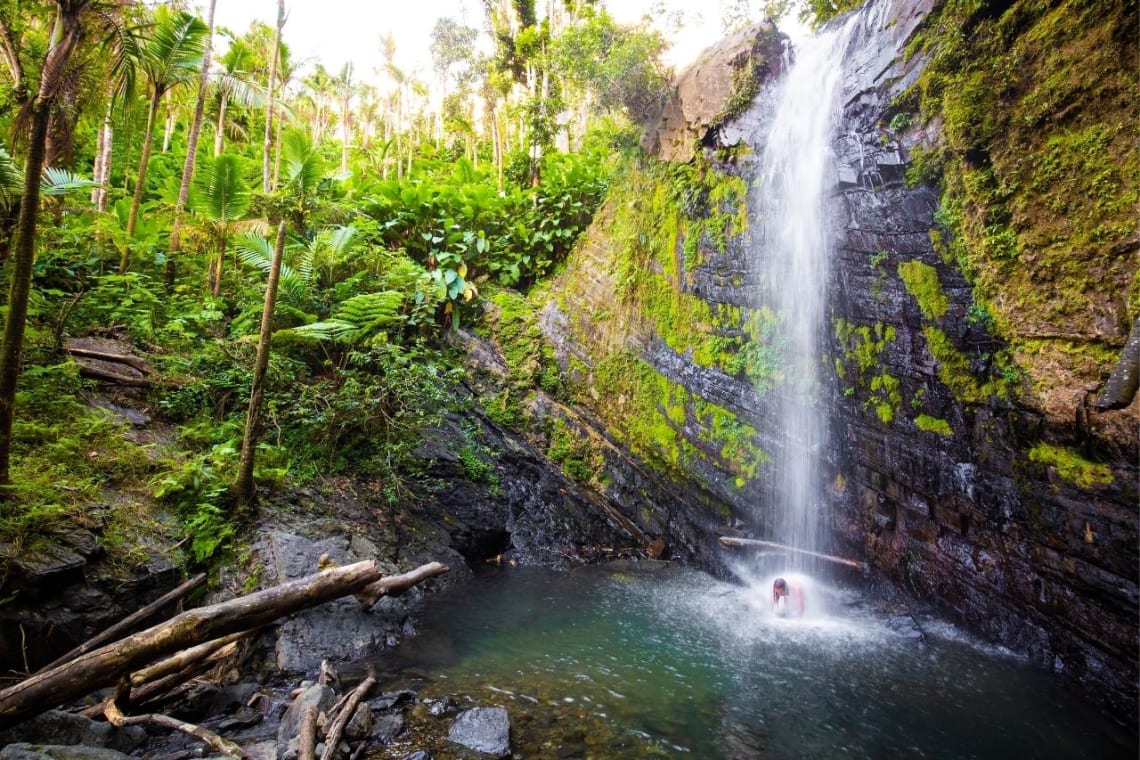 Due to its affiliation with the USA (territory) Puerto Rico is a Caribbean destination on the pricier side, but it is still possible to travel on a budget. Here are a few ways to save money while backpacking in Puerto Rico.
Take advantage of free activities: There are plenty of free things to do on the island. El Yunque Waterfall is a great example.
Travel during the off season: Avoid heavy crowds and overpriced flights by visiting in between June through November.
Eat local food: Not only is local street food delicious, it's cheap. Just be sure to be cautious of street food conditions anywhere in the world.
Explore the island (safely) on self guided tours: Lots of waterfalls, beaches, and forests can be explored solo without an overpriced tour.
Volunteer with Worldpackers: Save money on accommodation by doing a work-exchange in Puerto Rico with the Worldpackers platform.
Need more budget tips? Read more about how to travel cheap in the Caribbean.
Keep reading: Do I need a passport to go to Puerto Rico?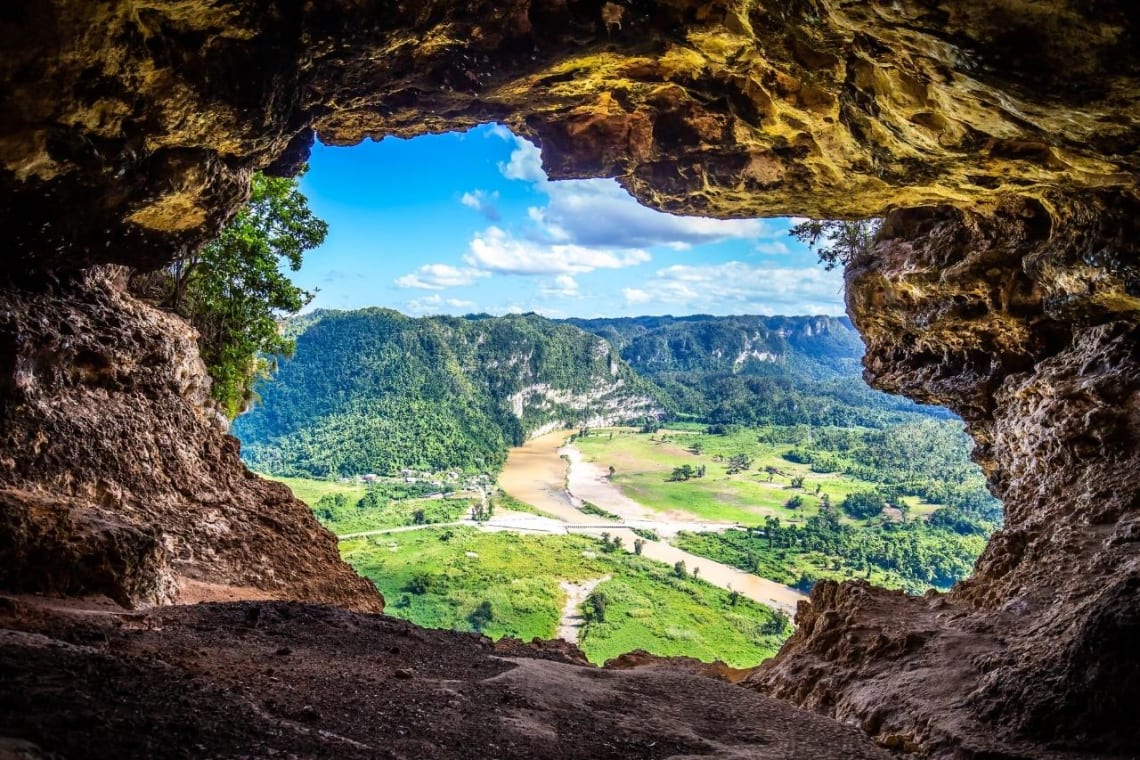 Want to learn more about planning your trip to the Caribbean? Read more about the best Caribbean islands.
Also, make sure you subscribe to the WP pack plan. You'll have unlimited access to +120 courses at Worldpackers Academy, the travel school made by travelers!