Your budget-friendly Milan travel guide: Where to stay, what to do and more
In this Milan travel guide we will discover the places to visit in Milan on a budget, as well as tips on travelling to Italy.
8min


Milan… one of the fashion capitals of the world. Some might think of it as just another big European city with fast cars, expensive brands, top restaurants and espresso-drinking businessmen everywhere.
Others might see Milan as a romantic destination, to walk hand in hand with a lover whilst eating an Amorino pistachio gelato.
Then you have me: the Worldpacker backpacker, who wants to see as much as Milan as possible and have a true local experience, without having to be part of the lavish lifestyle.
I had been to Milan once before, with a boyfriend at the time, and had that romantic getaway... But this time was different. I wanted to truly discover this city as a local - which I did!
Budget-friendly Milan travel guide
1. Where to stay in Milan
This is by now a no-brainer: if you're not volunteering with Worldpackers yet, I don't know what you're doing! Free accommodation, often free food, in exchange of a few hours of "work", and getting to meet awesome people? Yes, it's all that, and more.
Most opportunities in Milan are in high demand so make sure you apply ahead of time. The following opportunities are currently in high demand, as well as being top hosts:
You could also volunteer in Bergamo, the city with one of the two airports you'll probably fly to/from:
From personal experience, there's no better way to visit a new place with other volunteers you'll meet with Worldpackers, or even your host.
If you're not volunteering, Couchsurfing is another great way to meet travellers (without necessarily staying at their place), and you could always go for the free walking tours to get the full stories and facts.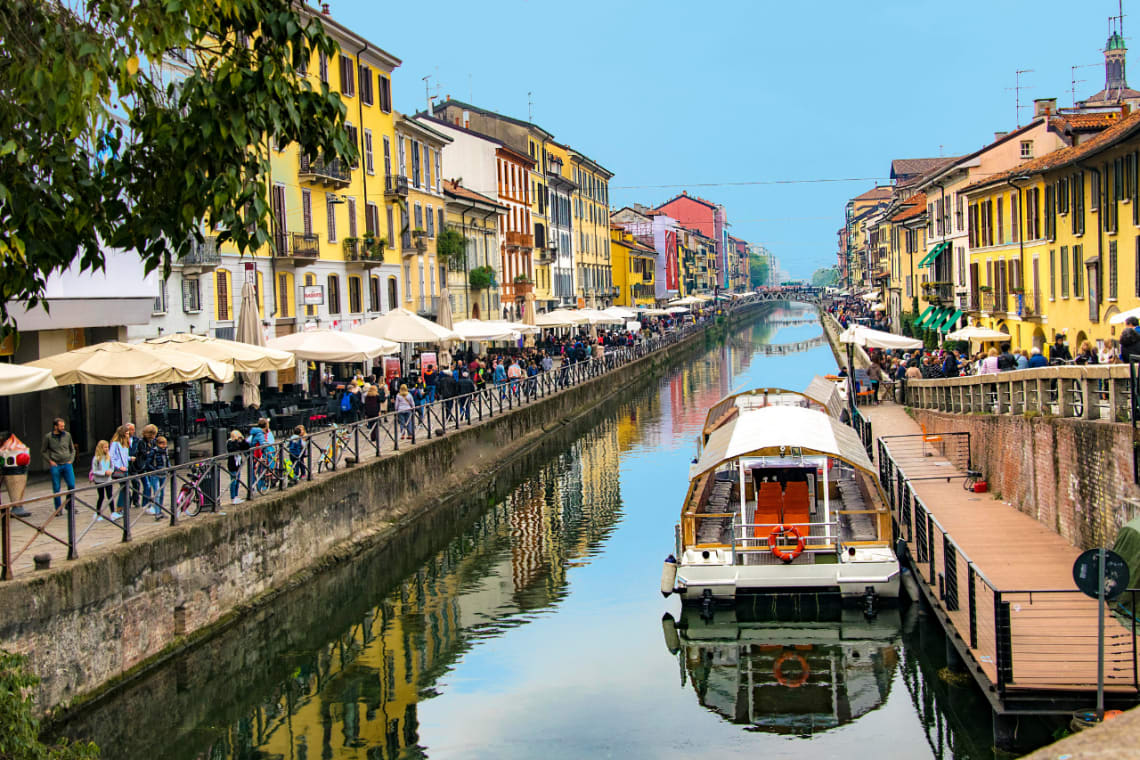 2. Places to visit in Milan
This really depends on what type of a traveler you are. For me, I like to do a bit of a mix of everything: cultural, religious, touristy, local, nature and mostly food-oriented.
Milan is the perfect city to walk in for hours and get lost - you will always find a pretty street or an old church to wander in.
It would be way too obvious if I said to visit the Duomo (Milan Cathedral), Galleria Vittorio Emanuele II, Castello Sforzesco and The Last Supper (paid entrance), so let's dive into some lesser well-known touristy areas:
Brera: the artistic quarter
This is the more artistic quarter with lots of interesting independent boutiques and art galleries to visit. It's not as busy as the "city centre" so you can actually admire the beauty of the architecture (and people).
Once you walk through the Castello Sforzesco, you will come across a lovely park (Parco Sempione). Enjoy a coffee break in nature there.
10 Corso Como: a hidden foodies gem
To get there you can take a stroll through Chinatown. I always find it interesting to go see the foreign neighbourhoods in big cities.
Once you've passed it you will get to Corso Como, but the little hidden gem is at number 10. It's a food and shopping complex (mostly luxury) but gives off a real Italian vibe (and great for those Instagrammable shots).
Don't miss Naviglio at night
This whole area can be considered a bit touristy but is also a go-to for locals.
Go for an aperitivo in the evening, watching the sun set over the beautiful canal. The whole area is lit up at night, making it the ideal location for a little Italian romance.
San Bernardino Alle Ossa: not your usual church
This church dates back to 1210 and has a room filled with bones and skulls to commemorate the lives lost due to various different causes back then. It's creepy, eery, yet is a must-visit if you're in the area.
If you're into churches with beautiful architecture and art, be sure to spend some time in the following:
Sant'Ambrogio.

Santa Maria delle Grazie.
San Maurizio al Monastero Maggiore.
Santa Maria presso San Satiro.
Try Italian delicacies at Eataly
A shopping/dining complex with hundreds of fresh produce from Italy. There are restaurants, bars, cafes within the gourmet supermarket- it's worth a visit!
Keep planning your trip to Italy with The ultimate Worldpackers Italy travel guide.
3. Why Milan?
If you're still not convinced... have you tried authentic local Italian food?

We've all had the pizza or pasta in an Italian restaurant somewhere, but the following foods and drinks are just must-tries when in Milan (and it's not just the food, it's the whole experience with it - Italians take their gastronomy very importantly):
Drinks:
Espresso: I don't personally drink coffee anymore but I just had to try it there. It's a whole culture.
The speciality about their espresso is the way they "brew" it, which extracts much more of the coffee bean flavour. Espresso is also drank in special shot size cups and the glass of water that is given with it, is to cleanse the palet before drinking the espresso, so that the coffee lingers on in the mouth for as long as possible (most people including myself thought you drank the water after, to avoid having bad breath..)
Negroni (Sbagliato): The little story behind it goes that Mirko Stocchetto invented the cocktail in 1972, when he accidentally used Prosecco instead of gin when making a Negroni (sbagliato= mistaken). Since then, it has become a popular drink in Milan.

If you're neither a coffee or alcohol drinker, like me, I contented myself with sparkling water or fresh tap water - super budget friendly and healthy!
Sweets:
Gelato:

at every street corner you'll be able to find a gelato stand but i'd recommend Cioccolati Italiani.. and for the fun fact, gelato is so "special" because it is churned at a much slower rate, incorporating less air and leaving the gelato denser than ice cream. It is also served slightly warmer temperature than ice cream, so its texture stays silkier and softer. Because it has a lower percentage of fat than ice cream, the main flavour ingredient really shines through- Italians really do take their produce seriously!



Panettone: this is more a Christmas delicacy but you might just be reading this around Christmas so.. check out Pasticceria Sant Ambroeus, Marchesi, and Peck (one of Milan's hallmarks).
Cannoli: no not the pasta canneloni, canoli! Don't be fooled by some stands that serve the ice cream ones.. you want the authentic ones that you can find at Bottone Canoli or any of the speciality shops between Brera and Moscova.
Tiramisu: I think any trattoria does a mean one. I had it at the Pizzeria Notre Dame in Isola and it was sheer perfection!
Savoury:
Pasta: you won't find a better pasta dish than a local cooking it for you at home, but i've heard Pasta d'Autore is authentic, fresh, and delicious.
Pizza: one of the best (local approved) are Marghe, Rossopomodoro and Pasta d'Autore.
Risotto: The asparagus and prawn one at Pizzeria Notre Dame in Isola was one of the best I have had so far!
Burrata/Stracciatella/Mozzarella: They do a scrumptious burrata starter at Rossopomodoro in Navigli, served with warm bread and olive oil- delizioso!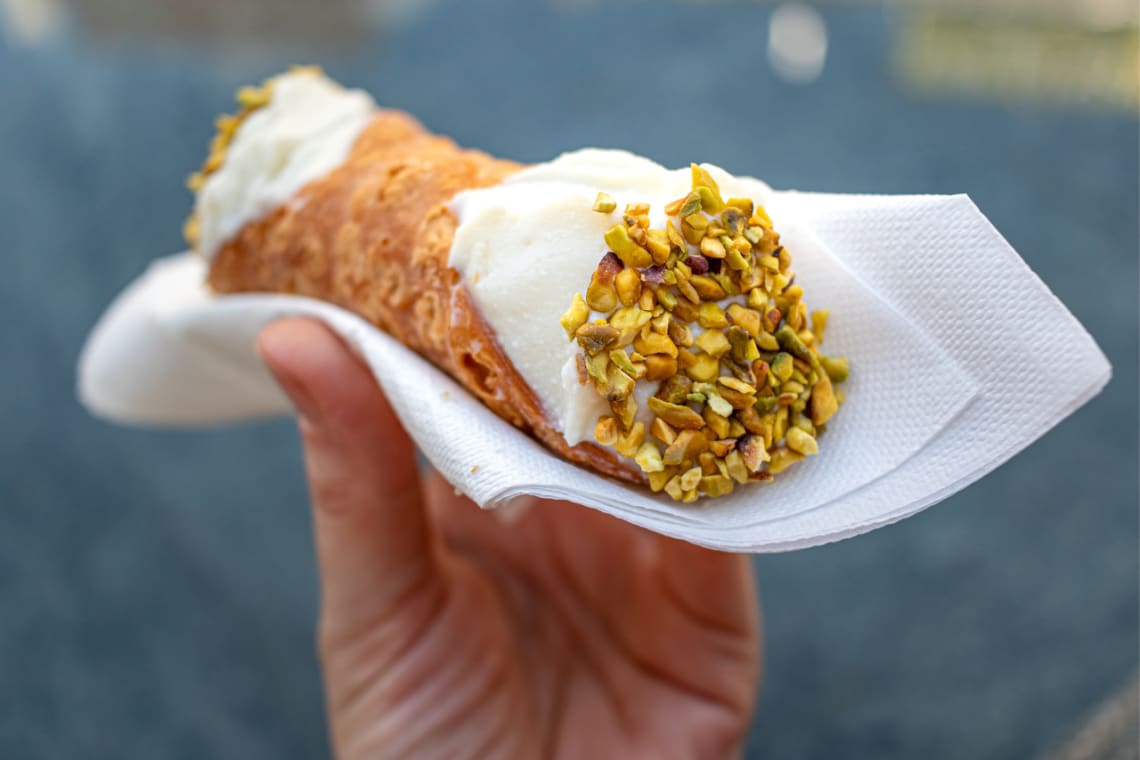 4. Milan's location
Travelling to Italy, as well as in Italy is not as complicated as one may think.

I flew directly from Banja Luka, Bosnia & Herzegovina into Milan Bergamo airport (for under 10 euros on Ryanair). Be aware that this airport is 1h away from Milan, but you can buy a bus ticket for 10 euros upon arrival, or skip the queue and buy it online.
From Milan, you can pretty much go anywhere in Italy. Trains run everyday, almost every hour to other cities in Italy, and it's just as easy to catch a bus if you have more time.
A popular destination is Venice, which is only about 2h from Milan and, of course, one of the 20 best cities to visit in Italy. Tickets can be as cheap as 20 euros!
Longer train rides would be to Rome and anywhere further South, but who doesn't enjoy a train ride, staring out the window at the beautiful Italian countryside?
Naples is another great destination with a few volunteering opportunities as well, and for those ready to explore Sicily, what better way than with Worldpackers!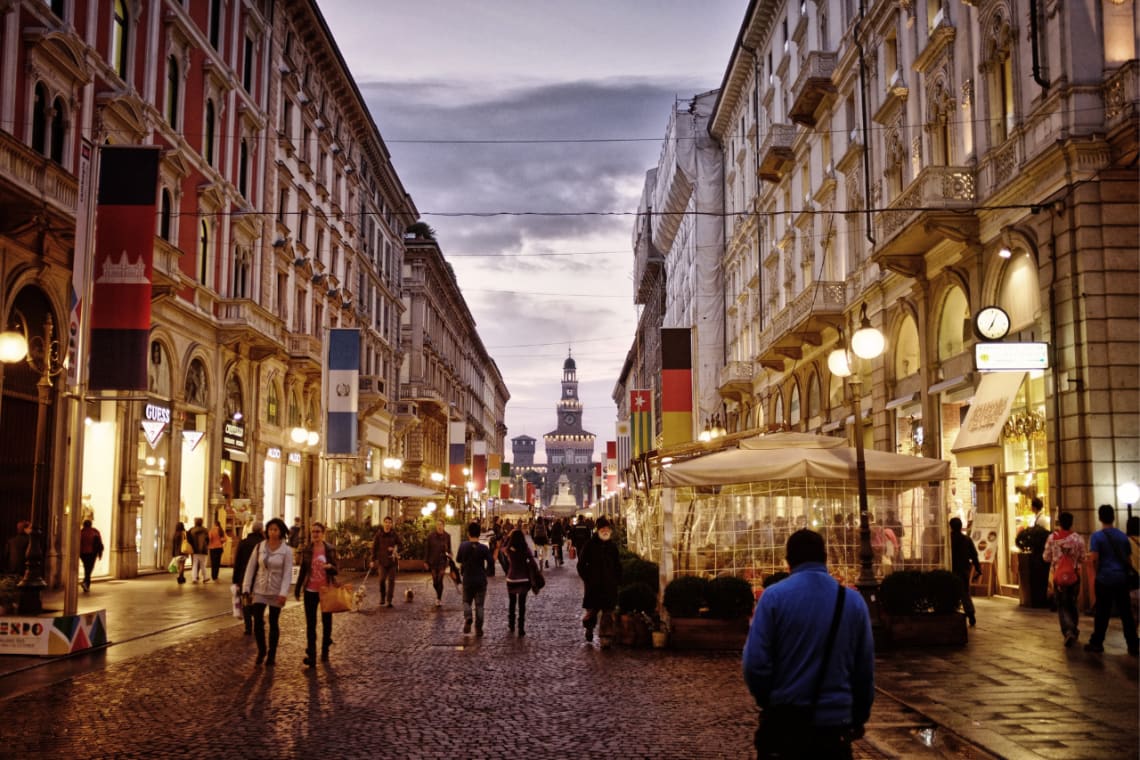 5. Milan travel guide to save money
If you're a Worldpacker like me, chances are, you're pretty good at budget traveling.
If you're volunteering with Worldpackers, staying at a host's with Couchsurfing, or even housesitting with TrustedHousitters I'd probably set aside nothing over 25 euros for groceries (evidently depending on how long you're staying for, and what you eat).

If you're in the city center, you can go everywhere by foot. Technically you could even walk to the further neighbourhoods as well, but a 3 day metro/tram/bus pass only costs 12 euros. Uber is an option, but a very expensive one.

I had a food budget as I wanted to try at least one authentic pizza, pasta, burrata, tiramisu, risotto, and pastries (as mentioned, I love food) so that really depends on you.
On average if you get a pizza + 1 drink in a "traditional" trattoria, you could get away for 15 euros. The pastries, coffees, and ice cream shouldn't be more than 5 euros depending on where you go.
I spent a total of 120 euros on food AND transport (including getting from Bergamo to Milan and from the center of Milan to Malpensa airport) during 3 days, 4 nights (I also invited my host to a couple of meals).

All the extra expenses are if you drink, smoke, and want to visit museums or attractions that have an entrance fee.
I also make sure to try and not spend on unnecessary expenses that can be avoided such as buying bottled water (I have my own silicon foldable travel bottle), paying fines (just buy the metro ticket!), medication (always have some basic meds/first-aid kit) or using public toilets where you have to pay. A couple of euros here and there eventually add up!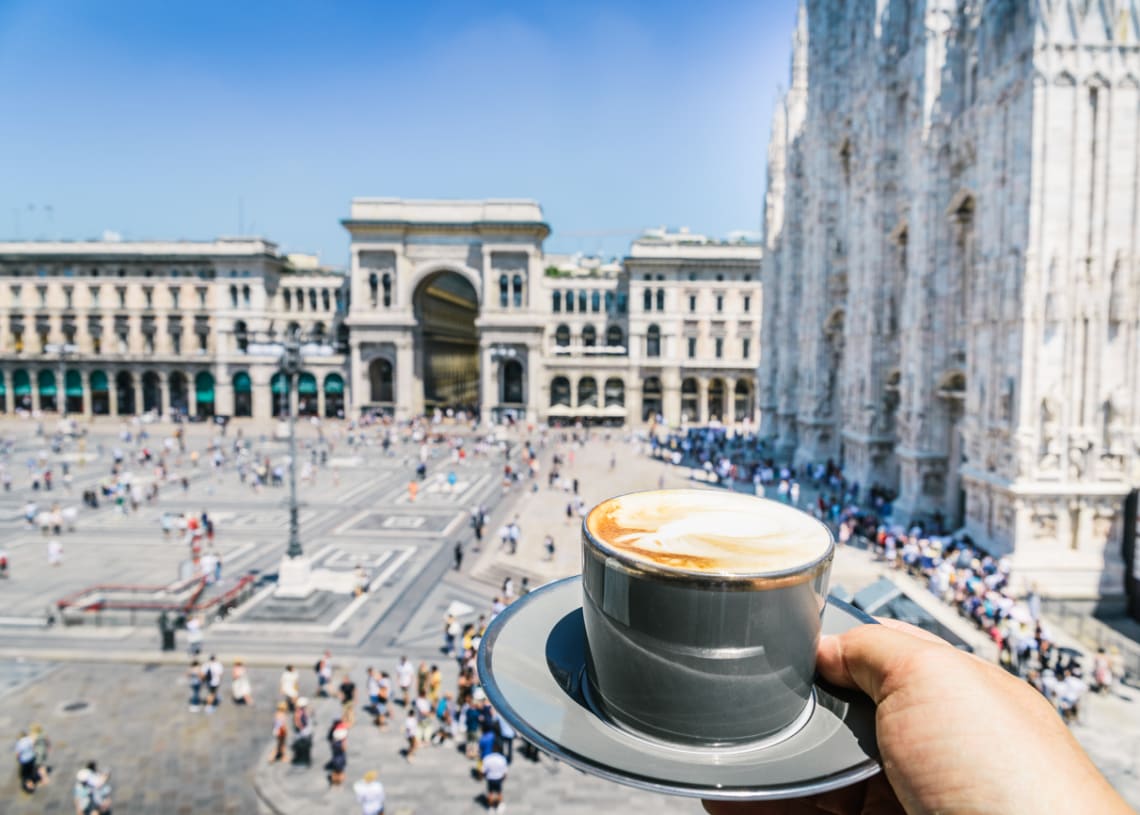 6. Some basics before you go
Milan is the second biggest city after Rome: its urban centre has 1.3 million inhabitants with a metropolitan area of more than 7 million
The currency is Euro; Italy is part of the European Union; the plugs are two pin, Type C, 220V.
The timezone is Central European time - GMT +1

Metro tickets are valid for 90 min and can be used for one metro trip or for as many bus or tram journeys within that time frame (upon validation). Tickets can be bought at the metro station, tobacconist, newsagent or café.


There are over 500 drinking fountains dotted around the city; you can drink tap water. Restaurants usually only serve bottled water at an extra cost.


Restaurants opening hours (for food) are typically from 12.30pm to 2.30pm for lunch and from 7.30pm to 9.30pm for dinner, although more and more establishments these days offer all-day dining to cater to the city's international clientele.


Avoid stereotypes or making what you think is an Italian accent, especially using exaggerated hand gestures.

Most Italians speak English, or you can manage by with some Spanglish and Frenglish. Worse case scenario: Google translate.

Some handy words:

Pizza = Pizza


Year = Anno

Yes = Si

No = No

Thank you = Grazie

You're welcome = Prego

Please = Per favore

Excuse me = Mi scusi

Good morning = Buon giorno

Good evening = Buona sera

Good night = Buona notte

Speak = Parlare

Buy = Comprare

Go = Andare

Think = Pensare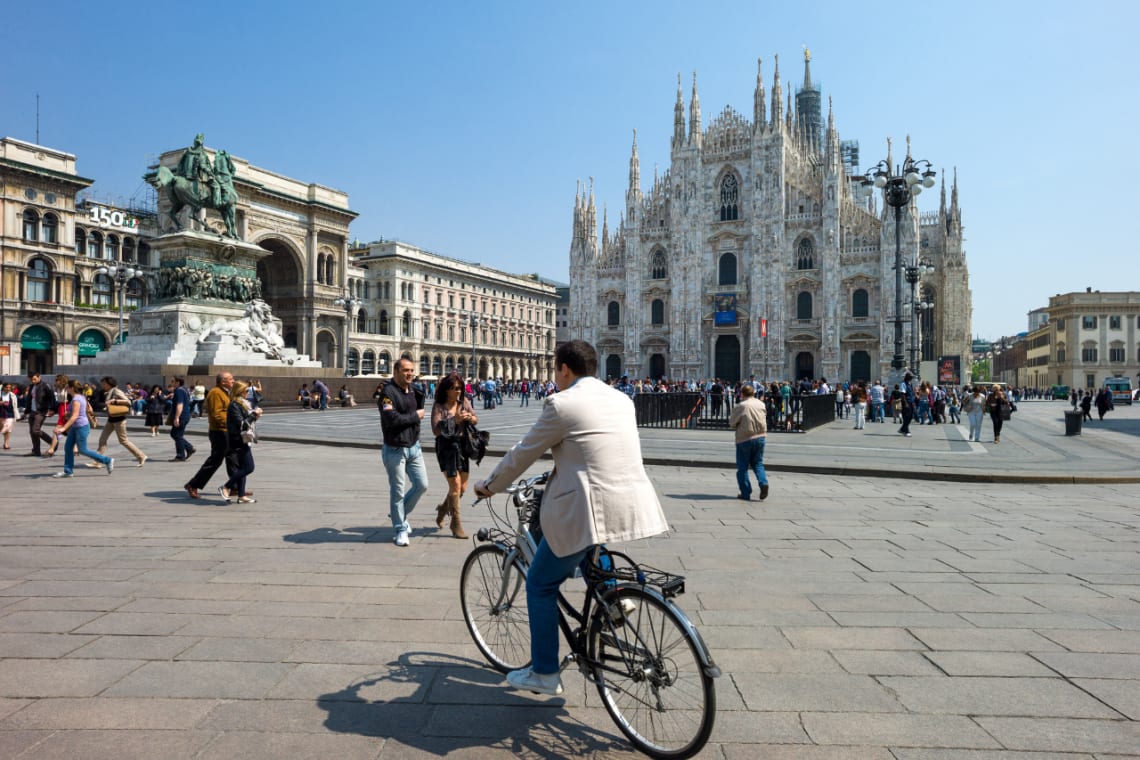 Overall, if you're not volunteering, I think a full weekend is more than enough time to discover Milan. If you are volunteering, it'll give you extra time to see surrounding cities and picturesque areas such as Lake Como - win win situation either ways!
I hope this Milan travel guide has given you some insight and helpful tips for your travels to Italy and I wish you all the best!
Want to learn more about planning your trip? By subscribing to the WP pack plan you have unlimited access to +120 courses at Worldpackers Academy, the travel school made by travelers!

Also, don't miss the Worldpackers search page to positions for you to live in Italy while volunteering!