Palomino, Colombia: discovering the Caribbean paradise, the best places to visit and where to stay
A detailed travel guide to Palomino Colombia, a charming seaside town in northern Colombia.
6min
The laid-back traveler hub of Palomino Colombia is an up-and-coming destination in South America.
Located on Colombia's northern Caribbean Coast, this beautiful little town combines dense jungles, tropical beaches, and snow-capped mountains all into one cozy spot. Palomino, Colombia is in the department of La Guajira and is nestled between the Palomino River and the San Salvador River.
The food is delicious, the wildlife is diverse, the atmosphere is safe and relaxing, and there are lots of fun things to do here.
This ultimate guide to Palomino Colombia will answer all of your questions about visiting. From what to do, to where to stay, to how to get to this area of Colombia, hopefully after reading this article, you will have a clear idea of how to plan your trip.
Let's get started!

How to get to Palomino, Colombia?
There is no airport in Palomino, so you will have to fly into Cartagena or Santa Marta. Santa Marta is the closest city to Palomino Colombia, at 80km away. From either of those locations, you can take the bus.
From Santa Marta, the local bus leaves from the Central Market and travels to Palomino and Tayrona. The ride takes roughly two hours.
There are a few local bus companies that travel from Cartagena to Palomino daily. The ride takes about 6-7 hours.
There are also local buses that travel to Palomino from the nearby towns of Costeno Beach or Riohacha.
You can also get to and from the mountain village of Minca from Palomino. The easiest way is by taking a shared taxi, also known as a colectivo, into Santa Marta and then catching the local bus to Palomino.
The buses for all of these routes are affordable and you can book them in town in advance or the day before.
You can also book private transportation from Cartagena or Santa Marta to Palomino through a tour company or through your accommodations. This is the easiest and safest way to travel, but it can be pretty expensive.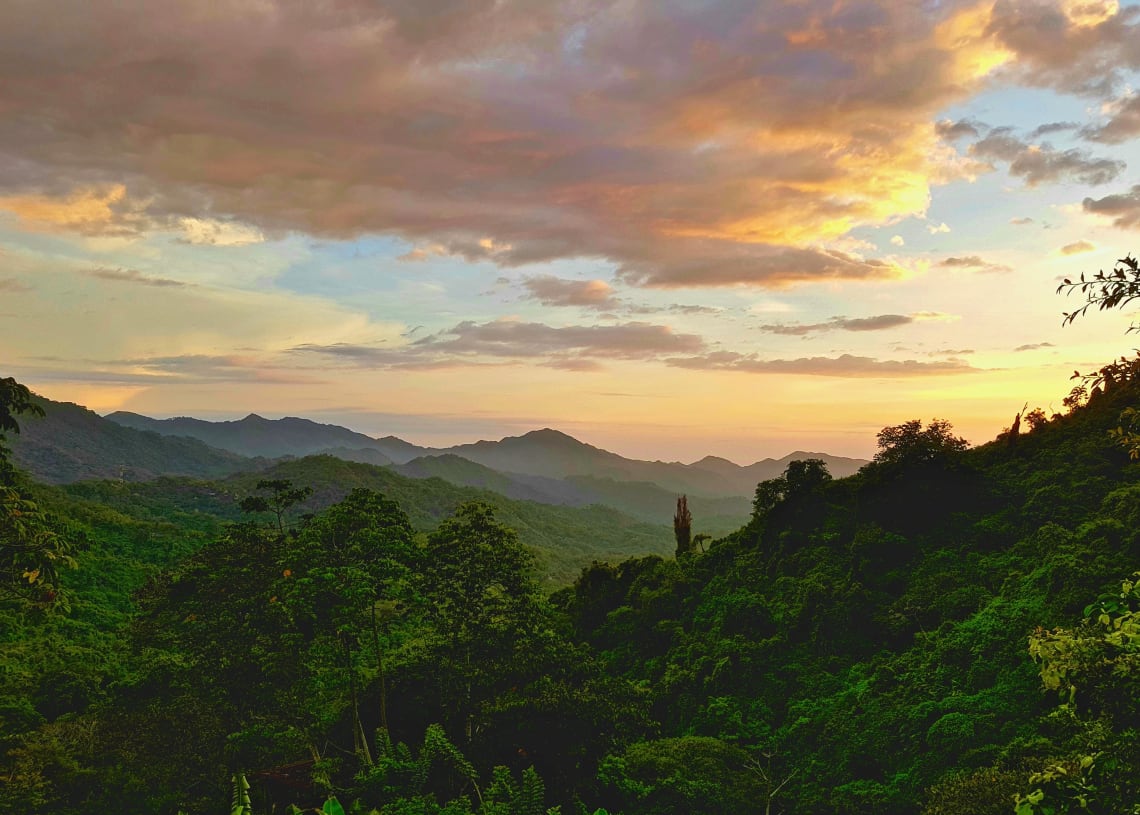 How long to spend in Palomino Colombia?
The town of Palomino itself is quite small. 2 days is enough to fully explore the local beach and town while enjoying some food and nightlife. Many people come here to just relax and unwind, but if you're someone who needs to constantly be on the go, you might run out of things to do after 2 days.
However, there are lots of things to explore outside Palomino, such as Tayrona National Park and the Quebrada Valencia Waterfalls.
If you want to take some day trips and enjoy the scenery outside the village itself, you can tack on an extra day or two to your trip.
Depending on what you want to do and what kind of traveler you are, anywhere between 2-5 days is ideal for Palomino Colombia.
Where to stay in Palomino?
For such a small town, Palomino has lots of great accommodations. There are hotels and guesthouses, many with pools. There are also a handful of well-rated backpacker hostels for travelers on a budget.
An interesting way to experience the area is by doing a work exchange! This will save you lots of money as you can work in exchange for accommodation.
There are some great volunteer opportunities in Santa Marta, which is just 1.5 hours away from Palomino. You can volunteer there and visit Palomino as a little getaway on your days off.
Santa Marta, you can volunteer at a permaculture project or an eco-village, both of which get great reviews from other Worldpackers.
These are great opportunities to immerse yourself in nature and culture and learn new things.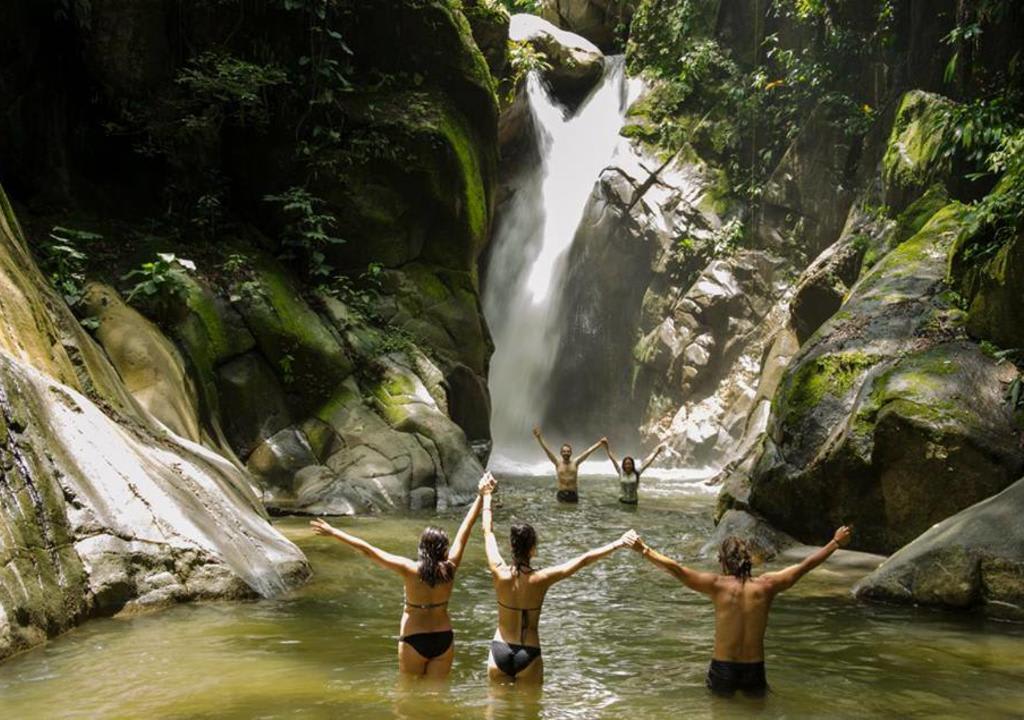 Best things to do in Palomino, Colombia
Now that we've covered how to get to Palomino Colombia, as well as where to stay and how long to stay for, let's discuss what to do in this amazing town in South America.
It's a pretty small town, but there are some cool day trips as well as relaxing activities in nature that you can do to entertain yourself!
Here are some of the top activities in the area:
Tubing down the Palomino River
Easily one of the funniest things to do in Palomino Colombia is tubing down the Palomino River. You can rent an inflatable tube, embark on a short hike to the river, and float along with the current while admiring the jungle all around you.
Enquire in town or at your accommodation about booking a tube tour where the locals will organize your transport and your tube.
Sunbathing and surfing at Palomino Beach
Palomino Beach is a beautiful stretch of sand with towering palm trees and enticing tropical scenery. You should definitely have a nice beach day here, whether you want to lay on the sand and soak in the sun or surf in the waves.
The currents and rip tides can be quite strong on Palomino Beach. So the water is great for experienced surfers, but it's not so great for swimming so just be sure to stay safe.
Enjoy the scenery
This may sound like a given, but one of the best things to do in Palomino, Colombia is simply slow down, relax, and take in the scenery. Many people come here to just chill out and take a break, and it is truly a beautiful place to do so.
Palomino is unique because you can see the snow-capped mountains of the Sierra Nevada Mountains from the beach. Take lots of photos, try to watch every sunset or sunrise, and just enjoy the natural beauty here.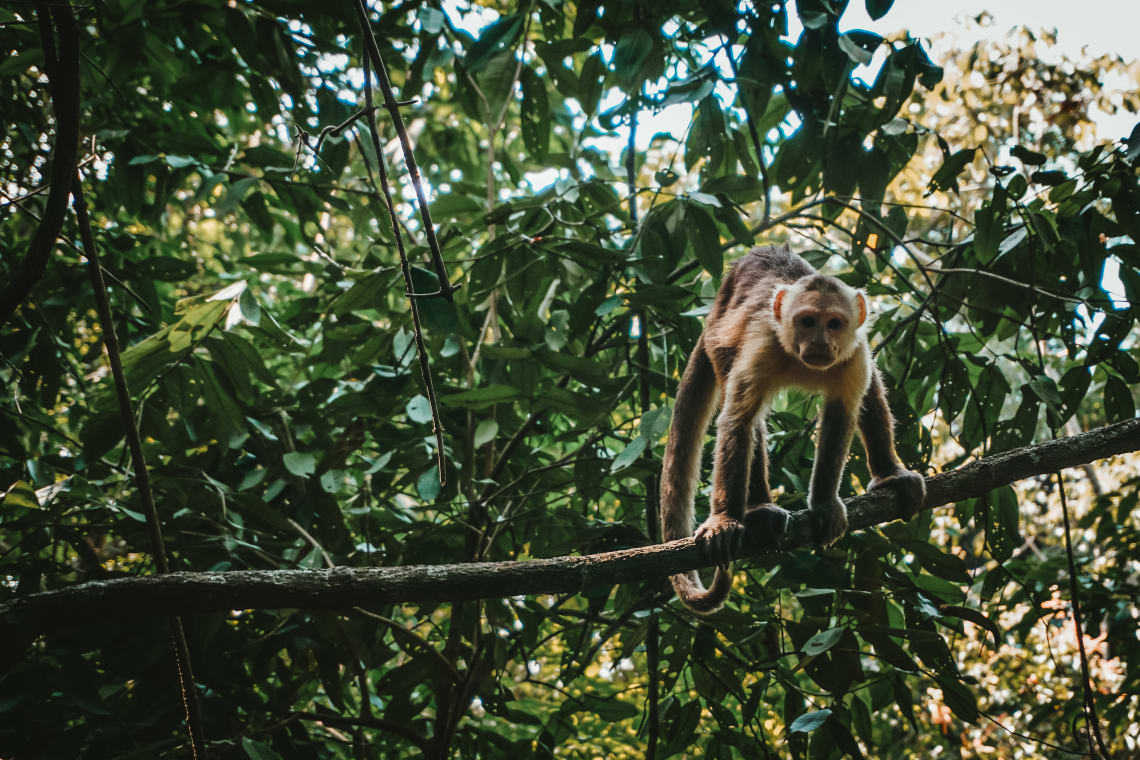 Eat fresh seafood
Palomino, Colombia is known for its fresh seafood. Because the Caribbean Sea is right there, you can always find some delicious fresh catch at any local Palomino Restaurant. When you arrive, ask a local where their favorite place to eat is!
There are so many great bars, restaurants, and cafes on the main street of Palomino, so definitely indulge. You can also find great international restaurants, so if you've been in Colombia for a while, you can try some other cuisines here as well.
Day trip to Tayrona National Park
If you are saving some time for day trips in Palomino, you should absolutely take a day trip to Tayrona National Park. This gem of northern Colombia is full of hiking trails and beaches where you can explore nature.
Get ready to see mountains, beaches, forests, lagoons, waterfalls, and lots of wildlife. It's easy to get the bus here from Palomino for the day. You can even spend the night in the park in a hut or hammock, but there are no hotels or hostels in the park so it's easier to make it a day trip from Palomino.
Visit the Quebrada Valencia Waterfalls
For a fun day of splashing around in the waves under a majestic waterfall, you can take a quick day trip to the Quebrada Valencia Waterfalls.
The bus ride is just 30 minutes long and the buses run daily. Head out here for the day to spend time in nature and cool off in the big natural swimming pool at the base of the falls. Be sure to check the conditions, however, because in the dry season sometimes there isn't much water.
Other travel tips for Palomino Colombia:
It is helpful to know some basic Spanish, especially for interacting with locals to buy bus tickets, order in restaurants, etc. You can get by without speaking Spanish as there are a few touristy hotels, but knowing a bit of Spanish will definitely come in handy!
Bring cash with you! There are no ATMs in the small town of Palomino. You can sometimes use a card to pay for accommodations, but many businesses won't take cards. So bring some cash from Santa Marta to last you during your stay.
The village is remote: That means the internet isn't great. If you're a digital nomad who relies on an internet connection to make money, just accept that you might not get much work done during your few days in Palomino, Colombia.
Thanks for reading our travel guide to Palomino, Colombia!
Want to learn more about planning your trip? By subscribing to the WP pack plan you have unlimited access to +120 courses at Worldpackers Academy, the travel school made by travelers!