Don't travel to Seattle without seeing this guide before
A complete guide for fun activities and attractions to visit if you're planning to travel to Seattle!
7min
If you're planning to travel to Seattle, here are some great attractions to put on your itinerary. The Emerald City has a lot to offer, including several attractions in the Seattle Center, a vibrant waterfront packed with activities, and plenty of nature just a short distance away.
A complete guide for you to travel to Seattle
This guide includes 11 good ideas, such as:
Space Needle
Seattle Aquarium
Woodland Park Zoo
Chihuly Gardens and Glass

Seattle's Tall Ship

Pike Place Chowder

Pike Place Market

Fremont Troll

Work exchange in Seattle
Mount Rainier

Orcas Island

Touristy things to do in Seattle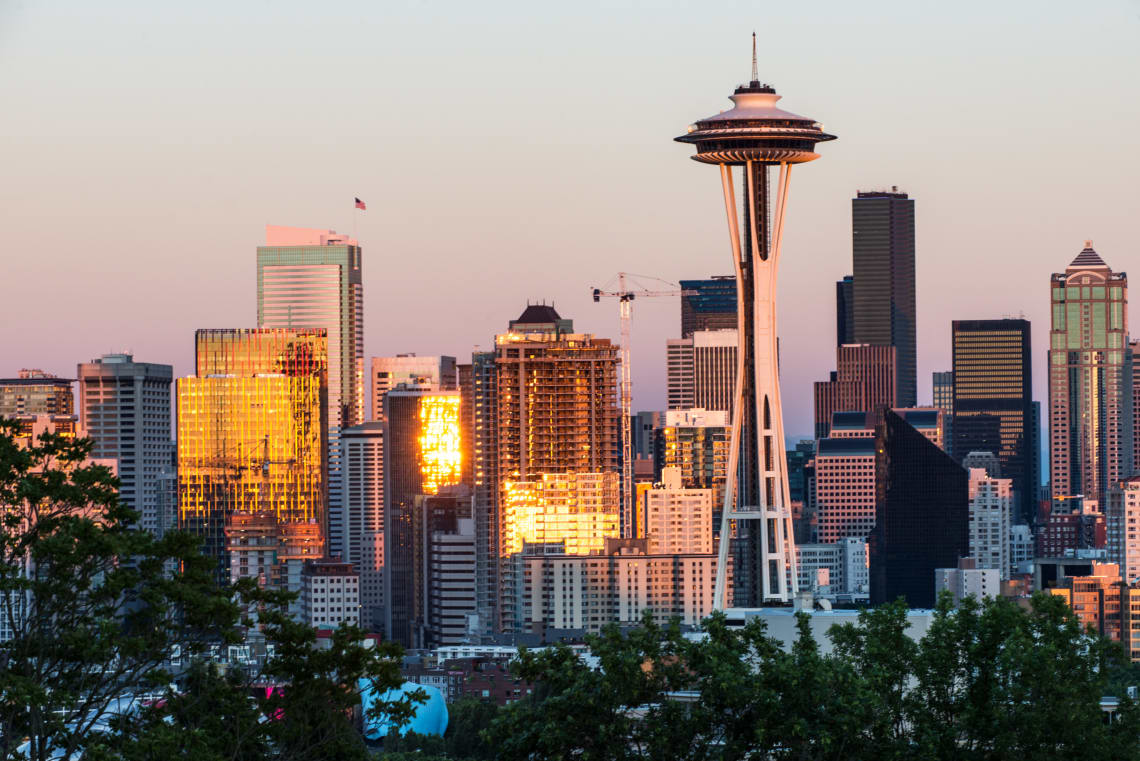 Space Needle
One of the most famous landmarks of Seattle, simply because it's in nearly every photo of the Seattle skyline, is the Space Needle.
Constructed in 1962 for the World Fair, the structure rises 605 feet above the Seattle Center. At the top are an observation deck, and the world's only glass-floored, revolving lounge.
Tickets are $35 for one trip to the top or $59 for a day and night pass (two trips in one day). However, it's much cheaper to get the Seattle City Pass, which comes with five attractions including the day/night ticket for the Space Needle.
Expect to spend about 30-60 minutes on each trip to the top, unless you plan to enjoy a cocktail in the revolving Loupe Lounge.
Seattle Aquarium
The Seattle Aquarium opened in 1977 on Pier 59 and then doubled in size in 2007. Now, a massive new expansion is underway, called the Ocean Pavilion. Now that they've taken down the Alaska Way Viaduct, a behemoth concrete highway that divided the city from the water, they can really upgrade the waterfront.
As with most of Seattle's attractions, the aquarium is very interactive and focuses on the conservation of local sea creatures. One of the first attractions is a "petting" tank where visitors can feel sea anemones, starfish, and the like. There are dozens of other exhibits, ending with some playful otters and seals.
Admission to the aquarium fluctuates around $21-$32, but it's also included in the Seattle City Pass, which is the best option if you're looking to save money and plan to visit as many of the attractions in Seattle as possible.
Woodland Park Zoo
After you've seen the sea creatures, it's time to see the rest of the animals Seattle hosts. The Woodland Park Zoo, unlike many other zoos, is more of a conservation program than a tourist attraction. Just the ambiance of the park is beautiful, and it has received many awards as one of the best zoos in the US.
Some of the animals you can see at the Woodland Park zoo include bears, wolves, snow leopards, kangaroos, rhinos, and the full cast of The Lion King, except Rafiki.
Tickets are $17 each, and this is yet another attraction included in the Seattle City Pass. Expect to spend at least several hours checking out all the animals, or the full day if you're visiting with kids.
Chihuly Gardens and Glass
Don't travel to Seattle and miss the Chihuly Gardens and Glass museum, which is also in the center of the city, right next to the Space Needle. Dale Chihuly was one of the world's greatest artists, and many of his creations are on display in this museum.
Half the museum is indoors, where you'll see glass sculptures filling entire rooms, experimental designs which defy understanding of how Dale could have crafted them, and videos of all his exhibitions around the world. The second half of the museum is outside, where the gardens are filled with many more glass sculptures.
Museum tickets are $32 but, once again, you can get in with the Seattle City Pass. It would be best to group all the Seattle Center attractions in one day - the Space Needle, the Chihuly Gardens and Glass, MoPOP (the Museum of Popular Culture), and, when it opens again, the Pacific Science Center.
Seattle's Tall Ship
Another wonderful attraction in Seattle, and one that's not part of the City Pass, is the 85-foot schooner which offers 2-hour cruises around Elliott Bay three times a day. The evening sunset cruise is probably the most romantic activity in Seattle.
You can bring your own food and drinks, including alcohol, on the cruise. But rather than being a fast-paced, informative tour of the harbor, such as the Argosy Harbor Cruise, this one is relaxing, enjoyable, and fun.
You'll learn a bit about the bay, but also about the ship, and perhaps even see some wildlife. They also have a miniature cannon which they fire off at passing ships, or perhaps the Space Needle.
Pike Place Chowder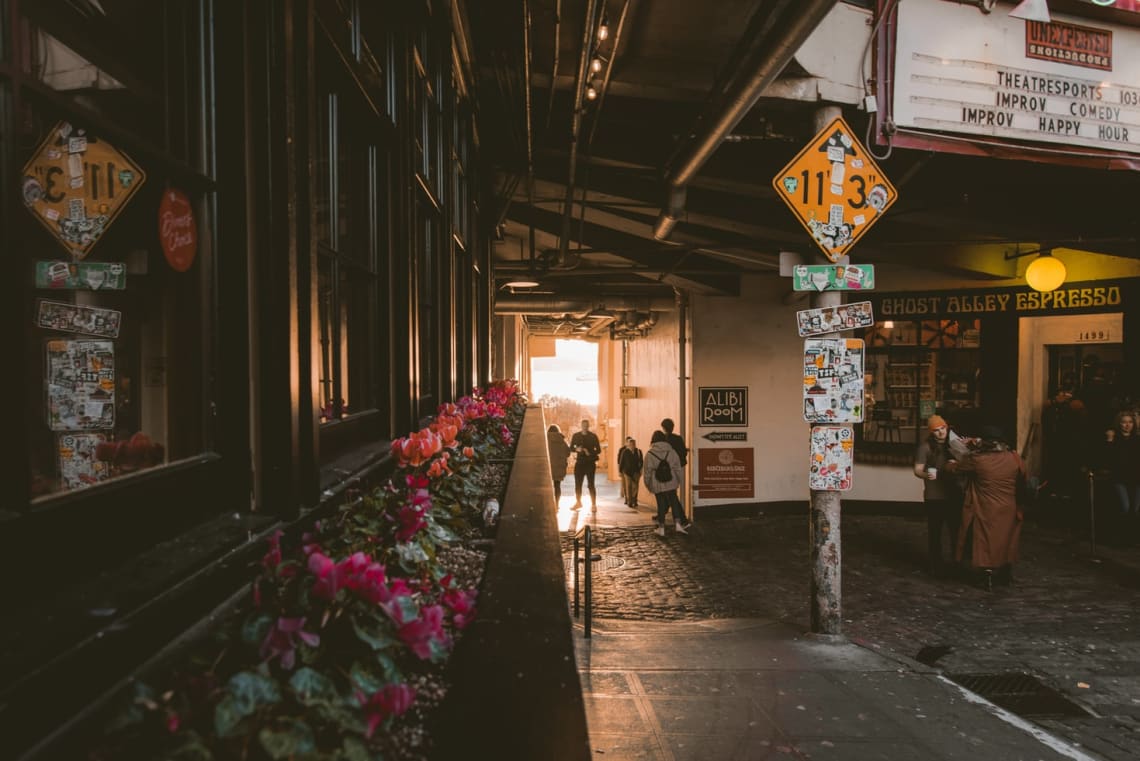 When it comes to the best restaurants, there are plenty to choose from, but one stands out with a dish you have to try when traveling to Seattle.
Pike Place Chowder has been selling award-winning chowder since 2003. Their best-seller is their New England clam chowder, but eight different chowders are on the menu, including smoked salmon chowder and even a vegan chowder!
If you do make it to Pike Place Chowder, there are a couple things you can do to skip the ridiculously long line (often stretching down the alley and around the corner).
First, you can order ahead, and then just pick up your chowder when your name is called out. Second, you can walk a few blocks up the street to the Pacific Place Shopping Center, where their second branch sells the exact same chowder, but without the wait, and also with lunchtime happy hour specials.
Cheap things to do in Seattle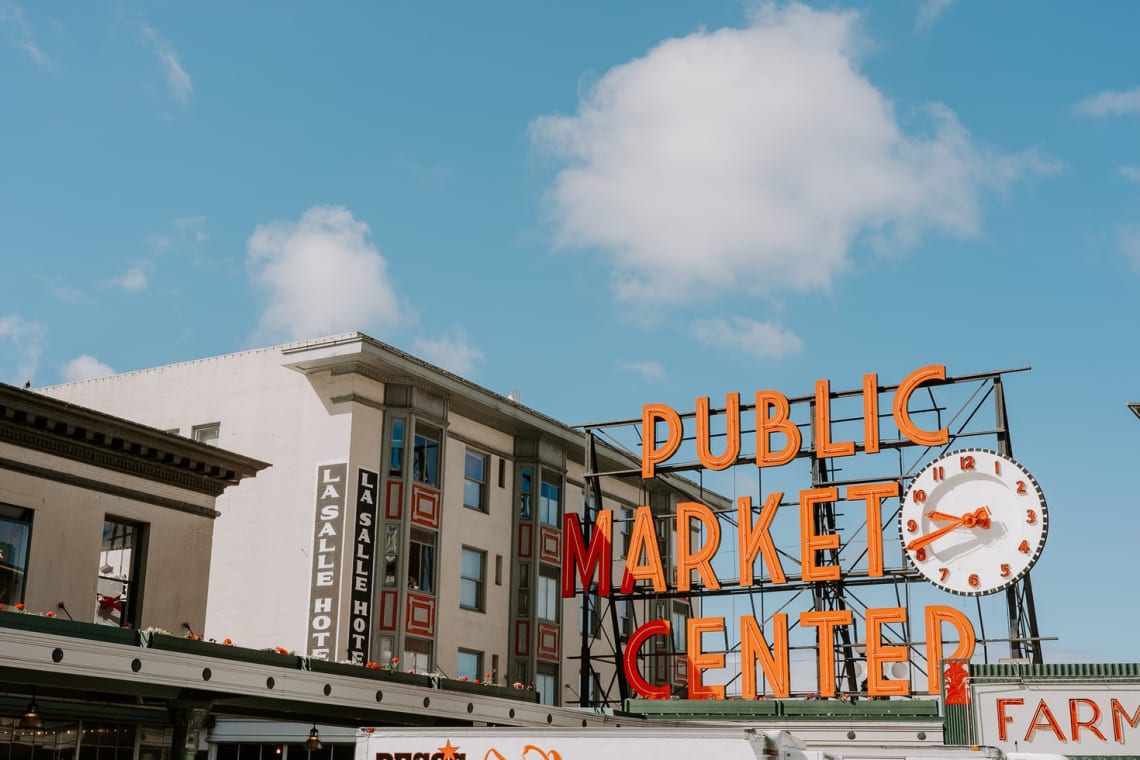 Pike Place Market
If the Space Needle is the most recognizable sign on Seattle's skyline, the Pike Place Public Market is by far the most visited. In fact, the iconic Seattle landmark is the most Instagrammed spot in the Pacific Northwest.

Most people don't realize how big Pike Place is. It spans 9 acres and has several levels, including hundreds of stalls, low-income housing, amazing restaurants, and Gum Wall Alley.
You can buy just about anything at the many stalls and shops throughout the market, and sometimes at great prices. You'll probably get the best deal ever at the flower stalls, especially for big occasions like a wedding.
Pike Place is free to visit, and is open from 9 a.m. to 6 p.m. every day, although you can still wander around many sections of the market after hours, including Post Alley where you'll find the best restaurants.
Fremont Troll
Looking for more fun cheap things to do in Seattle? This next attraction is definitely unique. About three miles north of the city center, under the north end of the George Washington Memorial Bridge, hides a troll.
He's 18 feet high, weighs 6.5 tons, and is constructed of steel rebar, wire, and concrete. Interestingly enough, and something you might miss if you don't look closely, he's holding a real VW beetle in his hand.
It doesn't take a lot of time to see this attraction. It's more of just a photo opportunity, perhaps on your way to the Woodland Park Zoo.
Work exchange in Seattle
But the very best way to visit Seattle on a budget is doing a volunteer program. In Wordpackers you travel, collaborate and make a positive impact on the world by trading your skills for accomodation in Seattle and other places around the world.
There are thousands of volunteer positions for you to collaborate, learn, and get immersed in the local culture in more than 140 countries. Check out these two open opportunities to travel to Seattle, WA.

Do you love animals and want to have a unique experience? Help a top host family with their dogs. In this project you get free accomodation and other benefits in exchange, such as the three meals included. In the video below you can have an idea on how it is like to volunteer with animal care.
Explore the city, make friends, live and work in a highly rated hostel with a very convenient location!
Travel to Seattle and in its surroundings
Mount Rainier
If you want to venture outside the city, why not drive out to the other major feature of the Seattle skyline - Mount Rainier. It's the highest mountain in Washington and 5th tallest in the continental US, rising 14,417 feet high, and can be seen from various points in Seattle.
Mount Rainier is classified as an active volcano, although its last eruption was in the 1800s, unlike Mount St. Helens, which erupted in 1980.
Hiking to the summit of the mountain is nearly impossible without proper equipment and training. There are glaciers at the top, and the most experienced climbers take 2-3 days to accomplish the feat.
However, there are many hiking trails of varying degrees of difficulty lower down the mountain. There are also plenty of lakes, rivers, campgrounds, and other activities to enjoy in the Mount Rainier National Park.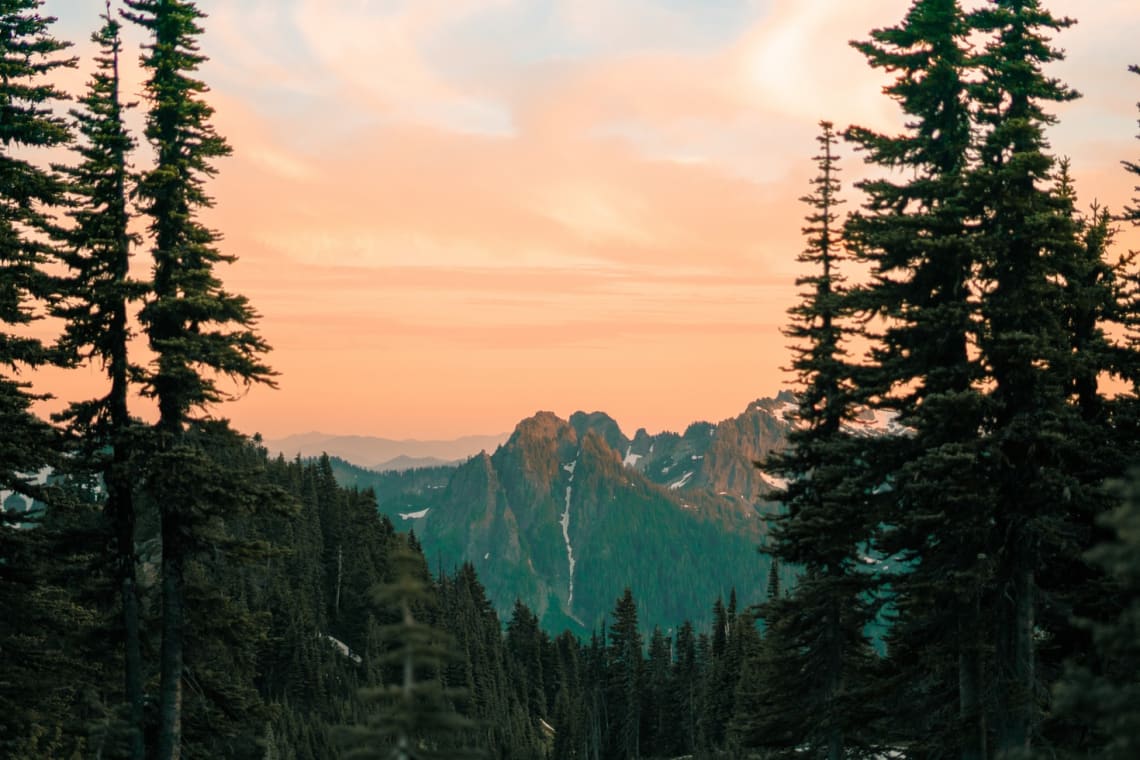 Orcas Island
While not technically close to Seattle, Orcas Island is perhaps one of the best things to do in Washington State.
Located in the San Juan Islands near Canada's Vancouver Island, Orcas Island is full of beautiful little villages, campgrounds, hiking trails, and a lookout from which you can see all the surrounding islands, many of the nearby mountains (on a clear day) such as Mount Baker, Mount Rainier, Mount St. Helens, Mount Hood, the Olympic National Park, etc.
Getting to Orcas Island is rather difficult if you don't have your own vehicle, but if you do have one, simply drive up to Anacortes and then take the ferry to the island. Once there, consider staying at the Mountain Lakes Group Campsite in Moran State Park. From there, you can hike up to Mount Constitution for the aforementioned views.
If you go at the right time of the year, you're likely to see some killer whales, although they're more visible from neighboring San Juan Island, which is actually where they filmed the movie Free Willy.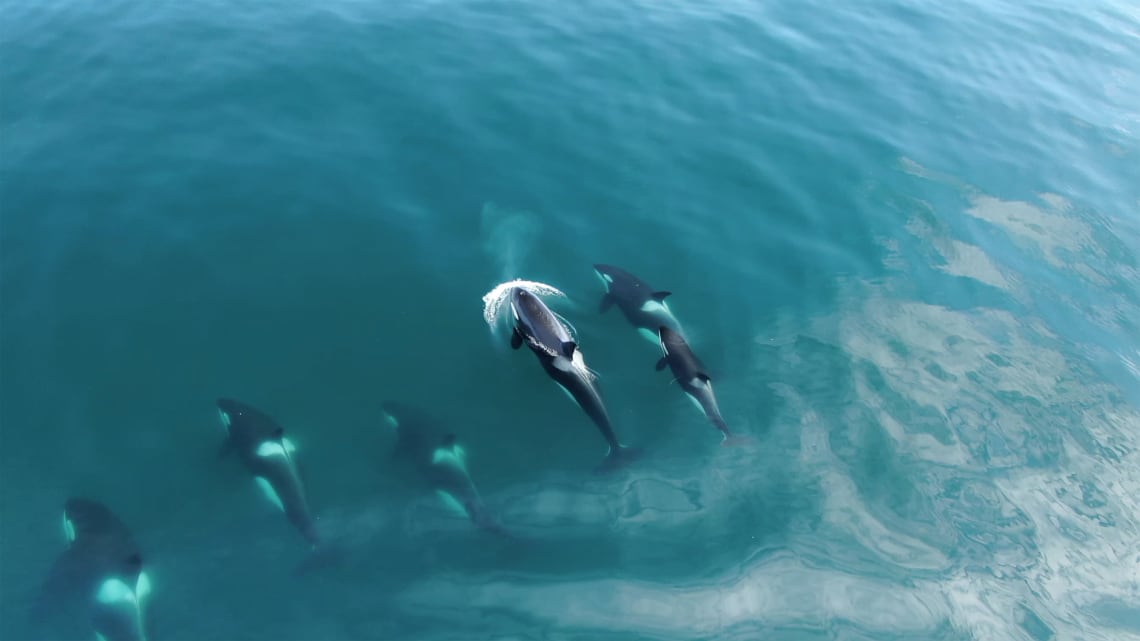 If you want to travel to Seattle, this is by no means a full list of every attraction you need, just some of the highlights. There are several museums you can visit, such as the Museum of Popular Culture, the Seattle Art Museum, etc. You can go on whale-watching excursions, watch a game in one of the two sports stadiums, go on an underground tour, etc.
Just remember that traveling to Seattle is not exactly cheap. It is a destination only slightly less expensive than the Nordic countries, Luxembourg and Switzerland. But you will definitely save money if you do a work exchange, purchase the City Pass, and use public transportation as much as possible.
Now keep exploring American destinations in our blog and read these 10 best offbeat places to visit in the USA!