The ultimate Tulum travel guide
Are you ready to travel to one of the most enchanted places of the moment? With this Tulum travel guide I am going to help you going around one of the most visited towns of Mexico.
8min
I guess you have already heard about this beautiful place, that's why you are so interested in learning a little more about Tulum.
Have you ever wondered if there is a place with a little mystic vibe, surrounded by tropical jungle, beautiful beachfront cabañas, crystal clear water with gradients of blue, sunny all year round, mojitos, margaritas, cenotes, parties, fun... Well, I'll stop here because halfway through the article you will want to take a direct flight to Cancun and travel 2 hours by bus to Tulum.
And to spoil you even more I am going to suggest to you a lot of places you can enjoy and a lot of things to do and see, and of course, although it is not a myth that the place is not the cheapest in the country, anyone can fit a budget over there! (don't miss out The guide to travel Mexico on a budget).

Tulum is a small city in Quintana Roo in which we can find the downtown area (where most of the activity is located) and it also has a beach area that can be reached by transport in 15 minutes from the central road. You can go there by taxi, by public transport (the cheapest option) and by bike if you rent one for around $150 MNX a day.
This Tulum travel guide will show you where to find the right accommodation for you, what to expect from the natural beauties that sorround the city, where to get a snack, and most importantly, where you can volunteer to save yourself some money.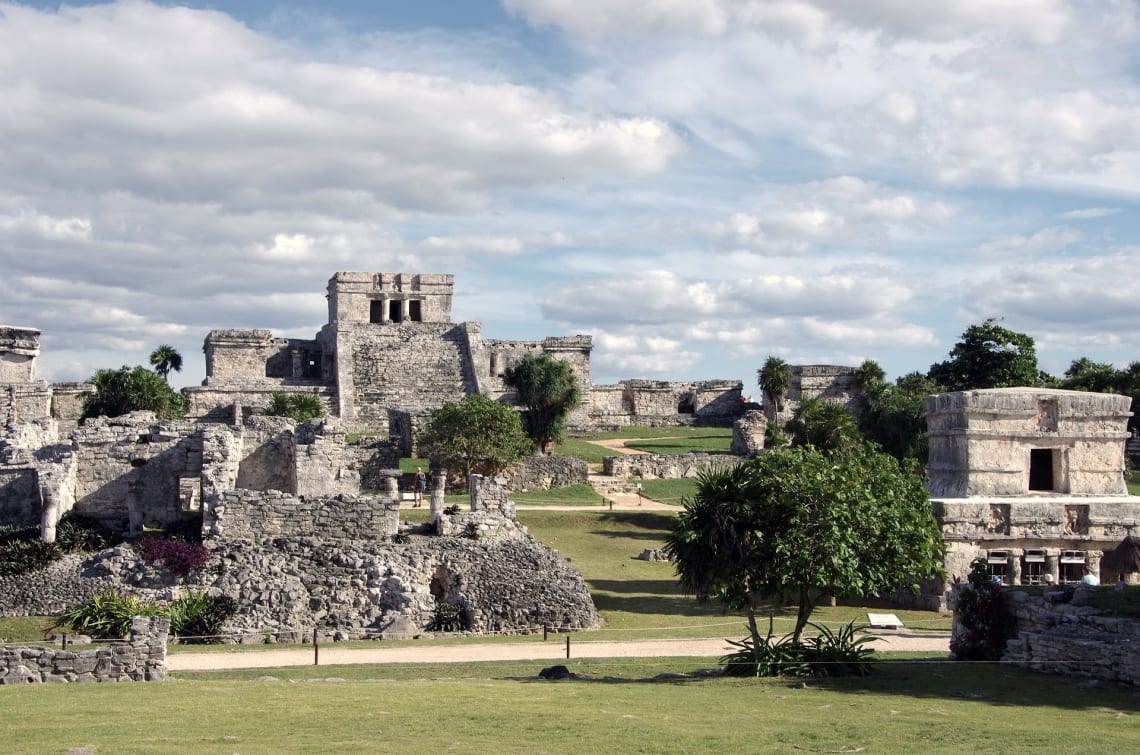 Tulum travel guide: Where to stay
Let's start with the most important thing: if you are going to enjoy this dream place you must have a good tip for lodging.
Are you a hotel person or rather a hostel one? It doesn't matter, there is a place for everyone. If you like privacy and would love to be near the sea there are thousands of hotels for you, but yes, budgets are higher next to the beach.
I suggest you start by considering "Mi Amor, Tulum" a small beachfront hotel that offers minimalist rooms and offers a slightly better price than the average.
"Casa Nawal" is another concept (also beachfront) that offers glamping tents facing the azure blue water and sky, a paradise for campers who don't want to leave out a little luxury in the adventure, and best of all, it is one of the cheapest options on the coast and you have the archaeological site (not to be missed) next door!
On the other hand, I understand that many of us venture with lower budgets and maybe these options do not suit you, in that case, I recommend staying in the downtown area where there are many more options for lodging and also more options for eating and drinking for different budgets.
In downtown I can recommend "Mimosa Tulum", a small hotel and hostel where you can stay in a small teepee and then relax by the pool.
Hostels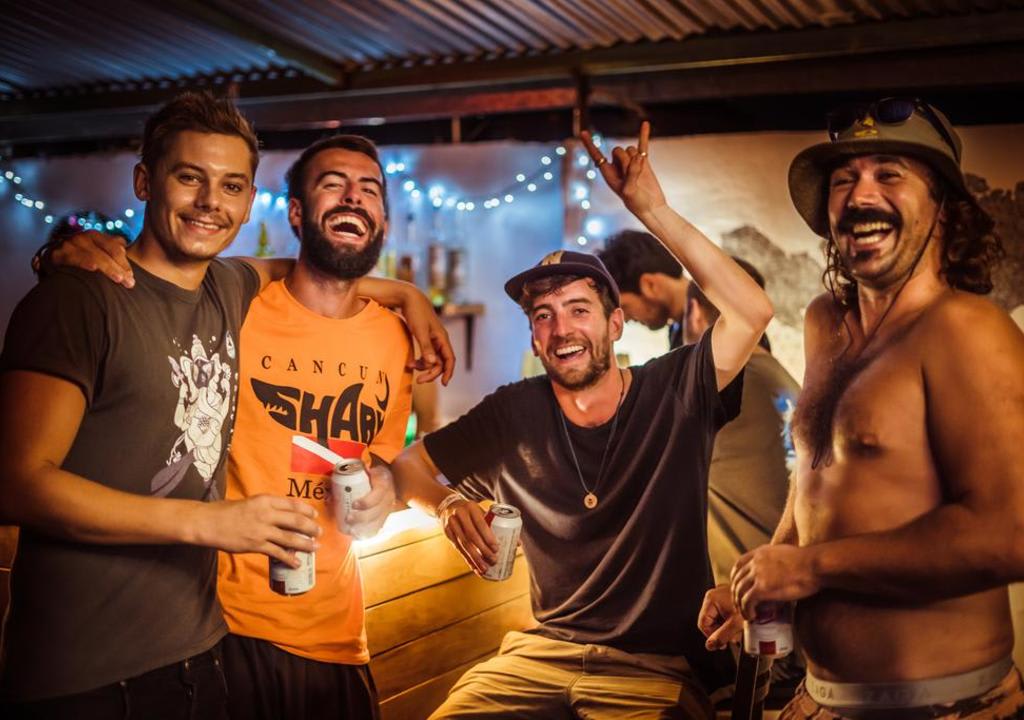 Now, if hostels are your thing, you can't miss the very famous "Mayan Monkey", one of the most famous hostel chains in the region. The hostels are great and so are their pools. They also have great areas to relax or work.
Also take a look at Che hostel. If partying is your thing, this hostel will be the one for you.

Stay in Tulum for free with Worldpackers
Have you ever had the opportunity to volunteer? If you have not had any experience, you can read this article about traveling with Worldpackers that will help you to know a little more about it.
The best part is that you can cut your travel budget almost in half if you venture into volunteering in Tulum through Worldpackers.
Hostels like this one always have open positions for travellers where they offer you food and lodging in exchange for taking care of tasks such as serving drinks at the bar, a bit of general cleaning, and reception, among others. It is super helpful since by saving on food and lodging you can make the most of your activities in town and enjoy the beach as you deserve.

Would you like to volunteer in paradise? Subscribe to the Worldpackers Community for free and start saving your favorite volunteer positions until you are ready to get verified and find the best positions in the Riviera Maya! Like this camping in in the jungle of Tulum in which you can help doing several activities.

Tulum travel guide: What to do in Tulum
Now that you have chosen where to spend your nights, I'll show you where you could spend your days as well.
The most obvious must-do in Tulum is visiting the 13th-century beachfront Mayan archaeological site at Tulum National Park.
Besides that, Tulum is super well known for its cenotes and its beaches, but of course, you might already know that.
Cenotes in Tulum
If cenotes are your thing then you have to go to the Gran Cenote, one of the best known and biggest in the whole place. You can snorkel and even dive in its cave system. The total entrance fee, with everything you can add, rounds up to about USD 30.
Another cenote you can visit is Zacil-Ha, a slightly less crowded and smaller cenote, with a price of around USD 10.
Now, if you are more adventurous, I recommend the Cenote Encantado, which is more like a lake where you can swim, kayak, snorkel, and many other things. Best of all, the entrance fee is around USD 3.
Best beaches in Tulum
If the beach is what you were waiting for, you can't miss exploring the different areas where you can sunbathe in the crystal clear waters, with a cold beer or a margarita (or both, why not?).
If you like to be with other people around you, I recommend Playa Paraiso, the beach that everyone ends up going to at some point. There you will find countless restaurants and bars where you can enjoy your favorite cocktails, and they come in all price ranges.
You can walk along the archaeological zone on the beach and enjoy the sun and sand. Or cross the whole beach zone and find more deserted beaches with few services. Don't forget your supplies!
Or, if you prefer more comfort, I recommend a beach club. If you like to spend money and want to indulge yourself, Taboo, Casa Malca and La Zebra are beach clubs that will blow your mind with their beauty and peculiar luxury. You can't miss Casa Mía either, a beautiful beach club where all those dreams of resting in paradise come true.
Around the beach area, you will find temazcales, where you can relax in a teepee with aromatic herbs and the ancient Mayan beliefs of purifying vibes during these ceremonies, an adventure you will never stop telling when you return home.

If you only have time for one of them, check this article: "Tulum vs Cancun: which one to choose", but I'd choose to visit both!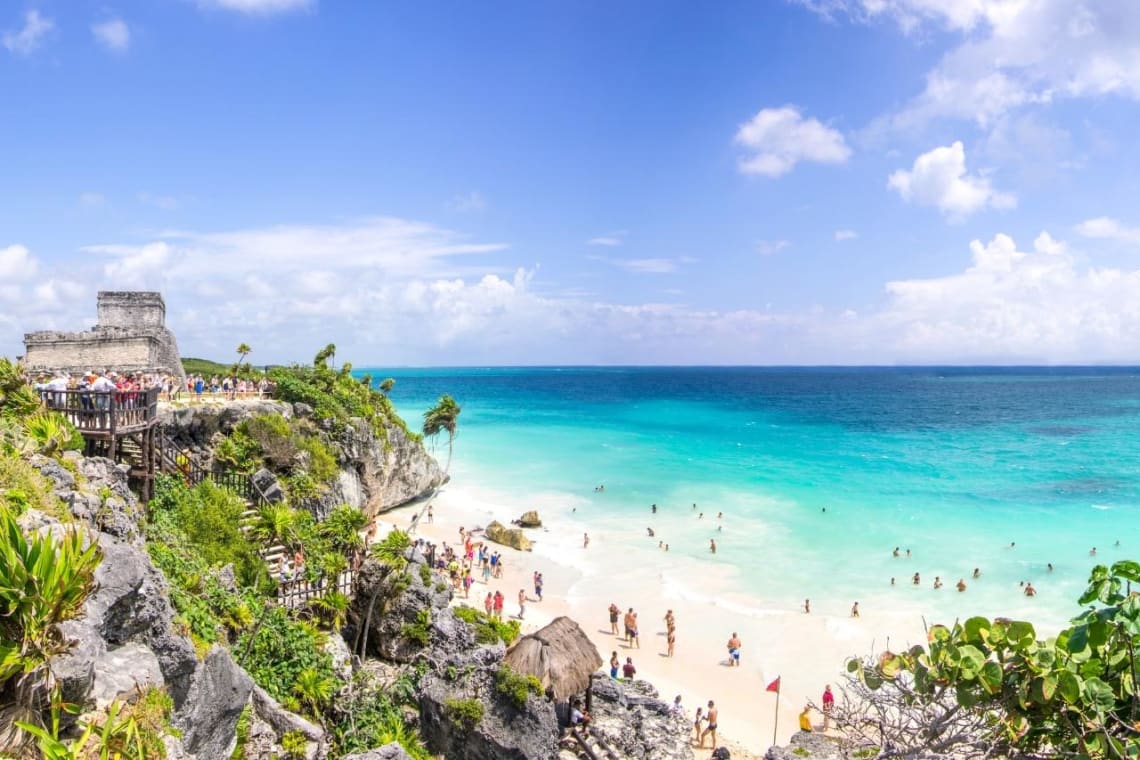 Tulum travel guide: Eat & Drink
Restaurants
If food is your thing, there's something for everyone! I'm going to start by recommending the must-visit restaurants in the hotel zone:
If you like to party and budget is not a word for you, you must go to Rosa Negra, the place that tourists love for its upscale party and its atmosphere of luxury and Mexican folklore at the same time.
BAK' is a steakhouse not to be missed, with its combination of American and tropical food, never leaving out the jungle atmosphere with luxurious touches.
Last but not least, Gitano is one of those restaurants where you fall in love with the whole atmosphere and where it's clear that at this point in your life you don't want to leave Mexico.
If you already decided that was enough of the beachside and you want to go cheaper, go to the center of Tulum where you can find nice restaurants like Botanica Garden Café (a very cozy café with unmissable breakfasts and the best cookies next to a good Mexican coffee).
And if you've heard that Mexico's specialty is tacos, you can get them in Tulum too! Take a walk through Taqueria la Chiapaneca where you will find people lining up for the real Mexican experience.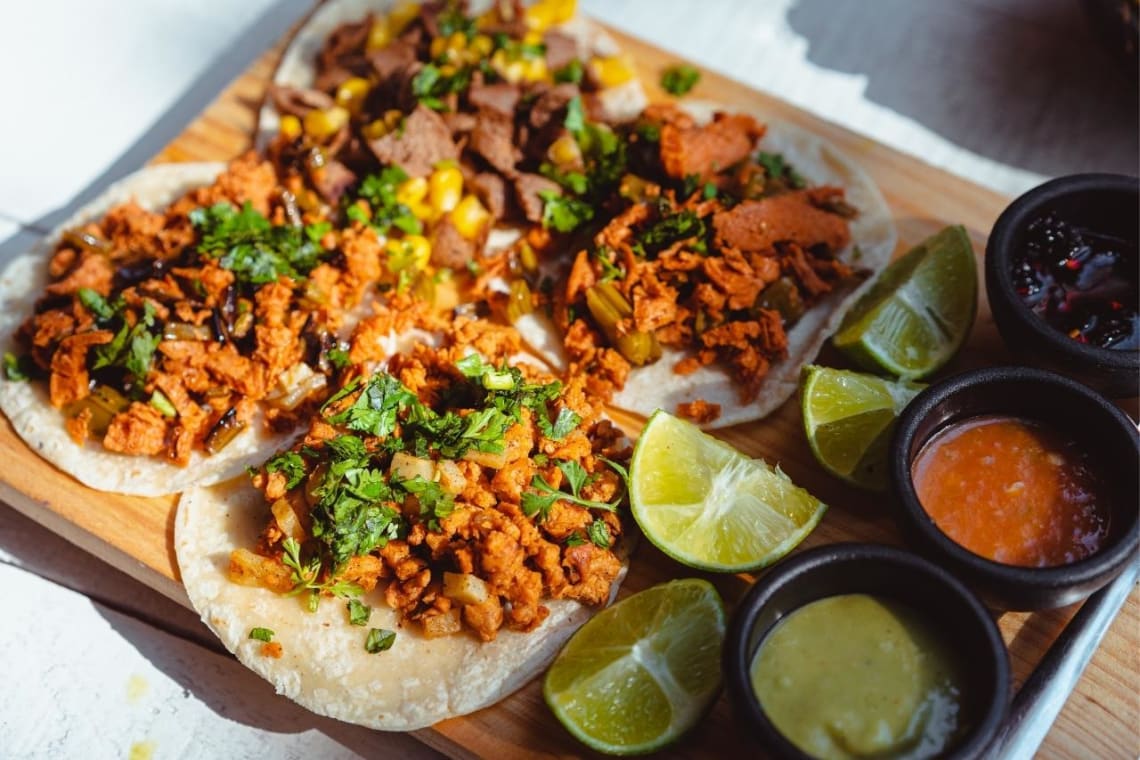 Bars and cafés
Coffee first! Without any doubt, you have to go to Ki'bok café, one of the best cafés in town. Once there the place will speak for itself.
Café Paquino offers you an authentic italian experience (with Italian owners no doubt they will know how to make a good coffee) to give you all the energy to continue discovering this wonderful place.
Now comes what we all love… a little bit of partying. Want to dance some salsa? prefer electronic music? Would you like to drink a mojito next to a live rock band? Whatever your thing is, I'm going to introduce you to some bars you can't miss:
If you go to Tulum you have to go to Batey Mojito and Guarapo Bar, where everyone gets together to listen to a good live band. The music genre varies but it's always good, especially if you have the best mojitos in town with you.
Also, don't miss Místico Tulum, where you can also enjoy a shisha with your drinks.
If dancing is your thing, Taboo Tulum becomes a sought-after club at night, where tourists crowd in their best attire go to party hard.
Rosa Negra also turns into a fancy nightclub after a few cocktails. And if you just want to sit down and drink a good beer, you have to go to Grifo Tulum, where you will find countless beers from all over the country as well as draft beer produced in Mexico.
To party downtown? Done. Santino bar is a club atmosphere from the moment you walk in, so if you're ready to get the party started as soon as you arrive, don't hesitate to go there.
In general, every place has its charm, who wouldn't want to have a drink surrounded by jungle and summer heat?
Is Tulum safe?
Finally, we all know that at some point we have wondered if the place we want to visit is safe or not. My opinion is that everywhere there are dangers and everywhere you have to try to avoid them.
It is always good not to get too drunk because you become vulnerable as a tourist (especially if you don't speak the language). But surrounded by good friends and knowing where to party there is no need to be afraid!
Yes, I am sure you will have a great time in the Riviera Maya and you will not want to leave.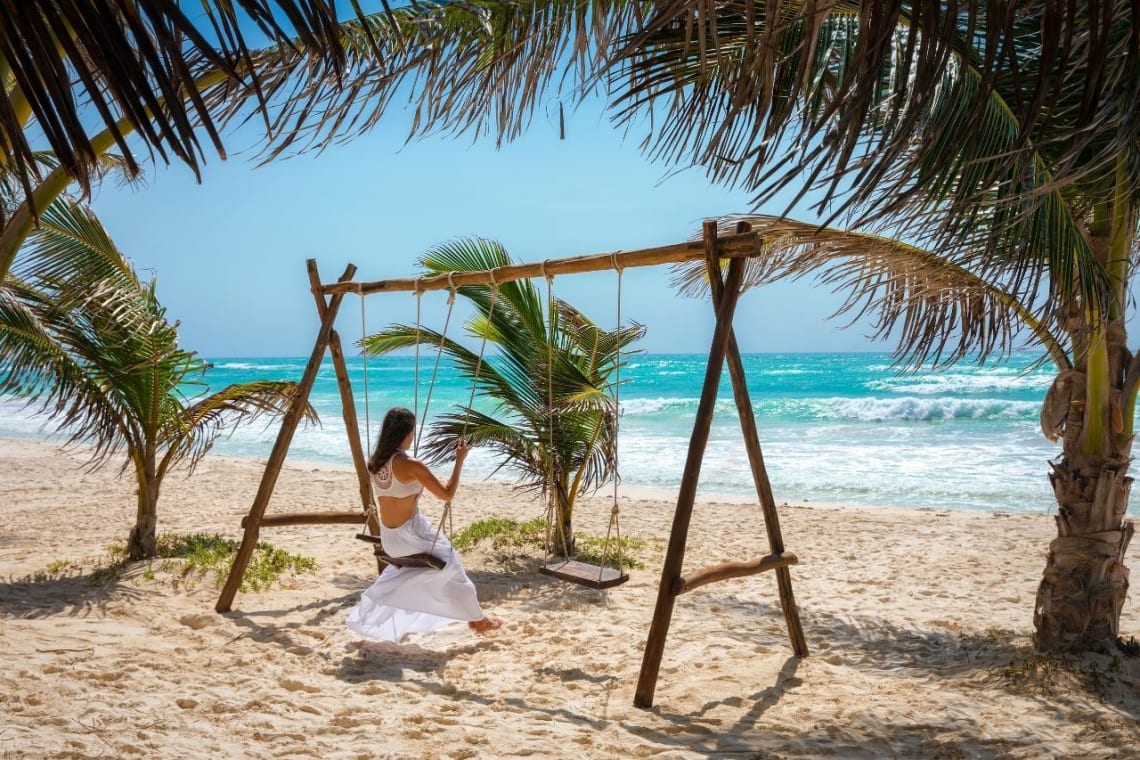 If you want to know more about Mexico take a look at this ultimate list of the best places to visit in Mexico, or this Mexico travel guide from a fellow traveller who will guide you through this beautiful country.
And if you are ready to explore more parts of the continent, I encourage you to take a look at these tips to travel in North America.
If you like these tips, follow Worldpackers social media to keep up with the news: we are on Instagram, Tiktok and YouTube!
Happy travels and cheers!