Tulum vs. Cancun: which one to choose
After having spent 7 months in Mexico, 4 of them within the Quintana Roo area, I just had to share my experiences with you. Though I chose to visit both, this article will dive into traveling to Tulum vs. Cancun.
14min
If this is your first time travelling to Mexico, or you're thinking of it, let me start by telling you that this will most likely be one of your most memorable trips in your life.
Mexico has so much to offer, with each region being so different from one another. The whole Quintana Roo is a world in itself and since most travellers hesitate between Tulum vs. Cancun, hopefully this article will help you make a decision.
Tulum vs Cancun: how far is one another?
First of all, it's good to know some geography of the country you're about to visit:
Tulum and Cancun are two cities located in the State of Quintana Roo.
This region is home of the city of Cancun, the islands of Cozumel and Isla Mujeres, the towns of Bacalar, Playa del Carmen, Akumal, and some ancient Maya ruins (Chacchoben, Coba, Kohunlich, Muyil, Tulum, Xel-ha and Xcaret).
If you have decided to go visit the Quintana Roo region, you most likely will visit all of the cities and ruins aforementioned. Travelling from one place to another is relatively easy and cheap.
There's about 131 kilometres (81 miles) between Tulum and Cancun and, on average, it should take you 1.5-2.5 hours to get from one to the other. Traffic in Tulum can be quite bad at times so make sure you give yourself plenty of time if you have buses to catch or have to be somewhere at a certain time.

The easiest and fastest (and local) way to get from Cancun to Tulum is to take the colectivo which'll cost you roughly 130 MXN ($5-6). There are colectivos (small local buses) just about every hour from the main bus stop in Cancun, but in general you can stop them wherever.
There are other ways to get from one city to another (though Tulum really isn't a city... keep on reading for a little heads up on the place):
Bus (usually with the company ADO): 200-250 MXN, about 2.5hours
Colectivo via Playa del Carmen: 80-90 MXN, about 3h (if you're doing the trip from Cancun to Tulum it's probably worth a stop to PDC to visit it anyways.. I was supposed to stay a few days there and that turned into 4 months)
Taxi/Private car: at least 2000 MXN, about 1.5 hours, depending on your driver.
Minivans (shared): 580-600 MXN, about 2.5 hours. This option is good if you're with a group of friends and it's a little more comfortable as the colectivos can get pretty packed at times, and they're the same size as a minivan.
If you're the type to want to book things ahead, I'd recommend going via ADO bus as you can book online, but if you're more relaxed and adaptable, just hop on a colectivo but do take note that sometimes you have to wait for the next one as they can get packed pretty fast between locals, travellers, and party-goers!
Evidently, there's also the option of renting a car, which will give you so much more freedom and flexibility.
I actually got a car for a couple of weeks when I was in Tulum (with Hertz) simply because Tulum is actually comprised of a small town which isn't near the beach, and then the beach strip which has all the fancy restaurants, bars, hotels, and the beach.
A lot of people use bicycles to get from the town to the beach but it can get very hot at times and not too convenient if you want to bring all your beach gear.
Walking is doable, but far (3km) and taxis will most likely ask you for at least 100 MXN (when you know how many tacos you can buy for 100 MXN trust me you won't want to pay for that taxi ride).
Tulum vs. Cancun: What Tulum has to offer
Tulum has much more to offer other than the parties, white sand and blue water that you often see on Instagram. It is quite expensive if you're not prepared and planned ahead of time, but hopefully this article will avoid you making the same mistakes as I did.
Plan your trip with the Tulum travel guide.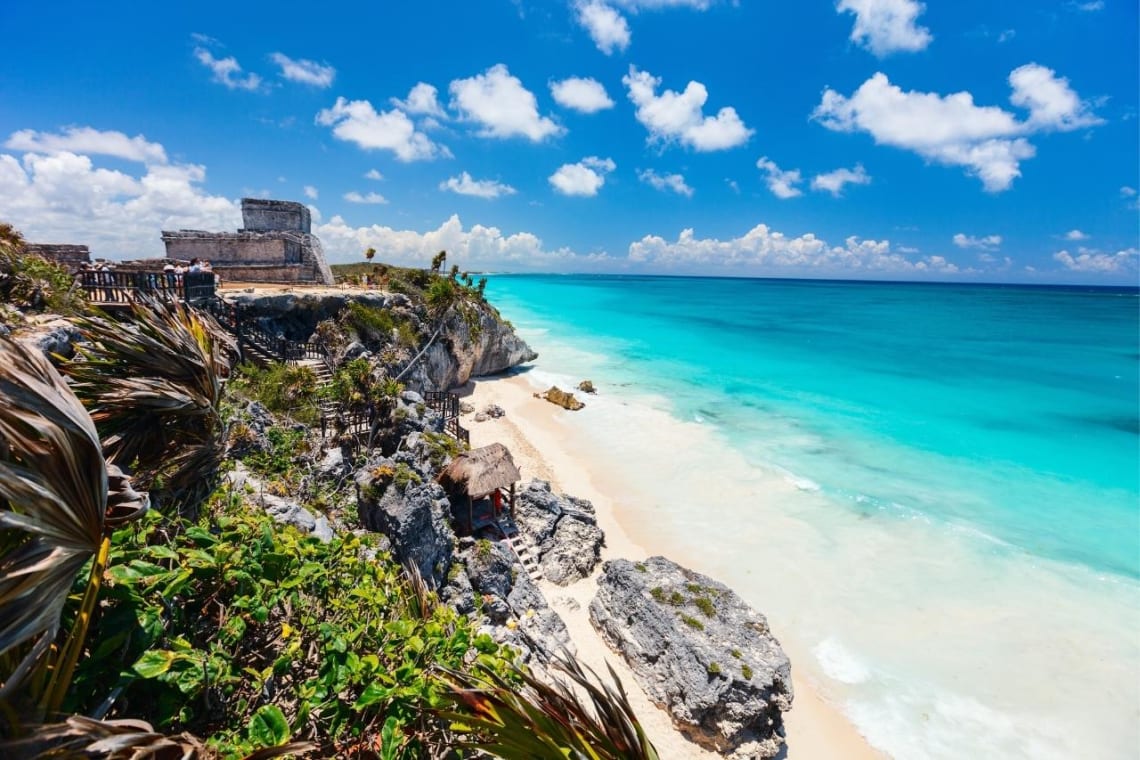 Where to stay in Tulum
Tulum is one of those places that ha very, very expensive hotels on the beach front ($1000/night type of expensive), but also decently priced Airbnbs in more residential areas near the town, and evidently hostels and opportunities for doing a work-exchange with Worldpackers.
There are currently some opportunities you can chose from on Worldpackers, most of them being in a hostel - but what more could you ask for? Free accommodation and food in exchange of a few hours of volunteer work in a Mexican paradise? Sign me up any day!
1/ DayTripper Hostel needs volunteers for 25h per week of cleaning, reception, night shift and admin tasks. They are located fairly central to Tulum town centre and are often in high demand so make sure you apply ahead of time for them.
Daytrippers Hostel has multiple positions to apply for, such as for bartending and community manager.
2/ Tres Palmas is looking for night shift volunteers, where you will work from 10pm to 3am and you can find all the benefits of the exchange by clicking on the link to the position.
They are located a bit more central to the town and have really good reviews in addition of being in high demand as well.

They also offer another opportunity with the same number of hours (30 per week) but instead of night shift you will be on kitchen duty.

This centrally located hostel in Tulum asks for 25 hours per week of cleaning, housekeeping and reception duties in exchange of many different benefits and perks.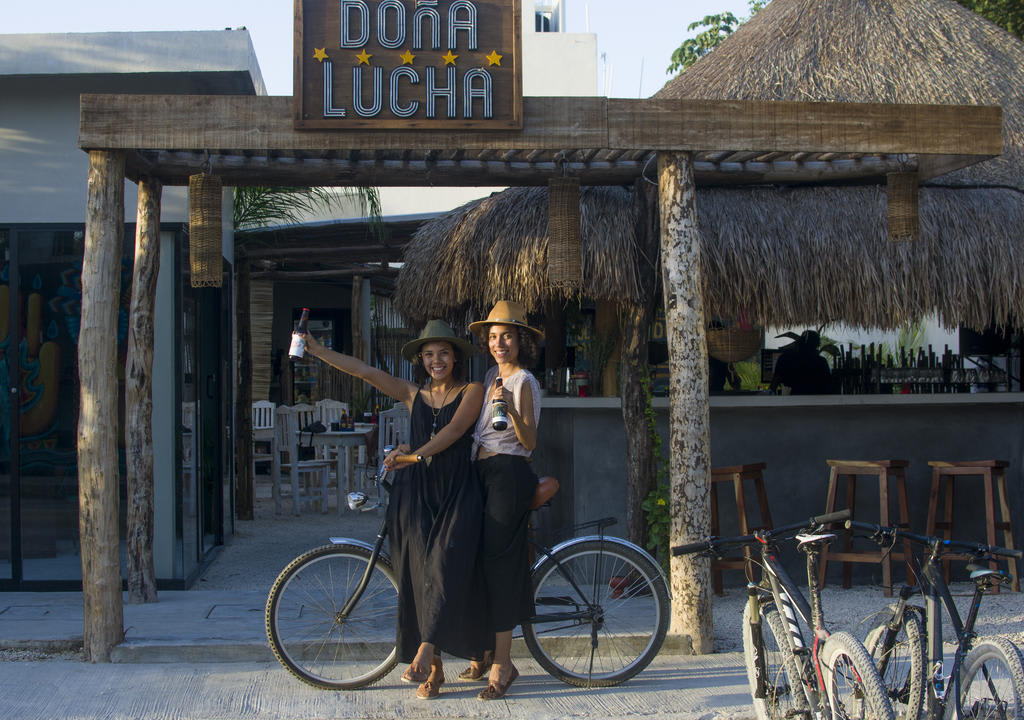 4/ Nudist Tantra Camping Retreat
Yes, you read that right, and why not?! They have good reviews and this definitely sounds like a unique experience.
Tulum has a lot of retreats and workshops going on in various different areas of the spiritual world.
This camping isn't the most centrally located so I think you'd be going purely for the experience and not to discover Tulum- but like I said, why not?

Now if you're not into volunteering and purely want to spend your time exploring Tulum and the area, and you can afford an Airbnb with some friends, I'd definitely recommend getting a penthouse or apartment. They can be very affordable if you're in a group and often come with lovely swimming pools and gardens.

Hotels are a bit of a different story, but if you have the budget, these are the must-go-to reputable hotels on the beach strip:
Papaya Playa Project - $350-500 per night, really famous for their beach club and workshops.
Azulik - $600-700 per night, that super Instagrammable hotel you always see on social media (photo below).
Casa Malca - $600-700 per night, apparently one of Pablo Escobar's mansions!
The Beach - $900-1000 per night, but you get all the luxury that comes with that price