The guide to travel Mexico on a budget
In this article I'll help you to plan your trip and share my tips on how to travel Mexico on a budget.
10min
Mexico.. a lot of us dream of going to Mexico for its white sand beaches, amazing food, cheap tequila and beer, and festive culture.
There are many different types of travel experiences one can think of when associating travel to Mexico: the Cancun luxury resort travel, the rough backpackers travel style, the hostel and partying type, the big cities and metropolitan sorts…
I'm the type of traveler who likes to mix all of those but let me tell you how to ultimately travel through Mexico on a (small) budget.
Planning a solo trip to Mexico? Check out this guide for safety and fun.
Travel Mexico on a budget: saving on transportation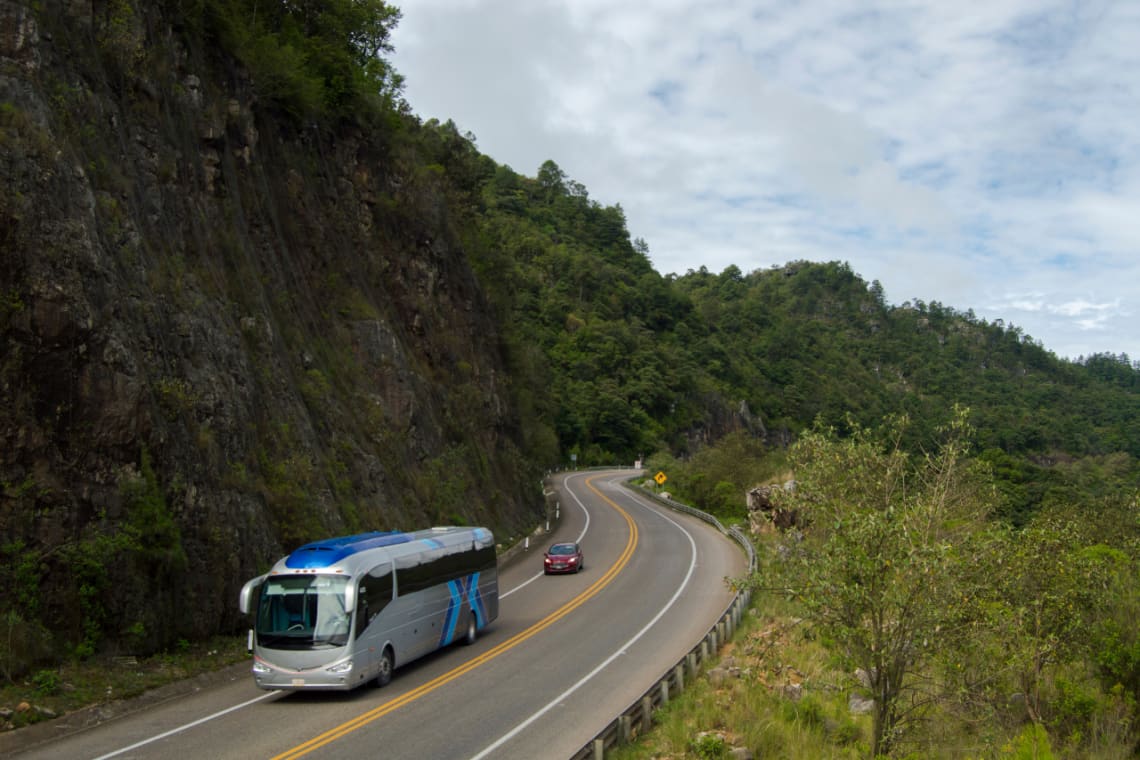 I left from Europe, with a one-way ticket to Mexico. Usually one-way tickets, first of all, are more expensive than returns, but I managed to find one that was just under 500 euros.
It was from Madrid and had a stopover in Amsterdam, before flying directly to Mexico City. I used skyscanner.com to find my flights and the main airlines were KLM and AeroMexico.
Just as a side note, traveling to, and in Mexico during a worldwide pandemic was one of the best decisions of my life.
In terms of transport within Mexico, flights are relatively cheap, but I would recommend going by land.
Hitchhiking is evidently the cheapest method you'll find, but realistically it doesn't guarantee 100% security and you need to have (a lot of) time on your hands. Here is a list of travel methods I used which were cheap and safe:
1. Bus
I used websites like busbud.com to search bus routes, but your best bet would be to go directly to the bus stations.
The main bus line within Mexico is ADO, and I've only had good travel experiences with them (except for one trip where the toilet was blocked).
The seats are comfortable, there's space, it can get cold at times (so bring a sweater, but I think that's common sense), they do pit stops during long trips, and they're surprisingly quite punctual.
A 7h bus ride could range from USD 15 to 30.
I was quite surprised to hear that that even existed in Mexico (I thought it was a French thing first of all).
I wouldn't say it's the most reliable method of transportation, but you can find pretty cheap rides, it's much faster than the bus, and it's a great way to meet the locals.
I had gone from Mexico City to Cuernavaca for under USD 4.
3. Local buses/camiones/colectivos
One of the cheapest ways (on average USD 1), and great if you want the real rough local way of getting from point A to point B.
A few safety tips that should be common sense, whilst traveling in any type of public transportation:
Always keep your bags with you (or at least your main backpack with valuables).
Have water and snacks: I always had a day's stock in case something went wrong, and believe me, you'd rather have too much water than not enough.
A jumper or scarf to keep warm, or keep bugs off you.
A plastic bag and tissues – not the most glam, but you never know how this could come in handy being used for vom bags/bins or lack of toilet paper stranded in the middle of nowhere.
Hand sanitizer/disinfectant wipes – hygiene is always key, in covid times or not!
Read "Is Mexico safe to visit?" for a comprehensive guide about safety in the country.
Travel Mexico on a budget: Accomodation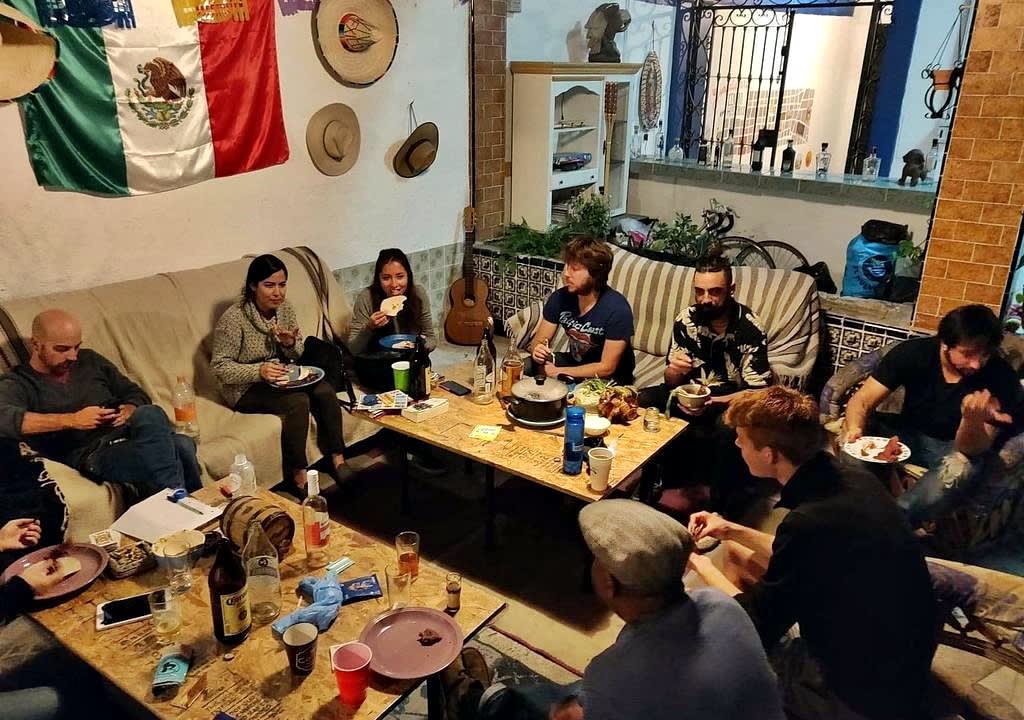 Now that you've figured out how to travel relatively cheaply from one point/city/town to another, let's talk about accommodation.
1. Volunteering in Mexico
I mostly used Worldpackers, which meant that I didn't pay for accommodation as it was part of the volunteer exchange, so that would be number 1 on my suggestions list.
Most volunteer opportunities in Mexico offer accommodation and food (at least 1 meal per day), and what's great about WP is that you can filter opportunities according to their accommodation type (private room, shared room etc..).

The variety of volunteering opportunities is very wide, from being part of the staff of a hostel to eco-villages that need a hand with gardening and construction.
Know more about Worldpackers: Traveling with Worldpackers: your top questions answered.
2. Meet locals with Couchsurfing
If you haven't heard of CS yet, it's basically where locals can host travelers for free.
The website/app is easy to use and you can filter out if you prefer a private room, or don't mind the actual couch, but CS is a great way to meet the locals and have an authentic experience.
I've been using it for years and have only had positive experiences! There is a small membership fee to pay to ensure the verification of profiles but once you're on it, you can literally stay anywhere in the world for free.
Most hosts are generous and also offer meals, and to take you around the area to explore, whilst others might just give you a set of keys and tell you to go live your best life!
Plus, if you don't want to stay at someone's house, you can also just see other travelers in the area and meet up with them. It's another community like WP- very open-minded travelers.
Sure, this is beyond obvious. If you're a bit manic with organization (like me), I liked to use websites like hostelworld.com or booking.com to book a bed in advance; but on days where I was more in f*ck it mode, I would rock up in new towns and just walk into random hostels.
The best experiences I've had were from doing that, or from meeting other travelers that would recommend hostels.
4. Airbnb and Hotels
Of course, you can always find cheap private room if you prefer, especially if you've met someone and you're not traveling alone anymore.
However even being 2, Couchsurfing was always a great way to be budget-friendly and meet interesting people.
What to pack for your backpacker trip to Mexico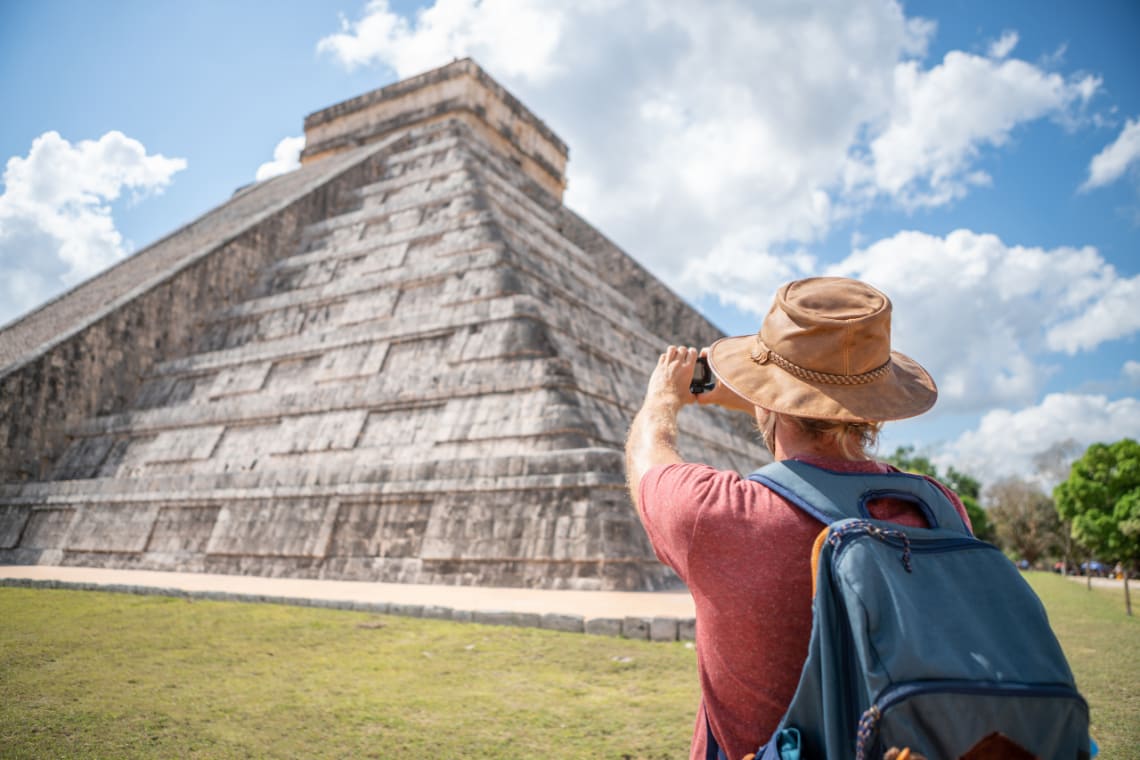 Here are a few reminders of what you should have in your backpack to facilitate your travel experience:

A towel: I got one from Decathlon that folds up really well.
Mini toiletries.
A roll of toilet paper or tissue (better be safe than sorry).
The least clothes you actually need: I basically had 1 of everything, except underwear and socks – yes, it is possible to travel with the minimum, even as a girl!
Mosquito/bug spray.
Paracetamol and some basic meds (anti diarrhea, band-aids, disinfectant, UTI meds, probiotics).
A hat.
A scarf: I had a sort of scarf that could be used as a bandana/hat also.
A silicon water bottle (was a life saver and eco-friendly).
A lock and key.
Adapters and a portable charger.
Travel Mexico on a budget: the food