11 best things to do in Costa Rica
A list of the best things to do in Costa Rica on a budget, as well as travel tips for Costa Rica like the best time to visit, the best places to go, and what to expect.
21min
Costa Rica is what many people would consider paradise.
From rich green jungles, to powerful waterfalls, to pristine beaches, Costa Rica's landscape is very diverse and simply beautiful.
Costa Rica is also a great gateway to Latin American culture. It is quite touristy, so lots of people speak English, and there are lots of tour companies, hostels and hotels, and accessible public transportation options.
If you've never traveled before, Costa Rica is a comfortable country to start in. There are lots of backpackers and expats, so you are bound to meet other travelers that you connect with.
Even though Costa Rica is full of tourists, it still maintains the core aspects of Latin American culture. Reggaeton blasts from speakers in nightclubs, the traditional cuisine is authentic and cheap if you look in the right spots, and locals can be warm and welcoming.
Whether you are visiting Costa Rica on a budget to surf, sunbathe, hike, do a yoga retreat, learn about coffee, or explore the rainforest and simply connect with nature while traveling, this country has anything you could want.
Costa Rica's best tourists attractions
This article will highlight the 11 best things to do in Costa Rica. The list could be longer, but we'll focus on the best Costa Rica tourist attractions.

We'll also include where to go in Costa Rica, what to expect, how to get around and when to visit the country.
Hopefully, these Costa Rica travel tips will inform and inspire future travelers to venture down to this little slice of Central American paradise.
Costa Rica is also known as one of the best places to volunteer in Central America, and there are plenty of work exchange opportunities available. At the end of the article, you'll find some of the best Worldpackers work and volunteer opportunities in Costa Rica for those who want to have a deeper cultural experience.
Know what to expect when visiting Costa Rica
Here is some general knowledge that will prepare you for a trip to Costa Rica.
For more info, check this guide with 15 amazing places to visit in Costa Rica
What are the languages spoken in Costa Rica?
Spanish is the main language in Costa Rica. You can take Spanish classes in Costa Rica if you want to learn the language while traveling, or you can volunteer with a local family to brush up on your skills.
Either way, locals are quite friendly and willing to help you along if you are not fluent in Spanish.

In touristy areas, English is quite common. But do your best to use Spanish whenever possible because it will show the locals you respect their culture. The Costa Rican locals refer to themselves as "Ticos."
If you are travelling by yourself, don't miss out this article about How to master solo travel in Costa Rica.
What is the currency in Costa Rica?
The local currency is Colones (₡). $1 USD equals about ₡570.75 Colones. In touristy areas, you can pay with a credit card at hotels and restaurants, but it is helpful to have cash on you as well. ATMs are pretty commonly found around Costa Rica.
How much shoul I tip?
Costa Rican culture does not require you to tip at restaurants, but rounding up to the closest 100 Colones is acceptable. You can also tip taxi drivers or tour guides if you want.

Do I need Visa to Costa Rica?
Most nationalities do not need a visa to visit Costa Rica for a stay of fewer than 90 days.
What are the electrical outlets?
The wall outlets in Costa Rica are the two-prong plugs, also known as Type A.
How cheap is Costa Rica?
Costa Rica is one of the most expensive countries in Central America. Because it has become so crowded with tourists, prices have been hiked up over the years.
However, it is no more expensive than the USA, and you can still find affordable prices if you look hard enough and follow some tips you will find here.
Know when is the best time to visit Costa Rica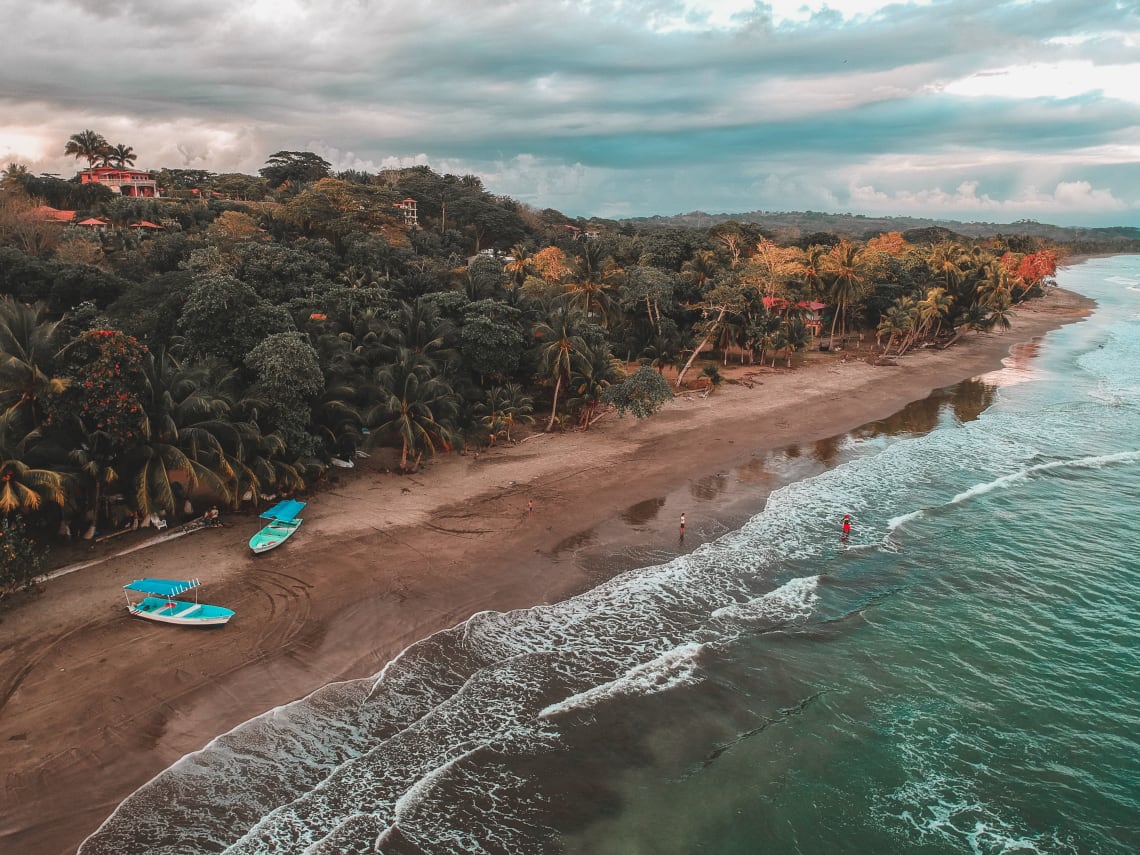 Costa Rica has a tropical climate. This means there is a rainy season and a dry season, but the temperature is relatively warm all year round. Only at higher altitudes in the mountains do the temperatures get a bit cool.

The rainy season is roughly from May to November. During this time, it rains almost every day. Sometimes it only rains for a short time, sometimes it pours all day long. Just be prepared during the rainy season and pack appropriate waterproof clothing. Also, try to have back up activities in case your beach days get rained out.
The upside to visiting Costa Rica during the rainy season is the lack of crowds and the cheaper prices of tourist attractions. You can also find cheaper flights to Costa Rica during the rainy season. So traveling to Costa Rica during this half of the year can definitely be beneficial to your wallet. October is the wettest month, so if you really want to avoid the bad weather maybe skip visiting in October.
The dry season is December through April. This means the rains stop, except for a few occasional showers here and there. The sun shines, the humidity decreases a bit, and the weather is perfect for beach days and outdoor activities.
The dry season is also peak tourist season, so you'll find Costa Rica to be more crowded and more expensive during this time. So it is up to you when you'd like to visit! Planning your trip during the shoulder season, or the transition period between the rainy season and the dry season is ideal because you should have decent weather and the crowds may die down a bit.
For more info on weather check the article about the best time to visit Costa Rica.
How to get around Costa Rica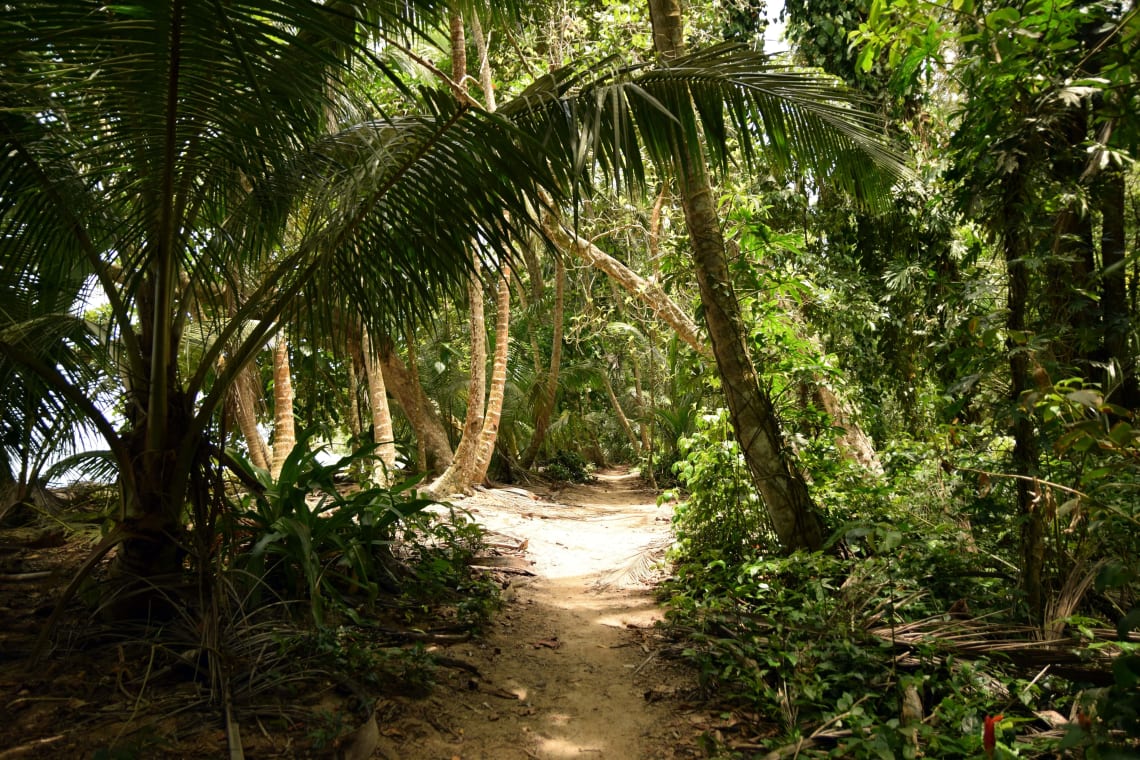 Costa Rica is a pretty small country, so getting around is relatively easy. There are plenty of reliable transportation options to suit any type of travel budget.

Renting a car in Costa Rica
Many adventurers choose to rent a car in Costa Rica. If you plan on doing lots of exploring and venturing off the beaten path, it may be easier to just have your own car. That means you can set your own schedule and have the flexibility of going where you want, whenever you want.
Just make sure you have a valid driver's license, and rent a 4x4 if you plan on driving into more remote areas. Also drive with caution, as locals can drive a bit crazy and some roads may not be in the best condition (especially during the rainy season).
Public bus in Costa Rica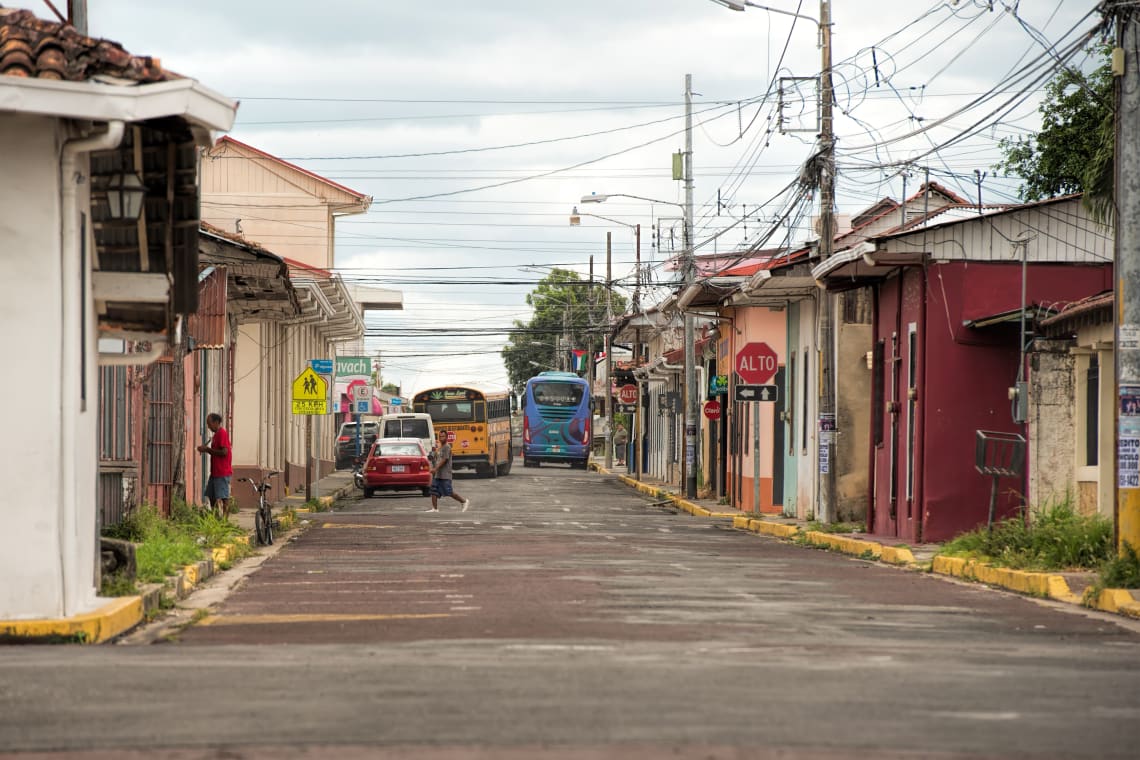 Taking the bus around Costa Rica is one of the most affordable and popular ways to get around. After arriving in San José airport, there is a large network of buses that can take you to whichever part of the country you want.
Traveling long distances around the country can be long, however. Getting from San José to the Pacific Coast can be a 5-9 hour journey, depending on how far you are going. But the prices are cheaper than flying, so traveling by bus is ideal for those traveling on a budget with a bit of time to spare.
Air travel in Costa Rica
San José Airport and Liberia Airport are the two international airports in Costa Rica. If you plan on exploring the Pacific Coast, flying to Liberia is a much shorter journey than taking the bus from San José.
There are quite a few domestic airports all over the country, and you can fly Sansa Airlines to these local destinations. Flights general cost around $50 to $100, though if you have more than carry-on luggage you may have to pay more fees. For traveling domestically, the bus is still probably the best option.

Best places to visit in Costa Rica
It can be a little tricky figuring out where to go in Costa Rica. Depending on how much time you have in the country, your itinerary will differ.
If you only have a short time, such as a week or two, you should probably pick one coast and explore that area thoroughly. The Caribbean coast and the Pacific coast are similar, with plenty of gorgeous beaches, tropical wildlife, and natural beauty. The Pacific coast, generally speaking, has better surfing and the Caribbean coast has better national parks.

But if you have more than two weeks to spend in Costa Rica, you can venture across the country and see the two different coasts. Your personal preferences will influence your trip around Costa Rica. For example, if you love hiking and wilderness you may choose to spend more time inland exploring the rainforest and the mountains. But if you love water sports and laying on the beach, you may choose to spend more time on the coast.
Here are the best places to visit in Costa Rica. You can fit them into your itinerary however you choose. You may even fall in love with one of these places and spend your whole trip there. But no matter where you go, you'll definitely experience some natural beauty and discover the warm, Costa Rican culture.
1. The Caribbean Coast
2. The Cloud Forests
3. San José
4. The Arenal Volcano Area
5. The Pacific Coast
---
1. The Caribbean coast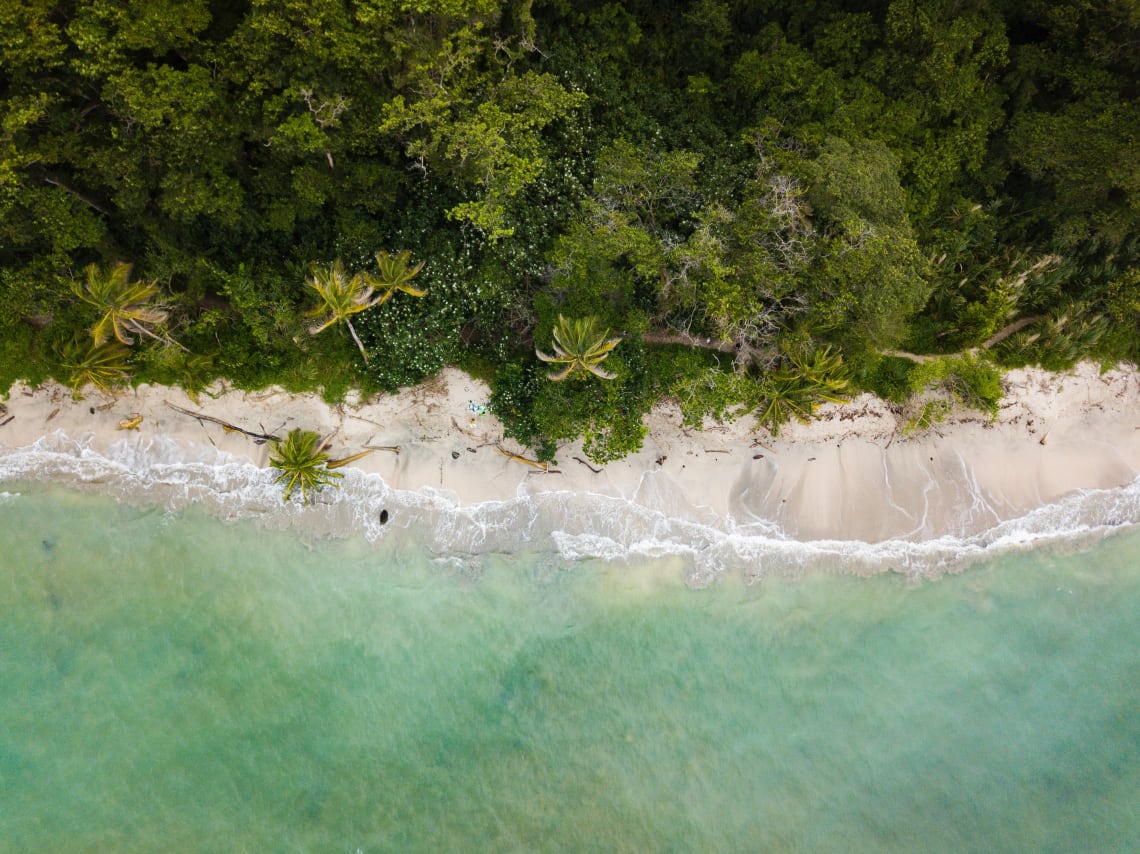 The eastern coast of Costa Rica is packed with national parks, wildlife, and beautiful beaches. This side of the country is a bit less touristy and less developed than the Pacific coast. For those looking to explore the natural world and see lots of cool animals, while still getting the chance to soak in the sun and go snorkeling in the ocean, the Caribbean coast is the place to be.
Tortuguero National Park, only accessible by boat or small plane, is one of the best places to marvel at the natural beauty and see unique wildlife in Costa Rica's Caribbean coast. Here you can find lots of different species of animals while wandering through beaches, rainforests, and mangroves. One of the most exciting things to see here is the different species of sea turtles that nest on the beaches between February and October
Another great spot on the Caribbean coast is the Gandoca-Manzanillo National Wildlife Refuge. Here, you can also find rainforest, beaches, mangroves and swamps, and lots of wildlife such as turtles, manatees, sloths, monkeys, dolphins, exotic birds and more.
The last recommendation for animal lovers on Costa Rica's Caribbean coast is the Tree of Life Wildlife Rescue Center in the Limon Province. Animals in unfortunate situations are recused and brought here to have better lives and improve their health, so this is a heartwarming project to see.
In addition to national parks and wildlife refuges, the laid-back backpacker town of Puerto Viejo has lots of hostels and fun parties. This is a great place to meet other travelers and soak in the lazy beach vibes of the Caribbean coast.
Don't miss out: The best beaches in Costa Rica.
2. The cloud forests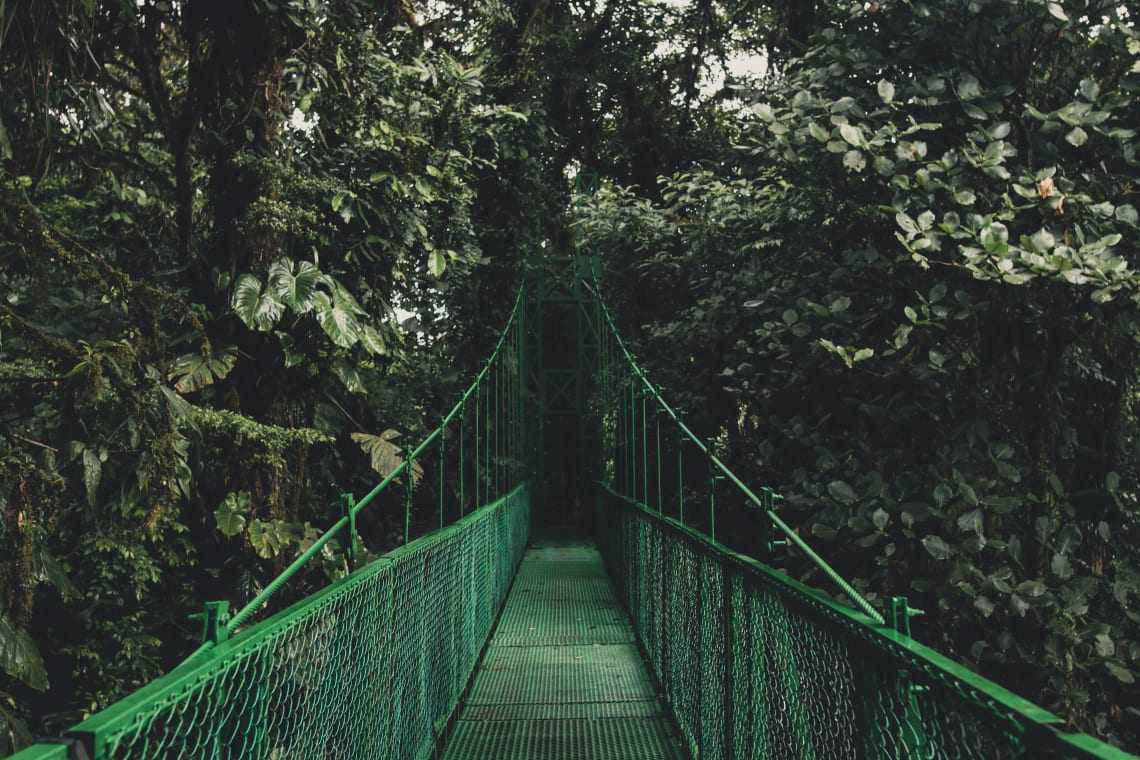 Costa Rica's highlands are dotted with Cloud Forests, which are areas of rich greenery that are very humid and moist due to consistent cloud coverage. The warm, tropical temperatures are subdued a bit by the heavy clouds, and the humidity allows plants and animals to thrive.
Costa Rica has a few cloud forests where travelers can go and explore the biodiversity. The most famous cloud forest in Costa Rica is the Monteverde Rainforest. Visiting this area of the country is definitely one of the best things to do in Costa Rica. There are so many activities to do here, like hiking, zip lining, and searching for long suspension bridges with amazing views of the rainforest. There are also lots of little villages in the area with eco-lodges, museums, and restaurants for travelers.
Other cloud forests in Costa Rica include the Los Angeles Cloud Forest, the Bajas Del Toro Cloud Forest, and the Central Highlands Cloud Forest. The latter is home to the La Paz Waterfall Gardens, where you can marvel at the massive waterfalls and afterward, visit a wildlife exhibit or a butterfly garden.
3. San José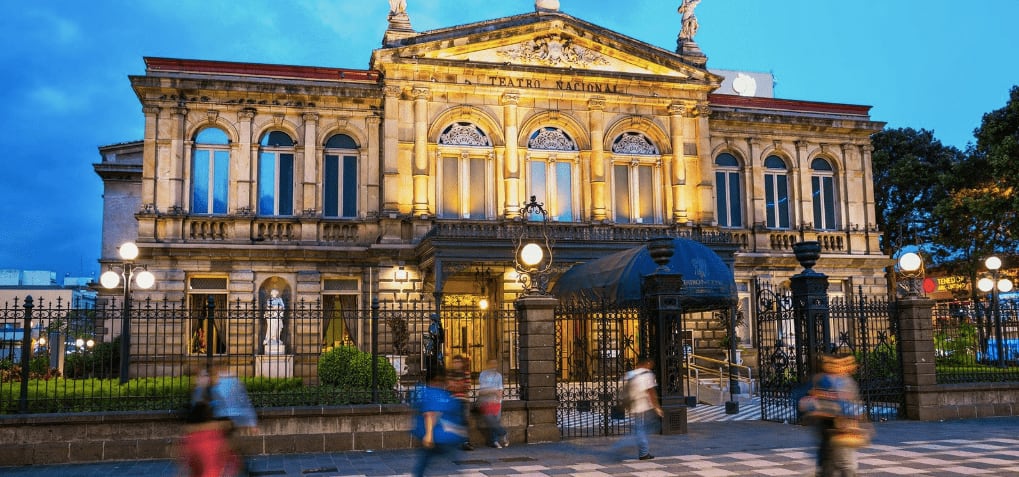 San José is the capital of Costa Rica, located in the middle of the country. San José Airport is the biggest international airport in Costa Rica, so chances are you'll be flying in and out of here. Its convenient location makes it easy to venture out to either the Caribbean coast, the Cloud Forests inland, or the Pacific coast. If you're more excited to see beaches, nature, and wildlife while in Costa Rica, there might not be much for you in San José, so you're better off heading out of the city.
But for those who like history, art, museums, architecture, and learning about the culture, San José is a great place to start a journey through Costa Rica.
Begin your time in San José by walking down Central Avenue, the hub of the city. This downtown area has lots of shops, restaurants, bars, and museums, and in the evenings it fills up with musicians and street vendors.
The list of things to do in San José, Costa Rica continues with the National Theater, the Museum of Contemporary Art & Design, the San José Central Market, the Gold Museum, the Jade Museum, and the National Museum. In all of these places, you can uncover knowledge about the local culture. From learning about the nation's history, artifacts, art and architecture at the museums, to tasting local food at the Central Market, you won't be bored for a second while sightseeing in San José.
You can also take a city tour, a beer tour, a food tour, or a day trip outside the city. So if you're a city lover, you'll be fascinated at all the things to do in San José, Costa Rica.
4. The Arenal Volcano area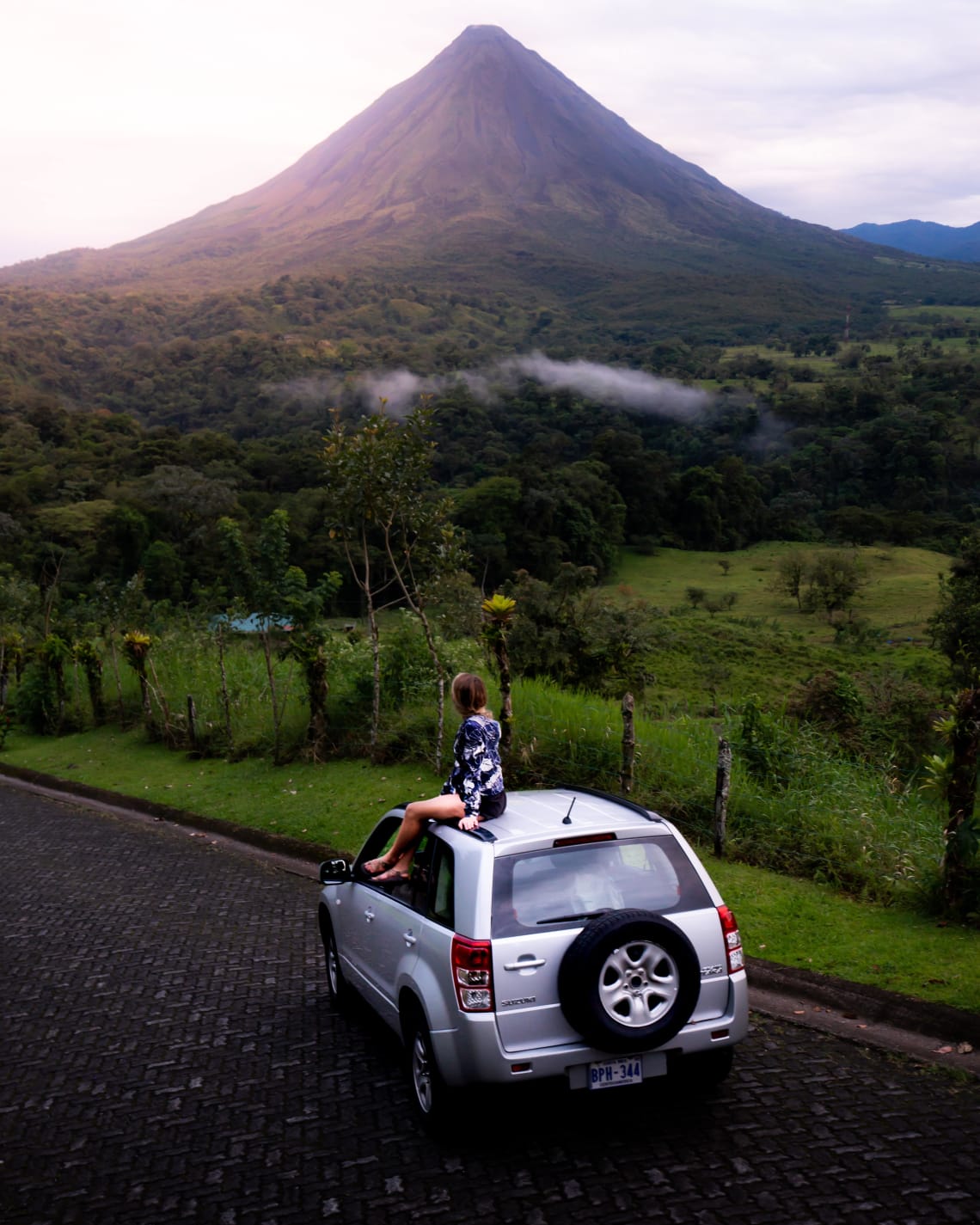 In the central/northern area of Costa Rica, you'll find the Arenal Volcano, one of the most well known natural landmarks in the country. Arenal Volcano is active and stands at 1,633 meters tall, but it hasn't erupted since 2010.
The lands around the Arenal Volcano are rich with natural beauty and packed with fun things to do. La Fortuna is one of the most popular towns to visit in the area, and it has a charming little church, central park, and plenty of food and accommodation options for travelers. A popular day trip from here is visiting the powerful La Fortuna Waterfall.
Lake Arenal is Costa Rica's largest lake and is a great spot for water activities like fishing, kayaking, and swimming.
Other Costa Rica tourist attractions in the Arenal Volcano area are the Venado Caves, which have limestone rock formations and tunnels that are close to 20 million years old, and the Cano Negro National Wildlife Preserve, which has lots of marshes and rivers full of local wildlife.
5. The Pacific coast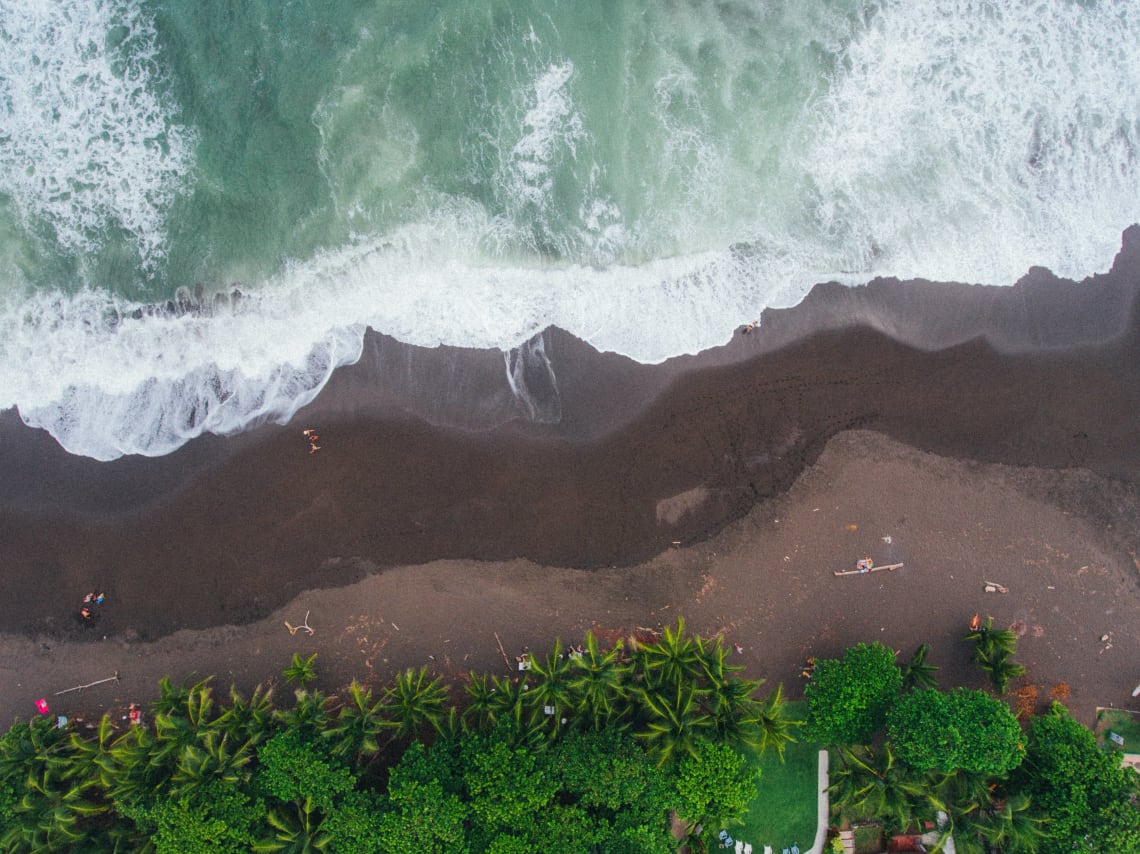 If you're ever asking other travelers where to stay in Costa Rica, they'll probably say the Pacific coast. This is where most of the best beaches are, and where surfers tend to congregate.
The Pacific coast of Costa Rica is split into three sections: the northern Pacific, the central Pacific, and the southern Pacific.
In the northern Pacific, you'll find the Guanacaste Region. Liberia, the capital of the area, is a charming city to visit. Some of the best things to do in Liberia, Costa Rica include visiting La Agonía Church, browsing through the central market, through central park, and visiting the Guanacaste Museum. Outside Liberia, you'll find pristine beaches and lush national parks.
The central Pacific coast is also home to beaches and national parks. Visit Manuel Antonio National Park and Carara National Park to explore the rainforest and see interesting tropical wildlife. Monkeys, macaws, and sloths are common finds in this region. Puntarenas Marine Park is an incredible place to go to see marine wildlife, like sharks, manta rays and exotic fish. Jacó is the most popular town to visit here, where you can surf, party, and enjoy the beach.
The south pacific coast of Costa Rica is just as beautiful as the rest of the coast but far less touristy. Visit the town of Ojochal to taste spectacular local cuisine, or head to the Terraba Sierpe Wetlands to go kayaking and exploring. There are plenty of amazing nature reserves where you can spot whales and dolphins as well, including Corcovado National Park, Cano Island Biological Reserve, and Marino Ballena National Park.
11 best things to do in Costa Rica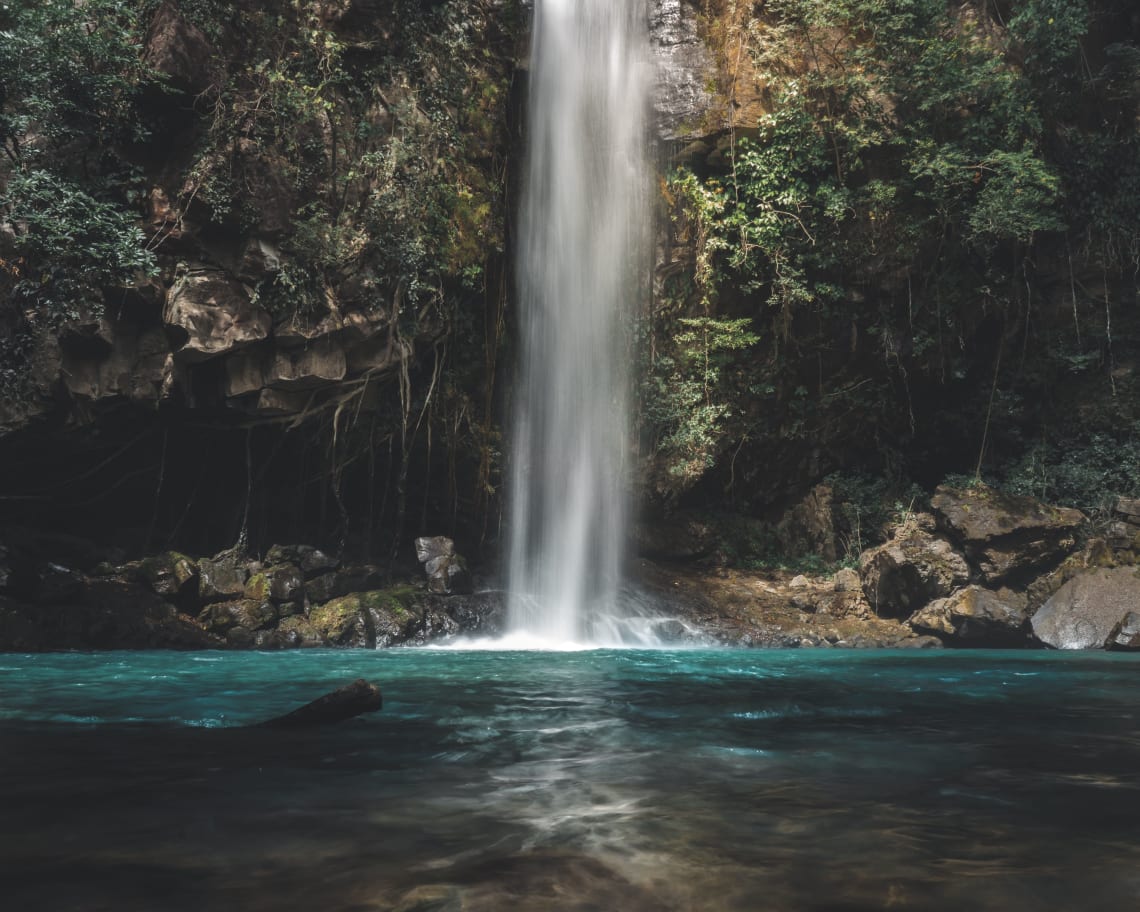 Now that you know the best places to visit in Costa Rica, here are all the activities you should try to squeeze into your visit. Lots of these activities can be accomplished in different locations around the country, so no matter where you are traveling you can have an incredible time in Costa Rica.

1. Try white water rafting
With so much jungle and humidity, there are plenty of rivers around Costa Rica for white water rafting.
This is an adventurous way to experience the jungle, just make sure you enquire beforehand about the level of intensity of the rapids and stay near your comfort zone.
The Pacuare River near the Caribbean coast is one of the best river rafting destinations in Costa Rica, and Río Naranjo near the central Pacific coast is also a highly recommended spot.

In the Guanacaste region, you can go rafting in the Tenorio River. If you're spending more time inland, there are amazing whitewater rafting places near the Arenal Volcano.
The Toro River, the Balsa River, and the Sarapiquí River are perfect locations for rafting in the rapids.
2. Go snorkeling
Another way to spend quality time with the water in Costa Rica is snorkeling. Whenever you are near the ocean, seek out the best snorkeling spots so you can catch a glimpse of the aquatic wildlife of the Caribbean or Pacific Sea.
Some of the best snorkeling in Costa Rica is in the southern Caribbean Sea, and the best time to go is September or October.
Even though this is the rainiest time of the year for most of the country, the Caribbean coast remains calm and the waters are very clear. Also, try and visit Cahuita National Park and Gandoca Manzanillo Wildlife Refuge to snorkel in some incredible coral reefs.
On the Pacific side, the Osa Peninsula in the southern area has the best snorkeling. Playa San Josecito in Drake Bay and Corcovado National Park are also amazing snorkeling destinations, and there are plenty of small islands in the area with lots of wildlife to see. Caño Island has earned a reputation as one of the best because it has crystal clear water.
In the Guanacaste region of the northern Pacific, visit the calm waters of the Gulf of Papagayo to go snorkeling.
3. Take a day trip to a waterfall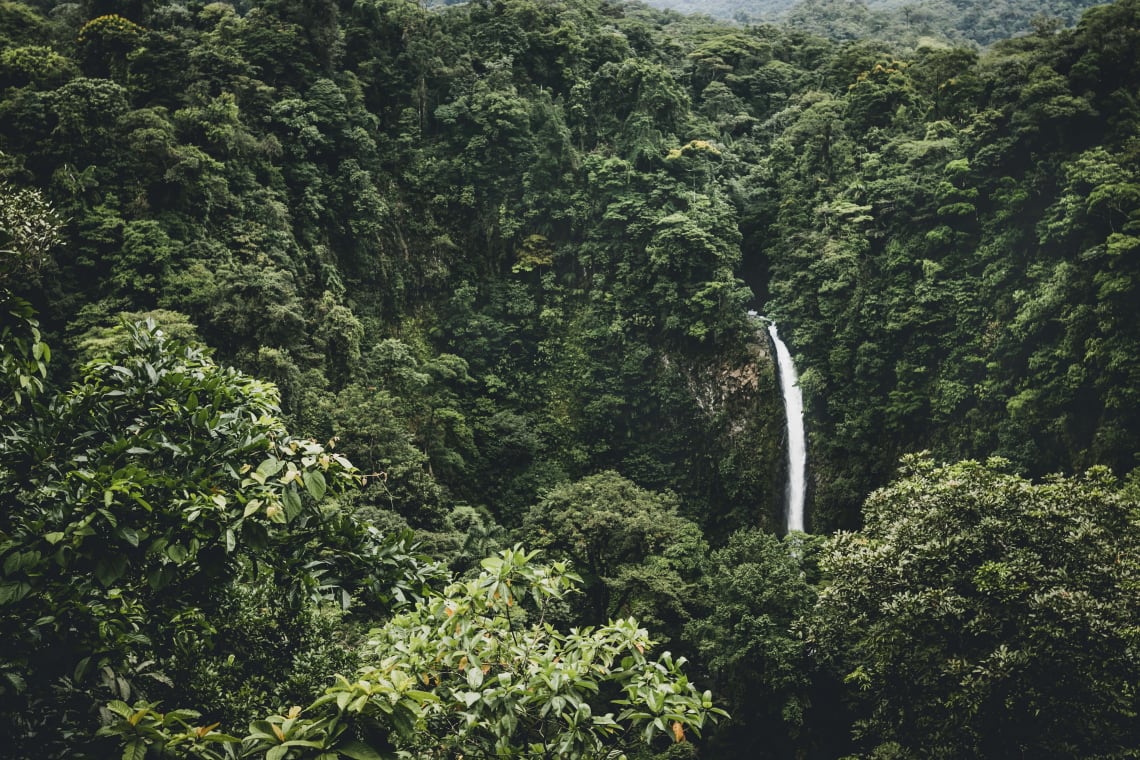 Costa Rica's tropical landscape is packed to the brim with waterfalls. They are scattered all over the country, so you are bound to find some amazing ones no matter where you are staying.
Marveling at the La Fortuna, Bajos del Toro and La Paz Waterfalls in the Cloud Forests are some of the best things to do in Costa Rica, but there are other lesser-known waterfalls near the coasts as well.
Visit the Rio Celeste Waterfall and the Llanes De Cortes Waterfalls, both located in the Guanacaste region. Venture down to the central Pacific to see the Bijagual Waterfall and the Tocori Waterfalls.
In the south Pacific area, you can find the double-layered Nauyaca Waterfalls which are amazing for swimming.
Any of these waterfalls make an amazing day trip, especially on a hot day so you can swim and cool down in the refreshing fresh water.
Buy some snacks at the local market before you go and visit a waterfall, as they are usually quite remote and do not have lots of shops available.
4. Zip line through the forest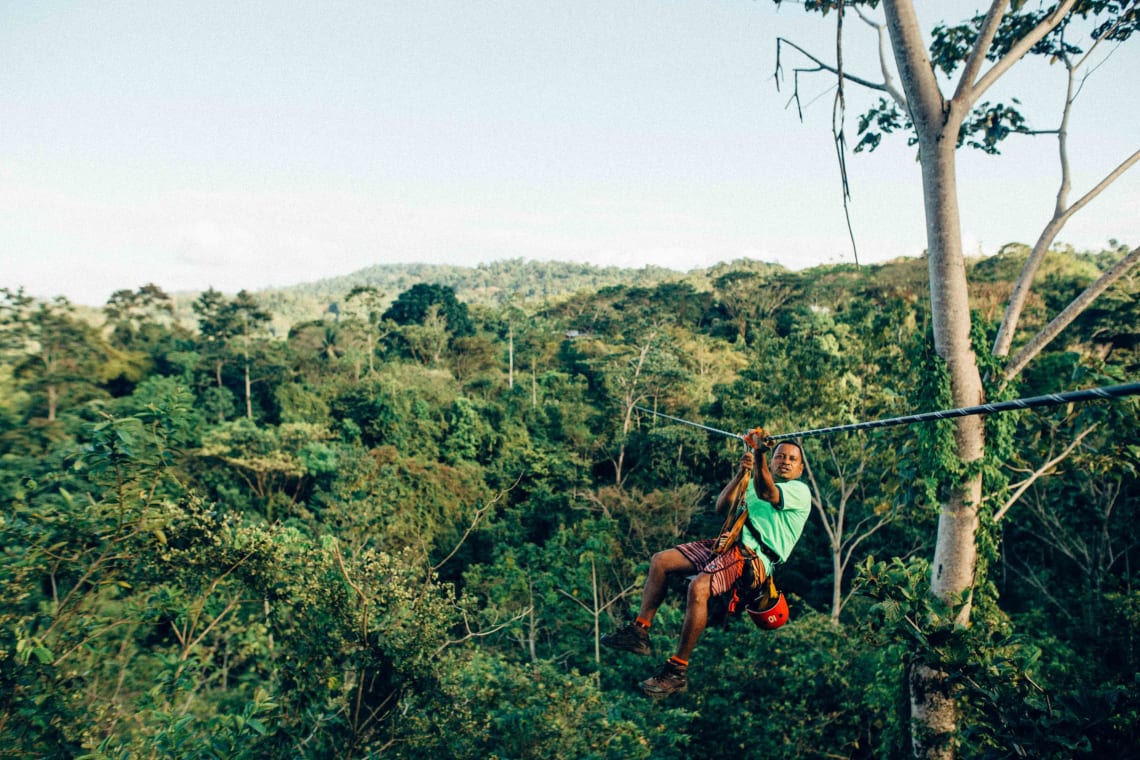 With so much greenery and different elevations, Costa Rica is an ideal destination for zip lining. Imagine zooming high over the jungle, strapped in safely of course, and feeling like you can fly.
There are plenty of amazing locations for zip lining in Costa Rica, most of them being inland near the Cloud Forests.
Visit the Arenal Reserve: Aerial Tram and Canopy Zip Line or the Monteverde Sky Aerial Tram and Zip Line to try zip lining through the rainforests of Arenal or Monteverde.
If you want to try zip lining near the coast, you can also head over to Diamante Eco Adventure Park in Guanacaste, Jacó Canopy Zip Line Tour, or Manuel Antonio Canopy Safari Zip Line Tour on the central Pacific coast.
5. Lounge on the beach
When visiting a country with so much coastline, it would be a shame not to have at least a few beach days. One of the best things to do in Costa Rica is just hanging out on the beach.
There are so many postcard-worthy beaches where you can partake in water sports and activities or just lounge on the sand and be a beach bum. Either way, no trip to Costa Rica is complete without spending time on the beach.
One the Caribbean coast, there are two beaches that stand out: Punta Uva Beach and Manzanillo Beach. Both of these are located on the southern Caribbean coast, and they both have calm water and are great for snorkeling or kayaking.
The majority of Costa Rica's noteworthy beaches are on the Pacific coast. In the Guanacaste Region of the north, definitely visit Conchal Beach, which has lots of beautiful little shells, and Flamingo Beach, which has sand that appears almost pink.
Also in the Guanacaste Region is the Nicoya Peninsula, where you can visit San Juanillo Beach and Santa Teresa Beach for stunning coastal scenery.
In the central Pacific, you have to visit Herradura Beach, which is shaped like a horseshoe and has amazing turquoise water.
Matapolo Beach and Linda Beach are smaller beaches of the central Pacific Coast, that are uncrowded and have little development.
Head down to the southern Pacific Coast to finish up your beach hopping tour of Costa Rica.
One of the best beaches here is Uvita Beach, which is shaped like a whale's tail because of a sandbar that cuts into the ocean.
Whether you visit just one beach or all of the beaches, you are sure to feel amazed at the tropical paradise you encounter when the sand meets the sea.
6. Learn how to make coffee
Costa Rica makes some of the world's best coffee. It has rich soil, consistent rainfall, and favorable climates, so the coffee beans produced here are top-notch.
If you're a coffee fanatic, you can drink plenty of amazing coffee in Costa Rica. You can also go on a plantation tour and learn even more about this special beverage.
Costa Rica produces all arabica coffee beans, with most production conglomerating around the Central Highlands where the terrain is more mountains and the soil is more fertile from volcanic activity.
Just outside San José, you can visit the small town of Naranjo and take a tour of the Hacienda Espíritu Santo. Here you can explore their 600-acre plantation and learn about the harvesting and roasting process of the coffee beans.
Heading north to the Monteverde Rainforest, there are a couple of great coffee tours you can do here. Don Juan's Coffee Farm and Café de Monteverde both offer informational coffee tours, and you can usually get a discount on their products after taking a tour.
You can also do a coffee tour near the coasts of Costa Rica. Visit Café Cedral Tour or Santa Maria de Dota Coffee Plantation near the Pacific Coast, or Caribbeans Coffee and Chocolate near the Caribbean Coast. The latter tour also includes a lesson on chocolate, including how it is made, and a tasting experience.

Costa Rican chocolate is also incredibly rich and delicious, so if you're a chocolate fanatic it may be worth seeking out a chocolate tour as well.

7. Try canyoneering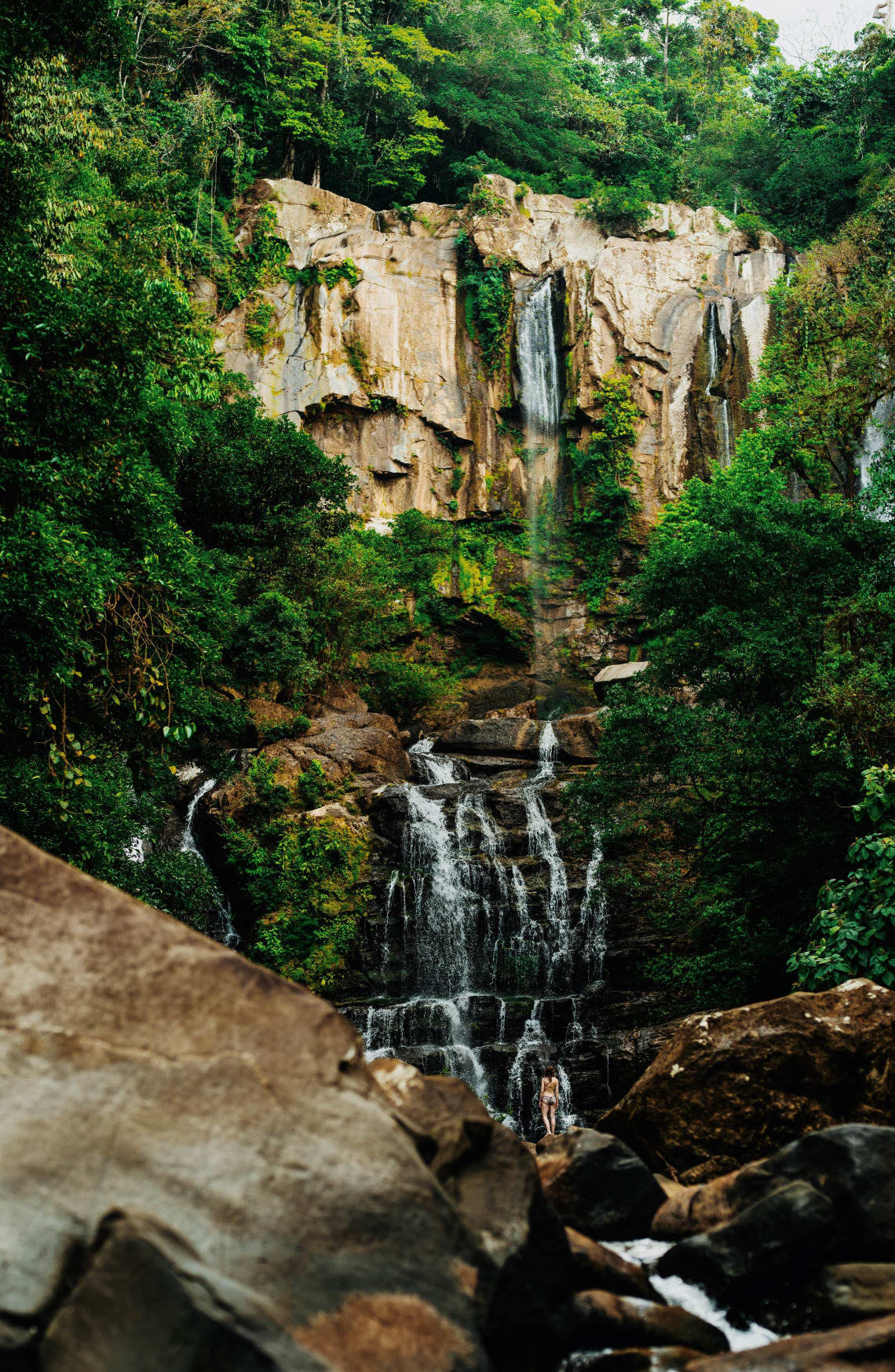 For adventurous souls, try canyoneering in Costa Rica. This is basically exploring a rocky canyon using ropes and harnesses, so you can climb, jump, and scramble up and down a rocky landscape. This is commonly done next to a waterfall, in which case it could be called waterfall rappelling.

Because this is a high-risk activity, only do this with a highly rated, expert tour company who knows what they are doing. Unless you are an expert yourself, always be more cautious.
There are waterfall rappelling tours on the southern Pacific Coast near Dominical Beach, at the Diamante River. You can also go canyoneering with Costa Canyoning in Uvita, also on the southern Pacific Coast.
Inland, there are also lots of good canyoneering companies. Arenal Volcano Canyoneering and Monteverde Canyoning are top-rated companies, or you could go with the Family Brenes Finca Modelo Waterfall Rappelling Company near Monteverde.
8. Soak in some hot springs
Because of the active volcanoes in central Costa Rica, there are lots of natural hot springs that have turned into some of the best Costa Rica tourist attractions.
Most of the hot springs are located in central Costa Rica, as that is where most of the volcanic activity is. So if you're staying near the Arenal Volcano or in the La Fortuna Area, there are plenty of natural hot spring options for you.
One of the most popular destinations is the Tabacon Hot Springs, near the Arenal Volcano and the La Fortuna Waterfall. In this same area, there are plenty of other, less-crowded hot springs, such as Eco Termales, Titoku Hot Springs, and Rio Agua Caliente.
There is one other hot spring location outside central Costa Rica. In northern Guanacaste, visit Vandara Hot Springs in Rincon de La Vieja National Park. These natural hot springs also have nutrient-rich clay and mud that people like to rub on themselves for a natural skin treatment.
9. Go paddle boarding
Stand-up paddle boarding is a super fun activity to try when the water is relatively flat. Though Costa Rica is a pretty famous surfing destination, you can still enjoy yourself on the beaches without waves by stand-up paddle boarding.
Some ideal places for stand-up paddle boarding in Costa Rica are Sámara Beach and the Peninsula Papagayo, both in the Guanacaste region of the northern Pacific coast. Here, the shores are a bit protected so the waves don't get as big, making the water calm and perfect for paddle boarding.
Lake Arenal is another perfect paddle boarding spot, as of course, it is a lake and doesn't have waves. If you aren't venturing out to the coasts during your stay in Costa Rica, this is a great place to spend some quality time with the water while staying inland.
Stand-up paddle boarding is relatively easy because the boards are heavy, long, and sturdy. So this is a family-friendly activity and suitable for people of all fitness levels.
10. Surf the waves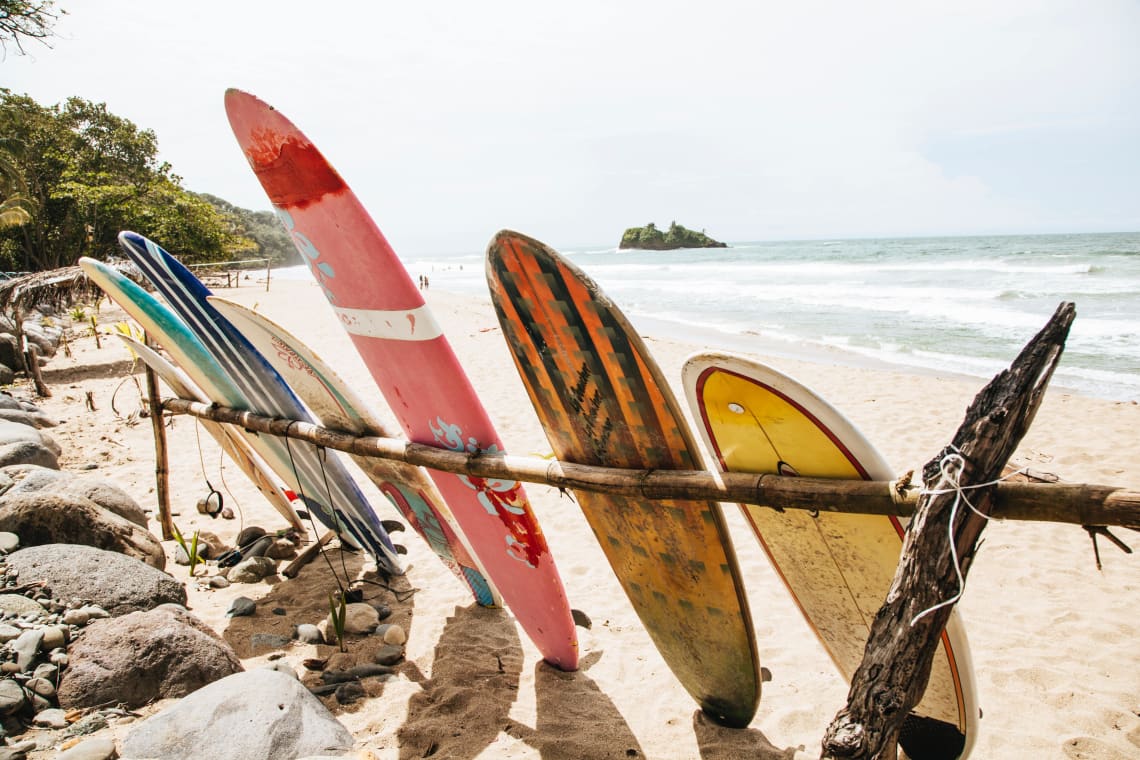 Lots of travelers come to Costa Rica just for the surf. Surfing is definitely one of the best things to do in Costa Rica, regardless of your skill level.
If you're a beginner, Playa Tamarindo in Guanacaste is the perfect place to learn. The waves are small, the beach is long and spacious, and there are plenty of surf schools where you can take lessons. Taking surf lessons or joining a surf camp is easily one of the best things to do in Tamarindo, Costa Rica.
If you've surfed before, other beaches nearby Tamarindo include Playa Negra, Playa Avellanas, Playa Langosta, and Playa Grande. Here, the waves can still be beginner-friendly, but they can also get a bit bigger when there is more swell.
Other great advanced surfing beaches pop up as you head down the Pacific Coast. Esterillos Beach on the Central Pacific Coast and Dominical Beach on the south Pacific Coast are both known for having great waves as well.
Playa Hermosa in the central Pacific Coast is one of the best surf spots in Costa Rica, but try not to confuse it with the other beach named Playa Hermosa, located in the north Pacific Coast.
11. Do a Worldpackers experience in Costa Rica
A great way to experience Costa Rica is by volunteering with Worldpackers. Not only will you save lots of money while traveling, but you will also get to learn new skills and create a deeper connection with locals.
This is an amazing opportunity if you plan on staying in one place for a longer period of time or traveling slowly.
Most work exchanges require at least a one to two-week stay, so if you have that time to spare you should absolutely message a few hosts and see if they have work available!
Costa Rica is packed with volunteer opportunities for travelers. You can volunteer in a hostel in Puerto Viejo, help animals in need at an animal rescue center in San Lorenzo, or create a video project to raise environmental awareness.

Certain skills are very valuable to hosts in Costa Rica. For example, if you are a certified yoga teacher, you can apply to teach yoga at an eco-lodge in the rainforests of La Fortuna. If you're an experienced surfer, you can teach surf lessons at a beach hostel in Jacó. You could also work as a waiter or waitress in a hostel in Jacó.

Volunteering in a hostel is a great way to work in a social environment and make lots of new friends. There are affordable backpacker hostels all over Costa Rica, and lots of them need volunteers.
Reception work is a common position in hostels, where you get to greet guests and organize bookings. You can work in reception at incredible hostels in San Jose, Puerto Viejo, Jacó, Monteverde, Uvita, and Santa Teresa.

Lots of hostels have their own bars as well, and you can try your hand at bartending at hostels in Jacó, Santa Teresa, Drake Bay, and Puerto Viejo. What sounds better than preparing cocktails for travelers on the beach?

Costa Rica also has an abundance of eco-lodges, where you can work in various jobs usually in a sustainable living environment.
Eco-lodges are great places to bond with locals, spend quality time with nature, and learn a bit about permaculture. For example, this eco-lodge in Playa Hermosa needs a hand with preparing plant-based meals for guests.

There is an eco-lodge in Platanillo, near the central Pacific coast, that is accepting volunteers for many positions, including General Manager, Assistant Manager, a marketing and media intern, and a permaculture gardening intern. So you can gain actual, valuable work experience here in marketing and hospitality.

Another amazing volunteer opportunity for those who want valuable work experience to leverage on their resume is being a tour guide. Working as a tour guide gives you experience leading tours, and it helps you learn the local land better. You can work as a tour guide for river kayaking tours or as a tour guide on an ecological farm that offers chocolate tours.
So regardless of which type of volunteer experience you choose to have, Costa Rica provides endless opportunities for adventure!
Even if you don't have enough time to volunteer with Worldpackers, you can still use some of these Costa Rica travel tips and have an amazing time.
From surfing, paddle boarding, white water rafting, and canyoneering, to take a coffee tour and exploring the cities and towns, you will leave Costa Rica feeling culturally enriched and overall, blissful.