The 23 best things to do in Lake Atitlán, Guatemala
Fun ways to enjoy Lake Atitlán, Guatemala on a backpacker budget. Including adventure and leisure activities, viewpoints, and best things to do to get in touch with the local culture.
18min
Ask anyone who has traveled to Guatemala and they'll most likely say Lake Atitlán was one of their favorite places they visited.
A mystical, freshwater lake located in a massive volcanic crater, Lake Atitlán offers unparalleled natural beauty. It is the deepest lake in Central America, formed by a gigantic volcanic eruption that occurred thousands of years ago.
Looking out over the lake, you'll see glassy blue water drifting peacefully past local villages with huge volcanoes towering in the background. Rugged cliffs and lush greenery surround the lake, with tiny dwellings scattered amongst the jungle landscape.
While traveling around the lake, you'll encounter commercialized tourist towns and traditional local villages. There is no shortage of delicious food, gorgeous handicrafts and exciting adventure activities around Lake Atitlán. There are so many awesome things to do in this area that suit every type of traveler, whether you like active, adrenaline-pumping activities or peaceful, relaxing activities.
With so much beautiful nature around, Lake Atitlán is also great for budget backpackers because connecting with nature while traveling often doesn't cost any money to enjoy.
There are plenty of free things to do in Lake Atitlán where you can experience the rich natural world and the local cultures for no money at all.
So for any travelers wondering where to travel in Guatemala, definitely make a stop in the country's Southwestern Highlands and head over to Lake Atitlán. Once you get there and are wondering what to do in Lake Atitlán, Guatemala, check out this list of all the best things to do in Lake Atitlán, most from personal experience.

If you are wondering about safety, check the article Is it safe to travel to Guatemala? for details.
Here are the top things to do in Lake Atitlán, Guatemala.
Visit all the different towns by boat
Cliff jump into Lake Atitlán
Stand up paddle board on Lake Atitlán
Go paragliding over Lake Atitlán
Explore the nature reserve
Hike the volcanoes
Hike Indian's Nose
Take a yoga class
Experiment with spiritual practices in San Marcos
Watch the sunrise or sunset over the lake
Chill out in a café
Enjoy a meal with a view
Visit Mirador San Jorge
Visit Mirador San Pedro
Visit Mirador San Juan
Admire the local artwork in Santa Catarina
Browse the captivating street art in San Juan
Shop for local handicrafts
Visit a chocolate or coffee shop
Shop at a local market
Take a Mayan cooking class
Witness a Mayan weaving demonstration
Do a nearby Worldpackers experience
1. Visit all the different towns by boat
The charismatic towns surrounding the lake are the foundation for the tourism industry in Lake Atitlán. Modern Guatemalan lifestyles mix with traditional Mayan cultures to fill the streets surrounding the lake with history, energy and amenities for travelers.
You can find cheap backpacker hostels, local home stays and luxury resorts, as well as local street markets, trendy cafés and high quality restaurants. Some towns are very touristy and developed, some towns are quiet with very few tourists and an authentic Mayan atmosphere.
All throughout the lake there are small boats, known as "lanchas" that travel across the lake bringing people to all the different towns. They are usually very cheap and you pay the drivers in cash.
The boats don't really have specific times that they run because the drivers wait for the boat to fill up before they leave the dock. So if you are the first one on the boat, you could wait for an hour before it leaves. If you are the last one on the boat it will leave straight away.
Some of the best towns to visit around Lake Atitlán include:
Panajachel: The most developed and easily accessible town .
San Pedro: The backpacker hub, great for partying and hiking the volcanoes.
San Marcos: The town for hippies, yogis, and nature-loving spiritual travelers.
Santa Cruz: The charming town located atop a very steep hill.
San Juan: The small and artistic town, great for weaving demonstrations and souvenir shopping.
Santa Catarina: The local town next to Panajachel, full of local artwork.
San Antonio, San Jorge: Both very local towns with few tourists, great for practicing Spanish.
There are a few more towns as well, but Panajachel, San Pedro, San Marcos and San Juan are the most popular among travelers. Throughout this list of the best things to do in Lake Atitlán, Guatemala, I'll mention more highlights of the different towns.
There are lots of tour companies offering day tours around the lake, but booking a guided tour is not necessary for exploring Lake Atitlán. It is very easy and affordable to hop across the lake on a boat on your own, and then you have the freedom to do whatever you want when you arrive.
If you need inspiration on what to do in the various towns around Lake Atitlán, keep reading!
Adventure activities and hiking in Lake Atitlán:
2. Cliff jump into Lake Atitlán
Scattered around Lake Atitlán there are lots of rocks and cliffs that make for a fun afternoon of cliff jumping. Climb the rocks and launch yourself into the refreshing water on a hot day, and I guarantee you'll feel blissful.
There are two perfect spots for cliff jumping, the first being on the rocks next to San Antonio. The village of San Antonio is located in a little cove, and on the edges of the cove you'll see lots of young local boys on the rocks fishing or jumping in and swimming. The rocks here are quite small and there's some that are a little bigger, so you can pick which height is good for you.
San Marcos also has a nature reserve known as Reserva Natural del Cerro Tzankujil. This Nature Reserve is one of the best things to do in San Marcos and in Lake Atitlán, and there is also a fun jump here. The locals call it the "trampoline", and it is basically a wooden platform that is 12 meters high where you can jump into the lake.
3. Stand up paddle board on Lake Atitlán
The best way to experience Lake Atitlán is from the water. Aside from just swimming and walking along the water, there are lots of water sports where you can get a good workout while admiring the amazing view around you.
GuateSUP is my favorite tour company in Lake Atitlán. They offer SUP (stand up paddle boarding) tours, SUP yoga, night paddling tours with LED lights, sunrise paddling tours, wake surfing, and offer hourly board rentals for experienced paddlers who want to go on their own.
The owner of GuateSUP, JC, is super knowledgeable and loves to help travelers get active on the lake. While paddling on the lake, you get a 360 degree view of all the volcanoes, mountains and villages surrounding the lake. The feeling is truly surreal.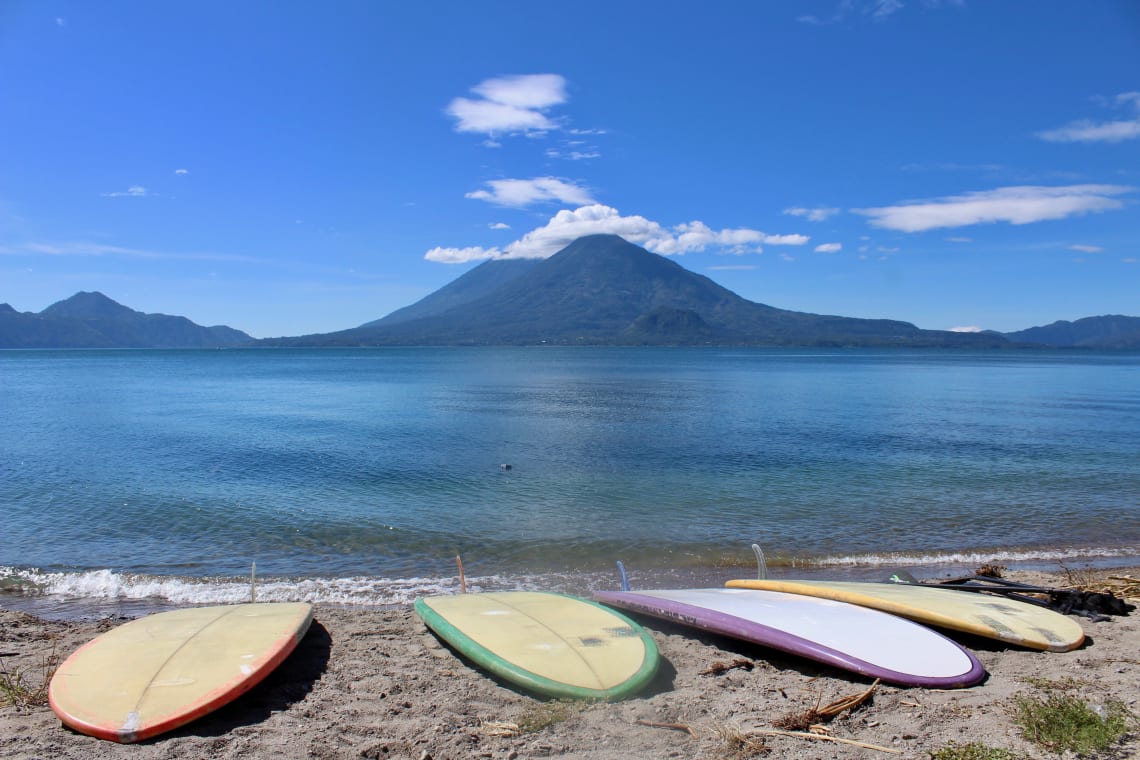 4. Go paragliding over Lake Atitlán
After seeing Lake Atitlán from the water, experience it from the sky! Paragliding is a super fun, thrilling way to get an aerial view of the whole landscape and is also a great way to step out of your comfort zone while traveling.
Basically you are strapped to a parachute, then the wind whisks you off a high cliff and you get to soar through the air over the lake while taking in the views.
Though you need to have a bit of courage to go paragliding, it's not as scary as something like skydiving or bungee jumping. Once you get off the ground, flying around is quite peaceful and not too fast. Weather conditions may affect how long you are in the air, however, so make sure the conditions are favorable before you go.
Real World Paragliding in Panajachel is a reputable company that puts safety first and has experienced staff members and lots of good reviews from other travelers.
5. Explore the nature reserve
Located just outside Panajachel, the Atitlán Nature Reserve (Reserva Natural Atitlán) is the perfect place for nature lovers and explorers.
There is lots to do in the Nature Reserve, so plan for at least a few hours exploring to see everything. It costs 70 Quetzales to enter, and then you can access everything inside the area.
One of the attractions inside is a Butterfly Geodome, which helps butterflies grow and thrive in a safe environment. Here you can learn about the life cycle of butterflies and observe the delicate creatures up close.
You can also go zip-lining over the jungle, which is one of the best things to do in Lake Atitlán for adrenaline seekers. Soar over luscious jungle and coffee plantations while strapped securely to a harness, you will feel like one with the birds!
The Nature Reserve is also full of hiking trails, suspension bridges, and wildlife such as monkeys, coatis and hummingbirds. Sometimes all you have to do is walk through the Nature Reserve, end up on the little stretch of sandy beach next to the lake, and read a book or write in a journal to soak up the peaceful atmosphere of the natural world.
If you're traveling alone in Lake Atitlan, spending time in the Nature Reserve is a great way to deepen your solo travel experience.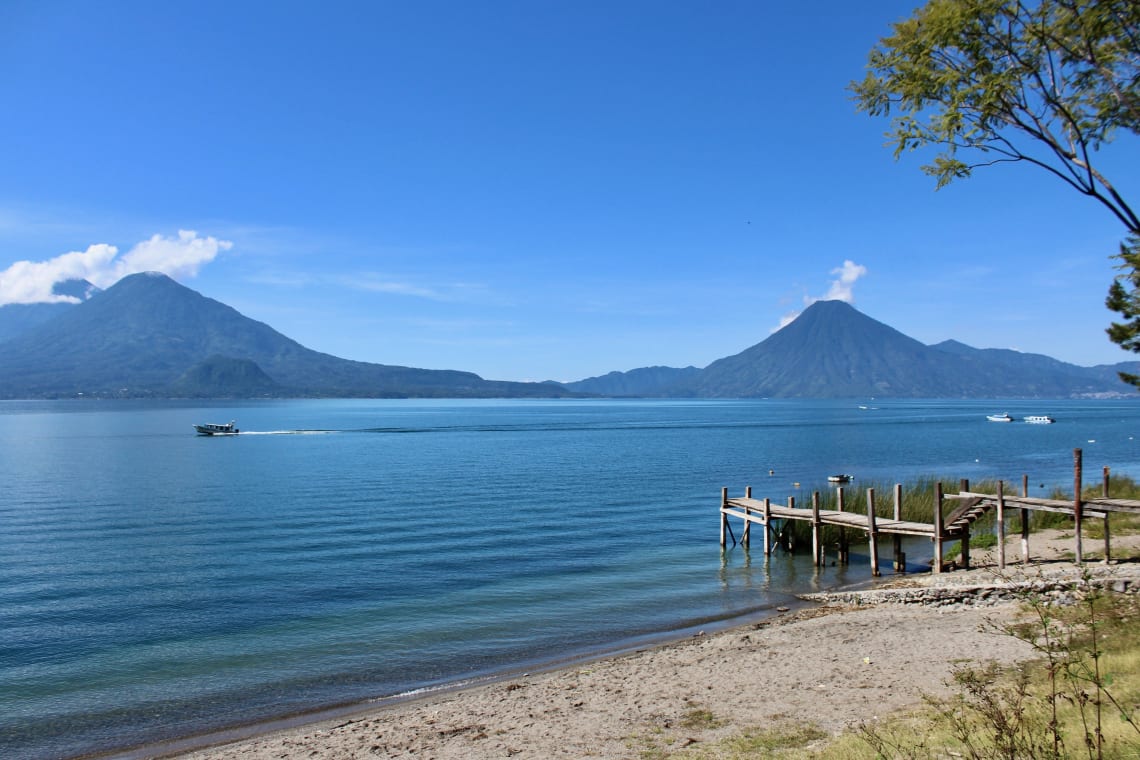 6. Hike the volcanoes
Lake Atitlán is famous for its three volcanoes that surround the lake.
You can climb all of them, though it is always recommended to hire a local guide to assist you along the way. The guides are very affordable, and their knowledge of the area and the elements is worth the money. Most hiking tours include camping overnight so you can watch the sunrise and sunset at the top of the volcanoes.
As there are lots of tour companies and private local guides, just inquire at your hostel or with a tour company in whichever town you are staying in. San Pedro and Santiago Atitlán are the closest lakeside towns for hiking the volcanoes, but tour companies with hiking information reside in every town around Lake Atitlán.
For any hike up a volcano, it is always recommended to bring warm clothing as the temperature can drop at the high altitudes. Especially if you are camping overnight, pack clothing for all weather conditions. Guides will usually have first aid and camping gear with them, just be responsible for packing your own suitable clothes.
Volcán Atitlán has an elevation of 3,535 meters and takes about five hours to climb up and three hours to climb down. Volcán Tolimán is a little bit smaller, with an elevation of 3,158 meters. It takes about four hours to climb up and three hours to climb down.
Volcán San Pedro is the most popular volcano hike in Lake Atitlán with an elevation of 3,020 meters. This volcano takes roughly four hours to climb up and 3 hours to climb back down. The hiking time depends on your fitness level of course, but these are average times stated by other travelers.
7. Hike Indian's Nose
Indian's Nose is a small mountain located in between San Juan and San Marcos. This is one of the best sunrise spots in Lake Atitlán, and the hike usually takes less than an hour so you don't need to wake up insanely early. You can book a guided hike with any tour company in any town, though San Pedro, San Juan and San Marcos are convenient starting points for the hike.
The name "Indian's Nose" comes from the shape of the mountain, which some say looks like a man lying on his back, face up. The highest peak resembles the shape of the man's nose. This is a nice day hike for those who want to get active but don't want to commit to hiking an entire volcano.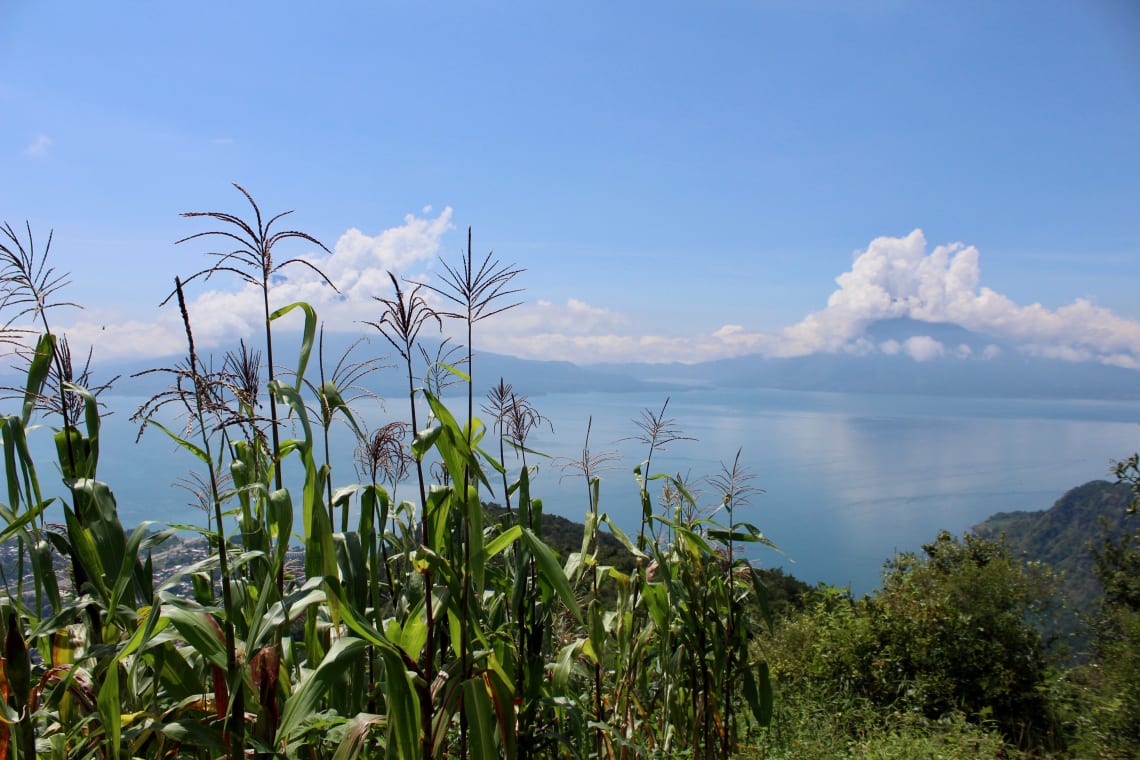 Relaxing activities in Lake Atitlán:
8. Take a yoga class
In the relaxing atmosphere of Lake Atitlán, many travelers become eager to calm their chattering minds and switch off for a while. Doing yoga is one of the best things to do in Lake Atitlán because there are so many yoga centers thriving in this corner of Guatemala.
Whether you are saying somewhere for a while and doing a yoga retreat, or simply want to drop into a class and try yoga for an hour, there are lots of opportunities to do yoga around Lake Atitlán.
In Panajachel, Casa Del Arte offers weekly yoga classes for all levels that you can just drop in to. More experienced yogis can test their skills doing yoga on a paddle board or trying Acroyoga (partner yoga) with GuateSUP.
In Santa Cruz, you have a wide variety of choices for yoga studios, including DiviniTree Yoga Studio, Nourish Santa Cruz, Yoga Center Santa Cruz, Luma Yoga and Village Yoga Santa Cruz.
Rise and Shine Hostel in San Pedro offers yoga and meditation, and San Marcos is like the yoga capital of Lake Atitlán because it has so many studios and retreat centers.
Eagle's Nest, Las Pirimides, The Yoga Forest, Kaivalya, Hostal La Paz, Hostel Del Lago and Sacred Paths Yoga are a few of the places in San Marcos that offer yoga classes to travelers.
Yoga is definitely one of the best things to do in San Marcos because many expats and yoga instructors have moved here to share their practice with the world, full-time. If you are very passionate about yoga and want to do it frequently, I recommend basing yourself in San Marcos.
9. Experiment with spiritual practices in San Marcos
As I just mentioned, San Marcos is packed with retreat centers offering yoga and meditation. San Marcos is actually known as the unofficial hippie capital of Lake Atitlán, where lots of backpackers go to experiment with spiritual ceremonies and rituals and get in touch with their divine selves.
San Marcos offers so many spiritual and mystical practices, and this attracts lots of travelers. Whether it be Reiki healings, crystal healings, cacao ceremonies, drum circles, guided meditations, lucid dreaming exercises, tribal and ecstatic dancing, massage therapies, Shamanic readings, psychic readings, and any other type of spiritual practice or activity you can think of, San Marcos is the place to find it.
10. Watch the sunrise or sunset over the lake
This is one of the best free things to do in Lake Atitlán because every town sits right on the lake so you have prime sunset or sunrise viewing from every single town. Depending on the direction the town faces, some towns are better for certain times of the day.
Panajachel and Santa Catarina are perfect for sunset, as you have a stunning view of all the volcanoes directly across the lake. San Marcos is in the perfect spot for sunrise because it faces towards the east.
But from any town, if the sun rising or setting is particularly mesmerizing, which often happens after thunderstorms in the evening, then you can enjoy a lovely view from anywhere on the lake. Just head out towards the water, set up camp on a dock or on the water's edge and take in the views.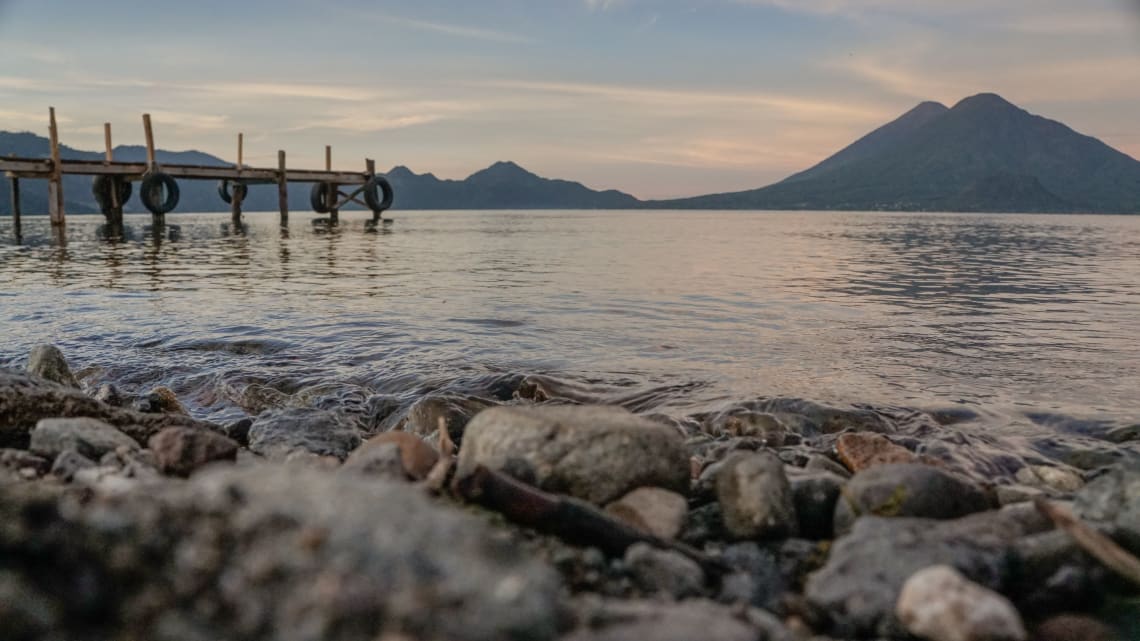 11. Chill out in a café
Small, comforting cafés reside in pretty much every town around Lake Atitlán. In the touristy towns like Panajachel, San Marcos and San Pedro, you'll find more westernized cafés similar to ones in Europe. Many offer delicious meals in addition to heart warming drinks and snacks.
But even in the less touristy towns, locals still like to indulge in a high quality coffee. If you need a break from exploring, settle in to any café, order a nice coffee and a pastry and just watch the world go by.
Lookouts and Viewpoints in Lake Atitlán:
12. Enjoy a meal with a view
Ente Restaurant, located up on the main road outside San Jorge, offers an incredible aerial view of the lake. The food is delicious and although a bit pricey for Guatemala, it's worth it when you feel like treating yourself.
You can go on the roof of the restaurant to take in the view of the lake and the volcanoes, or you can chill out in their hammock that overlooks the entire scene. Either way, this is a great lookout point over Lake Atitlán and you can indulge in some amazing food and drinks while you're there.
13. Visit Mirador San Jorge
Most villages around Lake Atitlán have their own "Mirador", or viewpoint. After hiking up for a short time, you can find an awesome lookout over the lake.
Mirador San Jorge can be accessed by hiking up through the village of San Jorge, or just by pulling over on the side of the main road that heads towards Panajachel (the same road Ente Restaurant is on).
This lookout gives you a view of the charming village of San Jorge on the right, and on the left you can look out over the lake and the volcanoes. You can even see Panajachel on the left, way down at sea level.
A plus side of this Mirador: it is completely free!
14. Visit Mirador San Pedro
The Mirador in San Pedro is not free, but the 5 Quetzales entry fee is so worth it.
After hiking up through the village of San Pedro for about 20 minutes, you'll reach the hilltop wooden structure known as the Mirador. The structure was built by a local man named Felipe, who lives there with his family. So the 5 Quetzales entrance fee supports him and his family, which is a very worthy cause.
This lookout provides a lovely view over San Pedro and the lake. Towering hills and cliffs frame the scene, making for a great photo opportunity.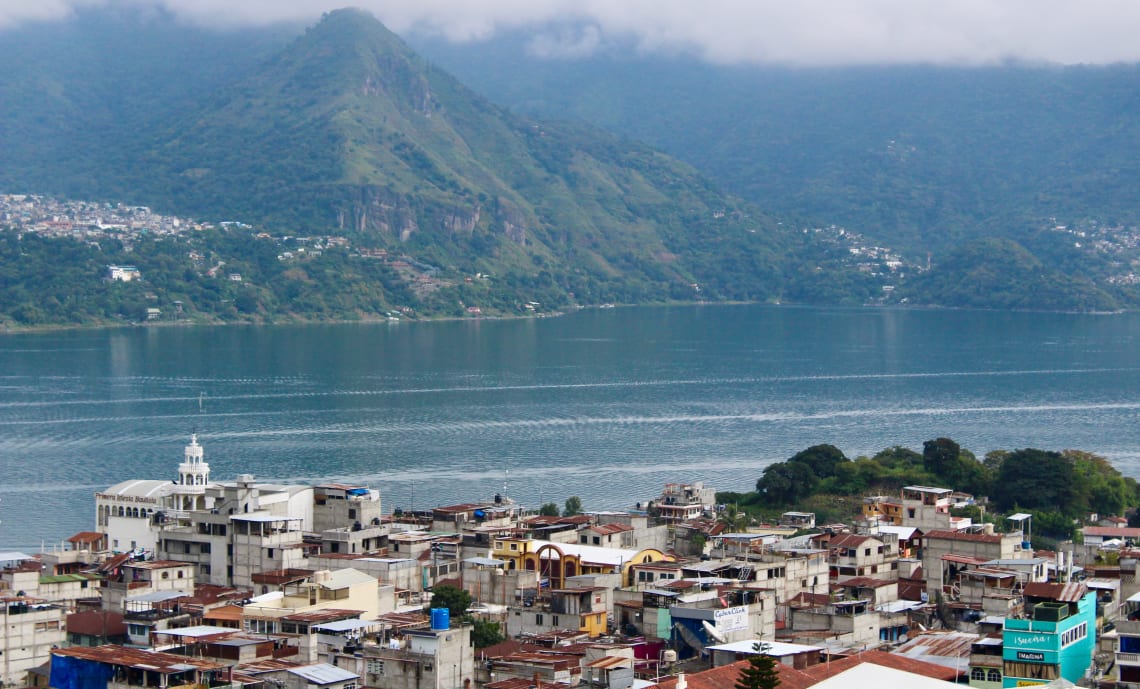 15. Visit Mirador San Juan
You can see San Juan's Mirador from the town center, as it is set on a steep hill outside the town. Bring sturdy walking shoes and follow the road up to this lovely little view point for a spectacular lookout point.
Try to start this hike early in the day, as it tends to start raining around 2pm (especially during rainy season which is April to October).
Experience local culture in Lake Atitlán:
16. Admire the local artwork in Santa Catarina
Thanks to a community tourism project known as "Pintando Santa Catarina", all the locals have helped to pitch in and paint gorgeous artwork all over the town. Lots of buildings in the town have been painted blue and are covered in traditional designs.
The project aims to empower the local people, showcase their traditional art and attract tourists. It is a very beautiful sight to see: a charming local town like any other around Lake Atitlán, but where all the local buildings are slathered in art.
17. Browse the captivating street art in San Juan
Another town full of public artwork is San Juan La Laguna.
Located just a five minute boat ride away from San Pedro, San Juan is a very artistic town. The locals are Tz'utujil Mayans, and there is so much vibrant street art around the village that depicts important aspects of this culture.
You can find art depicting traditional weaving and indigenous customs, and of course all the street art is free to find and photograph. Just strolling around San Juan reveals so much of the thriving local culture and makes for amazing photo opportunities.
The street art is not only one of the best parts of San Juan, but its one of the best things to do in all of Lake Atitlán in my opinion.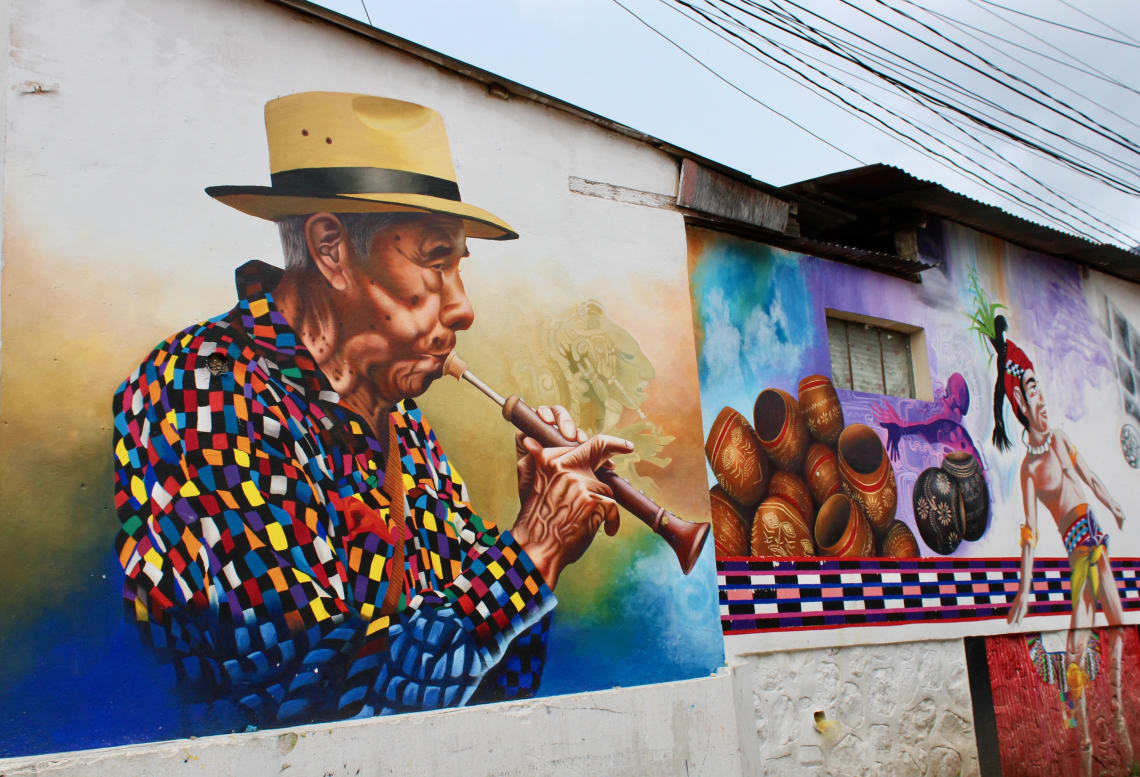 18. Shop for local handicrafts
Traditional weaving is a huge part of Mayan culture. Though some different towns are home to different Mayan ethnic groups, colorful textiles and beautiful handmade souvenirs are consistent throughout all of Lake Atitlán.
In most towns you can find shops and street market stalls selling gorgeous local goods including paintings, colorful clothes and bags, and other classic souvenirs like magnets, keychains, coasters, aprons, hats, and more.
When buying things at a street market, try your hand at haggling the price. Locals definitely charge tourists more than they should most of the time, and if you hesitate after they tell you the price, you'll find they immediately start to lower the price for you. This applies more to street markets than to actual shops. It is also important to always be respectful when haggling the price.
When buying something nice in a locally run shop, you don't necessarily need to bargain the price. Some locals work very hard for their pieces and get little reward for it.
So just use your judgement. If a local is willing to bargain, go for it. But if they do not want to lower the price, do not be offended. Paying a bit of money for a cool souvenir that benefits a local family is a great way to spend your money and be a more mindful traveler.
19. Visit a chocolate or coffee shop
Guatemala is full of delicious, locally made chocolate and coffee. As these are two of the world's greatest treasures, travelers should definitely treat themselves to a fair bit while traveling in Lake Atitlán.
There are nice coffee shops selling locally sourced coffee beans for cheap prices all over Lake Atitlán, but I found the best ones in San Juan, San Pedro and San Marcos. Café San Juan and Cafe Xocomil, both in San Juan were two of my favorite coffee shops in Lake Atitlán.
Sometimes coffee and chocolate shops are together in the same building, and you can find coffee infused chocolate bars as well as coffee and chocolate drinks. Nina's Chocolate in Panajachel is an amazing chocolate shop selling delicious artisan chocolates.
Local chocolate not only makes a delectable treat for yourself, but it makes a great souvenir for friends and family back home.
20. Shop at a local market
One of the best things to do in Lake Atitlán is to visit a local market.
Markets are the best place to taste the fresh, in-season fruits and vegetables from the area you are staying in. It is also where lots of locals tend to congregate, so it is great for people-watching and learning a bit about the lifestyle. In Guatemala, markets are the perfect place for practicing your Spanish and buying cheap local produce.
Every town in Lake Atitlán has its own local market, but Panajachel has the biggest one. With a sprawling outdoor area and an entire inside market hall, the market is like a crazy maze but is full of so many delicious foods that it is worth braving the crowds. The market is always more crowded on weekends than during the week.
Be sure to try some local fruits like papayas, pineapples and bananas, as they are so sweet here in Guatemala. I also love sweet tamales, which are similar to corn bread and are served wrapped in a giant banana leaf.
21. Take a Mayan cooking class
To further experience classic Guatemalan food, take a cooking class to learn how to cook the cuisine yourself. Local classics that you may cook include tamales, tortillas, meat and veggies, pepian (Guatemalan stew) and desserts.
The locals will usually take you to the local market beforehand as well so you can buy fresh ingredients. This is one of the best ways to get in touch with local Guatemalan lifestyle in Lake Atitlán, as food is often a gateway to a different culture.
Some recommended cooking classes around Lake Atitlán include CECAP in Santa Cruz, Lake Atitlán Mayan Kitchen in San Pedro, and Ixiim Cooking School in Panajachel.
22. Witness a Mayan weaving demonstration
A huge part of Mayan culture is weaving.
Traditionally, Mayan women grow their own organic cotton, dye the thread using natural colors like beetroot, berries, roots and carrots, then use the thread to make clothing, blankets, and any other sort of textiles. They use a method called back strap weaving, and travelers who visit Lake Atitlán have the opportunity to watch a demonstration or even try weaving themselves.
Ethical Fashion Guatemala, located in Panajachel, offers weaving demonstrations and workshops where travelers can learn all about the traditional weaving process. Casa Flor Ixcaco, located in San Juan, is a weaving cooperative that offers three day workshops and in-depth demonstrations and classes for tourists. Run entirely by local women, Casa Flor Ixcaco is a great insight into the Mayan culture.
Even if you don't feel like booking a tour, wandering into a weaving center is valuable as well. The local women are always willing to explain and educate visitors about the traditional weaving process.
23. Do a nearby Worldpackers experience
One of the best ways to save money while traveling in Guatemala is to do a work exchange.
Worldpackers is loaded with hosts who are willing to take in travelers, give them free accommodation and introduce them to the local culture, all in exchange for a bit of work.
This is a great way to learn new skills, save money and immerse in local culture.

There are a few new hosts who have just added Worldpackers experiences in Lake Atitlán.
For example, you can work in a fun hostel in San Pedro or work in an eco hotel in San Juan or create photos, videos and digital content about a community project in Santa Cruz.
All of these work exchanges give you a few days off per week to enjoy Lake Atitlán at your leisure.

Many travelers begin their Guatemalan travels in the country's capital, Guatemala City. If you plan on spending more time here, there are a couple hostels offering work exchanges. In one hostel you work in reception and in another you can help with digital marketing and SEO.

Another popular destination in Guatemala is Antigua, a colonial city located in between Guatemala City and Lake Atitlán. Worldpackers has lots of work exchanges in Antigua for travelers who want a deeper experience with this gorgeous city. If you speak English and Spanish, you can work at a hostel and teach English to the local staff. One hostel needs volunteers to help with social media and digital marketing, and another hostel needs help with bartending and kitchen work.
Aside from the hostel experience, there are a few enriching cultural experiences on offer near Lake Atitlán. In Antigua you can volunteer with local children and help teach sports and languages, and in a beautiful city called Xela you can work as a hiking guide and lead trips into the Guatemalan Highlands.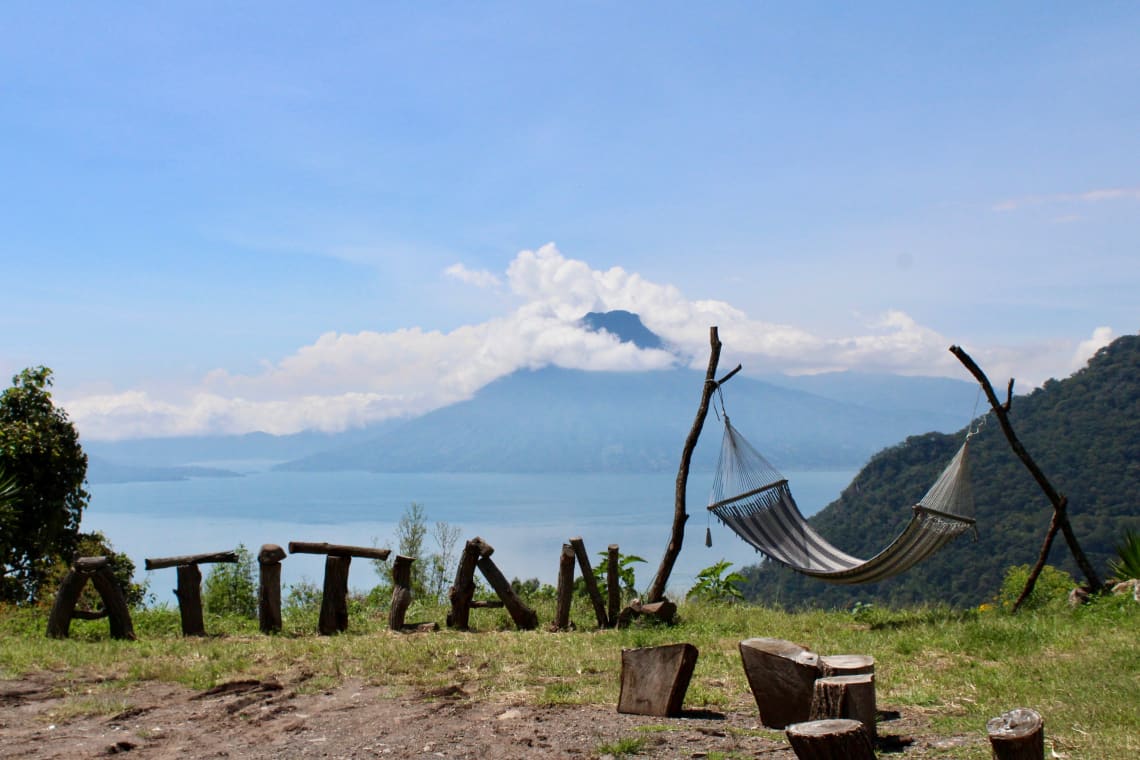 There are too many amazing opportunities to pass up in Guatemala.
Definitely spend some time in Lake Atitlán enjoying the natural beauty and the authentic Mayan culture.
If you ever manage to pull yourself away from Lake Atitlán, stop by Antigua, Xela or Guatemala City to participate in an awesome Worldpackers work exchange, and don't miss the chance to hike a volcano like Acatenango.