Essential tips for traveling alone for the first time
Thinking of traveling alone for the first time? Solo travel can be extremely daunting but it doesn't have to be scary. There are certain things you can do to prepare yourself for a solo adventure.
7min
I've been traveling alone for four years now and I've learned a lot about myself, the world and the many types of humans that you meet along the way. I can still remember the first time that I traveled alone and all the mistakes that I made. I now look back on that trip and the ones that followed and laugh at how naive I was.
I often tease my parents that they never should have let me leave home by myself... but these days, I have become quite the travel expert. I've traveled alone in Asia, Central and South America, Africa, the Middle East and all over Europe. I've visited over 55 countries, and more than half of them were trips that I took alone.
Solo travel can be extremely daunting but it doesn't have to be scary. In this guide I will give you my top tips for traveling alone for the first time. We're going to go over picking the perfect destination, flying alone for the first time, safety concerns, and a few other essential things to ensure you have the most amazing first solo trip.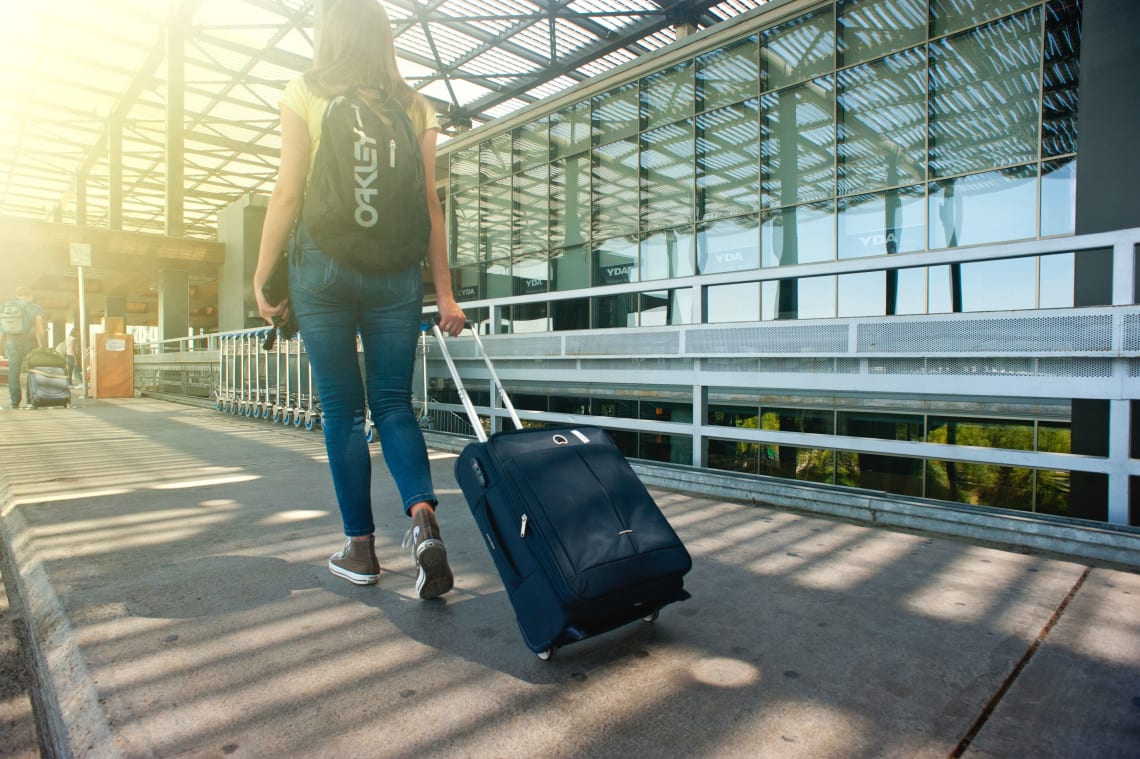 Where to travel alone for the first time
Not all cities, places, or countries are created equal for solo travelers! When considering where to travel alone for the first time, it's important to choose a place where you feel comfortable and safe.
So, how do you pick the perfect destination for your first time traveling alone?

1. Choose a country that is foreigner-friendly
For your first trip, I highly recommend traveling to a country that has a high tourism industry.

Countries with a higher tourism market and industry are generally more used to foreigners. These countries also often have infrastructure and systems designed specifically for travelers, making them much easier to comfortably navigate and explore.
Visiting a country with a high tourism industry means that you are going to stand out less. It's also extremely helpful to know that the structure for buses, tours, hostels and everything else a solo traveler needs is already set in place. Plus, there will be other travelers to meet! It's always reassuring to know that traveling solo can be a social experience, and that you can make friends while traveling alone.
Ultimately, it's always up to you decide what kind of travel experience you are looking for and the type of trip that's right for you. If you decide to visit a country off-the-touristic-grid, you should know that getting around will likely be more difficult, and you might be one of a few foreigners the local people have seen in their lives! Traveling to countries with less tourism can be more challenging, but no less rewarding.
2. Consider the local language
What languages do you speak, and more importantly, what countries speak those languages? I only speak English and the first country that I landed down in by myself was Russia. Nothing was in English and no one would really speak to me in English. After that I made more of an effort to pick countries around Europe where people spoke more English (until I felt comfortable enough to handle a language barrier anywhere).
Always consider the local language of your destination! If you pick a city in rural China for your first time traveling alone, and you don't speak any Chinese, then just trust me, it's not going to be an easy trip. I know that from personal experience traveling along in rural China, India, Egypt, Russia and more.
Finally, keep in mind that most people around the world speak English. When choosing a solo travel destination, there are plenty of places you can go where English isn't the first language but you can still get along just fine. However, if it's your first time traveling alone and you feel more comfortable going somewhere where English is the mother tongue, that's perfectly understandable. It can relieve a lot of stress knowing the locals speak the same language as you!
The top countries I recommend for your first time traveling alone include:
Essential tips for traveling alone for the first time
1. Make a plan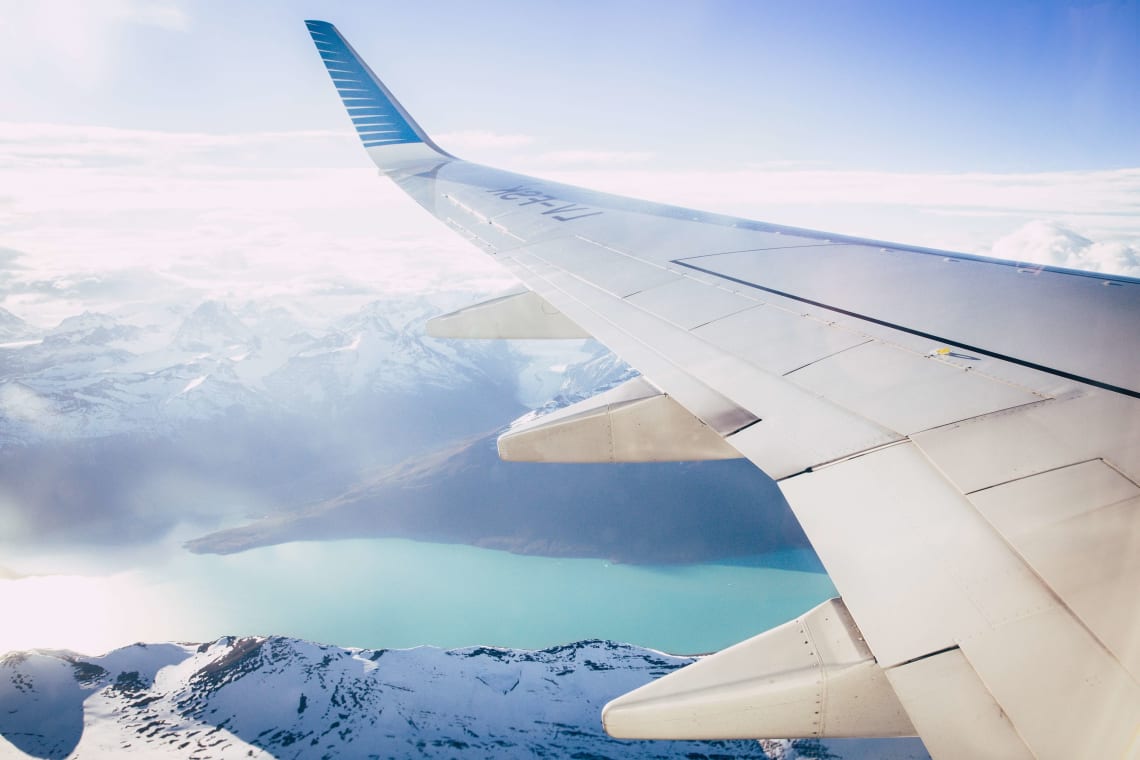 Once you know where you're going, you have to figure out how you are going to get there... and how you're going to get around once you've arrived.

Flying alone for the first time can be intimidating. You have to navigate the airport, security lines, and overwhelming feeling of panic and thrill that comes with landing in a new country with no idea of what to expect.
When you land, you might be bombarded with people offering you taxi rides or you might find yourself at a train station with signs in four different languages (none of which you speak).
This is why it's important to make a plan in advance!
There are never-ending forms of transportation and nothing is stopping you from going anywhere in the world, you just have to figure out how. Rome2Rio is a great website that shows you the various forms of transportation available to make your journey happen, including the travel time it will take depending on which you choose.
Do a bit of research in advance and create a rough outline of what your trip will entail. If you're going to travel alone for the first time, it's always best to make a plan and have a general idea of how you'll get from Point A to Point B during your trip.
2. Take extra measures to prepare yourself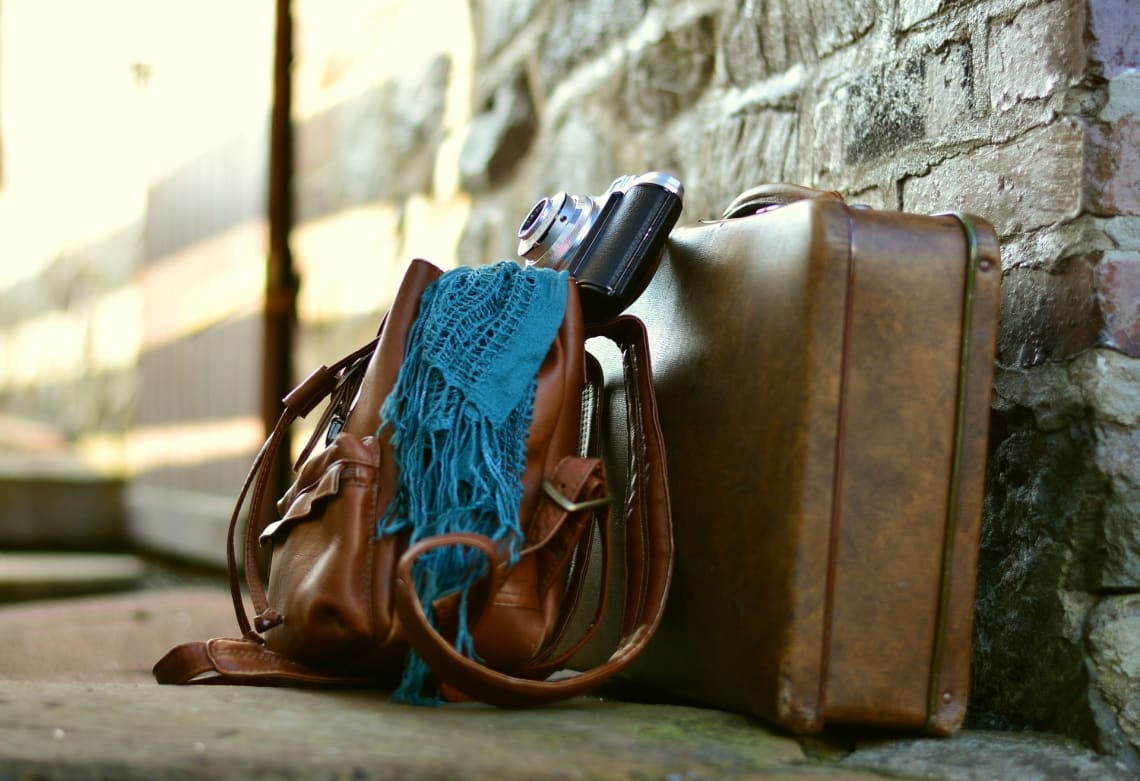 In addition to researching ahead of time and making a plan, why not take extra measures to prepare yourself? Taking additional steps to ensure that you are safe and comfortable will help you avoid unnecessary stress and ease your overall travel experience.
Always buy travelers insurance before you leave. Your local insurance at home will not cover you when you are traveling overseas. Travelers insurance covers theft as well as injury abroad. Of course, no one plans on getting injured or robbed, but it's better to be safe than sorry — especially when you are traveling alone for the first time!
If you've decided to book hotels or Air B and B's in advance, read reviews. If you've decided to leave room in your schedule for spontaneity and book places on the fly, read reviews! Give yourself the security of knowing that the place you're staying in comes recommended by other travelers!
3. Pack accordingly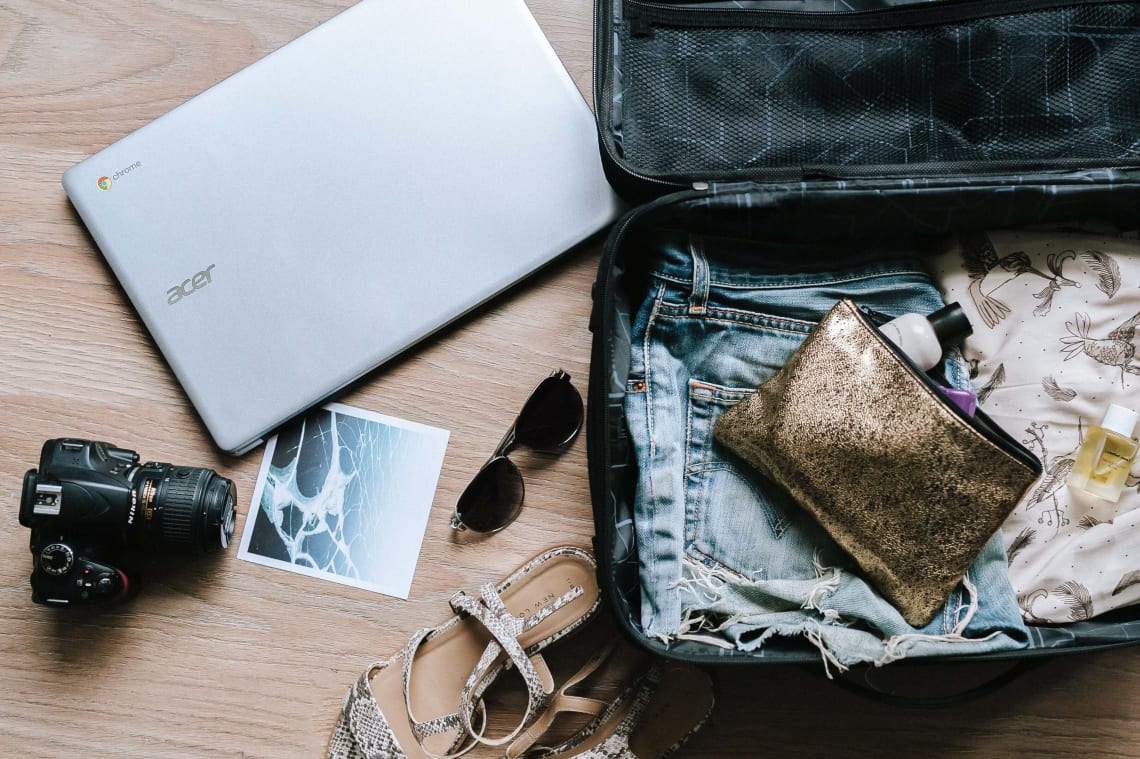 Pack light. A carry-on will be your best friend.
Before I started traveling alone, I was a major over-packer. When my family would take vacations I would bring a month's worth of clothes instead of a week's worth. Once I began traveling alone and backpacking a lot more, I realized that lugging around a bunch of suitcases by yourself is not easy. I now travel with a minimalist mindset and only pack the bare basics. Even still, I bring too much and end up donating things along the way!
Whether considering what to pack for long term travel or a short vacation, packing light and only taking what you need is going to help you feel a lot more comfortable on your first trip alone. I recommend choosing a travel backpack or small, functional bag that makes it easy to organize and keep track of your belongings.
For example, when I take overnight trains and buses, my bag is so small that it can sit with me, meaning it doesn't have to go under the bus or in the luggage compartment on the train. It's easy for me to grab and haul around, and I never get tired carrying it.
Check out the Worldpackers minimalist packing list for extra inspiration on how to travel light!
4. Stay connected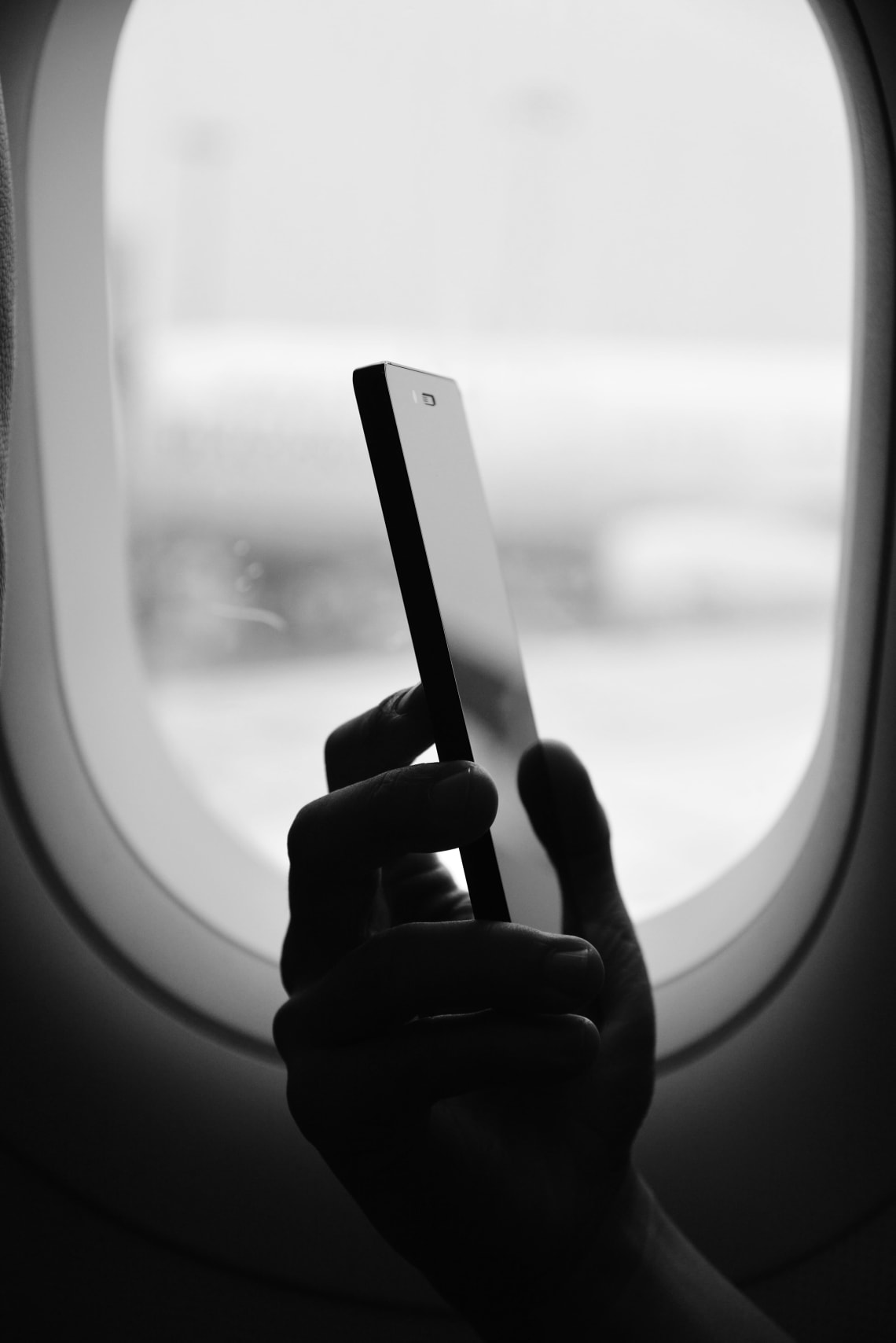 No matter where you go in the world, stay connected and always let someone know where you are.
To this day, whenever I land in a new country I get a local SIM card at the airport. This honestly makes it so much easier to navigate and feel comfortable in a new city or country. With a local SIM card you can easily book an Uber or Lyft, find your way on public transportation or use Google maps and walk to your accommodation.
Data in foreign countries (read: outside of the US) tends to be very affordable, and in most cities around the world, you can have a local SIM working before you even leave the airport! Investing in a SIM card will help you so much throughout your trip and save you from you from the inevitable mountains of anxiety that can come from being lost, alone, and/or hungry.
My first time traveling alone I had no data, no idea how to read a map and didn't know left from right, let alone north from south. I once got off a bus in Milan at the wrong stop and ended up walking for over three hours in the hot sun before finally finding a police officer who was kind enough to help me get where I was going. This same scenario played out on numerous occasions until I finally learned from my mistakes and made the decision to always buy data.
Another reason you should always travel with cellular data is to keep in touch with people back home and let someone know where you are. This is particularly important when traveling alone, and even more important when it comes to solo female travel. I check in with my mom daily, even if it's just to say, "Hello, I'm alive. Here's a picture of my face in front of a museum today."
To learn more about the best international SIM cards for travel and anything else related to first time and budget travel, check out Two Birds Breaking Free travel blog.

Buy the data. Staying connected and having access to being connected through a local SIM will ease your anxiety considerably and make your overall travel experience easier.
5. Trust your intuition
You've done everything you can do to ensure your safety and comfort on your trip. Now it's time to relax and enjoy the thrill and magic of travel.
Go with your instinct and trust yourself — you've got this. Happy travels!