13 best cheap beach vacations in the USA
13 of the best cheap beach vacations in the USA! From the parties of Daytona Beach Florida to the lush nature of Cannon Beach Oregon, there are so many options.
7min
Beach vacations in the US don't have to be expensive! The USA is a massive country with lots of coastlines, meaning there are many beautiful and sometimes unexpected vacation spots.
Sure, famous places like San Diego, CA, or even the tropical beaches of Hawaii are on the expensive side (although there are ways to save money in those places too). But there are plenty of options for enjoying a USA beach vacation on a budget!
This article will list some of the best beaches in the US, all of which can be visited on a budget. There is a wide variety of options on this list.
From quiet beaches surrounded by nature and wilderness to lively beaches surrounded by amusement parks and pool parties, to family-friendly beaches and more, there is a cheap beach vacation for everyone.
I will also include a few Worldpackers work exchanges near these vacation spots in case you are interested in working for your accommodation. This type of travel will help you have an even cheaper vacation, as you can see in the video below.
Cheap beach vacations in the USA
So here are a handful of the best cheap beach vacations in the USA.

Miami, FL
Myrtle Beach, SC
Huntington Beach, CA

Virginia Beach, VA

St. Augustine, FL

Cannon Beach, OR

Hampton Beach, NH

Sleeping Bear Lakeshore, MI

South Padre Island, TX

Pismo Beach, CA

Ocean City, MD

Nag's Head, NC

Daytona Beach, FL

1. Miami, FL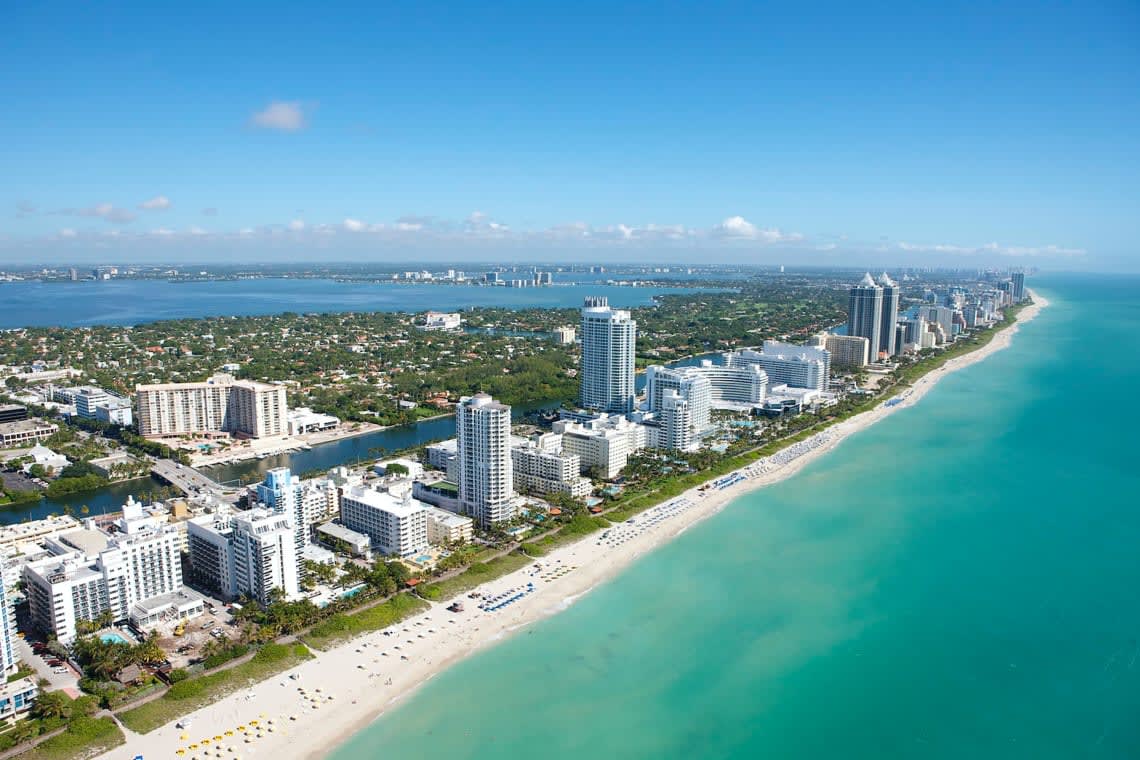 The best thing about beach vacations is that the main attraction is usually free: the beach! In a city like Miami, Florida, where clubbing and eating out can be a bit pricey, you can actually enjoy the area on a budget.
Hanging out on South Beach, touring art museums, looking for street art, and soaking in the multicultural atmosphere are all free activities in Miami.
There are also lots of cheap happy hours so you can eat and drink on a budget. This is one of the best cheap USA beach vacations in Florida.
For more travel ideas on a budget, check What are the cheapest vacation destinations.
2. Myrtle Beach, SC
South Carolina is overall, a very cheap state to visit in the USA. So if you're looking for cheap family beach geataway in the USA, the bustling Myrtle Beach is an amazing option.
Full of amusement parks, arcade games, beaches, boardwalks, family-friendly restaurants, and souvenir shops, Myrtle Beach is a fun and affordable place to visit.
There is also a cool work exchange opportunity in St Johns Island, just a 2.5-hour drive from Myrtle Beach and volunteer programs in North Myrtle Beach. You can volunteer on a farm here and learn about regenerative agriculture, and then hit the beach on your days off.
3. Huntington Beach, CA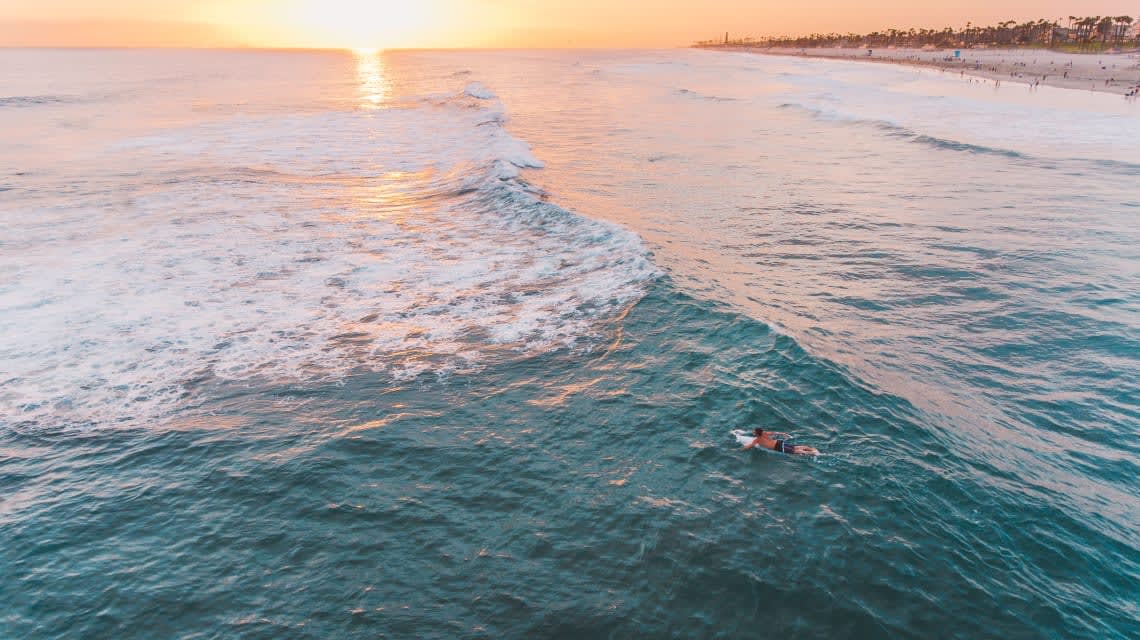 One of the best beaches in the US for surfing, Huntington Beach is a much cheaper place to visit than other locations in California.
There are lots of free activities here, such as enjoying the waves, the parks and gardens, the nature, the pier, and more. You can also try surfing lessons or check out the International Surfing Museum.
4. Virginia Beach, VA
Another one of the best cheap beach vacations in the east coast USA is Virginia Beach. This historic town has a massive beautiful beach and lots of other attractions in the area.
From the local boardwalk and the lighthouse to the museums, parks, boat tours, and Chesapeake Bay nature, there is plenty to see and do.
You can find hotel rooms in Virginia Beach for less than $100 per night, which is quite cheap for the USA.
New York City is not far from Virginia Beach (for US standars), so if you're planning to visit the big city, I suggest you to read the "Cheapest places to live in New York: 5 cities outside the Big Apple".
5. St. Augustine, FL
St. Augustine is a historic, multicultural town that is one of the best vacation spots in the US. It is supposedly the oldest city in the US, and the 17th Century landmarks and old colonial architecture reflect the area's history. There are also, of course, stunning beaches to enjoy.
If you want to try a work exchange in St. Augustine to save money, you can work at a local property. In exchange for a few hours of light morning housekeeping and cleaning, you can stay in St. Augustine for free and enjoy the area after work.
6. Cannon Beach, OR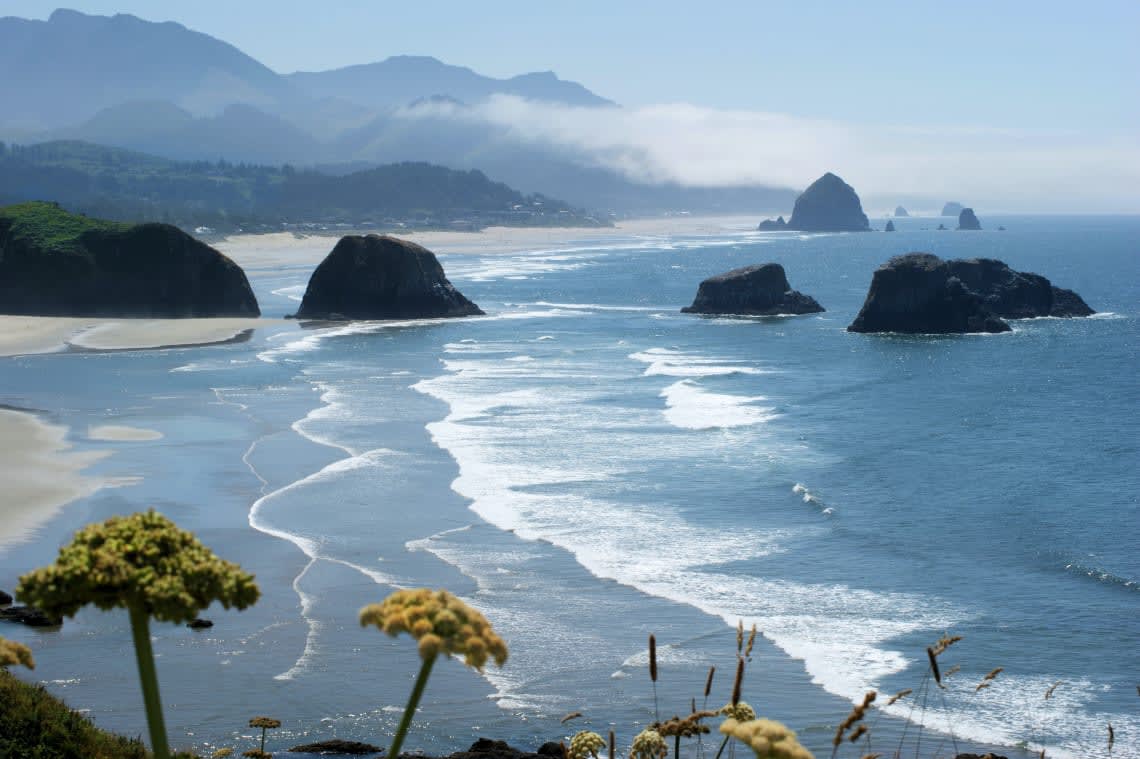 Most people probably wouldn't think of Oregon as a popular beach vacation spot, but there is a hidden gem here. Cannon Beach is a small city on the ocean in northwest Oregon, and it is framed by rugged wilderness.
From cliffs and caves to unique local birds and nearby national parks, this spot is heaven for people who love exploring nature.
The temperatures are also a bit cooler up here, so those who want to experience the beach without the heat should consider Cannon Beach!
7. Hampton Beach, NH
New England is generally quite expensive, but there are some gorgeous beaches up here that can be enjoyed on a budget. Hampton Beach in southern New Hampshire is a summer favorite among locals in the New England region.
The beach itself is huge, with tons of space for surfing, playing sports, fishing, and more. Small cozy cottages, local seafood restaurants, and arcades surround the sand, making it one of the best cheap USA beach vacations for families in New England.
8. Sleeping Bear Lakeshore, MI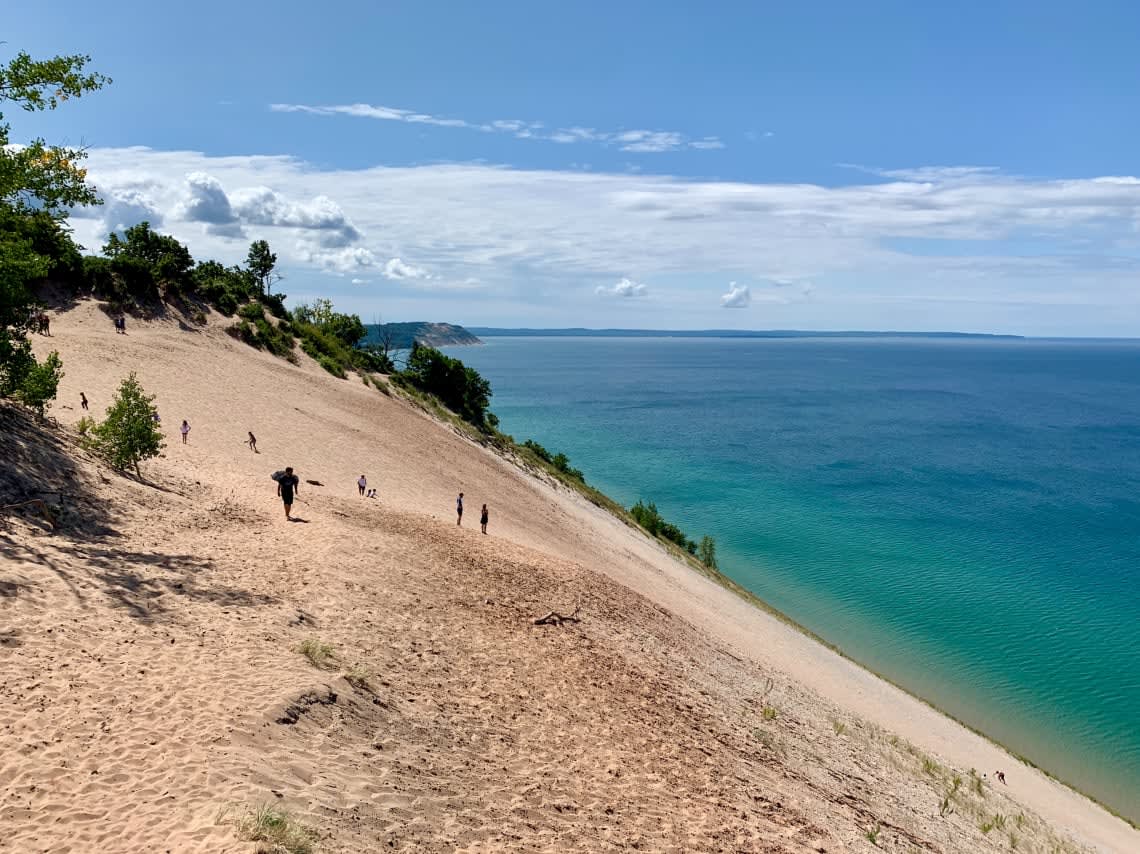 This is an unexpected beach vacation because it's on a lake and not the ocean. But the Great Lakes actually make an incredible beach getaway, especially if you live in the midwest and don't want to travel far.
This beautiful area has giant sand dunes for climbing, peaceful rivers for kayaking, dense forests for hiking, and plenty of relaxing beaches for soaking in the summer sun.
Nestled between the freshwater lake and the forest, this is a gorgeous spot to go for a mix of adventurous, outdoorsy activities and a chill vacation on the beach.
9. South Padre Island, TX
All the way down in Southern Texas near the Mexican border lies South Padre Island, another one of the best cheap beach vacations in the USA. With lots of wildlife, a consistently warm climate, and many family-friendly activities, this is the perfect affordable place for a beach vacation in the south.
The water is calm and warm, perfect for paddleboarding, kayaking, taking boat tours, or swimming with young kids. If you're an animal lover, consider horseback riding on the beach, visiting the sea turtle rehabilitation center, or birdwatching.
10. Pismo Beach, CA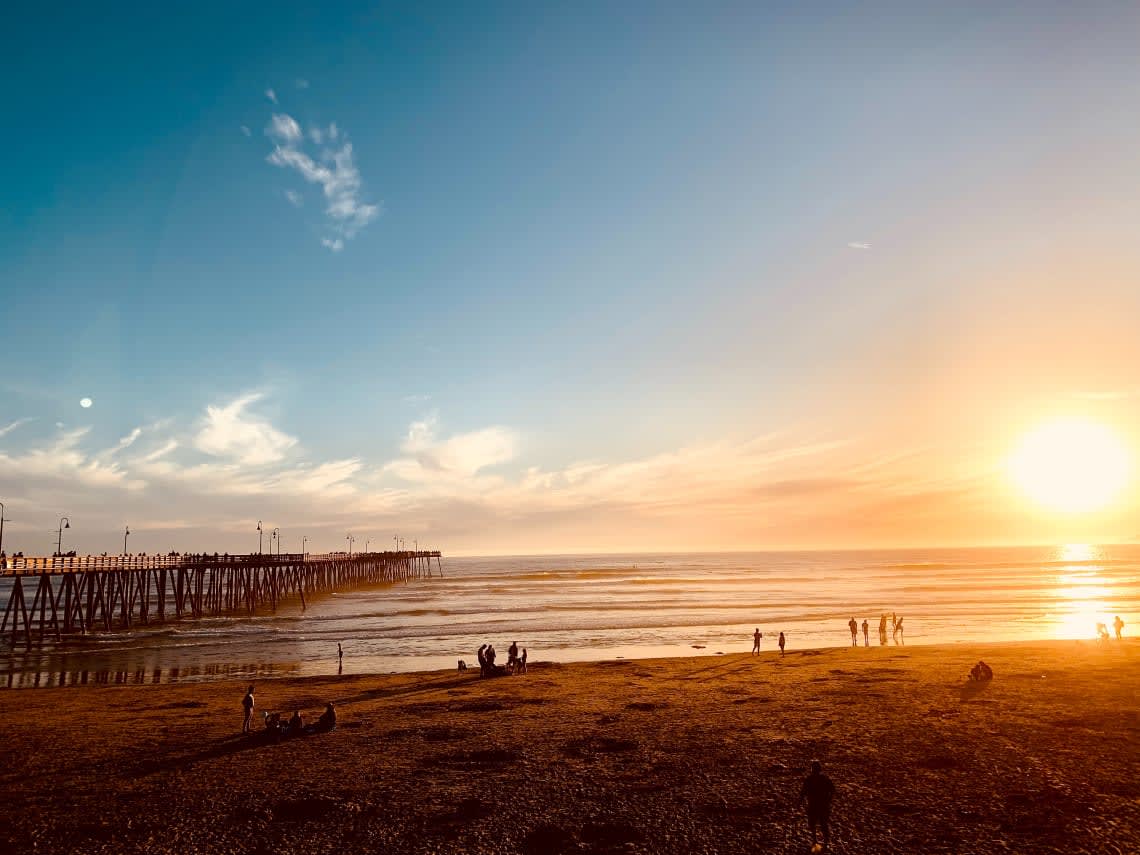 Located in the middle of California, almost an equal distance between Los Angeles and San Francisco is Pismo Beach. This rugged and beautiful beach city is a cheaper alternative to the more popular beach vacations in the Golden State.
There are lots of free ways to enjoy the scenery here, including hiking trails, state parks, and other green spaces.
Though Pismo Beach is cheaper than places like San Diego, it is still in California, meaning it's more expensive than many of the other beach vacations on this list.
Luckily, there are over 80 California work exchanges to choose from, so you can work in exchange for accommodation and save lots of money while enjoying California.
11. Ocean City, MD
Located on the Atlantic Ocean in Maryland, Ocean City is a popular and cheap place for a beach vacation. It's pretty touristy, and it's perfect for those who love the hustle and bustle. The long, sandy beach is bordered by a long boardwalk that is always full of entertainment.
There is a theme park, arcade games, restaurants, souvenir shops, cafes, ice cream stands, and plenty of budget accommodation options.
So if a quiet vacation on the beach isn't quite enough for you, Ocean City is a fun, exciting, and lively place to visit.
12. Nag's Head, NC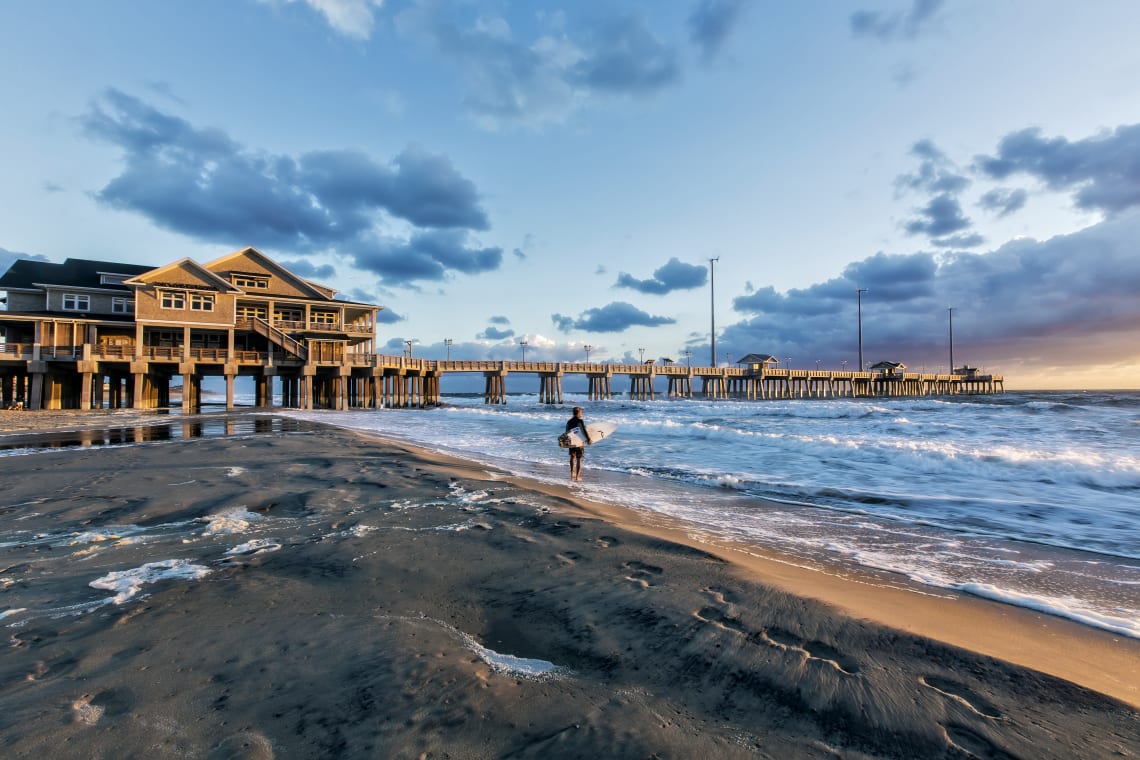 Nag's Head is a popular beach vacation spot in North Carolina. Surrounded by marsh, sand dunes, walking trails, and wildlife, there is lots of nature to explore here when you're done enjoying the beach.
North Carolina is generally a pretty cheap state to visit, so it's easy to stay in Nag's Head on a budget.
To further save money, check out work exchanges in Sunbury, located a 1.5-hour drive from Nag's Head. You can help some locals restore a historic building in exchange for your accommodation.
13. Daytona Beach, FL
Popular among college students and families alike, Daytona Beach in Florida is one of the best cheap beach vacations on the East Coast USA.
Daytona has miles and miles of soft, white sand that is perfect for lounging with friends, playing sports, and suntanning. There is also a boardwalk, an amusement park, and plenty of entertainment, including free outdoor concerts in summer.
During the weeks of spring break, you'll find Daytona Beach packed to the brim with partying college students. So if you want a wild experience, you'll have one here. If you want a more relaxed beach vacation, visit anytime outside spring and you'll find a more chill atmosphere.
Did you see how many affordable beach vacations in the USA there are to visit at this moment? So don't waste time, sign up to Worldpackers and start exploring these and other destinations as often as you want!