Bikepacking through the Chiltern Hills: get to know the British culture
Bikepacking is a relatively new hobby around the world, but it's something every adventurous soul would love to do... So let's explore the Chiltern Hills on a bike.
9min
The Chilterns is an Area of Outstanding Natural Beauty located a short train ride away from London, England. It is an area of countryside with plenty of sleepy cottages and green hills.
One great way to explore this area is through touring The Chilterns Cycleway on a bike! A 170 miles scenic route that circles around the Chilterns Hills is the ultimate way to explore the gorgeous, English countryside.

Let's explore the Chiltern Hills on a bike
Hopefully this article will show you a different perspective of England and inspire you to explore the countryside and other natural places, apart from the capital or the main cities, where tourists usually flock to.
Often referred to as the last undiscovered Area of Outstanding Natural Beauty (AONB) in the UK, The Chilterns truly is a hidden gem.
Like a National Park, an AONB is a natural area that is so valuable that it is protected from development, open for everyone to enjoy and it is a great place to start your adventure! In an AONB you will spend all your time in raw nature far from pollution, crowds, and city noise.
Whilst the Cotswolds, so famous for the picturesque cottages, in fact so gorgeous and so British that one of them is printed in the pages of a British passport (Birbury), is the most popular choice for exploring nature amongst the Brits and foreigners alike, the Chilterns Area of Outstanding Natural Beauty is equally incredible and worthy of exploration. It is also completely uncrowded and a lot cheaper.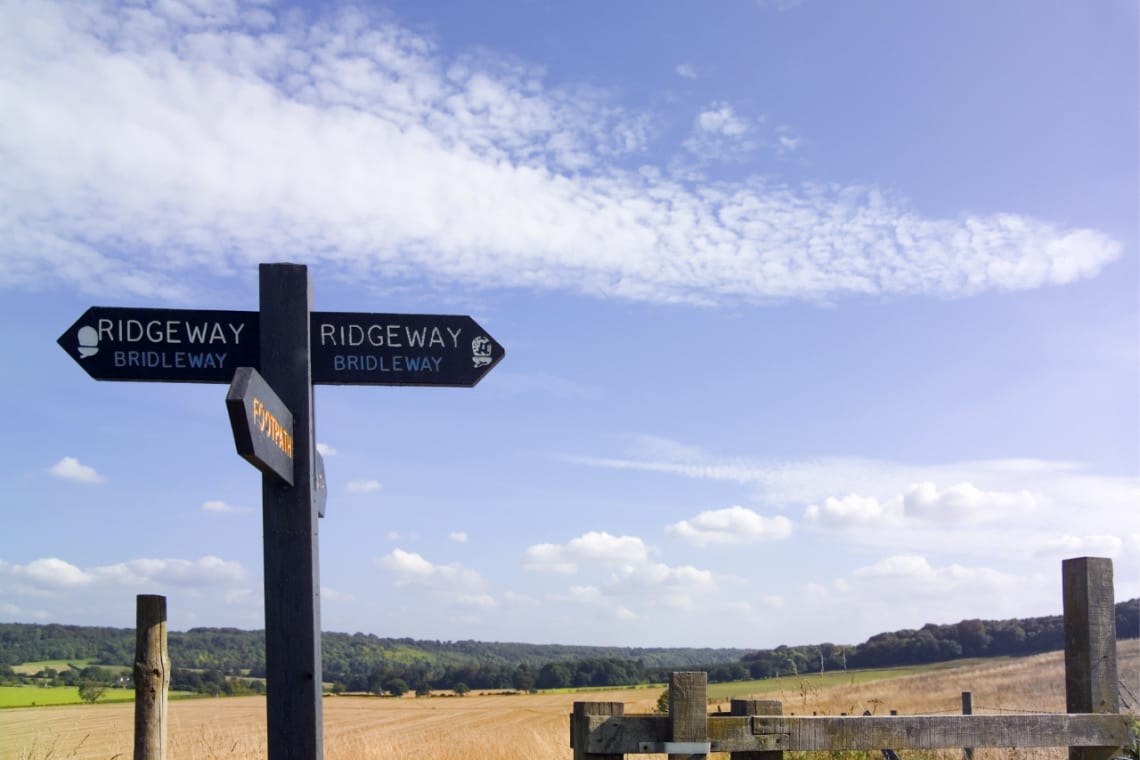 What is The Chilterns and the Chilterns Cycleway?
324 square miles of woodlands, farms, cottages, rolling hills, castles, railway stations, pastures, rivers and canals. 324 square miles rich in British history and heritage. And one of the best ways to explore it is on a bike!
The Chilterns Cycleway is 170 miles long route that passes through four counties popular for cities such as Oxford, Reading or Henley on Thames. It is a loop that circles all around the region showing you all the best off the country.
It takes around a week to complete and it is an adventure of a lifetime. Completing a 170 miles route is an incredible accomplishment. It is a great way to get out of your comfort zone and try something new.
The Chilterns Cycleway is a very well maintained and well signposted bikeway. The path is mainly paved country lane, free of traffic and usually away from busy main roads.
You will also be passing on towpaths (a path beside a river or a canal) and bridleways (a path designed for horseback riding). Regardless of what the path is, it is safe and doable even if you do not have much biking experience or are not particularly fit.
As longest as you research the route beforehand, have all necessary gear and a positive attitude, you can tour the Chilterns Cycleway and make memories that will last a lifetime.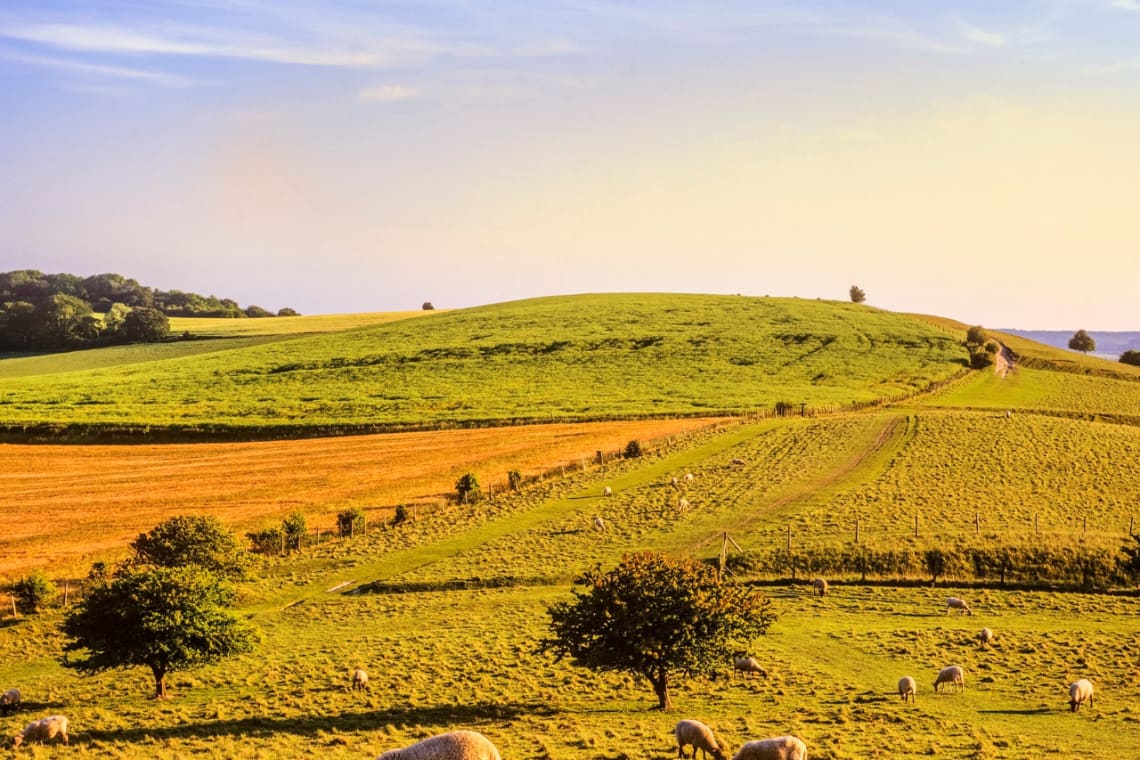 Save money and have a cultural experience by volunteering in the UK
Since the UK is one of the most expensive countries to travel in, it is often over the budget for backpackers or other travellers alike. The Britons however, are very proud of their heritage and love to explore their country in an active way.
With that said, the Chilterns will give you a great perspective of the British lifestyle, as you will see it through the eyes of the local. However, to fully immerse yourself in the culture and participate in the customs, choosing to volunteer in the UK with Worldpackers is the best way to dive deep into the British life.
With plenty of volunteering opportunities available, like this homestay in the historic Oxford or this b&b in New Forest NP, backpacking England might become more affordable as well as make a more immersive and meaningful trip.
Read these articles to know more about Worldpackers: Traveling with Worldpackers: your top questions answered and How to volunteer abroad using Worldpackers.
Why to cycle the Chiltern Hills
Overshadowed by the Cotswolds or Stonehenge or nearby cities like Oxford and London, the Chilterns is rarely mentioned in blogs or guidebooks.
This means that the area will be free of crowds, queues, and tourist traps or overprices, making it the perfect place to relax, rest and get some peace and quiet. To me, the Chilterns is one of the best natural places to explore in Europe.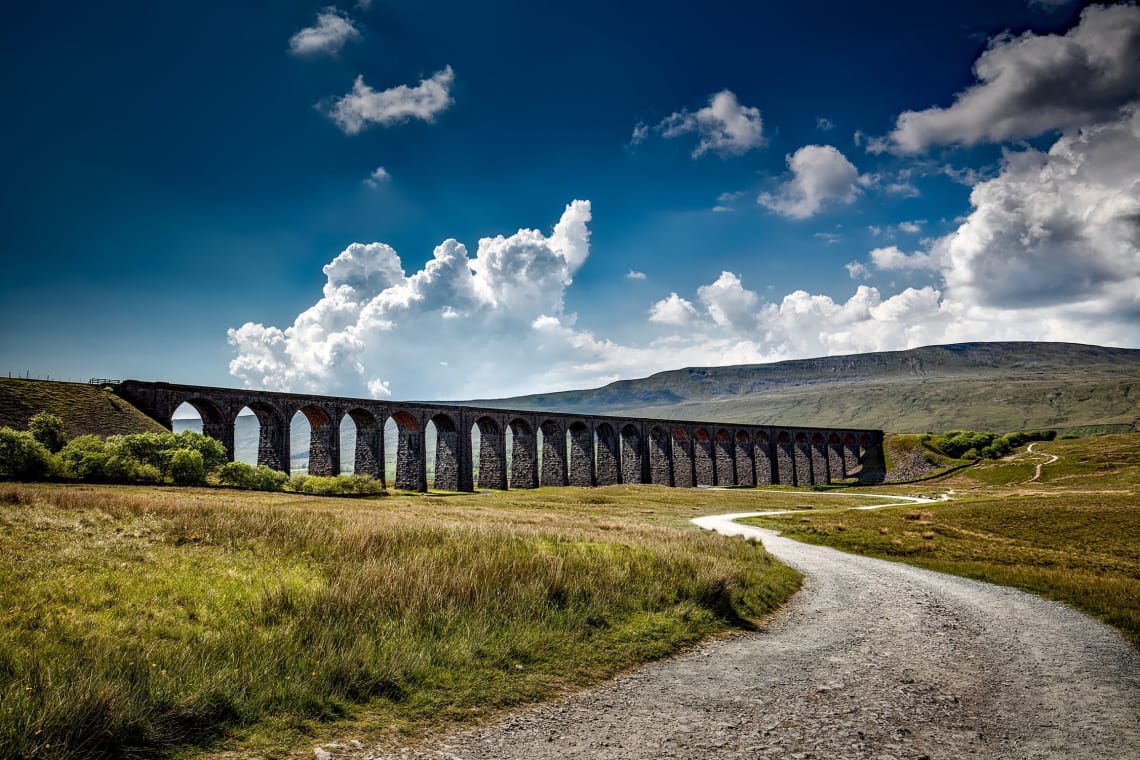 Whilst cycling is a popular activity in the UK, bikepacking is relatively new concept. Bikepacking is traveling on a bike on a multi-day trip. It is an incredible way to travel with plenty of benefits. Try it once and you might get hooked on it and never want to explore any other way!
I love bikepacking because it gives you the absolute freedom. You don't have to rely on anything apart from the bike. You're always free to stop to take in the landscape and are always free to move on, whenever you want to.
The feeling of slowly cruising on a bike, watching the landscape, and hearing the sounds slowly fade away, whilst feeling the scent of the place allows you to fully appreciate the place with all your senses.
Bikepacking give you the feeling of a real adventure, it challenges you and makes you stronger both physically and mentally.
Biking also comes with a lot of benefits:
It's very good for your health and the environment.
A bicycle doesn't use any gas or other fossil fuels, so it is the most environment friendly mode of transport.
It also doesn't release any noise, so it doesn't contribute to the noise pollution.
Riding a bike gets your blood moving around your body, strengthens your bones and decreases stress levels. You're guaranteed to feel happier after a bike ride.
And it's free so it's good for your wallet too!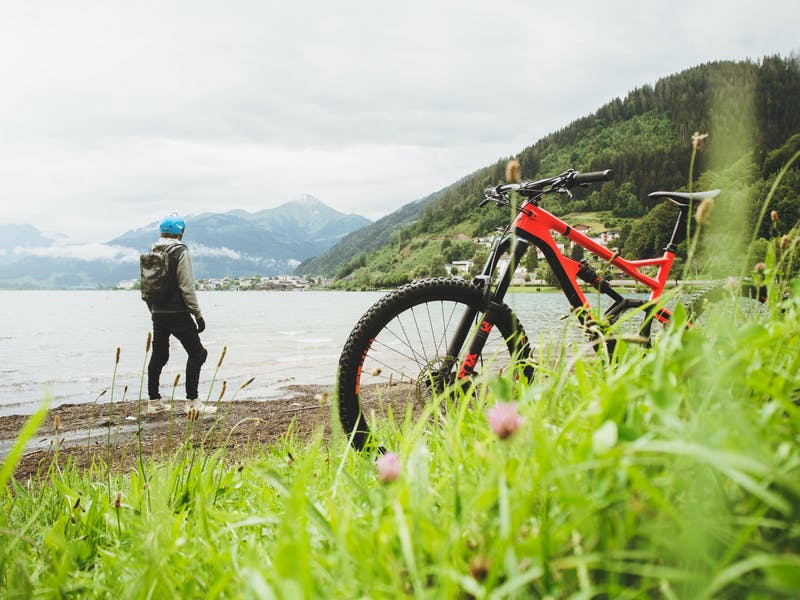 What do I need for my bikepacking trip through the Chilterns?
A bike!
Of course, you will need a bike to cycle The Chiltern Cycleway. There are many bikes around, some that are specifically made for touring.
However, for a route such as this one where the terrain is relatively easy and paved, and since you're never too far from civilization, any mountain bike will be good enough.
Many bikepackers will say ''the best bike to use is the bike you already own''. The most important thing is that it is in perfect working order and comfortable for you to ride in.
Ensure that the bike fits you well and is adjusted to your height. A comfortable saddle is the key, as you will be spending hours in it.
Gear carrying system
Since this is an overnight trip, you will need to fit all your luggage on your bike. A good system won't affect your journey too much, as the weight will be distributed evenly.
It is important that you pack minimalist and only bring very few things. There are plenty of systems to choose from and for your first trip you don't need anything professional or expensive.

You will need few things to make a good set up, however, if you're already an outdoorsy person chances are that the gear you already own might be used for carrying your stuff.
For example, you can use a dry bag and attach it to behind your saddle with a voile strap, this bag can carry your change of clothes. Another, bigger dry bag can be attached to your handlebars and carry a tent, electronics and some handy items like a map, power bank or a guide booklet.
Addionally, you can add another bag to the frame of your bike. A small backpack can also be used although to make the ride comfortable for you, try to fit all your items into the dry bags. This is a nice example of an easy and simple set up: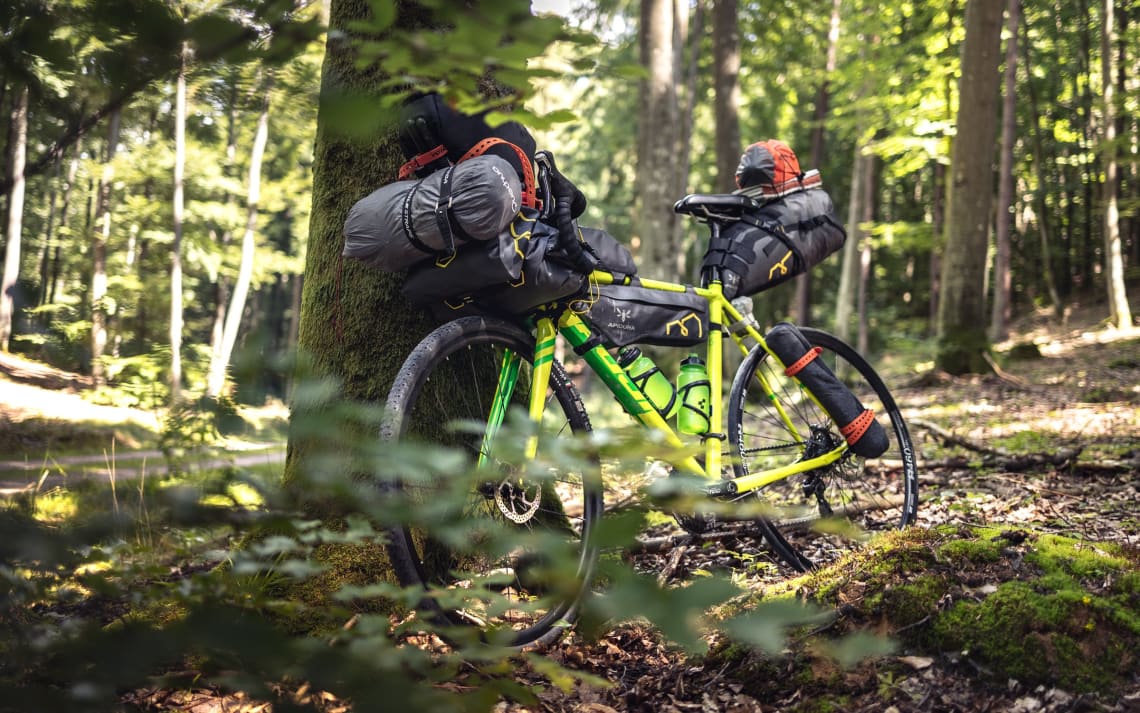 When bikepacking you really want to keep your baggage to a minimum, so this set up might be all you need.

Other essential equipment
Other things that you will need to bring will vary on your plans, however things like helmet, bike light, hi-viz, at least two water bottle cages, good footwear, first aid kit, bike repair kit, a chain, and a lock are essential.
Then, depending if you're planning on camping or staying in bed & breakfast (B&B), you might need to carry gear such as a tent, sleeping bag and a mat.
I recommend camping to truly connect with nature and make this experience bolder and more memorable by sleeping under the stars. Do be aware that wild camping is illegal in England so you will have to place your tent in a designated, camping area.
Whatever option you choose, you will not be short on options on where to stay. If you decide against camping, you can enjoy one of the many accommodations on the way.
Cooking gear
Similarly with food, you can bring your own stove and gas and prepare your meals and hot drinks yourself.
Or you can enjoy your lunches in a beer garden in one of the many country pubs. Which by the way, is another British thing to do! You absolutely must make a stop at at least one of the pubs on the way for lunch with a pint or a tea.
Research
Another thing you will need to do before your journey, is research and plan your route.
Overall, the route is easy to follow as it is excellently signposted, so there's little chances you will get lost.
Additionally, you can find the route on many sport apps such as AllTrails, simply download it on your phone so that you're able to use it on the road. Have both a paper and online copy of the map of the area. A paper copy is important, in case you run out of battery or have no signal.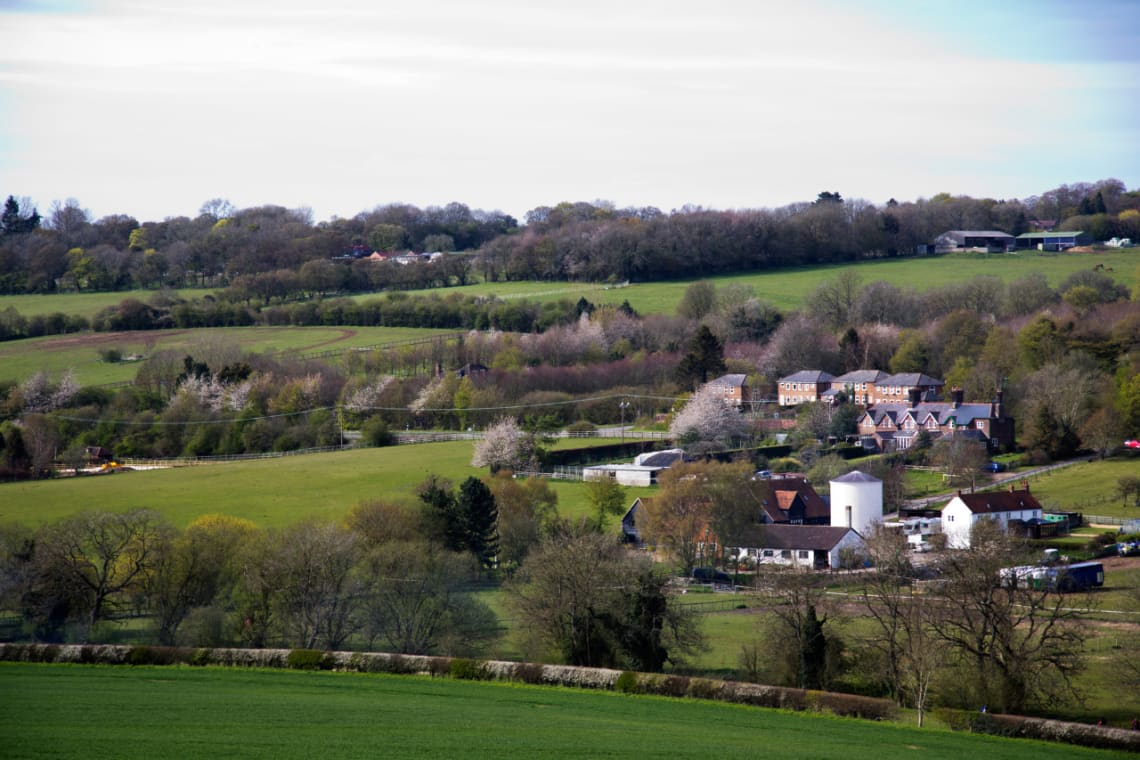 Ready to bike the Chiltern Hills?
A 170 miles (273km) route means you will be making about 34 miles (54km) a day. This is an okay distance even if you're beginner.
Slow-paced bike riding is 13km/h on average, this means about 5 hours of riding a day. This allows you for plenty of breaks and a slow morning too. It is important that you enjoy the journey and that you are avoiding injury, therefore make sure you take it as easy and slow as you need to.
Do not rush, simply go slow, enjoy the landscape, breathe in the fresh air and appreciate what's around you.
Depending on how much time you've got, you can make this journey longer, with more stops on the way.
If you really are enjoying the Chilterns, you can go off route and explore other attractions in the area. There are a lot of incredible market towns and other villages in the area.
The most significant one is Henley on Thames; it is one of the most beautiful towns in England. This 13th century town is as British as it can get. With the river Thames running through it, it is full of markets with artisanal products, pubs, cafes, and a lot of green space.
Stop there for a break and enjoy an ice cream or a pint on the river Thames, whilst people watching and soaking up the British life. A visit to the Farmer's market is also necessary!
If you do not have enough time, you can take shorter overnight trips anywhere along the route. The Chilterns Cycleway isn't the only route there, as the whole Chilterns AONB has over 130 trails, accessible by foot and a bike.
If you're new to bikepacking a shorter overnighter might be better option for you. A small trip might be as rewarding as a big one, but a whole lot less scary!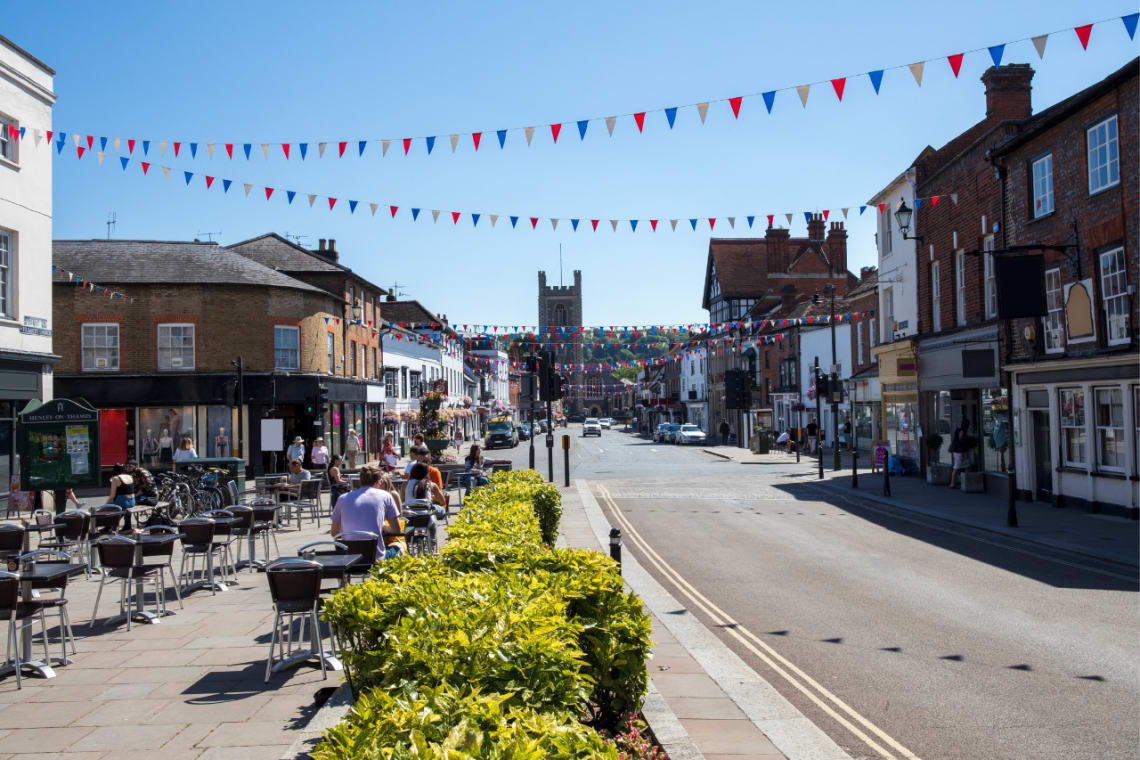 Overall, the UK is very bike friendly with The National Cycle Network specifically designed to encourage people to explore the outdoors. This network consists of 16,575 miles (that's 26,674km!) of signed routes all over the UK. With this number of options, the UK makes a great place for biking or hiking, multi day adventures.
The Chilterns AONB is just one of 46 Areas of Outstanding Natural Beauty in the UK. It is my favourite and most explored region in England.
I really recommend exploring the British natural spots in addition to the cities, as that is where you will really be put in touch with the British culture and get to appreciate the beautiful outdoors.
Keep exploring the UK: