20 best cities to solo travel in South America
Planning to solo travel in South America? Even with reputations of danger and fear, some cities were surprisingly safe, welcoming and friendly when I traveled them alone.
9min
Traveling alone may seem a bit scary at first, but it can also be very enjoyable and fulfilling.
Even still, there are some precautions we must take, tricks and tips for various situations that may arise on your trip.
So we made a list of ideal cities for women to travel solo in South America:
Colombia
My first tip is for the country that surprised me the most: Colombia.
A place where everyone told me that everything was going to go really badly, a country mistreated for years by violence, trafficking, prostitution, drugs, and many other heavy things, right? Wrong!
Colombia was the biggest surprise for me while backpacking South America, proof of this being that I intended to stay for two months and ended up staying six, renewing my visa super easily and quickly so I could get to see even more little corners of this wonderful country.
Colombia has cities that appeal to every style of traveler, whether it's backpacking, low budget, high luxury or tourist.
Cali (#1) and Medellín (#2) were the first two cities I went to, I met incredible hosts and very lively and fun people.
Read more about Medellín on: The best things to do in Medellín, Colombia
Cali itself is a very quiet city, where at around 7 pm you'll hardly see any more people on the street, except workers who are returning home. Other than that, the city lives and breathes salsa, the musical rhythm that made the country famous around the world for its sultry and fun dance steps. In Cali, you'll find hundreds of bars for dancing the typical moves in the same neighborhood, full of locals and mainly foreigners wanting to know and learn a little more about the culture.
I saw Cartagena (#3) soon after, and stayed a month and a half in this city with 95˚F at 8:00 in the morning, with tourists from all corners of the world, people selling you street tours and old houses full of flowers and completely decorated to participate in the annual contest created by the government (you can read more about this project in my post with a complete guide to Cartagena here).
Not long after my 45 days on the beach, I went to spend almost three months in Bogota (#4), the capital of Colombia and the most beautiful, charming, fresh and friendly city of my whole trip.
When I arrived I was met with houses and buildings constructed entirely with dark brick, much like the same style in England, so for me, it was love at first sight. I never found out why this type of construction is so common in Bogota, I only know that it's always cold because the city is at the top of a mountain more than 2,600 meters above sea level, making the British-type air even more intense when walking through the streets.
Many people told me that I would have problems with sexist attitudes in the country, and with violence and other things, but besides having an annoying allergic reaction to a little bug that bit me in Medellín, there was not a single moment in these six months of my trip that I felt unsafe or threatened.
So that's why I recommend Colombia hands down to all of my friends that want to explore incredible places without worrying about being a woman traveling alone or in a group.
Argentina
When I arrived at the hostel in Buenos Aires (#5), Argentina, the first hostel in my life, I was really surprised at the situation: they put me in a room with three guys, two Venezuelans and one Colombian. I asked reception if it was possible to change rooms for one that had more women or at least so that I wasn't the only woman there alone in that situation, but they said they were full so I had to face my fear and panic and stay put.
The first night I basically didn't sleep, so afraid they would do something to me. The next day the boys were so cool and nice to me (one of them even offered to be my guide around the city as he had been working and living there more than two months already), at the end we all became great friends.
However, after a few days in the city and living with the guys and other guests, I caught a very bad cold, the kind that doesn't let you even get out of bed, but they were all very helpful, offering me medicine and even bringing soup to my bed for me.
We went out together and explored the whole city, went to parties and bars, to tourist spots as well as places only the locals knew. They showed me a Buenos Aires that I, by myself, never would have had the chance to see and I'm very grateful for each of them.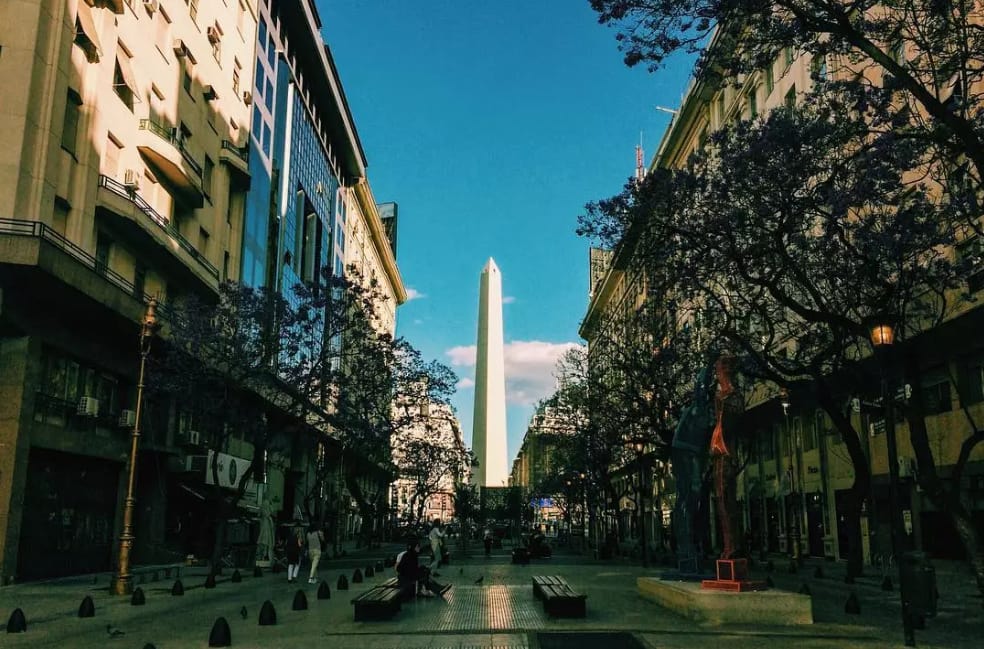 Brazil
Despite being a city with a frightening size and scary possibilities, São Paulo (#6) is perfect for those that want to do something different every day in Brazil. There's no chance of being "alone" if you're going to stay in a hostel, the usual crowd of people is way too animated to leave anyone out of the group! In addition to beautiful and award-winning parks the city maintains, there are other attractions like the famous bars in Vila Madalena, the Japanese culture of the Liberdade neighborhood and so much more!
Another city that leaves women tend to avoid is Rio de Janeiro (#7), both because of its history of violence and because it is a destination heavily focused on the beach, and Brazilian people have a culture (that should be changed) that's only associated or concerned with all things beach. Not so! Not only in the city of Rio but in the neighboring beach towns like Cabo Frio, Buzios and Arraial do Cabo for example, the number of incredible people you'll meet will only make you regret not having gone sooner!
The Northeast to is wonderful, but some places are a bit overcrowded like Bahia and Ceara. So why not choose destinations like Pernambuco and venture into the beautiful hostels of Recife (#8), for example? Famous for beautiful sandbanks, the only danger there is going to be coming in contact with a shark.
I also know people that are in love with Minas Gerais precisely for being a place that's only full of good people! Not just the capital, Belo Horizonte (#9), but mainly in the small touristic cities like Diamantina, Caete, and Ibitipoca.
After all, how can you not be happy every single day having the option to tour through the most beautiful caves in the state?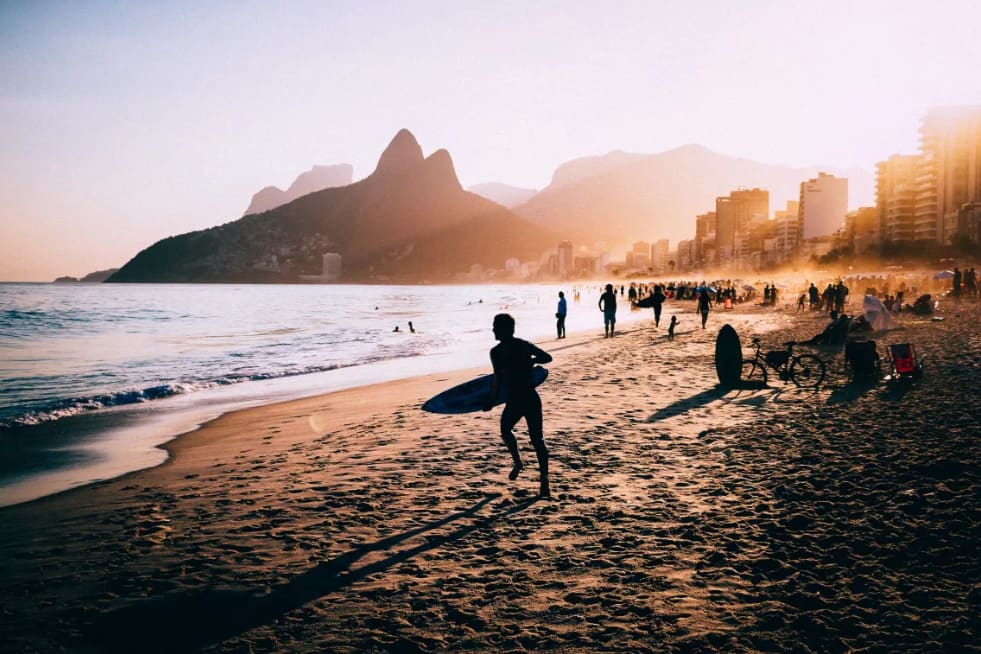 Chile
If you are still a little afraid to travel alone, know that Chile is the number one country for quality of life in South America, resulting in less street violence, less poverty, and more people ready to help.
Starting your trip in Santiago (#10) (like I did) is the perfect way to make you feel safer and learn how to observe and communicate more with people. Besides the beautiful snowy scenery, the hostels in Santiago are famous for the lively nightlife, so if you're looking for something along these lines, I definitely recommend you start here.
To take advantage of already being in Chile and see a stretch of San Pedro de Atacama (#11), the Chilean desert is also a great idea. Although the prices are a little higher, it's possible to balance out since you'll be volunteering in a fun hostel in a small city. There is zero violence there since about 90% of the people are tourists, 5% are backpackers spending the season there or even working, and the other 5% are native residents who are extremely grateful for tourists helping the economy so much.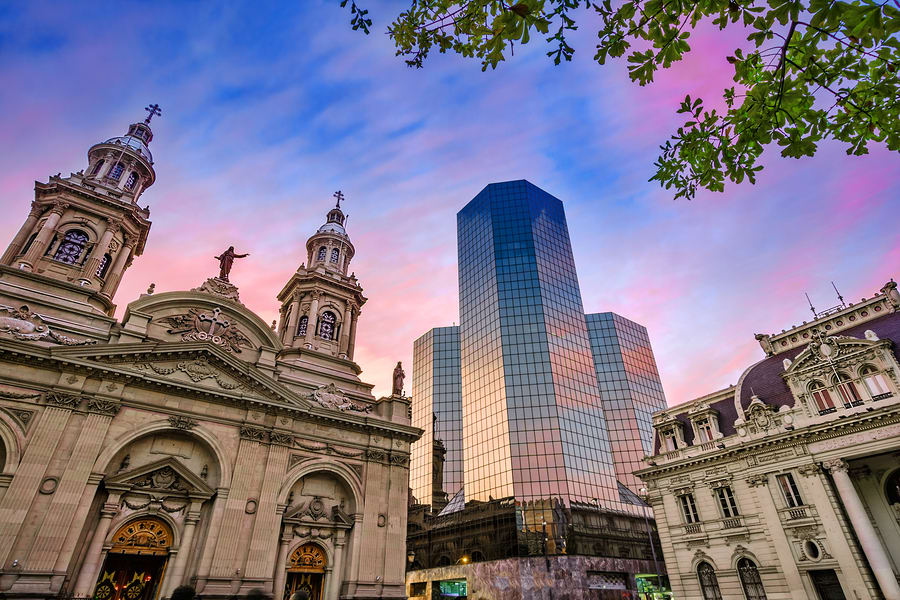 Uruguay
Another country that has a not-so-cheap cost of living is Uruguay, but what is expensive has to be beautiful right!
The capital Montevideo (#12) is full of awesome hostels to volunteer in. Not to mention that Punta del Este (#13), one of the most famous beaches in the country and in South America is also equally full of hostels for you to take your pick.
One month in this country is not enough to get to know the place, the people and beautiful accents there (be careful not to fall in love with the good-looking guys and womanizers, alright?). But you'll be back soon, addicted to the Uruguayan Mate ("Máte").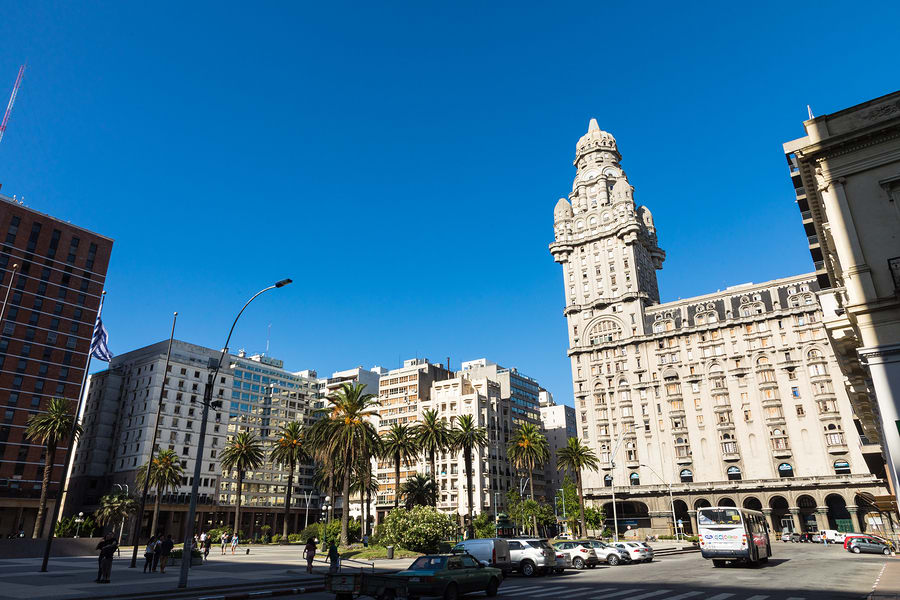 Bolivia
When we talk about Bolivia, the first place that comes to mind are the salt flats of Salar de Uyuni (#14), which is obviously beautiful and extremely touristy, but it's simply a place to take a tour.
A city well worth your money is absolutely Copacabana (#15), probably the most well-known beach in Bolivia with a simple region and population, but that has so much to teach. I'm sure it will warm your heart to talk with the inspiring women there. Also, if you are adventurous you can take a visit to Lake Titicaca.
Speaking of adventure, the capital La Paz (#16) is also full of attractions for women solo traveling in South America and that want to venture out on different tours. Leaving from there, you can go to the Valley of the Moon, with daily transport leaving from different points in the city, plus you can get close the Illimani Mountain with its snowy cap thanks to its 6,500 meters height - one of the most famous postcard scenes in the country.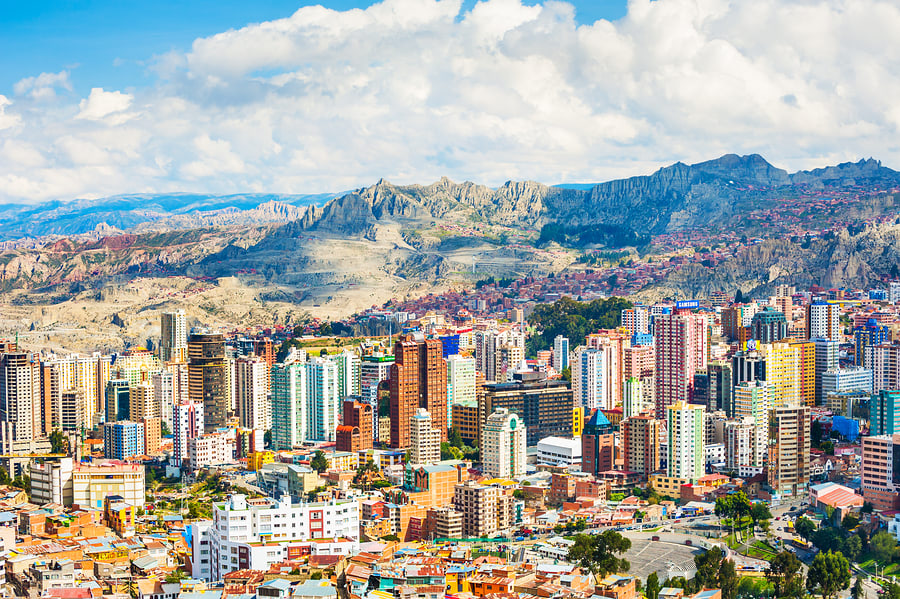 Peru
In Peru, things work a bit differently: in Lima (#17), I noticed that women take to charge a lot more than men in general, so I loved it. Despite the many curious glances I received, it was very clear that people were staring out of curiosity just because I was foreign (contrary to looks I got in Brazil just for being a woman). So it didn't bother me much. They are a people with very distinct looks, so I understand that any person that doesn't have the same genetics would obviously stand out.
Unlike in Cusco (#18), where most people are tourists and you barely see natives except for the people in the markets or selling things on the street. Cusco is also a super chill place to stay: the city has pure vibes that I never could describe here, but that touches everyone who visits. It's even pretty calm going out at night in the trendy historic center and coming back late without any problems.
Another equally tranquil city I really want to get to know deeper is Nazca (#19). Very mysterious because of the famous lines are drawn into the ground by ancient civilizations, the city has become a tourist attraction and cultural heritage site, so although being simple, the place is very receptive to tourists.
Check when is the best time to visit Peru before buying your ticket!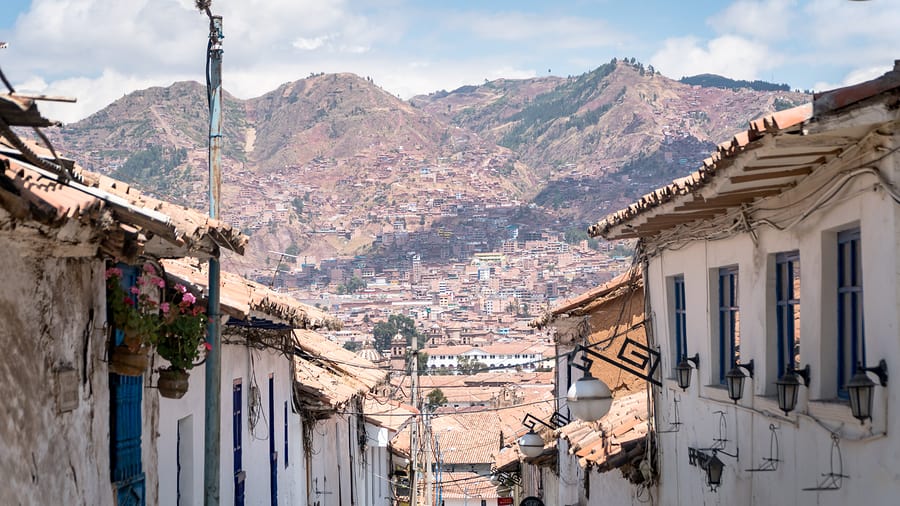 Ecuador
I had so many preconceived notions about Ecuador that I'm almost ashamed and embarrassed to write about this wonderful country.
I don't know why I thought it would be like a jungle, with native and primitive people and lots of bugs. To my surprise, when I arrived in Quito (#20) I discovered that the official currency was the dollar, a huge city, with everything in working order, yellow taxis and an American air that made my jaw drop in those first ten minutes.
Sure the country has a jungle and even jungle tours, but for those that don't want to take that risk, staying in the city is also an option! Besides, did you know it's possible to cross the country from one side to the other in just one day? Is it or is it not the cutest country in South America?
Before travelling to Ecuador, you should read this guide about the best time to visit Ecuador.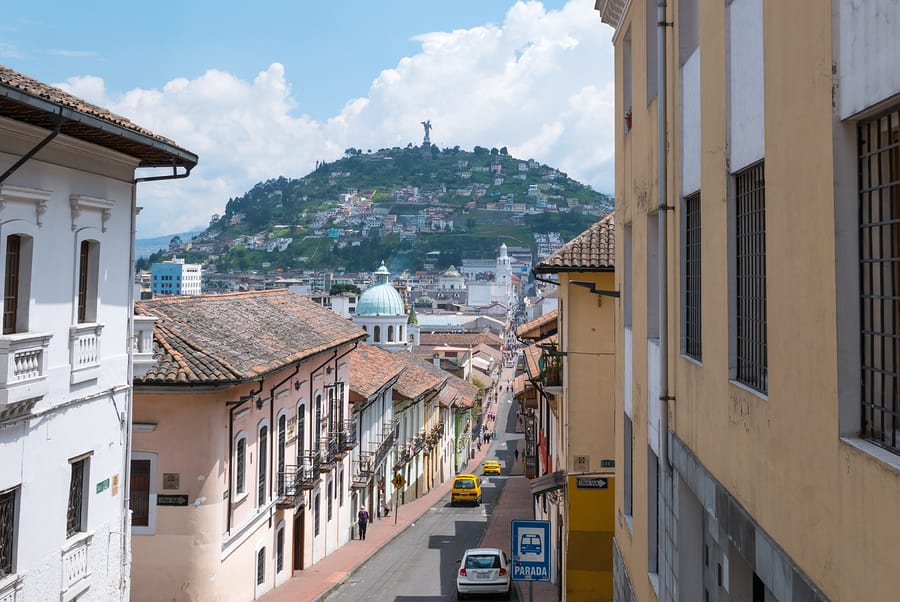 Experiences like this serve to show that our fears are often so silly that we can even miss out on the opportunity to make new and incredible friends and get to know places that can teach us so much.
Of course, it's always good to be alert in these situations at first glance, but the idea is to trust your own intuition, our senses are never wrong, it's just sometimes our survival instincts can get a little carried away.
Hopefully, now you are one step closer to do your solo travel through South America. If you're still unsure, you can always start your adventure in one of these top 10 safest countries for women traveling.
Also, remember that you'll never be completely alone.