12 unique and unforgettable things to do in Guatemala
Guatemala offers more cultural and historical attractions than almost any other country in Central America. Discover the 12 best things to do in Guatemala, perfect for adventurers and budget travelers.
19min
Trying to plan a trip to Guatemala?
Feeling overwhelmed at the amount of things to do in Guatemala and struggling to pick the best ones?

You're not the first one to go through this. Guatemala is one of those countries that seems small and straightforward, but once you actually research it you realize it is pretty big and extremely diverse.
It has a wide variety of natural beauty and a thriving Mayan culture, so connecting with nature and immersing in local culture are the top things to do in Guatemala.
For any travelers looking for a bit of insight into this colorful Central American country, this article is for you. In addition to listing and describing the best things to do in Guatemala, I'll explain how to get around the country as well as provide some budget travel tips throughout the article.

Why you should travel to Guatemala
Some say Guatemala is the most diverse country in Central America.

Its landscape ranges from active volcanoes and mountains, to gorgeous beaches and coastal towns, to big cities and tiny villages, to lush rain forest and ancient Mayan ruins. The country is physically stunning, with different spectacular sights of natural beauty scattered all over the place.
Aside from the tangible beauty of Guatemala, the local culture brings history, traditions and a zest for life to the communities around the country. From the colorful woven clothing, to the Mayan rituals and languages, to the majestic churches and traditional markets, every local town in Guatemala is insightful and fascinating for curious travelers.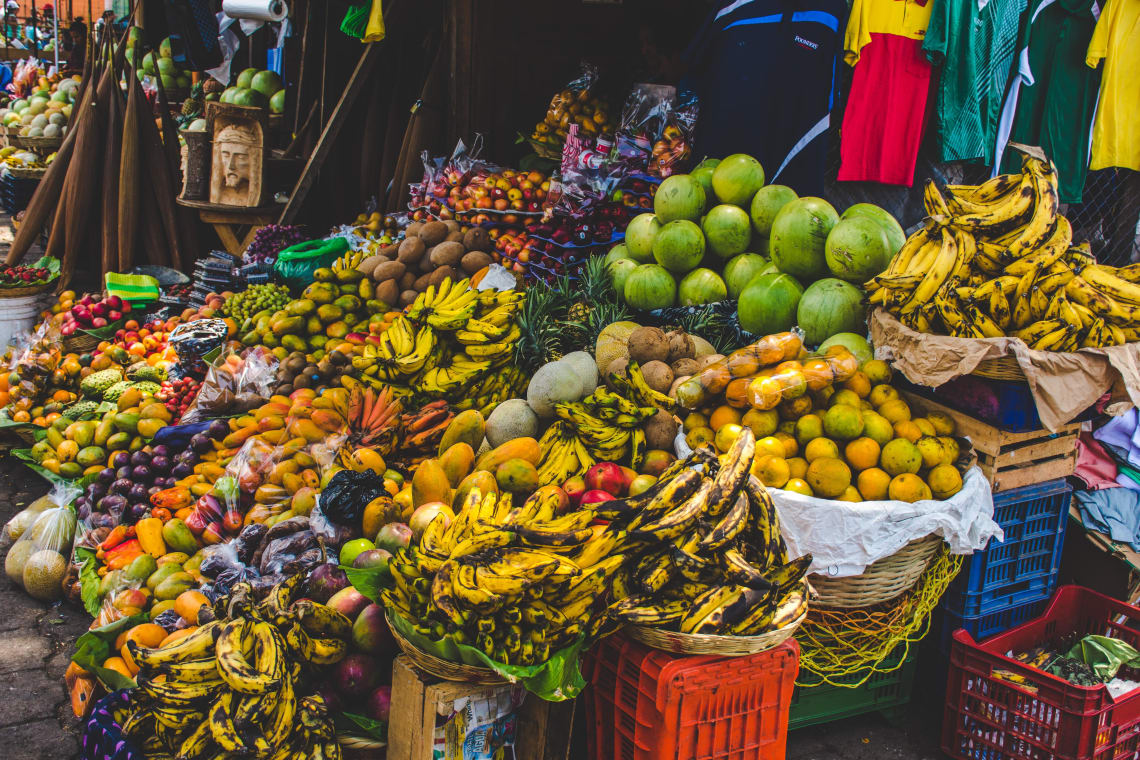 So whether you are backpacking or volunteering in Central America or simply flying in and out of the country for a quick, culturally enriching trip, definitely make a spot for Guatemala on your travel bucket list.
Luckily for budget travelers, Guatemala is a very affordable destination. Before listing the best things to do in Guatemala, I'll briefly describe how to travel around the country on a budget. That way, you understand the different methods of transport and what they cost, and you can plan your journey accordingly.
And if you are concerned about safety, check the article Is it safe to travel to Guatemala? for more details.
Transportation in Guatemala
Getting around Guatemala is very straightforward and cheap. If you are traveling overland, there are buses and shuttles to every destination in the country and they are never too expensive.
Here is a breakdown of the different ways to travel around Guatemala.
Chicken Buses
Chicken buses are a popular method of transport for the locals and some travelers like to have this experience. Chicken buses are old recycled school buses from the USA that have been repainted and transformed into local transport.
This is the cheapest way to travel around Guatemala, though it isn't the most comfortable. There is no maximum capacity for chicken buses so you can be crammed in between huge crowds, and they usually take longer to reach your destination because locals stop anywhere they want.
Shuttle Buses
Most travelers prefer taking shuttle buses. These small buses or mini vans are faster than chicken buses and though they are a bit more expensive, they are still overall very affordable.
For example, a three hour shuttle bus from Antigua to Lake Atitlán costs around 75 Q ($9), and an eight hour shuttle bus from Lake Atitlán to Semuc Champey costs around 200 Q ($26). Given the comfort of the shuttles and the distances they cover, the prices are amazing.
Tuk Tuks
In any given destination, you can take tuk tuks to travel short distances. Usually you can walk everywhere, but if you want to get home quickly after a long volcano hike or after a fun night of partying, a cheap, 10 Q ($1.30) tuk tuk ride can be a life saver.
Air Travel in Guatemala
If you are just flying in and out of Guatemala, you can find very cheap flights into La Aurora International Airport in Guatemala City.
Most travelers skip Guatemala City, the capital of the country, because it's a bit overwhelming and crowded and not as impressive as Guatemala's other gems. But I know plenty of people who enjoyed the city, so it's up to you if you want to stay or not. Otherwise, the city is only useful for flying in and out of the country.
There are a few other small airports around the country, but the cheapest way to get around is just flying in to Guatemala City and taking shuttle buses to other destinations from there.
Once you understand how to travel around Guatemala, you can start planning your adventures!
There are so many fun things to do in Guatemala that it can be hard to plan a trip. The amount of things you can do depends on how long you have in the country. All the major attractions that I'll list are quite spread out and it can take a full day to get from one place to the next.
Just research the travel time between attractions and try not to spread yourself too thin. Even visiting just one of the places I mention will give you an incredible experience, so pick the attractions that intrigue you the most and really enjoy them.
If you want an even deeper cultural experience, try traveling with Worldpackers exchange experiences in Guatemala. You can stay in one place for a couple weeks, live with locals for free and learn new skills while working in fun and interesting jobs.
So whether you have a month or more to really experience the culture and travel all around the country, or you're just stopping by and are trying to pick the best place to go, I hope this article is helpful!
Here are the best things to do in Guatemala for travelers on a budget.
12 best things to do in Guatemala
Sightsee in Antigua
Hike a volcano
Explore Lake Atitlán
Visit Xela (Quetzaltenango)
Shop at Chichicastenango Market
Surf in El Paredon
Experience bliss at Semuc Champey
Marvel at the Mayan Ruins of Tikal
Experience a melting pot of cultures In Livingston
Explore the wilderness near Rio Dulce
Learn Spanish
Try a Worldpackers experience
---
Top things to do in Guatemala
1. Sightsee in Antigua
Very few travelers leave Guatemala without having stopped in Antigua. This used to be the capital city of Guatemala during colonial times, but the capital was moved to Guatemala City in 1773 after a massive earthquake struck Antigua. Despite the destruction, Antigua still has many architectural remnants of its past significance.
There are so many things to do in Antigua, Guatemala that are historically insightful and affordable. Sightseeing is the best way to explore Antigua and see its colonial past with your own eyes. Noteworthy sights include the Santa Catarina Arch, Iglesia de la Merced, and the hilltop viewpoint, Cerro De La Cruz.
See the remnants of the 1773 Earthquake by visiting the Ruins of the Church of Candelaria, the Ruins of Santa Rosa, and Capuchins Monastery. You can also visit the local market for cheap produce, tour the Chocolate Museum, relax in the Central Park, and simply wander through the streets admiring the majestic, European like architecture.
Antigua is a great starting point for a trip to Guatemala.
There are countless cheap backpacker hostels and the city is small enough to enjoy on foot. All amenities you may need, like banks, ATMs and currency exchanges, or medical centers and pharmacies, are within reach in Antigua.
Be sure to check out Worldpackers exchange opportunities in Antigua before planning your trip.
Budget Travel Tip for Antigua:
Check if your hostel has any special deals and discounts around town. There are too many good hostels in Antigua to list, but most of them offer discounts at partnering bars, cafés and restaurants and sometimes discounts on tours as well.
2. Hike a volcano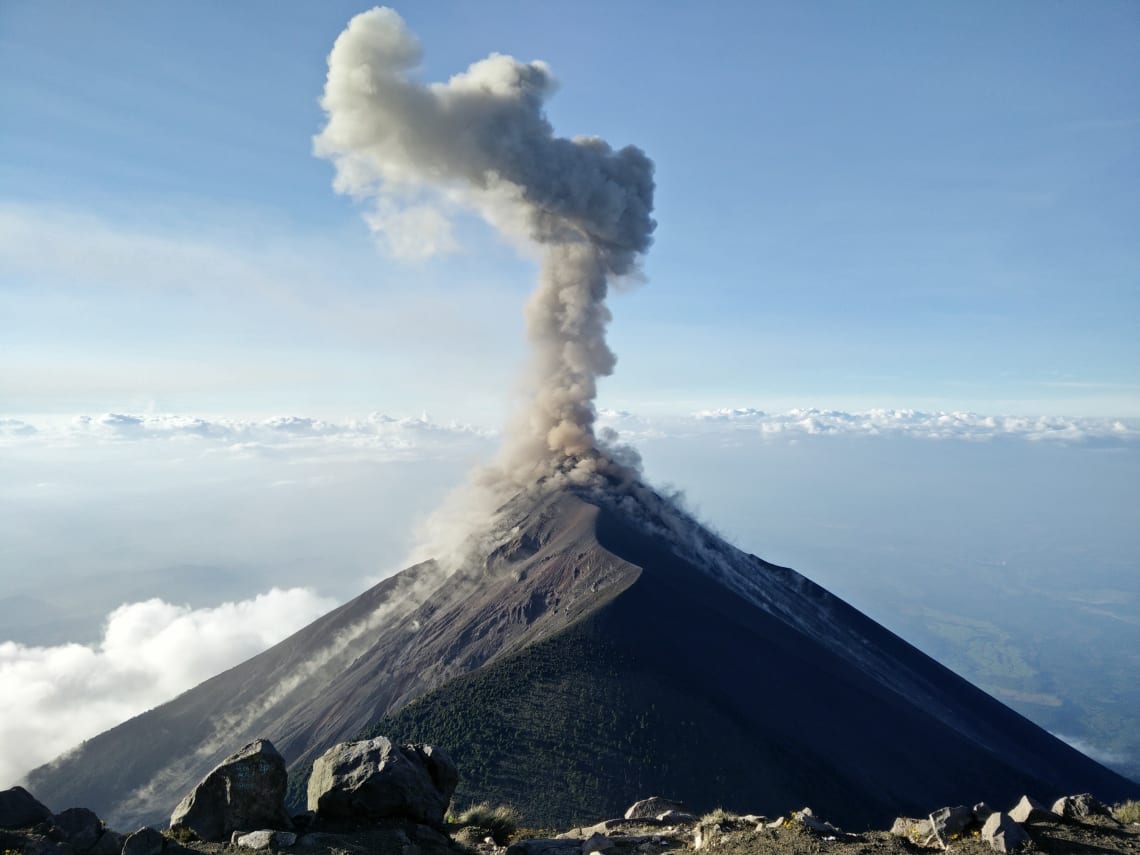 Because Guatemala is located on the verge of two tectonic plates, the shifting of these plates over the years has caused the Earth's surface to bend and shape into amazing formations. Nowadays, Guatemala has about 37 volcanoes, three of them active. This makes for some incredible hiking opportunities and breathtaking natural scenery.
Obviously there is no shortage of volcano hikes to do in Guatemala. I'll list a few of the most popular ones for those adventurous travelers who love a challenge.
Volcán Tajumulco
Volcán Tajumulco is the highest volcano in Guatemala, and in all of Central America.
It stands at a whopping 4,220 meters tall, so you may want to spend a few days in mountainous areas before you hike so your body has time to adjust to the altitude. The hike up Volcán Tajumulco actually starts at around 3,000 meters above sea level, so you don't have to climb the entirety of the volcano to reach the summit.
You can hike in one day, though it is recommended to do an overnight hike so you don't need to rush and you have more time to enjoy the views. The closest city to Volcán Tajumulco is Xela, also known as Quetzaltenango, so you can start your hike from here (I'll discuss Xela in more detail later on).
There is no official entrance fee for this volcano, so it is great for budget travelers!
Volcán Acatenago
Another popular volcano hike to do in Guatemala is Volcán Acatenago, which stands at 3,975 meters tall.
This hike can also be done in one day, as it takes about 5-6 hours to reach the summit from the start of the hike. The starting point of the hike is about a 1 hour drive from Antigua. But most people opt for an overnight hike, because at night time you can see Volcán Acatenago's neighbor, Volcán Fuego erupting and spewing lava in the distance.
If you have your own camping gear you can do the hike yourself and just pay the 50 Quetzales entrance fee. Most travelers in Central America don't have tents, sleeping bags and winter clothes with them, so you can always book an overnight tour with a local company that provides these things. It can get extremely cold sleeping atop a volcano at night, so definitely make sure you are prepared.

Budget Travel Tip for Hiking Volcán Acatenago:
The cheap overnight tours go for around 200 to 300 Q, but their food and equipment isn't as high quality as the more expensive tours that cost 400 Q. Because the hike is very challenging and it gets really cold, it can be smart to use the pricier tour companies. The price isn't too much higher and in this situation, spending a bit more money for a better experience is actually worth it.
Don't miss out: What is like to hike an active volcano in Guatemala? The Acatenango experience.
Volcán Pacaya
If you are staying in Antigua and want to do a less extreme volcano hike, you can also hike Volcán Pacaya.
At 2,552 meters tall, you can only hike this volcano with a guide because it is still active and had a big eruption in 2010. Backpackers still hike the volcano every day, but having a local guide with you ensures you feel safe.

Hiking Volcán Pacaya can be done in one day so you don't need to camp overnight, and at the top you can roast marshmallows over the heat of the volcano.
Volcán San Pedro
The last noteworthy volcano hike in Guatemala that I will mention is Volcán San Pedro, located in Lake Atitlán.
Hiking up Volcán San Pedro, which stands at 3,020 meters tall, will bring you through thick jungle for about three hours. You can hike with or without a guide, but the entrance fee is 100 Quetzales and it usually costs the same to hike with a guide so you might as well have an experienced local with you.
There are plenty of other volcanoes to hike in Guatemala, but I'd say these four are the best.
Tajumulco and Acatenango are fitting for the more experienced hikers who want a challenge, and Pacaya and San Pedro are fitting for those who want an adventure that isn't as tiring.
3. Explore Lake Atitlán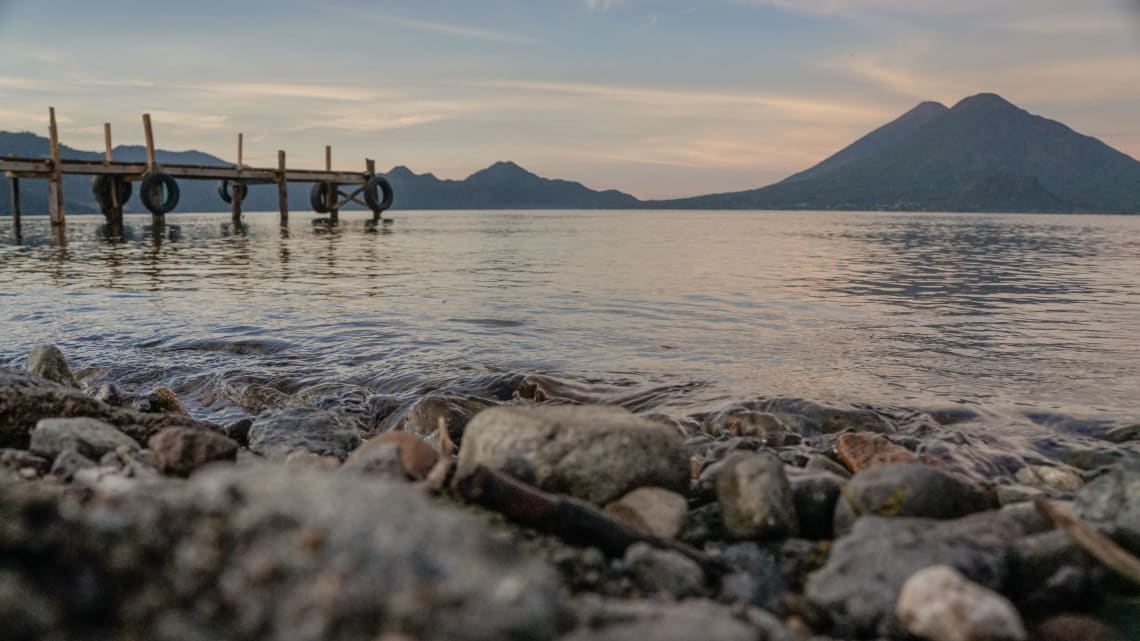 Lake Atitlán has a thriving sense of Mayan culture and an abundance of natural beauty, so exploring here is definitely one of the best things to do in Guatemala.
Take the local boats from town to town to soak in the lifestyle. Must-see towns in Lake Atitlán include Panajachel, which has the best local market, San Pedro, which has an amazing lookout and lots of backpackers, San Marcos, which has many yoga retreats, health food stores and spiritual centers, and San Juan, which has vibrant street art and lots of local handicrafts.
These four towns are quite touristy, but worth it. To witness the more local side of Lake Atitlán, venture to smaller towns such as Santa Catarina, San Antonio, Santiago Atitlan and Santa Cruz.
You can also get active while exploring Lake Atitlán. Paddle board, kayak, wake surf or cliff jump in the lake. Go paragliding over the lake or zip lining in the Nature Reserve. Hike one of the three volcanoes surrounding the lake, or embark on a sunrise hike up the small mountain known as Indian's Nose.
There is no shortage of fun things to do in Lake Atitlán. I recommend staying for at least three days, though a week is more ideal for full enjoying everything the area has to offer.
Worldpackers offers several incredible experiences around Lake Atitlán, like the opportunity to work for an NGO in Santa Cruz, work in hostel management in San Pedro La Laguna, help run an eco hotel in San Juan La Laguna, and more.
Budget Travel Tip for Lake Atitlán:
While walking to the boat dock to take the water taxis in between towns, don't let any local guys walk you there. They'll tell you the boat is more expensive than it is, and keep a commission for themselves. The boat docks are very easy to find yourself so you don't need someone to take you.

Just ask around or research online what the boat price between towns should be, and double check with the boat driver before you pay that he is charging you the right price.

Also keep in mind, locals pay less than tourists for boat rides. This isn't unfair, it's just that the locals ride the boats every day for work and don't need to pay as much as travelers just passing through.
4. Visit Xela (Quetzaltenango)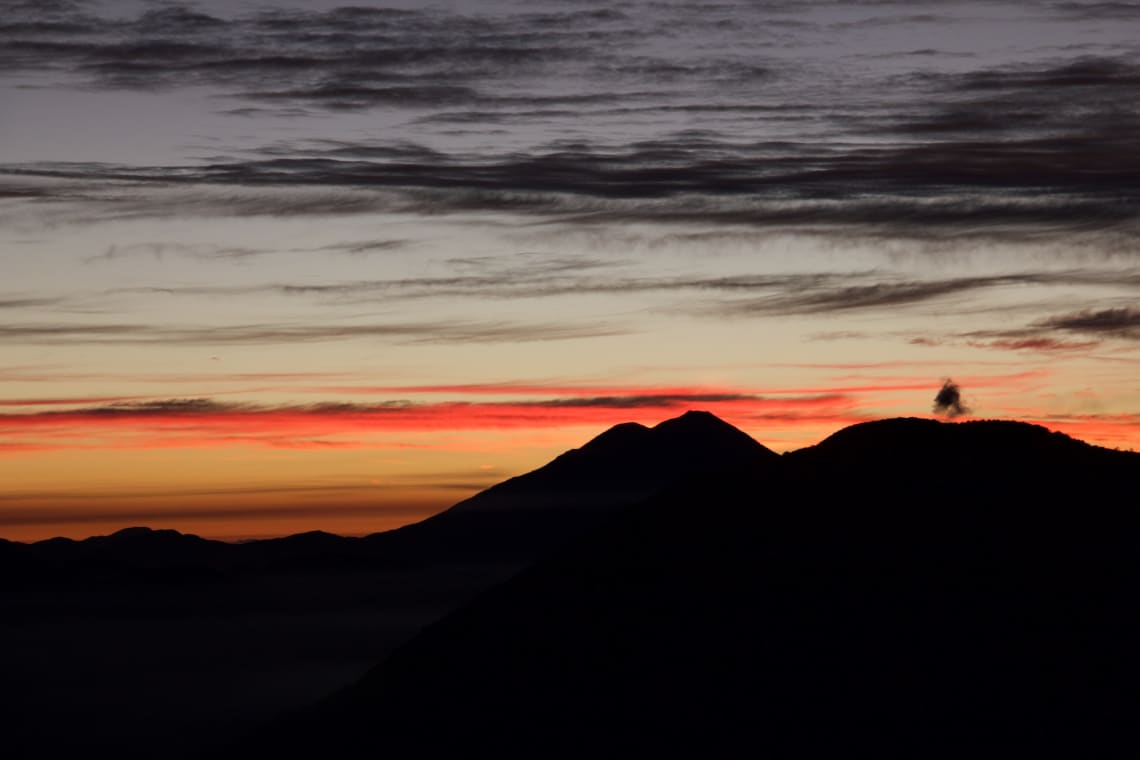 As I mentioned earlier, Xela is the perfect town to begin a hike up Volcán Tajumulco. But visiting Xela is also a great gateway into authentic Mayan culture. Quetzaltenango is the town's colonial Spanish name, but Xela is its Mayan name. So most locals will call it Xela, pronounced "Shay-lah."
As Guatemala's second largest city, there are so many things to do in Xela. After hiking a volcano, relax in the hot sulfur springs known as Fuentes Georginas or venture to the massive crater lake known as Lake Chicabal.
Aside from these natural wonders, Xela is mostly known for its culture. There are lots of churches in town that showcase the strong Catholic faith in Guatemala, including the Quetzaltenango Cathedral. Take a short bus ride outside the city to visit the colorful church known as San Andres Xecul.
Spend the rest of your time in Xela visiting local markets, eating traditional food and practicing your Spanish. You don't need to spend more than a day or two here, but it is conveniently located near Lake Atitlán and Chichicastenango Market so it can fit nicely into a trip around Guatemala.
Check out Worldpackers exchange experiences in Xela to explore all that this unique cultural hub has to offer.
5. Shop at Chichicastenango Market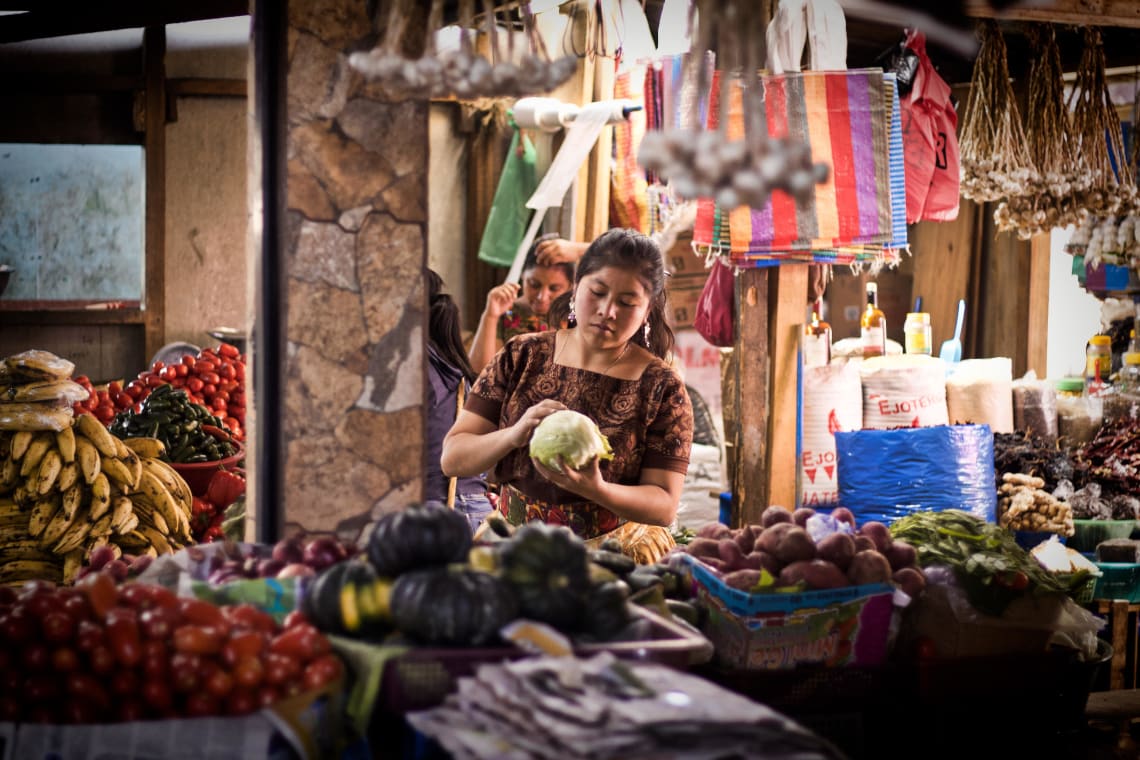 Located about two hours away from Xela, Chichicastenango Market is one of the best things to do in Guatemala to enjoy the traditional Mayan culture. This is one of the largest markets in all of Central America and is open on Thursdays and Sundays. There are plenty of shuttles here to and from surrounding towns in Xela and Lake Atitlán, or you can take a chicken bus with the locals.
Once you arrive in Chichicastenango, spend hours wandering through the gigantic outdoor market. You can find ready to eat local meals, fresh produce and other food items in addition to all the local handicrafts. If you want some authentic Mayan souvenirs to take home after traveling Guatemala, this is the place to buy them.
Every piece of clothing, every handbag or wallet and every hat or accessory is delicately woven with beautiful, colorful threads. The crafts here are truly stunning, and it is amazing to see how the locals make a living off of selling their art to tourists.
6. Surf in El Paredon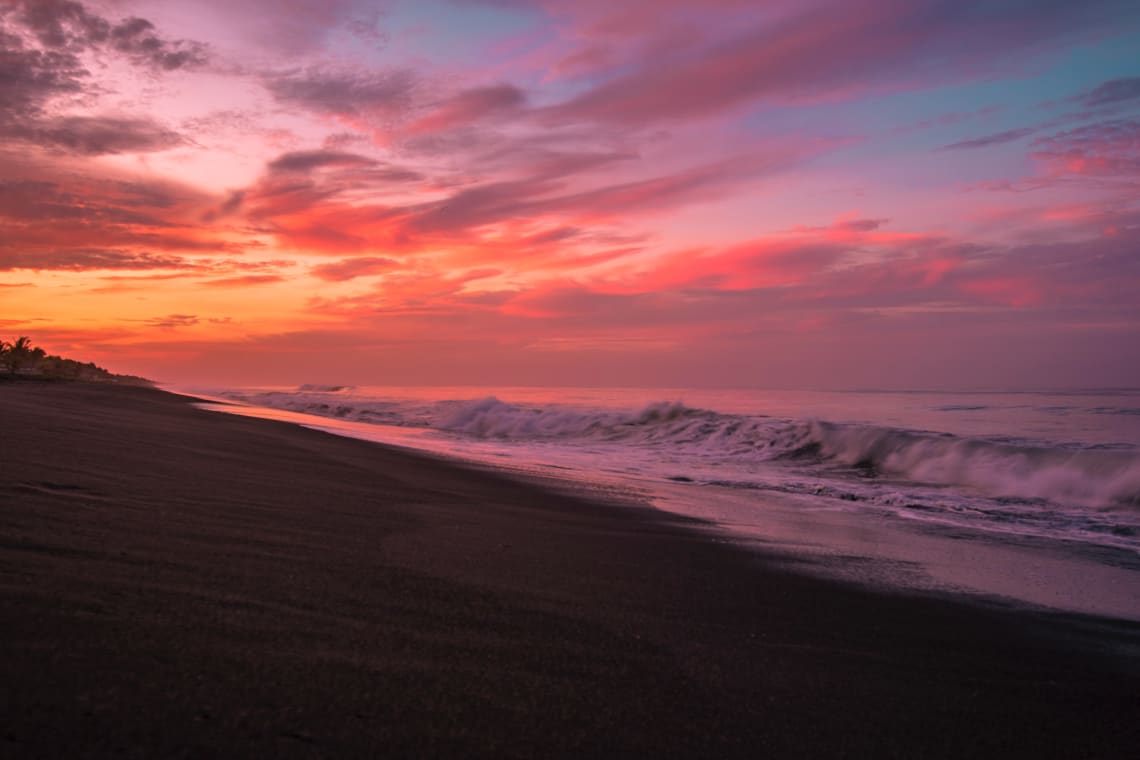 After hiking and experiencing the culture inland, head to Guatemala's coast for some sunbathing and surfing. You can take chicken buses or direct shuttles to this small town on Guatemala's Pacific Coast, and stay in a cheap beach hostel when you get there.
El Paredon is the perfect place for people who want a break from the hustle and bustle of traveling. There isn't a lot to do in El Paredon besides spend quality time with the ocean, but a few days of soaking in the sun on a pristine beach is amazing for the soul.
Surfers flock to El Paredon for the fun waves, and beginners can take surf lessons and learn how to ride the waves. As the beach faces west, you can also catch some beautiful sunsets from here.
One of the best things to do in El Paredon besides surfing is watching the turtles hatch, as this is one of the few places where lots of turtles lay their eggs. From June to November you can watch the baby turtles hatch and head for the sea, which is an adorable and magical sight.
Be sure to check out Worldpackers experiences in El Paredon before planning your surf trip!
7. Experience bliss at Semuc Champey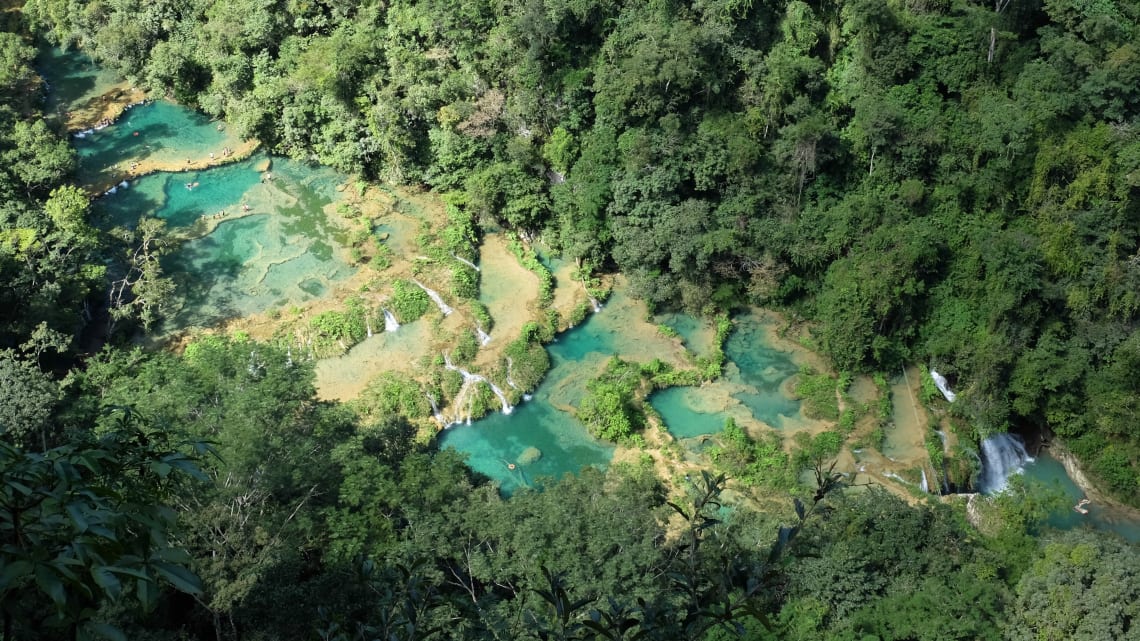 Deep in the jungle of Guatemala lies Semuc Champey, a series of natural pools filled with crystal clear waters. It is a marvel to look at and a true joy to swim in.
Getting to Semuc Champey is no easy feat. It is located in a very remote area with virtually nothing else around it. You can take a shuttle bus from most other destinations, like Rio Dulce, Flores, Antigua and Lake Atitlán. But the drive is at least 8 hours from all of these places and most of the roads are unpaved and bumpy.
Most shuttles drop travelers in Lanquín first, the closest actual town to Semuc Champey. You can either book accommodation in Lanquín and take a public bus to Semuc Champey, or you can stay overnight in one of the hostels and lodges close to the pools. I recommend staying as close to the pools as you can, so all you have to do is wake up and walk to this gorgeous natural attraction.
It costs 50 Q to enter Semuc Champey, and inside the park you can hike up to the viewpoint and spend the day swimming and sunbathing. You don't have to book a guided tour, but if you do they may include tubing down the river Cahabón.
For 75 Q you can also enter the nearby caves for swimming and exploring. Most guided tours also include the caves.

If you want to take your time in this incredible destination, Worldpackers offers several dreamy experiences in Semuc Champey.
Budget Travel Tip for Semuc Champey:
There are no shops in Semuc Champey, so I recommend bringing your own water and snacks for the day. Most hostels and hotels have their own restaurants and bars, but the food is way overpriced and usually not that great. Just save the money and buy your own food from the supermarket before you leave for Semuc Champey.

8. Marvel at the Mayan Ruins of Tikal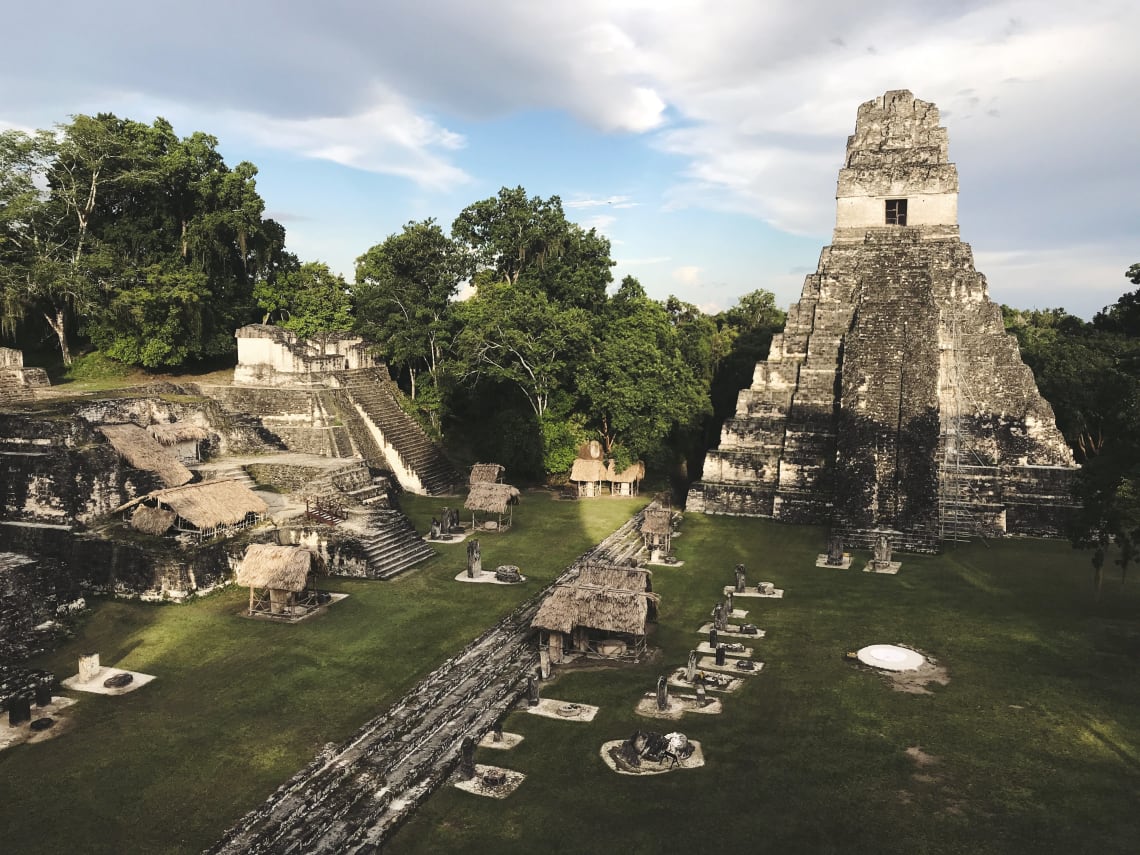 One of the best things to do in Guatemala that attracts travelers all year round is the marvelous Mayan Ruins of Tikal. Also located kind of in the middle of nowhere, Tikal is quite far from all the other attractions I've mentioned so far.
The closest city to Tikal is Flores, which is still about a one hour drive from the ruins. But if you are backpacking through Guatemala and have the time to spare, venturing up here is definitely worth the travel time.
Similar to other famous Mayan Ruins like Chichen Itza or Teotihuacan in Mexico, Tikal offers the same magnificent ancient architecture and sense of history with far fewer crowds. Though it has been a UNESCO World Heritage Sight since 1979, Tikal is still not as well known as Mexico's Mayan Ruins, so it is a great place to step back into history without fighting through crowds of tourists.
You can visit Tikal with or without a guide. Having a guide can help you navigate your way around the massive grounds and learn more about the significance of the ruins, but going without a guide allows you more flexibility and saves you a bit of money.
It costs 150 Q to enter Tikal, but make sure you bring enough cash to last your trip because there are no ATMS in Tikal. Make sure you have your passport as well because you need it to buy a ticket.
The ruins are open from 6 am until 6 pm, and if you show up early you are more likely to have the place to yourself. I also recommend bringing your own water and snacks for your day if exploring as there is only one restaurant/convenience store near the entrance that is overpriced and crowded.
There are plenty of budget accommodation options and Worldpackers experiences in Flores, you just have to travel to the ruins on the day of exploring. You can also stay in a hotel right at the entrance to the ruins but it costs a bit more than a cheap hostel in Flores.
Budget Travel Tip for Tikal:
If you have camping gear, you can camp close to Tikal if you want to save a bit of money on accommodation. Just beware of how hot the temperature can get; it is the middle of the jungle after all.
9. Experience a melting pot of cultures in Livingston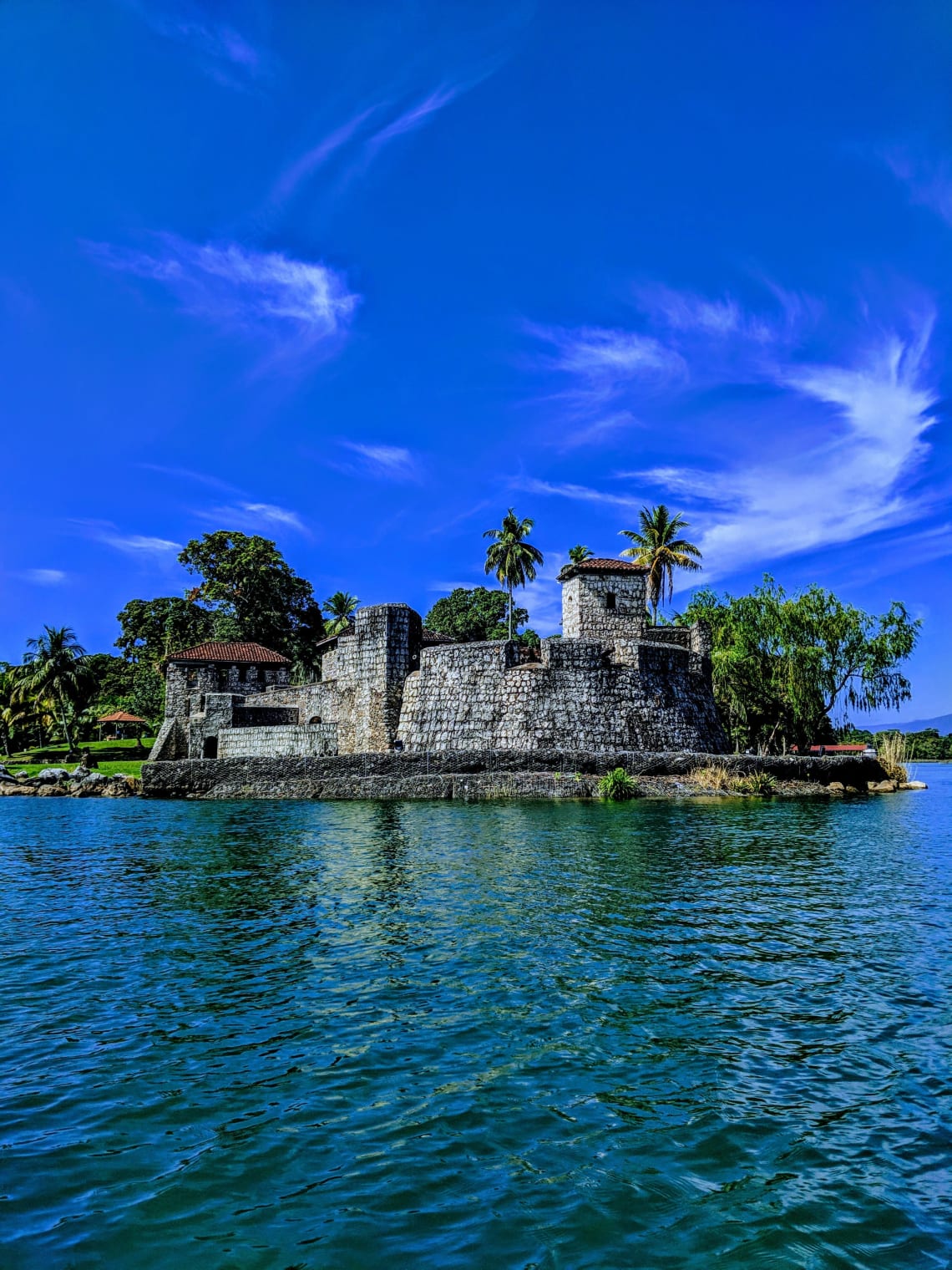 As a very unique destination in Guatemala, Livingston serves as a cultural blend of Guatemalan, African and Caribbean. Set at the mouth of the Rio Dulce River on the Caribbean Sea, this city has a vibrant culture and a laid-back but welcoming vibe.
Located all the way on the east coast of Guatemala, Livingston makes a convenient stop for travelers traveling to and from Honduras or Belize. But you can only reach Livingston by boat from Rio Dulce or Puerto Barrios, as it is located on a peninsula. This just makes the isolated culture even more special.
The local culture in Livingston is a mix of African, Caribbean and Guatemalan. Centuries ago a ship carrying slaves from western Africa crashed near the Caribbean island of St. Vincent. Since then, this Afro-Caribbean culture was displaced due to European colonists and planted its roots in Central America, where the unique culture continues to develop.
Nowadays, these multicultural people are known as Garifuna, and they have their own distinct cuisine, music and dance, language and lifestyle. Be sure to try gifiti, the local rum, and tapado, a local stew with seafood and coconut.
Explore the natural beauty of the area by visiting Punta de Manabique, a famous place for birdwatching and spotting other forms of jungle wildlife like monkeys, jaguars, iguanas, turtles, reef sharks and crocodiles. You can also walk along the beach for about an hour to reach Los Siete Altares, a series of low lying waterfalls and natural pools perfect for swimming, relaxing and connecting with nature.

10. Explore the wilderness near Rio Dulce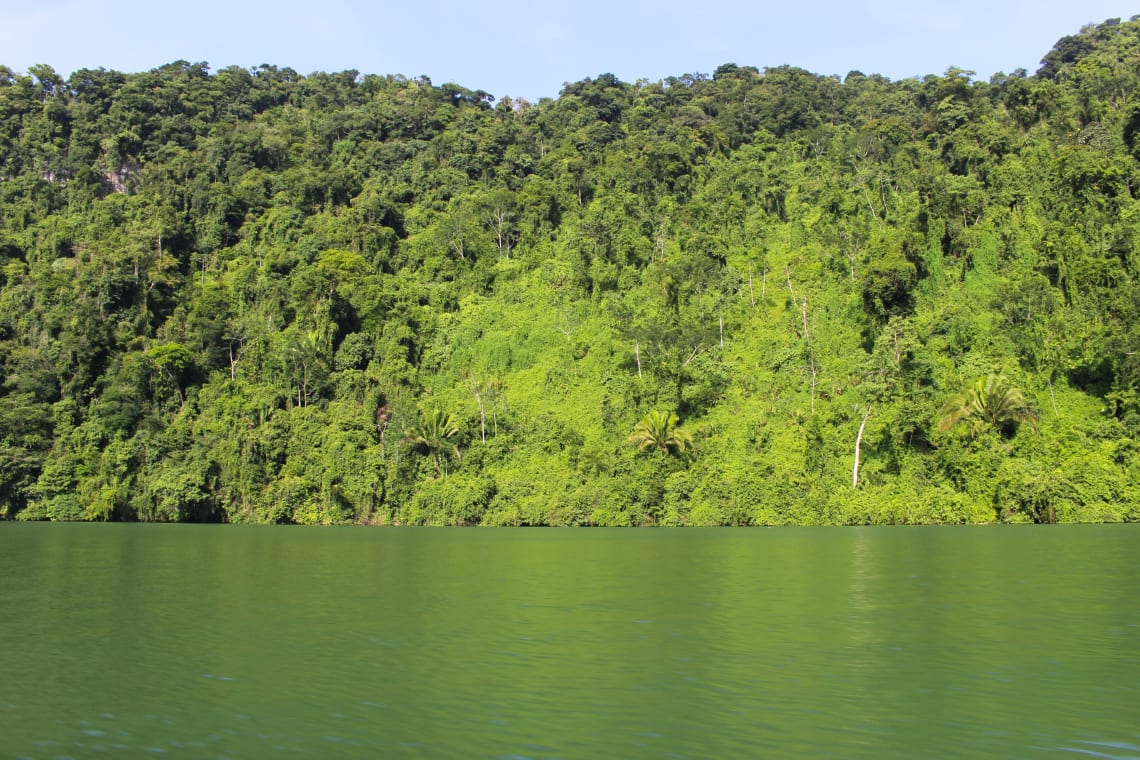 Rio Dulce, which literally translates to "Sweet River," is a river in eastern Guatemala that starts near Livingston and runs inland. The dense jungle that surrounds the river provides endless opportunities for adventure. Travelers can enjoy Rio Dulce by exploring the wilderness and taking day trips to the majestic natural wonders around the river.
For example, you can take a boat ride though the impressive El Boqueron Canyon for only 20 Q or bathe in the natural hot springs of Finca Paraiso for only 10 Q. Because these attractions are made in nature, the admission fees are very cheap so travelers on a backpacker budget can easily afford these activities.
You can also explore the Rio Dulce National Park, which is free to enter. In the park you can rent kayaks, hike to little villages, swim, relax and soak in the serenity of nature.
For 20 Q, you can enter the Castillo De San Felipe. This old fortress was built by the Spanish during colonial times to protect their important trading port along the river. Now it is a cool piece of history that tourists can visit in the midst of the Guatemalan jungle.
11. Learn Spanish
A great way to experience a culture is to learn a language while traveling.
Learning a bit of Spanish is one of the best things to do in Guatemala because it allows you to connect more with the locals. It also makes traveling easier so you can ask necessary questions, read street signs, bus schedules and menus, and navigate your way around the country better.
Antigua is probably the most popular place to study Spanish in Guatemala. There are tons of affordable Spanish schools, with Antigüeña Spanish Academy and Don Pedro de Alvarado Spanish School, being two of the best.
Xela is another great place to study Spanish, as it is a very local community so you will be surrounded by more native speakers than in Antigua. But you can also find Spanish schools in Lake Atitlán and Flores.
12. Try a Worldpackers experience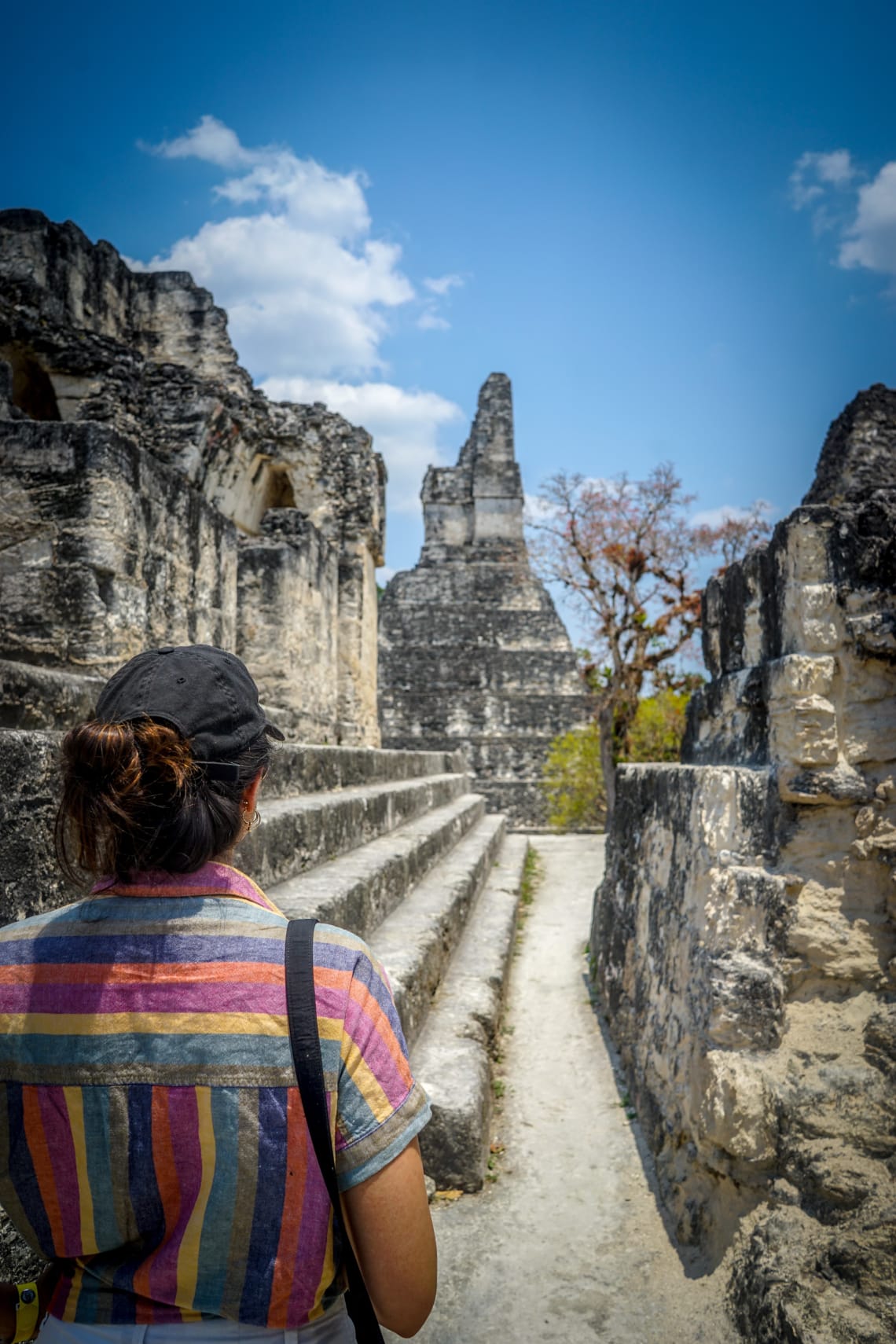 Doing a work exchange is an amazing way to save money while traveling in Guatemala. If you live and work with locals, you can also improve your Spanish and learn more about the Mayan culture.

There are work opportunities scattered all over the country, just begging for budget travelers to come have an incredible experience.
For example, you can spend more than just a day in Guatemala's famous turquoise pools by working for various Worldpackers hosts in Semuc Champey. You can bartend at a hostel, work as a yoga teacher, help out on a cacao farm, or volunteer as an event coordinator, all within the beautiful jungle surrounding one of Guatemala's best attractions.

If you are venturing up north to explore Tikal, why not spend more time volunteering in Flores so you don't have to rush to explore the ruins? There are lots of Worldpackers exchanges in Flores that cater towards the tech-savvy, including using photography and social media skills at a hostel, working as a web developer, and helping out with SEO and online marketing.
Want to spend more time surfing and enjoying the beach life in El Paredon? Volunteer in a beach front hostel for a few weeks.
Want to dive deeper into the local culture of Xela? Help out with basic cleaning, housekeeping and reception in a hostel there. If you have a few months to spare, try working as a volunteer hiking guide in the Guatemala Highlands near Xela.
If you want to hang out in the beautiful Lake Atitlán for longer, there are plenty of work exchanges there as well. Help out a local NGO in Santa Cruz La Laguna with videography and photography, or assist an eco hotel in San Juan La Laguna with reception, cleaning and gardening.

All of these work exchanges allow travelers to either develop and practice existing skills or learn new skills.
Travelers can save money by earning their own free accommodation, and they can spend more time exploring and getting to know these stunning areas of Guatemala.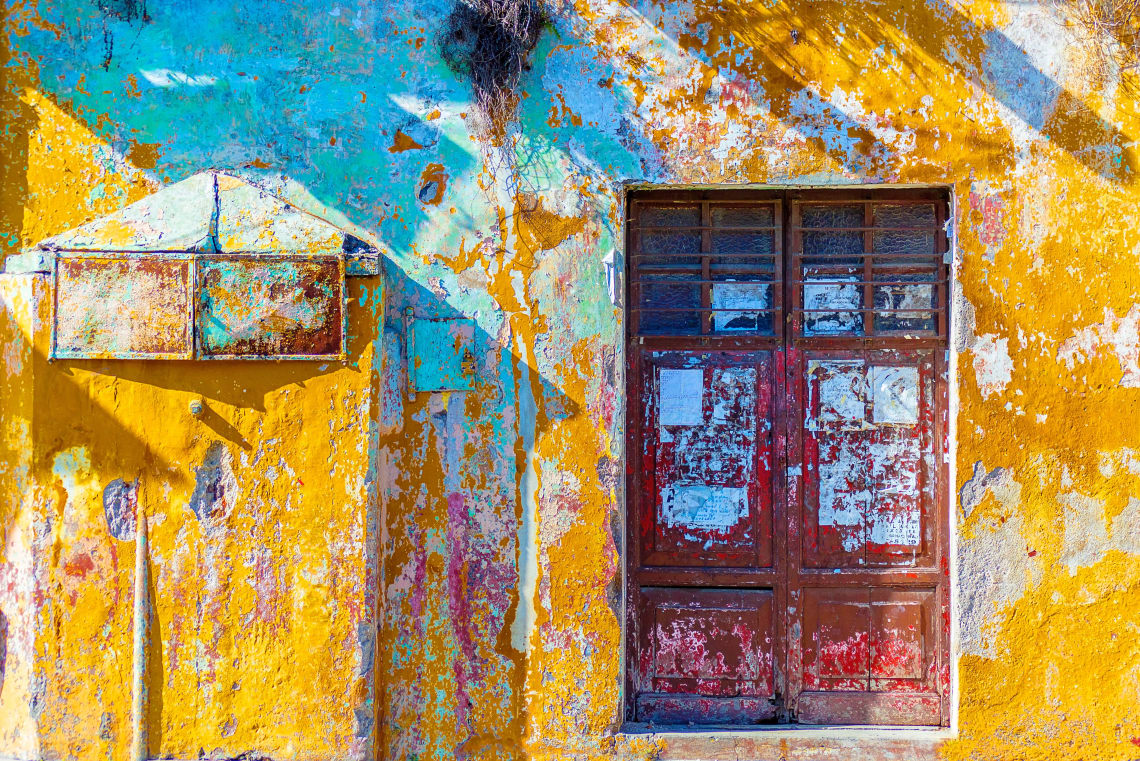 So those are the 12 best things to do in Guatemala!
Adventure around freely and explore everything Guatemala has to offer, or slow travel and live in the unique culture by working with a Worldpackers host.
Whatever you choose to do, I am sure that Guatemala will amaze you.