The best things to do in Montenegro: Backpacking the Balkans
The Balkans is quite possibly one of the most beautiful yet underrated regions of Europe. Let's dive into the best things to do in Montenegro.
9min
Directly translating to Black Mountain, Montenegro is a tiny country with a population under 700,000 but offers limitless views and activities for tourists to explore.
Located in the Balkans of Southeastern Europe bordering Albania, Croatia, Bosnia, and Serbia, it is seriously one of the most beautiful countries I've visited.

How to visit Montenegro on a budget
Montenegro is one of the cheaper countries in Europe making it a great destination for budget backpackers.
Take public transportation
Take the bus! Its not the most luxurious option out there but much more affordable than renting a car and driving to different cities.
Sit back and take in the breathtaking views of mountains and cows as you transport city to city on local Montenegrin busses.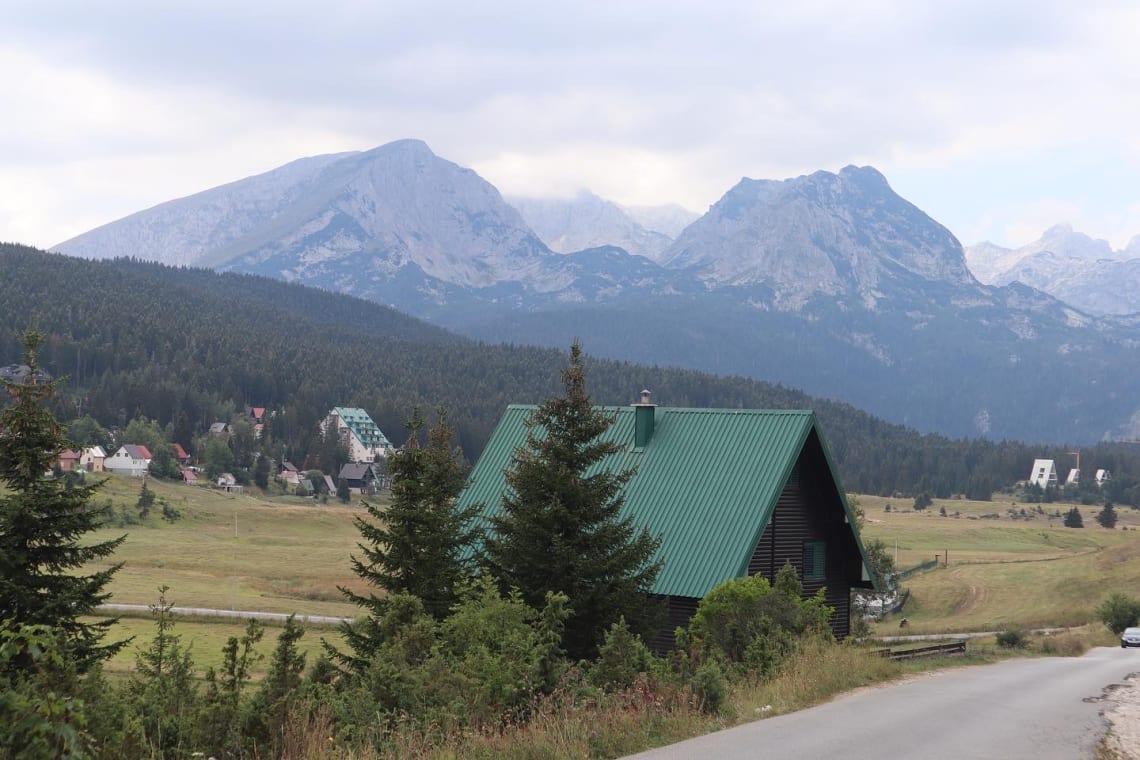 Go on self guided tours
Many tours that are offered on Viator and other online agencies (for a high price at that) can be done alone by taking a bus or doing some research.
Before booking a pricey tour, check to see if there is a way to do it yourself for a much cheaper rate.
In popular tourist towns, like Kotor or Budva, many attractions are close by so walking is also a great form of transportation.
Eat locally
Eating at local, street food restaurants are very affordable and you can get a huge meal and beer for less than 10 euros. However, majority of options will have either meat or cheese so eating out as a vegan in Montenegro can be a bit challenging.
If you don't have any diet restrictions, be sure to try as much local food as possible because the price is low and the taste is high!
Grocery Shopping
My favorite place to grab vegan groceries was the main supermarket Voli. They offered creamy hummus, plant-based meat alternatives, and even dairy free cheese!
The prices of Voli are not bad and have options for nearly every diet.
Hitchhike
Although something I do not personally recommend as a solo female traveler, hitchhiking is becoming more popular in Montenegro and Europe in general.
When leaving Bobotov Kuk Mountain, I hitch hiked back to Zabljak town. Just be very discerning with whoever you chose to ride with and always put your safety above saving a bit of cash.
Just be sure to always stay safe, having an extra twenty dollars is not worth your life.
Getting around in Montenegro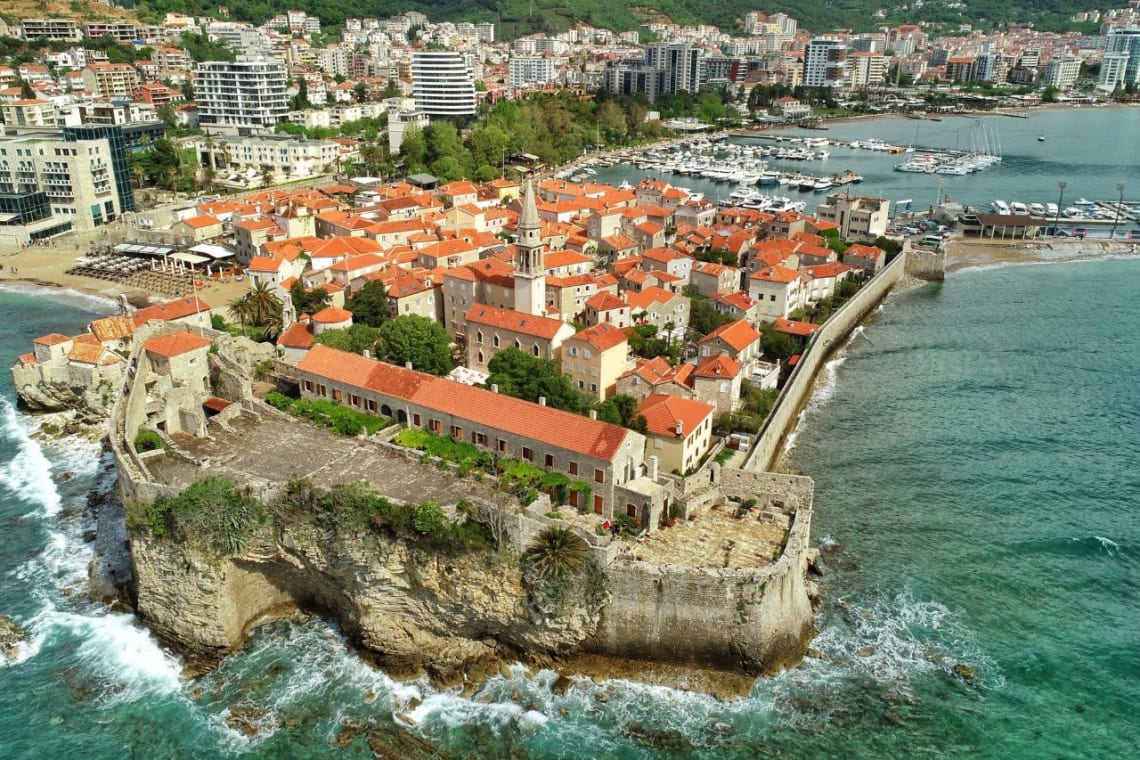 Although Montenegro is not as developed as other popular European nations like France or Germany, the transportation is somewhat reliable.
International busses can get you into the country from neighbouring areas like Albania, Bosnia, or Serbia. For example: I was able to get a bus from Tirana, Albania straight to the beach town Kotor, Montenegro for under 30 euros.
Bus
Hourly or scheduled busses run every single day throughout different sections of the country.
I used the website gettobus.com to check departing busses when in Montenegro. It is an online booking service and also provides electronic mobile tickets so printing is never usually a problem.
Bus tickets can also be booked on the spot but be sure to get to the station at least one hour in advance because seats have the potential to be sold out.
Train
The train railway is mostly located in the capital city of Podgorica. A single ride is only 1.20 euros and can be taken to explore the beautiful outskirts of Podgorica.
The train is a great experience to have while in the country but busses are more reliable to get to other sections of Montenegro.
Taxi
There are no taxi apps in Montenegro but taxis services are ever prevalent. While taxis in Montenegro are not terribly expensive, taxis in any country in the world are going to be at a much higher price compared to public transportation.
Taxi prices may range in different cities for example, a taxi in Zabljak may be higher than in Podgorica due to limited availability.
Car Rental
Although a bit pricey and not the best option for budget travellers, renting a car is possibly one of the best ways to see Montenegro.
Because the country is so small (and beautiful) having a personal car is the best way to drive to national parks, panoramic view points, and different cities.
Bus rides can add up to 2-3 hours extra to a simple ride so driving your own car gives you the utmost control. Car rentals in Montenegro can average in between $39-$50 USD.
What to pack for Montenegro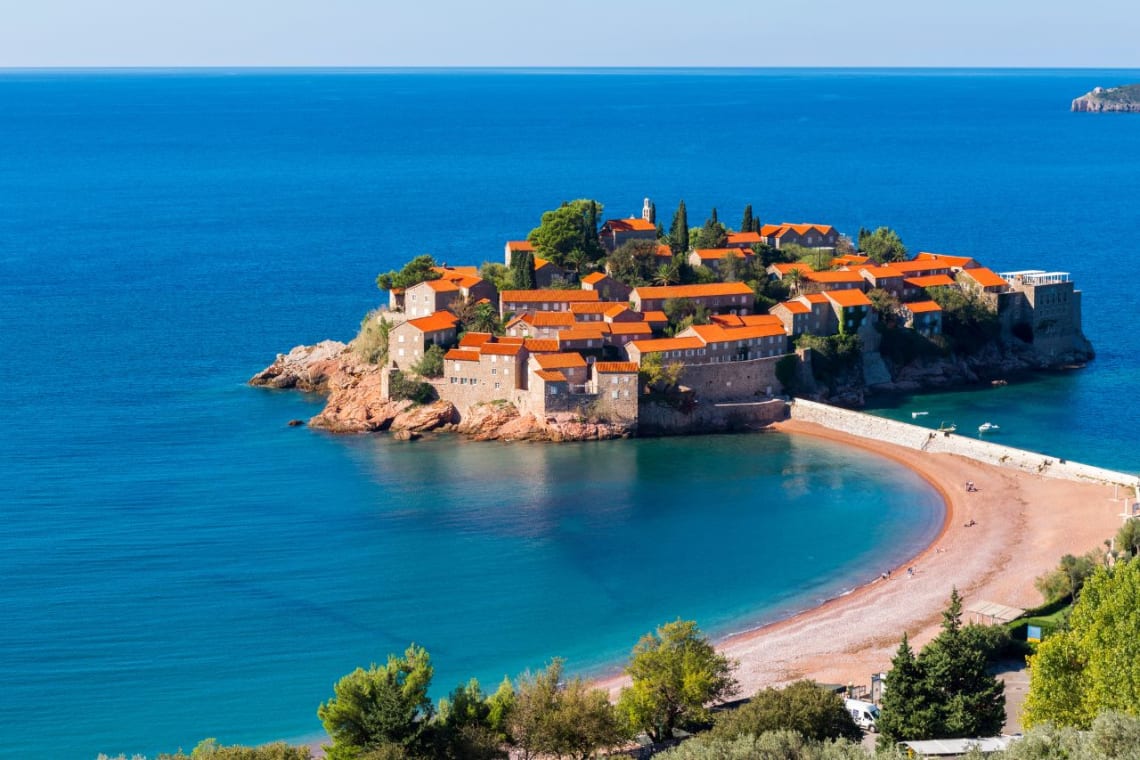 Montenegro is a country that reaches boiling temperatures getting up to 100 degrees Fahrenheit (almost 38°C) in the summer and shivering temperatures of 32 degrees Fahrenheit (0°C) in the winter time. In other words, one must pack for the season!
It also depends on the area of the country you wish to visit. If heading up high in the mountains, the weather can be quite rainy and chilly even in the summertime.
Here is a sweet and short list of a few items to back if traveling to multiple cities in Montenegro:
Summer (warm weather)
Tank top

Hiking Sandals
Hiking boots
Sneakers
Sunscreen (a must! it gets really hot during the summer!)
Winter (cold weather/mountains area)
Rain jacket
Thick, waterproof coat
Long socks
Cardigan
Scarf
Gloves
Waterproof pants
Of course everyone has their own preferences of what to pack for trips, these are just a few important suggested items to get started with. To learn more about mastering packing in a carryon, check out this article about minimalist packing.
The best things to do in Montenegro: Places to visit
Although the country is tiny, it has so much to offer. From the endless mountains and Black lake of Zabljak to the beautiful beach towns of the southern coastal cities. The country offers a great range of city lights, chill beach towns, and rural nature sights.
Kotor
One of the most popular spots to visit in the country has to be Kotor. Cruise ships dock every single day and the streets are always roaming with tourists and locals alike. Its a must visit spot if beaches, nature, and history are your thing.
The Old Town of Kotor has an amazing arciture to gawk at as well as live music and delicious gelato.
There are plenty of activities and tours to partake in Kotor, whether you plan on taking a speed boat to the glistening blue cave or hiking to the famous church. It will never be a boring day in Kotor.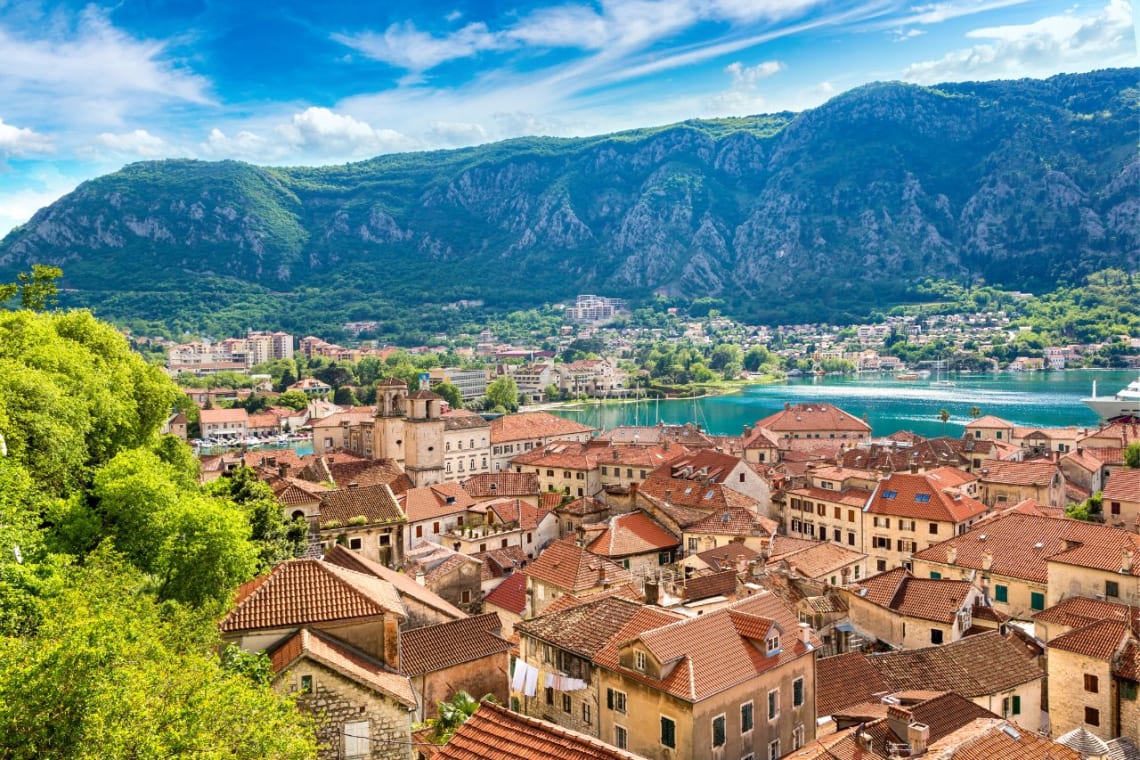 Budva
Located about an hour drive away from Kotor is Budva, another popular tourist destination with great beaches and refreshing ocean water.
You may be debating between visiting Kotor or Budva, I personally feel like a short visit to both is fair. As they are both such a short bus ride apart and offer similar yet unique aspects of their own.
Budva offers quite a few hostels so budget travelers don't have to stress about spending a bag of money.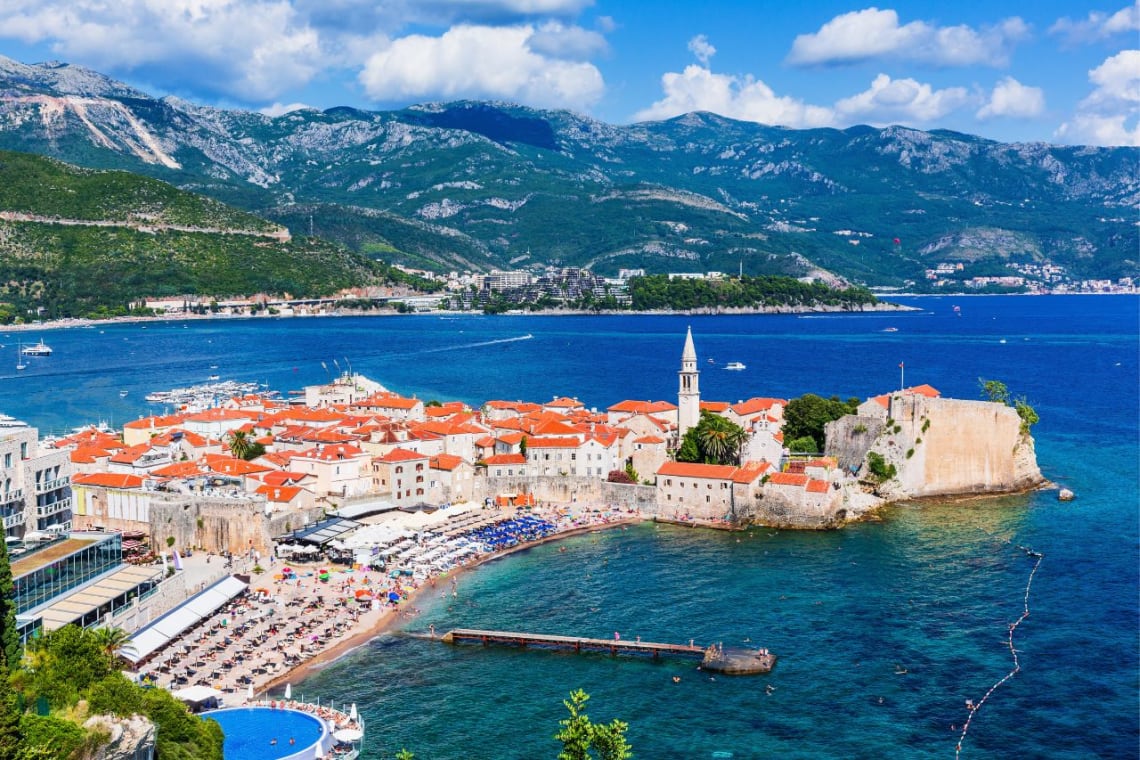 Zabljak
This city is a must visit for hike lovers and thrill seekers. Hike to the tallest point in all of Montenegro and conquer Bobotuv Kuk that rests at a chilling height of 2523 meters (8276 ft). However, I would rate this experience for somewhat experienced hikers as at certain points, you'll be required to climb rocks with cables.
If hiking and climbing along side an exposed mountain aren't your thing (they're not mine either) don't worry. Zabljak offers so many other beautiful trails and view points.
The Black Lake is a short walk from the city centre and is extremely gorgeous on a sunny day. Take a kayaking or boat ride or put your swim suit on and enjoy the refreshing water.
The area offers plenty of national parks to see, each ranging at 3 euros per entrance. One ticket is good for 24 hours as well and a yearly pass is only 12 euros. If you plan on visiting more than 4 spots, the yearly pass will be a great money saver hack.
Podgorica
Sadly, Podgorica has been labeled one of the most boring capitals of Europe. The city centre is a bit dull and does not have much to offer for tourists. Many backpackers use this city as a pass through to get to different countries or cities in Montenegro. However, Podgorica is not a complete miss as there are still fun things to do.
Not known by many tourists is a beautiful river where locals love to go to for a refreshing swim on a hot summer day. Its right by the Albania border and seems so remote although only 25-30 minutes away from the city centre.
There is also a lake and rainforest that can be visited by taking the train which costs about 1 euro and 20 cents. There are fun things to do in the capital city, it just requires going off the beaten path.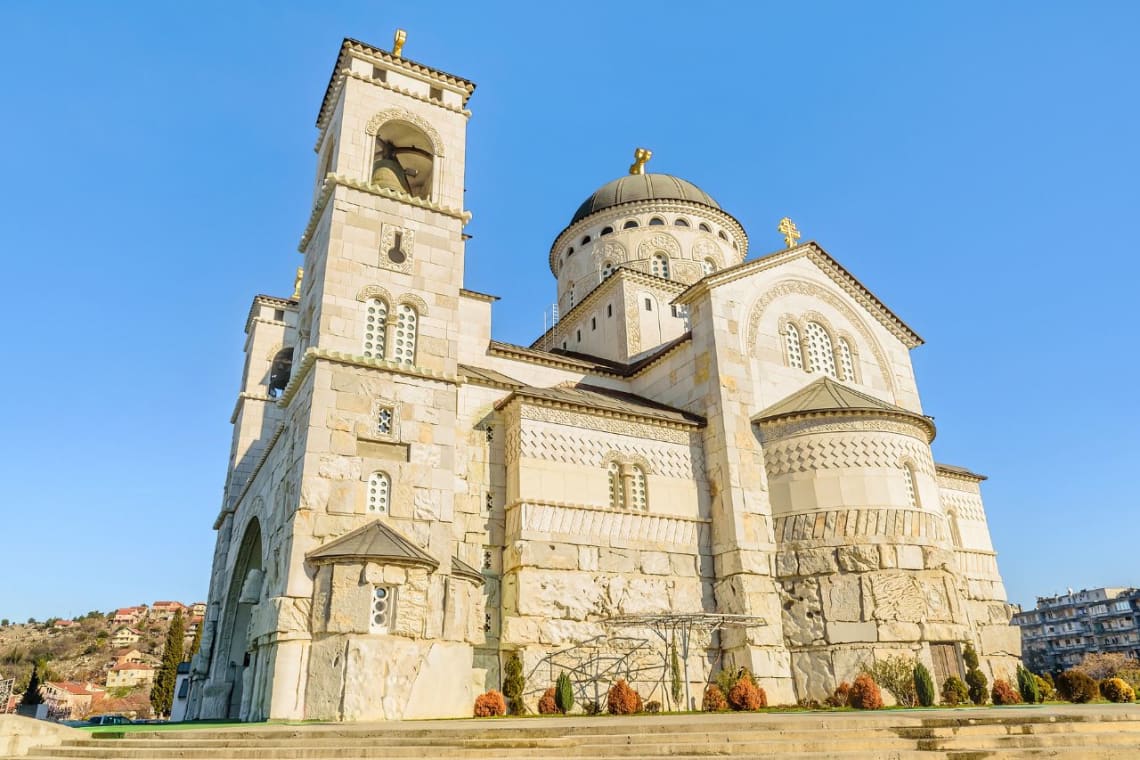 Ulcinj

Another gorgeous beach town located on the southern coast of Montenegro is Ulcinj. Not as popular as Budva and Kotor but equally as beautiful, the city offers sandy beaches which is quite rare for Mediterranean countries.
If you're looking for relaxed coastal vibes with true local culture, Ulcinj is the place to visit. Compared to other beach townsmen Ulcinj is not as touristy and more down to earth which provides a more authentic Montenegrin experience.
Tivat
This beach town is great for travelers looking for a modern and slightly luxury feel. There are plenty of beaches and cultural museums to check out in this area as well. The Maritime Heritage Museum is a great visit for those who want to learn more about submarines and Southeastern European history.
Best things to do in Montenegro: Volunteering
An increasingly popular money saving method while in Montenegro is work exchange with Worldpackers. Travellers will trade their skills such as social media management, house cleaning, or reception work in return for a place to stay and other beenfits.
Not only does volunteering with Worldpackers in Montenegro allow budget backpackers to save money, it provides unforgettable experiences.
If you like to travel off the beaten path and get a truly local experience, consider volunteering in Montenegro.
Check out some unique and lively volunteer opportunities with Worldpackers in Montenegro.
Things to do in Montenegro: Visit other nearby Balkans countries
As mentioned before, Montenegro borders several other Balkans countries and there are many cities apart from Podgorica that can serve as exit points to different countries.
Croatia
A country growing in tourists visits for its beautiful crystal clear beach water islands, great food, and stunning views is Croatia. Depending on the departure point, rake a quick bus ride from Montenegro to Croatia and explore a new culture.
Check out all work exchange opportunities in Croatia.
Useful articles: How to plan your first trip to Croatia and The 10 best places to visit in Croatia.
Albania
Albania is the perfect connector to Greece or Turkey and also offers amazing excursions for tourists.
The beaches of Sarande are crystal clear and refreshing whereas the mountains of the north are stunning and will make you double take.
Choose one of many Albania Worldpackers opportunities and experience living like a local.




Chilling by the beach in Sarande Albania
Bosnia and Herzegovina

While the country is not high on everyone's bucket list, it offers jaw dropping nature and affordable prices.
A bus ride from Podgorica is less than 6 hours away so sit back and enjoy the scenic ride.
Learn more about the Balkans and tour the many historical sites in Bosnia and Herzegovina.
View amazing opportunities for work exchange in Bosnia and Herzegovina
Serbia
Although Serbia is landlocked and has no beaches, the nature in this country is certainly worth seeing.
Sitting north of Montenegro and about a 7 hour bus ride from Podogorica, Serbia's nature alone is a reason why many backpackers flood to this region.
Keep reading about Servia: The 10 most beautiful spots you cannot miss in Serbia
Meet international travellers and make friends from all over the world while volunteering in Serbia.
Greece
Although not technically a Balkan country and also not a border, Greece is a summer hotspot for travelers from near and far.
Greece is definitely more pricey than Montenegro but its a much cheaper destination compared to countries like Italy or Spain.
There is an endless list of activities to explore while in Greece. Whether it is island hopping on a budget, trying delicious authentic Greek food in Athens, or hiking Meteora in the north. Greece is an awesome spot to check out if in the Balkans area.
To get to Greece: take a quick bus to the capital of Albania then ride to Athens and start the ultimate Greek adventure.
To learn more about planning the perfect Greek island hopping trip or how to travel Greece on a budget, check out either of these articles.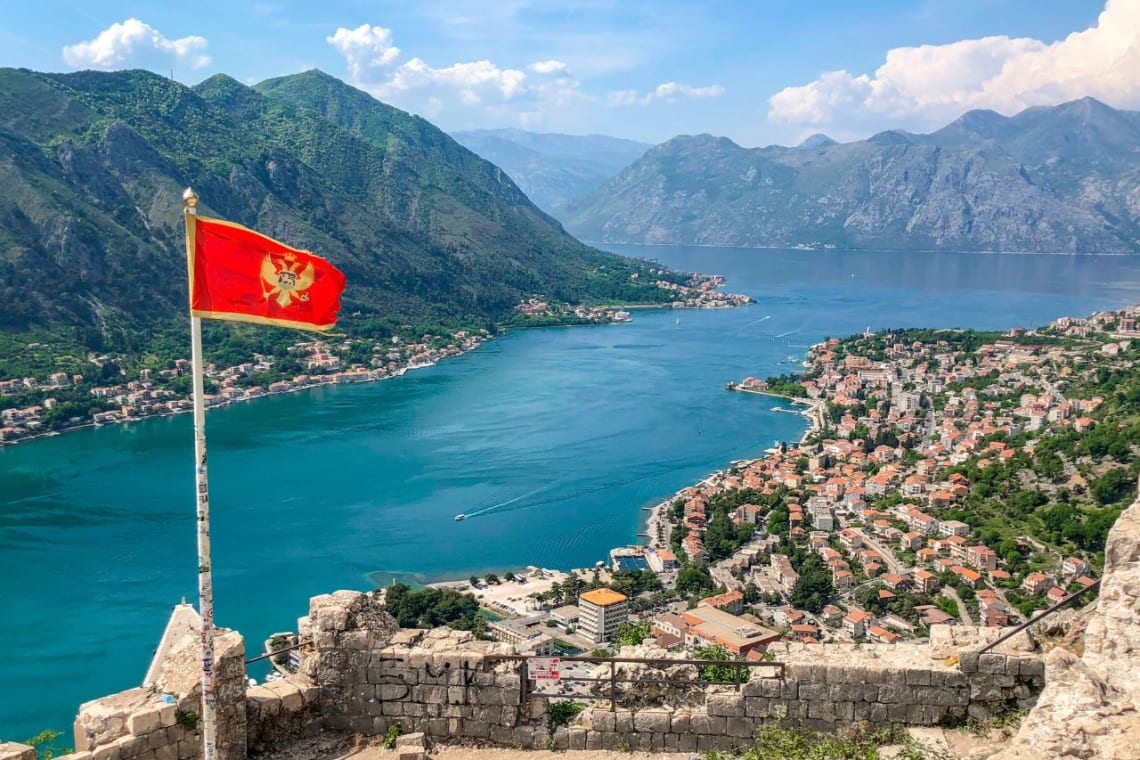 Whether your travel style is luxury or a budget backpacker, Montenegro accommodates to different styles of travelers.
Want to learn more about planning your trip to Montenegro? Learn all about backpacking the Balkans and be sure to stay updated on new travel content from the world packers team! Join the Worldpackers Community and start traveling the world for nearly free via work exchange.