The 18 best beach getaways in the USA
The USA has plenty of indulgent beaches to enjoy. Lets go ahead and talk about the 18 best beach getaways in the United States.
9min
The following destinations are in no specific order of the best beaches but I will be describing the sentiment of each location so that travelers can decipher which is best for them to visit.
I've listed plenty of beaches that rank high on my personal radar but of course the USA is a huge country and I can not list all the amazing beaches that country has to offer.
With that being said, let's see the best beach getaways in the USA.
The 18 best beach getaways in the USA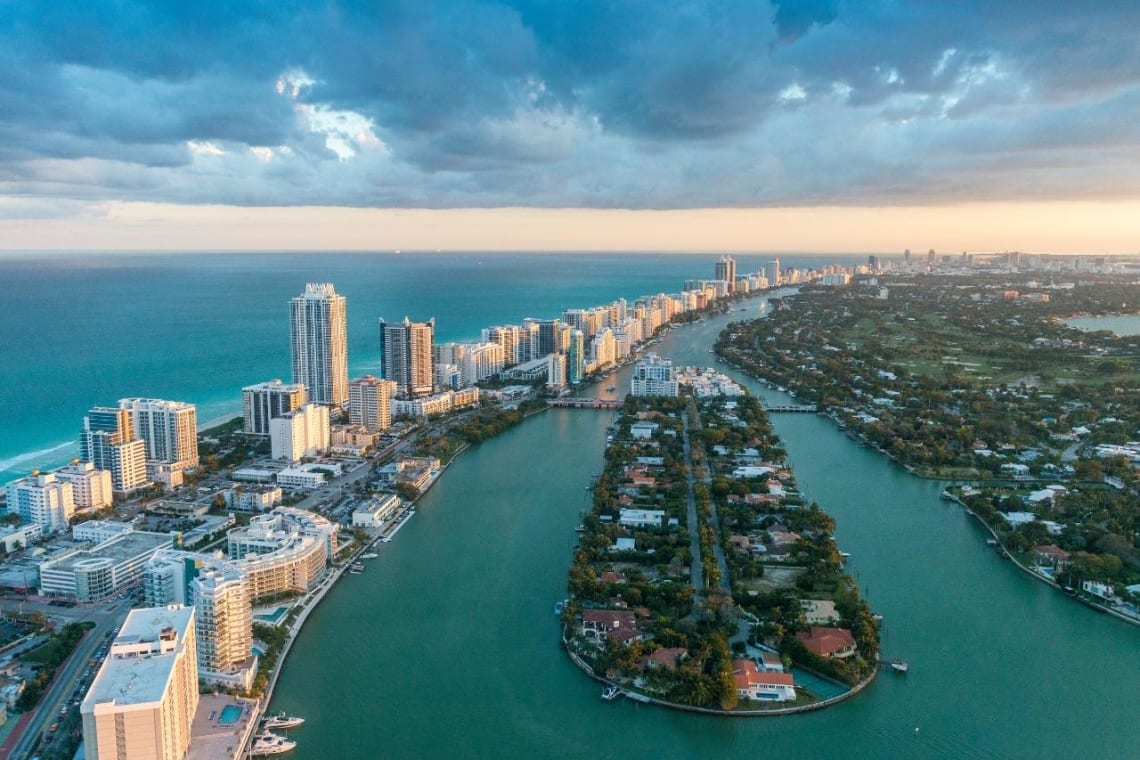 1. Miami Beach
Located in southern Florida, Miami Beach is definitely popular during the spring and summertime. Known for its booming nightlife, turquoise waters, and tropical Caribbean feel, Miami Beach is loved by Florida residents and visitors.
Miami also offers hostels for budget travellers the opportunity to explore the water and different parts of the diverse city.
2. Ka'anapali Beach
This next beach is located on the beloved Hawaiian island of Maui. With crystal clear water and yellow sand, there is no question why this beach was rated one of the most beautiful on the island.
Of course it may take most travelers a bit longer to reach this destination as it is not one of the 48 states on the mainland.
Despite Hawaii's physical distance from the other states, every adventure traveler who loves beaches should find their way to this part of the world at least once.
Another plus is that American citizens don't need a passport to visit Hawaii. Simply pack a bag and bring good vibes (and your driver's license).
3. Myrtle Beach
A South Carolina gem, Myrtle Beach is not only great for enjoying the Atlantic waves but for also experiencing a carnival like feel.
Explore restaurants, ride the Ferris wheel, check out the aquarium, or simply walk barefoot in the sand taking in the salty air.
This spot is perfect for families, couples, friends, or a solo traveller wanting to take a break from the rat race just for the weekend.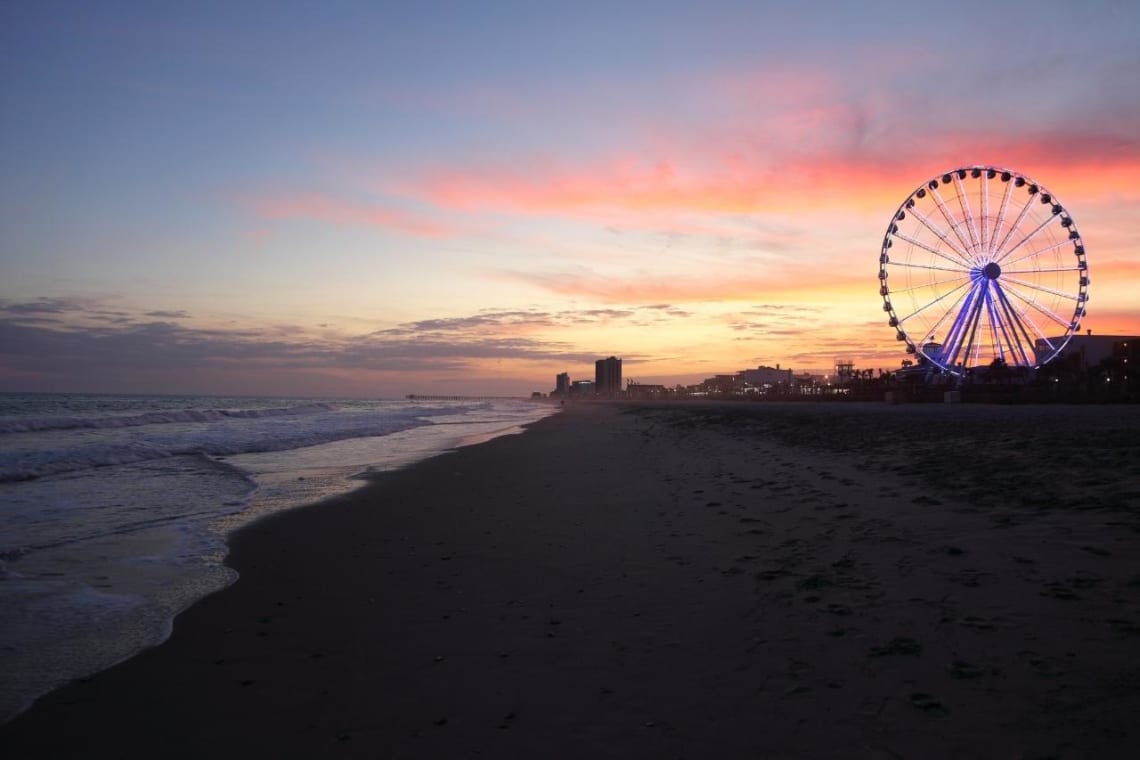 4. Virginia Beach
One of my personal favourites on this list, Virginia Beach is a destination that is extremely underrated.
Although it was still too cold to swim in the water when I visited (early spring time), this beach is the perfect weekend getaway during the summer time. The water warms up and provides a refreshing break from the heat during the North American summer months.
The city has a laid back, California like feel and also slightly resembles Myrtle Beach. There are plenty of activities to do such as walking the boardwalk, visiting the Military Aviation Museum, enjoying freshly caught seafood, and of course enjoy a nice swim under the hot sun.
5. Santa Monica & Venice
A spot that leaves a very special place in my heart, Santa Monica and Venice are twin beaches that are right next to each other.
If you ever find yourself on the West Coast, spending a short vacay in this area, is a must! As the beaches are located quite close to each other, it is possible to walk in between, take a short 5 minute uber, or rent a bike which was my favourite way to see the area.
Santa Monica exudes a more family friendly vibe with its Ferris wheel, fish in the nearby harbour, or simpler take in the California sun.
Venice is a more alternative feel with its unique street vendors and surf borders. Beverly Hills and the Hollywood sign are not far from the beach either making this location a perfect weekend getaway filled with fun.
6. Malibu
A beach situated in Southern California that is not as well known as Venice or Santa Monica but is up and coming, is Malibu.

Even though the city may not be known globally as its cousins are, every Souther Californian knows about this area. Multiple songs have been named after this beach city, and its beauty is certainly the reason why artists find their muse here.
Malibu is located quite close to Venice & Santa Monica so a traveler can certainly plan a long weekend, rent a car (or ride the bus), and see each city.
Southern California arguably has some of the prettiest coast views in the entire country so make sure to be prepared with a charged camera and a heart ready to make memories of a lifetime.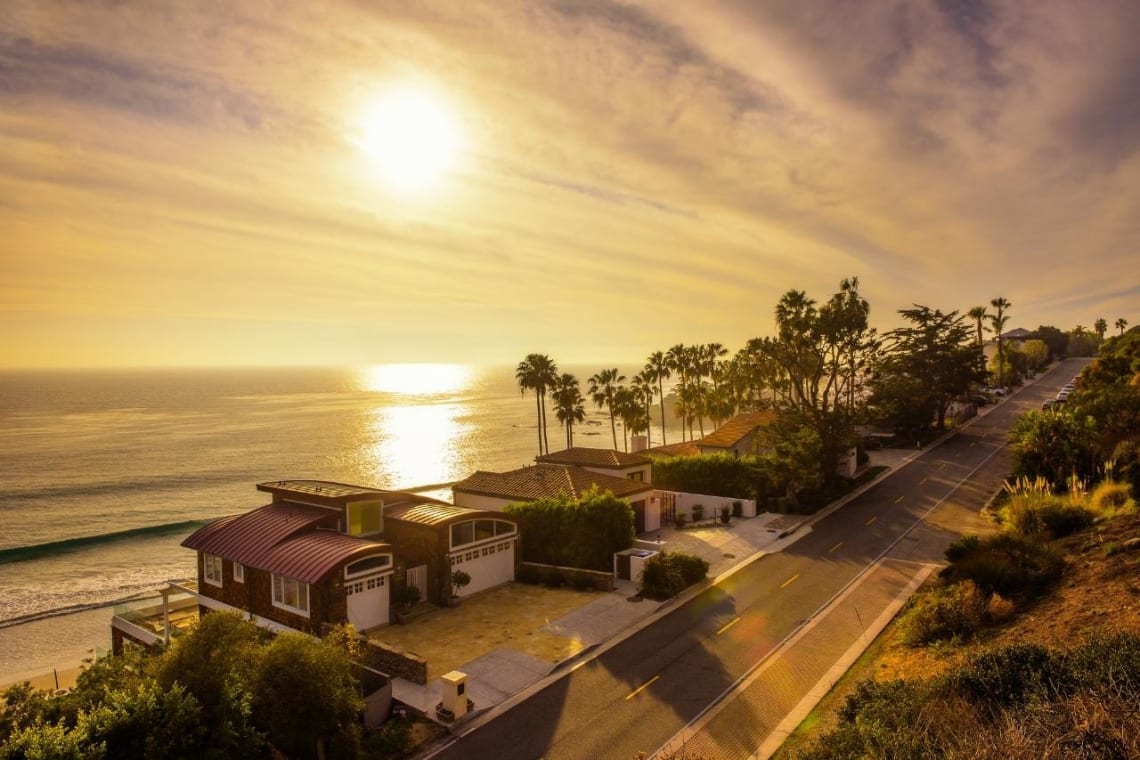 7. Waikiki Beach

Waikiki is probably the most popular beach on the Hawaiian islands. Out of the 8 islands that make up the state, Waikiki is located in Honolulu on the island of Oahu.
Not only are there stunning, crystal clear waters, and picturesque views, the entire city has so much to do for any type of traveler.
Whether you want to catch an authentic Hawaiian luau (a feast featuring lively music and cultural performances), see the Pearl Harbor Memorial Museum, or snorkel, a weekend at Waikiki Beach will be filled with nonstop adventure.
Find out how much a trip to Hawaii cost.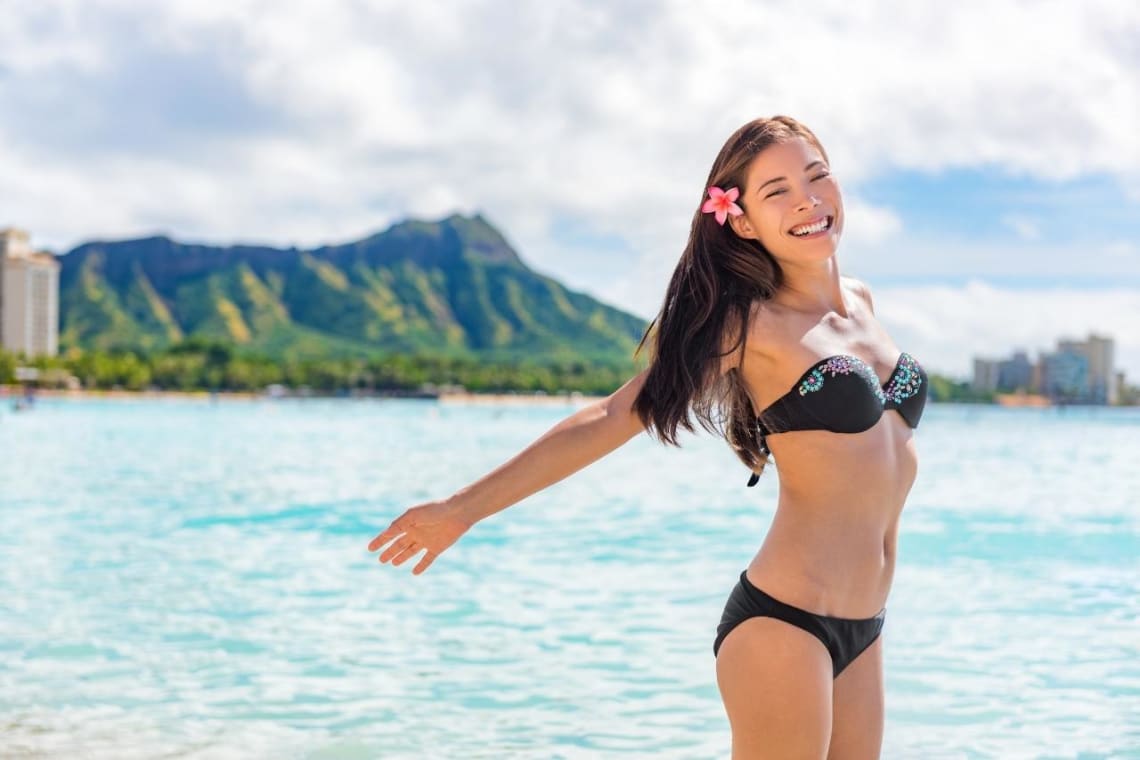 8. Panama City Beach

Situated on the western coast of Florida just below the state of Alabama, is the famous Panama City Beach. Florida has multiple beautiful beaches to explore and soak in for the perfect weekend the state offers so much!
Go shopping at Pier Park Mall, walk along the boardwalk, or try a delicious po'boy at Pineapple Willy's. PCB is a typical destination for spring breakers but is even nicer on a hot summer day with the family (or solo).
9. Fort Lauderdale
Fort Lauderdale has to be one of my favourite beaches in the state of Florida because of its evident natural beauty and chill vibes.
Whether you stay at a fancy resort or a budget private room, the fun begins in the city and on the waterfront. For some of the best scuba diving in the state (and possibly the country), test out a professional diving class.
If you want to be at the center of it all, check out Las Olas Boulevard for shopping, cafes, and nice restaurants.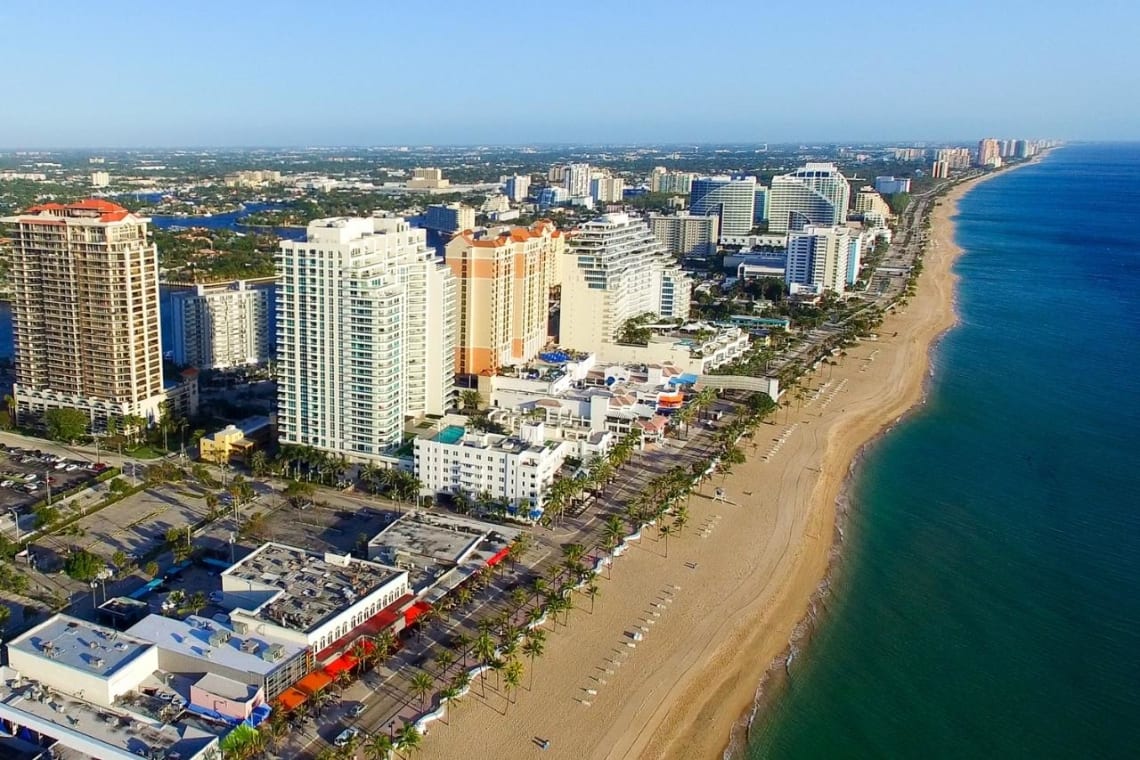 10. San Diego

We can't talk about Southern California (or Cali in general) without discussing San Diego. Pure surfer vibes, San Diego is super laid back and has plenty to do.
Mission is probably the most popular beach in the city and is always bustling with tourists and residents.
One of my favourite Cali memories had to have been taking the Amtrak train from Los Angeles to San Diego. It was extremely remarkable to sit in my window seat and watch the views change from graffiti buildings to the Pacific coast.
If you are willing to spend a week (or even two), taking public transportation to view all of Southern California is sure to create memories that will last a life time.
11. Destin
Destin is located in the Gulf of Mexico and only a 1 hour drive away from Panama City Beach.
The water on this beach is simply gorgeous and turquoise blue, its no wonder it sees so many tourists per year.
Head to Henderson Beach for the perfect beach day filled with hot sun and sandy toes. While you're at the beach consider getting on a banana boat ride but be sure to hold on tight (from experience).
If aquatic wildlife is your suite, consider taking a dolphin sighting tour, you won't regret it. As these goes down, take a sunset cruise and watch as the sky turns from blue to a beautiful burnt orange.
Out of all the cities/beaches on the list, Destin certainly offers an endless list of activities.
12. Naples
This isn't Naples in Italy, it is yet again another Florida destination. Naples is located in south-western Florida and is known for its golfing.
When you visit this area, it is necessary to visit the Naples Pier for the views and also learn a bit about it history. Check out gators in swamps sanctuaries and see these marsh animals in their natural habitats.
There are also plenty of museums and bird watching opportunities in Naples, so grab some sunglasses, a beach towel, and enjoy a weekend in this cheeky southern American city.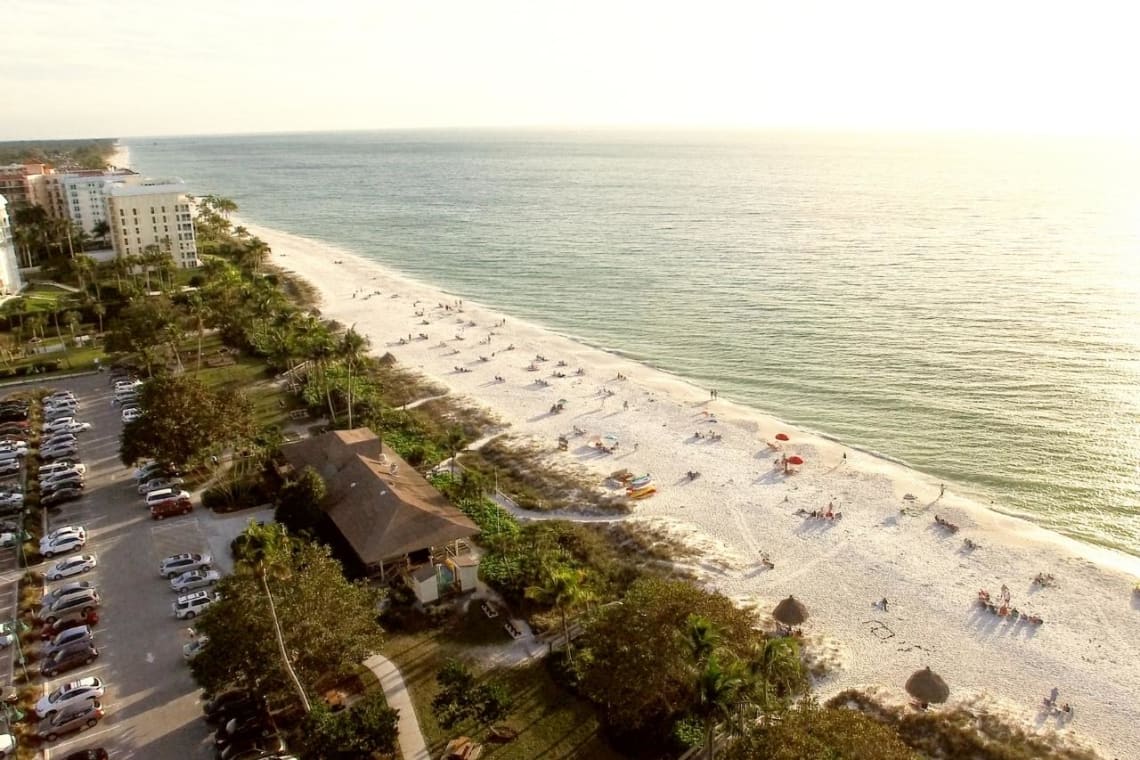 13. Ocean Beach, San Francisco
This next beach is not necessarily one you'll want to swim in (due to rough and cold waters) but it made the list because of its stunning views of the Golden Gate Bridge.
I first discovered this area because I spent 2 months on a volunteer work-exchange experience in San Francisco and was looking for unique places to visit. The bus ride was about 40 minutes from the guest house I was staying at, but the view was 100% worth every minute.
When the sun is about to hide for the night, the sunset provides one of the most aesthetically pleasing sights I have seen in all my two years of travel. The sun is reflected in the ocean and it looks like the sky never ends.
Head there with a couple of friends (or by yourself) grab a speaker, and play some music while you dance with the natural honey magenta backdrop from Mother Gaia.
14. Hilton Head
Another South Carolina beach town, Hilton Head is a chill Atlantic coast destination that has won the heart of many east coasters.
Known for its famous red and white lighthouse and golf courses, a weekend in this town can be spent bumming at the beach or boating.
There is a great bike trail to ride on and clear your mind as well as beautiful preserves to explore. Grab the girls (or guys) for a weekend of boating, kayaking, or jet skiing and bask in the salty South Carolina sea air.
15. The Hamptons
Taking it up north to New York, The Hamptons is a coast city in upstate.
Typically the place wealthy residents like to head to when they need a break from the NYC rat race, The Hamptons is a great getaway for people in the north.
The Hamptons area consists of several different beaches and a traveler can drive up to spend the weekend getting to know one or all of them.
Learn more about the cheapest places to live in New York.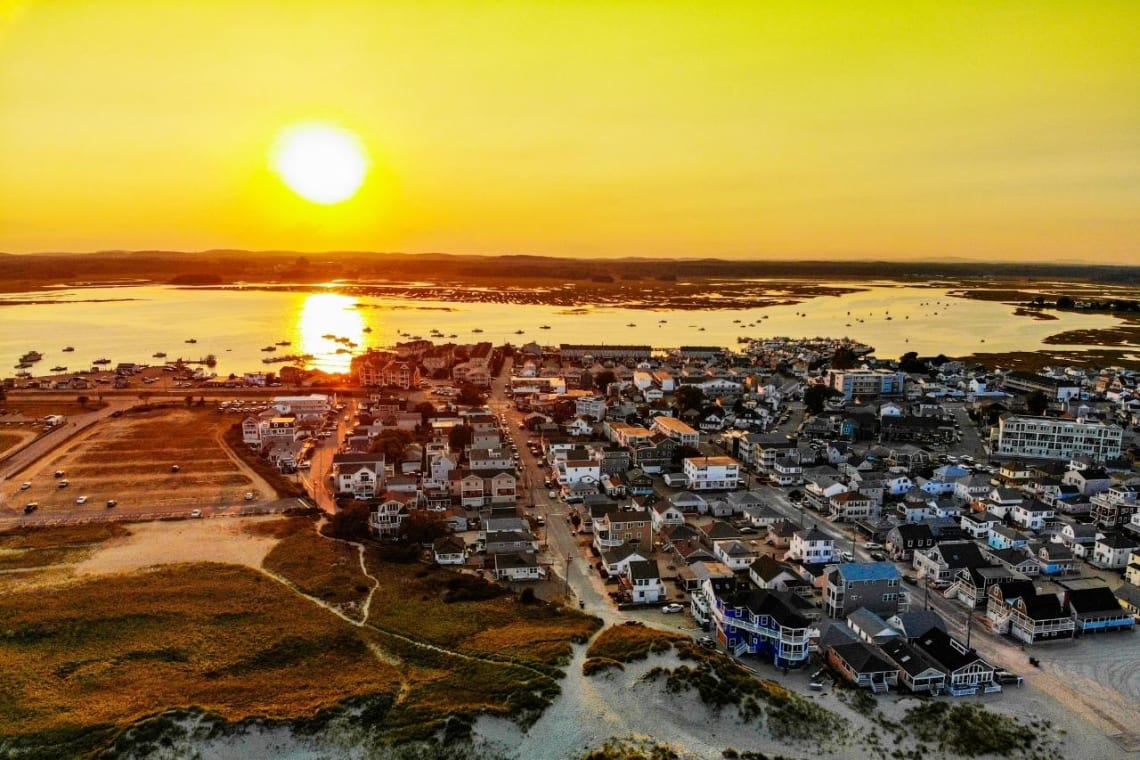 Best beach getaways in the USA: Territories
These next few beaches are not in the continuous 50 states or the mainland, but they are US territories which means American citizens do not need passports to travel here and enjoy a tropical beach getaway.
16. Magen's Bay, USVI
Once rated one of the top ten best beaches in the entire world, Magen's Bay beach in the United States Virgin Islands has stolen the hearts of residents and tourists all around.
This territory is made up of three islands and is quite small, housing less than 300,000 people on all islands combined, but its natural beauty is remarkable.
Despite being a pricey destination, its possible to snag a one way ticket (from anywhere in the USA) for less than one hundred bucks if booked in advance. Heading here for the weekend is a perfect choice for a short getaway without the need of a passport.
The United States Virgin Island is on my list of Best islands in the Caribbean.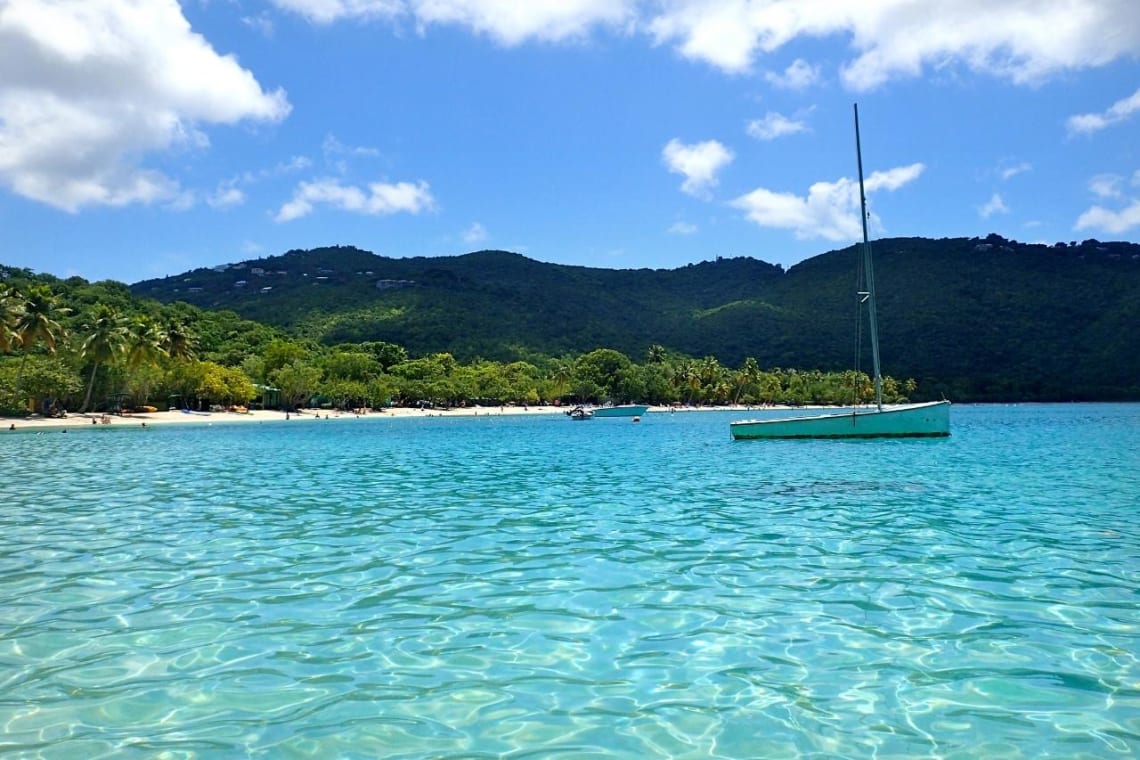 17. Puerto Rico
Puerto Rico is another Caribbean island destination with crystal beaches, plush rainforests, and overall good vibes which is typical for this region of the world.
It's hard to name just one beach for this entire island but tourists typically get their sea water in San Juan, the capital of PR.
If scanning for flights on kiwi.com or skyscanner.com, it's possible to find extremely affordable airfare.
Whether its a birthday getaway or simply a search for something new, Puerto Rico is a great place to discover what you're looking for.
Make sure to read this guide on backpacking Puerto Rico before you travel.
18. Guam
Although a passport is required to visit this next destination, it is still a US territory and citizens of the states are able to travel here without a visa.
Due to its far distance in between the contiguous 48 states, it may be wiser to stay for longer than a weekend, but it still deserved a short shout out.
Guam is located in the North Pacific Ocean situated in between Asia and Australia. It is jaw dropping island with once in a life time snorkelling and Micronesian culture. Guam is a great getaway for those wanting to experience a different way of living.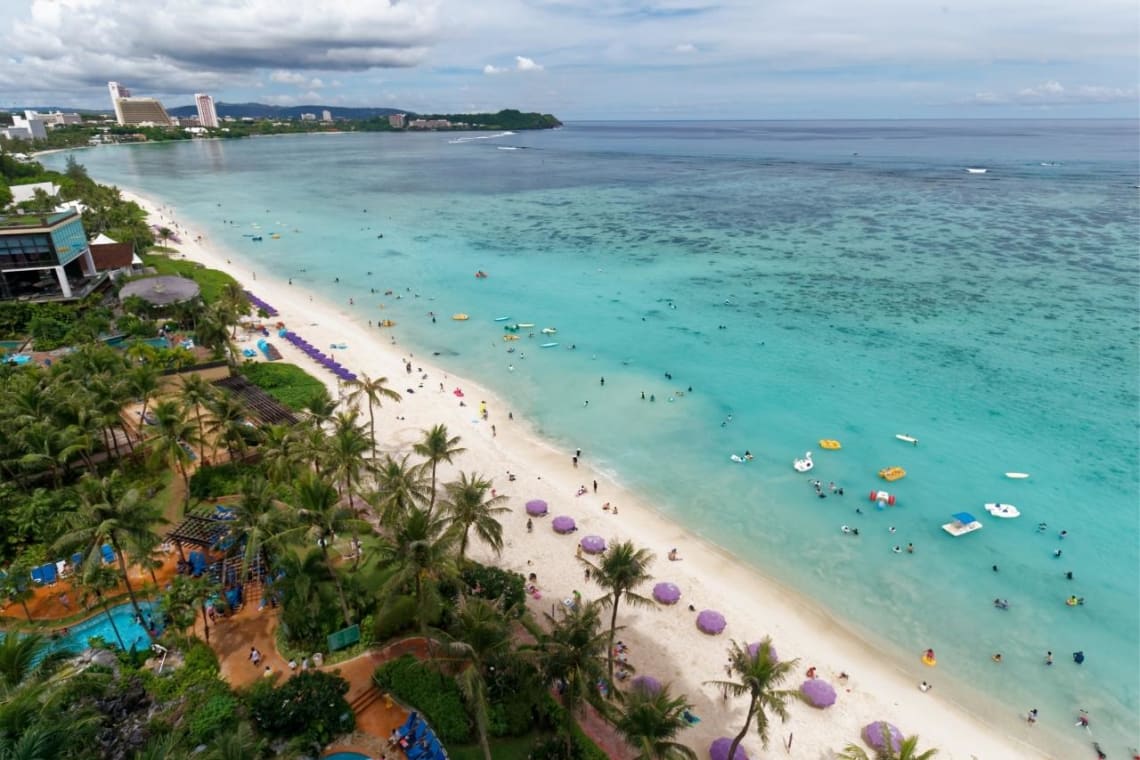 Enjoy the Best beach getaways in the USA while volunteering

Volunteering is a way to obtain accommodation while traveling. In exchange for a place to stay, travellers will volunteer their hours, skills, or knowledge.
Skills such as social media management, content creation, gardening, website design, yoga instruction, and manteinance work are all examples of volunteer work found on the Worldpackers platform.
A work-exchange with Worldpackers is a great way to explore all the beautiful beaches of the world on a budget! Check out these awesome volunteer opportunities by the beach in the USA:
These are just some of the opportunities. Discover more volunteering projects in the USA that are waiting for you!
Want to learn more about planning your trip? By subscribing to the WP pack plan you have unlimited access to +120 courses at Worldpackers Academy, the travel school made by travelers!