A guide to the best beach towns in Mexico to visit and live in
Mexico is full of beautiful beach towns! In this article, you will discover the best beach towns in Mexico to visit and to live in.
8min
Mexico is famous for the amazing colonial cities and the Maya ruins, but we don't have to forget that it is also touched by two oceans, Pacific on one side, and Atlantic on the other. Yucatan Peninsula is touched by the Caribbean sea, so you can imagine the amazing beaches that it could have.
That's why if you think about a vacation in Mexico, you can opt for a beach town to spend your days. Either you are looking for relax and sunbathe, or you just want to have fun, you can find a beach town in Mexico that suits your needs.
In this article, you will discover the best beach towns in Mexico to visit and also the best ones to live in, plus some advice if you want to have free accommodation during your holiday in Mexico or try to move and live there. So keep reading to find out everything.

An amazing experience at Mexico beaches: volunteering
Before talking about the best beach towns in Mexico, I would like to introduce you to an amazing possibility. Have you ever thought about visiting Mexico with free accommodation? Because it is something that could happen, and actually it's very easy. All you have to do is volunteer.
When you volunteer abroad, you work some hours per day and, in exchange, you get free accommodation and sometimes free board. This is a very good deal, and it's very easy to get in touch with volunteering world, thanks to Worldpackers.
Worldpackers is a platform in which you can look for volunteering positions all around the world. You can choose them by location and/or according to your skills or what you like to do. Of course, Worldpackers has a lot of volunteering positions in Mexico.
Volunteering in Mexico is not only good for saving money, but also to get in touch with the local culture and have a deeper experience. You can meet a lot of other travelers like you, local people, maybe learn the language, and for sure have the best experience you could ever have.
If your dream is to move to Mexico one day, volunteering could be the perfect way to start your new life. It's the best way learn about the life in the country.
Now that you know about this great possibility and way of traveling, let's talk about the best beach towns in Mexico, and I will also give you some examples of volunteering positions.

Best beach towns in Mexico to visit
So what are the best beach towns in Mexico? It is not easy to pick the best ones because there are so many in Mexico, but in this list I tried to write down the ones that you shouldn't miss on your Mexican vacation.
1. Cancun
Cancun, located in Quintana Roo, on the famous Yucatan Peninsula, is one of the most famous beach towns in Mexico. This city is perfect to be used as a place to stay to visit all the wonders of the surrounding areas, but has so much to offer itself.
If you want to have fun, Cancun is perfect for you. In the Hotel Zone, where most of the resorts and luxury hotels are located, you have a big choice in terms of clubs, discos, restaurants and places to have the time of your life. It is also the area where the best beaches are located.
If you want to live a more "Mexican" experience among the locals, you should go to Downtown, where the city center is and where you can find typical restaurants, shops and street food, and feel the latin vibes.
Cancun can be a bit pricey compared to other Mexican destinations, but you can volunteer and save money. There are plenty of options there!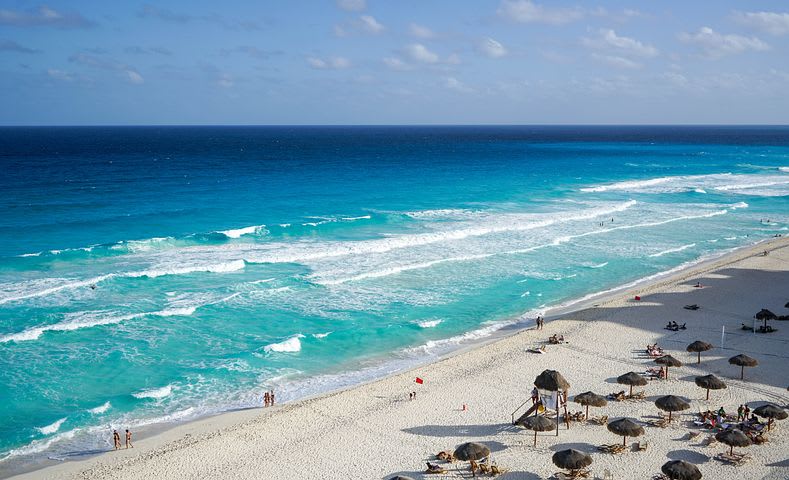 2. Playa del Carmen
Playa del Carmen is another famous destination in the Yucatan Peninsula. The sea and the beach are even nicer than in Cancun because the city is smaller and there is less traffic.
Anyways, there are lots of clubs, restaurants and places where you can have fun, or you can sunbathe and enjoy the beautiful sea if you prefer. Playa del Carmen is a real gem, and it is also a good place to stay if you want to explore the surrounding areas.
If you want to have a deeper experience and meet locals in a sustainable project, have a look at this volunteering position in Playa del Carmen. You can even use their surfboards on your free time and take a permaculture course, all for free!

3. Tulum
Tulum is an amazing beach town in Mexico. It's the perfect place to have a beach vacation together with a cultural trip, because it is home of some ancient Maya ruins. The ruins are just above the beach, and they really offer a wonderful view.
Besides, Tulum is also full of clubs, discos and fancy restaurants. It really has everything!
Have a look at the volunteering positions in Tulum, there is a lot of choice!

4. Puerto Escondido
Puerto Escondido is located on the Pacific Ocean and it's one of the best beach towns and destinations in this area.
Compared to the previous towns, this place is more indicated if you are looking for a calm place, surrounded by palm trees and beautiful ocean, where you can relax and surf the waves. It is also cheaper and has more local restaurants and places to eat.
You can also do a lot of activities in the area like whale watching. If you love water activities, this is a very nice place.
Worldpackers has some volunteering positions in Puerto Escondido if you are interested.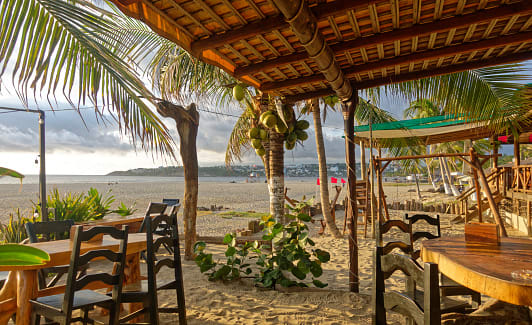 5. Cabo San Lucas
Cabo San Lucas is located in Baja California, a region you can't miss in a trip to Mexico. It is a resort city, here you find some of the most unique places to stay in Mexico.if you are looking for a fancy beach town and a beautiful location, this place is good for you.
Even if the current in the sea is very strong, the water is so beautiful and the sceneries are amazing.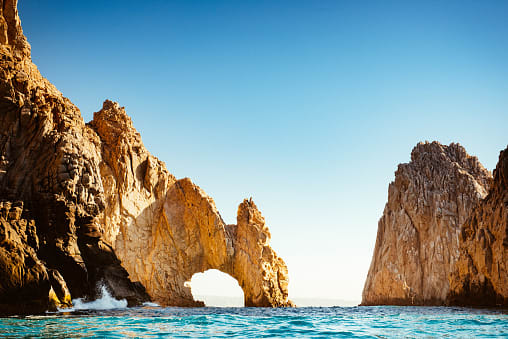 6. Huatulco
If you are looking for adventure, the beach town of Huatulco has something for you. This amazing town is located on the Pacific Ocean, so close to the jungle and to some amazing waterfalls.
You can relax on the beach or you can go adventuring in the jungle, go hiking and visiting all the secret spots in the forest. You can also meet indigenous community and try the very local food. In this beach town you can really have the best experience ever.
7. Mazunte
Located in the Oaxaca state, like the previous beach town, Mazunte is perfect to relax and meditate. It is a place where you can experience meditation practice and yoga, it is famous for its meditation retreats.
If you are looking for peace and want to spend some time by the beach without being disturbed by anything, go to Mazunte. You can also try some amazing food of Oaxaca in this town, at a cheaper place comparing to other places.
8. Maztlan
Mazatlan is located in Sinaloa state and it's the best place to see around there. It's a very colorful beach town, perfect to relax and sunbathe, or to go exploring and enjoy the beach vibes.
You can have the best views of Sinaloa from here and enjoy some of the best hotels and restaurants of the state.
9. Sayulita
Sayulita has certainly grown in popularity in the last years. It is now a city full of backpackers and it's one of the best surfing spots in Mexico, either you are an expert or if you want to learn and take lessons.
It's quite small but very multicultural and full of expats. It's a very nice place for a traveler.
10. Puerto Vallarta
Puerto Vallarta is a very popular beach town destination in Mexico. It's a very fancy city, with lots of restaurants, clubs and places to have fun, and amazing views on the ocean from one side and the mountains on the other side.
It's a great place to meet other travelers, especially if you have a volunteering experience there, like in a sustainable project, to help the community and make the difference.
You can look at other volunteering positions in Puerto Vallarta here.
Best beach towns in Mexico to live
Moving to Mexico and living by the beach, enjoying the ocean and drinking under a palm tree, is like a dream come true to a lot of people.
Lots of expats have chosen Mexico as their new house, to escape from routine, pollution, traffic and stress, and now they are living the life of their dreams.
But what are the best beach towns in Mexico to live? Let's see some of them together.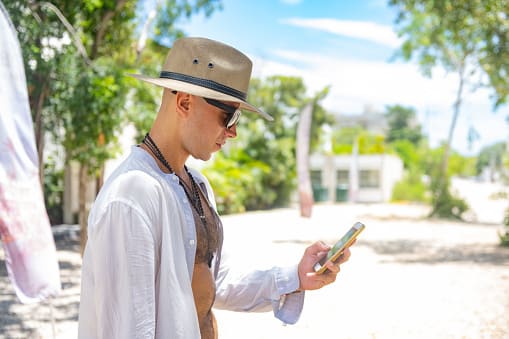 1. Puerto Escondido
Puerto Escondido is a common destination among expats. Today it has a really huge community of digital nomads, that is basically people who can work from wherever they want, they just need their laptop and a good internet connection.
And they couldn't choose a better place to work, they have ocean view from their office every day.
If you want to learn how the freedom lifestyle works and try to build a new life, Puerto Escondido is one of the best places to try.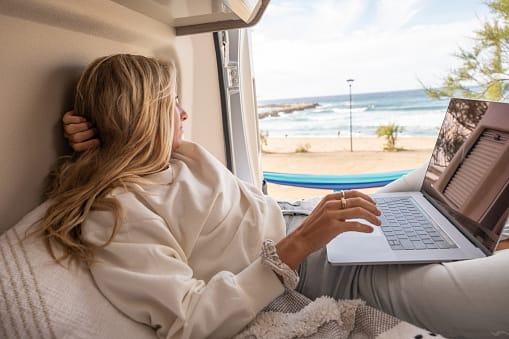 2. Cozumel
Cozumel is a very popular place to move in Mexico. It's located in the Yucatan Peninsula, but it's an island, so you can have more peace than in other big and famous cities full of tourists like Cancun and Playa del Carmen.
That's why lots of expats chose this place to start a new life. And what a life! Waking up very day on a paradise island in the Caribbean sea. Could you ask for more?
3. Puerto Vallarta
Puerto Vallarta is a very good place to move and you will find a lot of expats there. It's a safe city full of opportunities, that's why travelers visit it and suddenly decide to move there.
This could really be the place to start a new life and settle down.
4. Cancun
Maybe it could be a bit chaotic, but Cancun is certainly a place to think about if you want to move to Mexico. This big city has thousands of opportunities for expats, and could really be a very starting point for your new Mexican life.
You have everything in Cancun: beautiful beaches, lots of things to see and do in the surrounding areas, lots of restaurants to try… Maybe if you try to live there, you'll never be able to settle down somewhere else after.
5. Merida
Merida is not properly on the beach, but the beach is very close to it and you can reach it easily.
It's a very popular city among expats and they choose it because it's a quiet city, and also vey nice. The historical center is full of things to visit and cultural activities to do.
There is also plenty of work available in the city, so the opportunities can be found in a minute.
You should consider Merida if you like something different, a bit off the beaten path.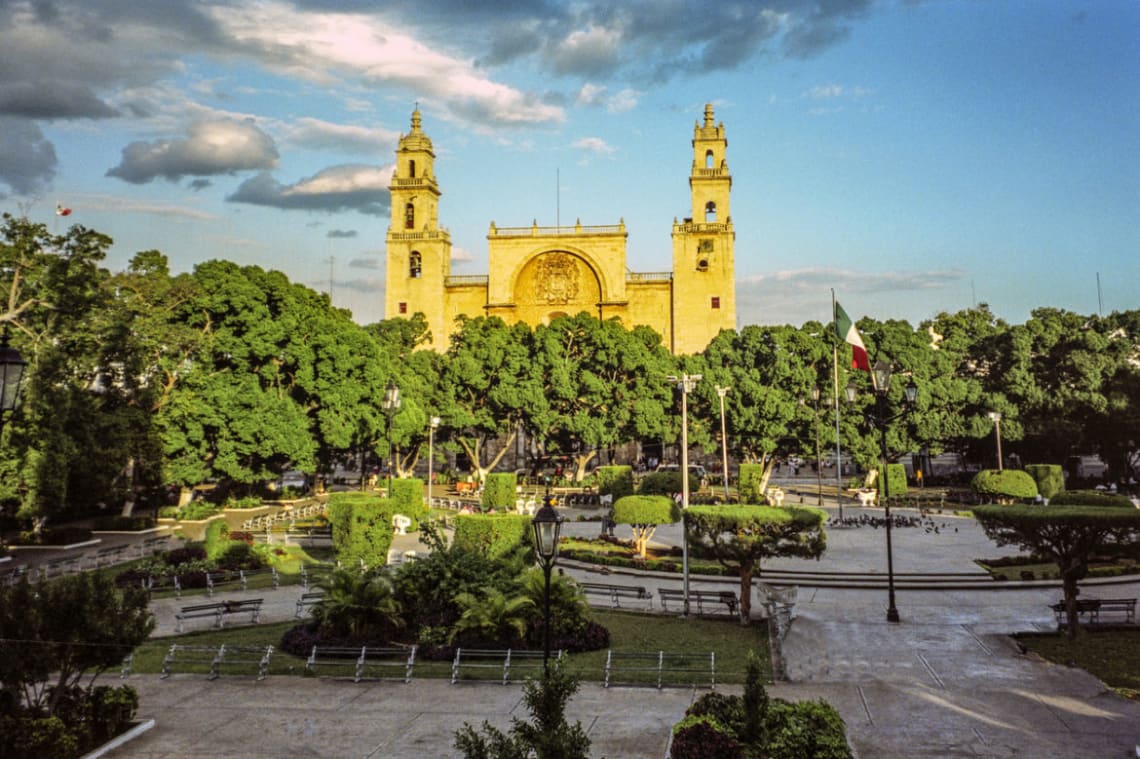 Maybe after reading this article you start feeling like moving to Mexico soon, or at least to have a trip to this wonderful country and discover its best beach towns.
In any case, don't forget to subscribe to one of Worldpackers plans so you can start volunteering, save a lot of money, and travel in a different but amazing way.
Maybe you could find more inspiration reading other articles from Worldpackers community:
10 cheap places to visit in Mexico

Unique things to do in Yucatan, Mexico: beaches, nature and more

Ultimate list of the best places to visit in Mexico: the top 13