Top 35 iconic places in the world: famous landmarks worth visiting
Discover 35 of the most iconic places around the world where you can admire famous natural and man-made attractions while doing a unique Worldpackers work exchange!
12min
This planet is filled with so many incredible attractions, whether they be natural landmarks or man-made structures. One of the reasons why so many people decide to travel is so they can see some of these iconic places with their own eyes.
Even if you know exactly what something will look like, there is a feeling of wonder that encapsulates your mind and body as you see something incredible in real life.
In this article, we'll list 35 of the world's most iconic places. Hopefully, this list inspires you to get out there and see some of these attractions for yourself!
For each landmark, we'll also include a Worldpackers work exchange opportunity. Traveling to some of these destinations isn't always cheap, but doing a work exchange can help you save money on accommodation.
Also, a work exchange allows you to live and work near some of these iconic places. There is no better way to learn about the history and culture of a place than by living and working alongside locals.
So let's get into the list of iconic places around the world!
35 Iconic Places Around The World
Here are 35 of the most iconic places around the world. They are separated by continent, though of course this is just a handful of the world's most amazing landmarks. There are so many more!
These landmarks also have great work exchange opportunities, for those looking to save money or have a unique cultural experience.
Most iconic places in North America
Niagara Falls, Canada
Consisting of three massive waterfalls at the edge of the Niagara Gorge, Niagara Falls is one of the world's most spectacular natural sights. The falls straddle the border of Canada and New York, USA.
Canada is not a cheap country to visit, so you can save money by working in a hostel in Toronto. This fun Canadian city is just 1 hour away from Niagara Falls.
Statue of Liberty, USA
One of the most iconic places in New York is the Statue of Liberty. This 305-foot-tall statue of Lady Liberty holding up a torch is a symbol of freedom. The statue resides on Liberty Island in New York Harbor.
A fun work exchange idea in New York is working in a hostel near Central Park. You can help out with housekeeping and reception in exchange for a free stay in one of the world's best cities. In your free time, you can check out other NYC iconic places like the Empire State Building.
Golden Gate Bridge, USA
Another incredible sight in the USA is the Golden Gate Bridge in San Francisco. This massive suspension bridge is known for its rustic red color, and when it was built in the early 1900s, it was the tallest and longest suspension bridge in the world.
The bridge is one of the best San Francisco iconic places, and you can stay in the city on a budget by volunteering at a yoga studio.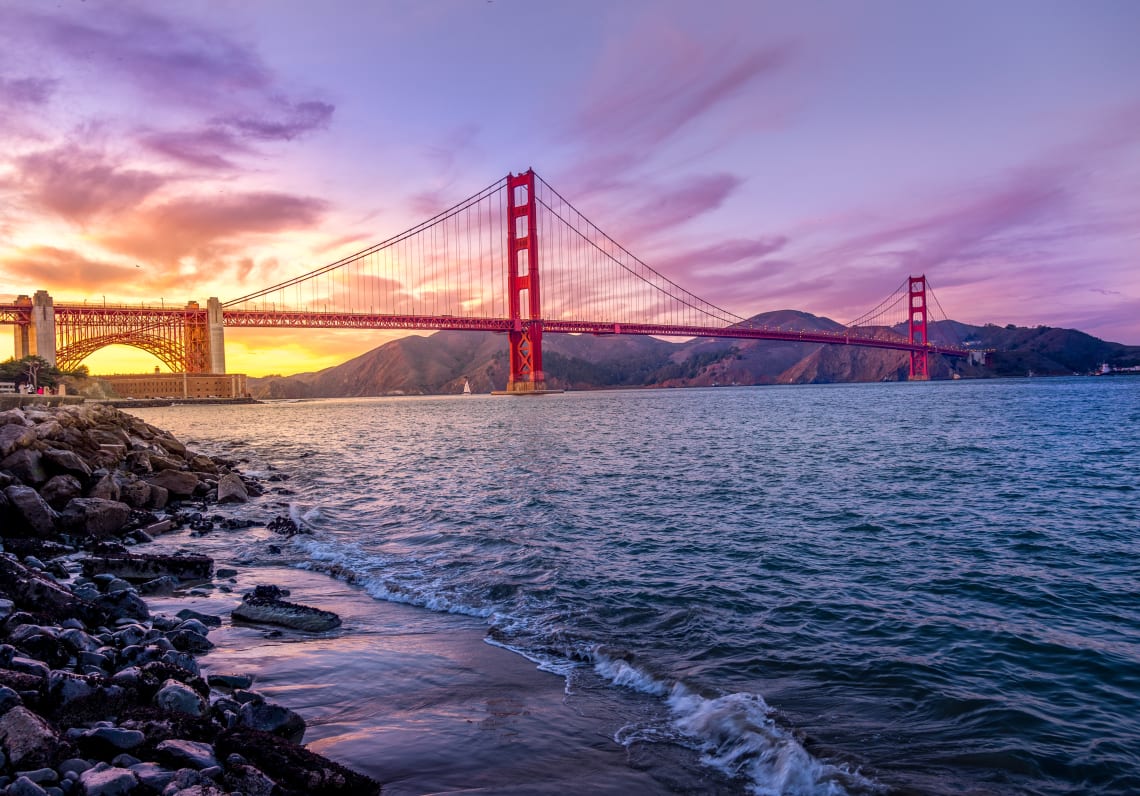 Banff National Park, Canada
One of the world's most gorgeous national parks is Banff National Park in Alberta, Canada. Home to jagged alpine peaks, turquoise glacial lakes, and the famous Icefields Parkway scenic drive, Banff is a haven for lovers of natural beauty and adventure.
A cool work exchange to try in Alberta is this family-run ice cream shop in Twin Butte, just 3.5 hours away from Banff National Park. Stay in a local family home and help with running the shop as well as animal care.
Balboa Park, USA
San Diego itself is one of the most iconic places in the USA. Within this sunny, Southern California city, Balboa Park is one of the most visited tourist attractions. The park is full of history, architecture, art, and nature. You could spend an entire day exploring this oasis of culture in San Diego.
Any experienced videographers visiting San Diego should consider this work exchange! A local hostel is looking for volunteers to come and help with videography.
Most iconic places in Latin America
Iguazu Falls, Argentina
Another one of the world's most incredible waterfalls is Iguazu Falls. Located on the northern tip of Argentina, on the border of Brazil, this waterfall is twice as tall and almost 3 times as wide as Niagara Falls. It's a jaw-dropping natural landmark in South America.
For a fun work exchange in the town next to Iguazu Falls, you can work as a tour guide, party promoter, and bartender at this exciting hostel.
Uyuni Salt Flat, Bolivia
Check out the world's largest salt flat when you come to Bolivia! The Uyuni Salt Flat is over 10,000 square kilometers and is full of otherworldly natural scenery.
There are no work exchanges close to Uyuni Salt Flat, as Bolivia is a very large and rural country. But there is a cool work exchange in Tariji, Bolivia, about 7 hours away from the Salt Flat. You can volunteer with housekeeping and gardening, and visit the iconic landmark before or after your work exchange.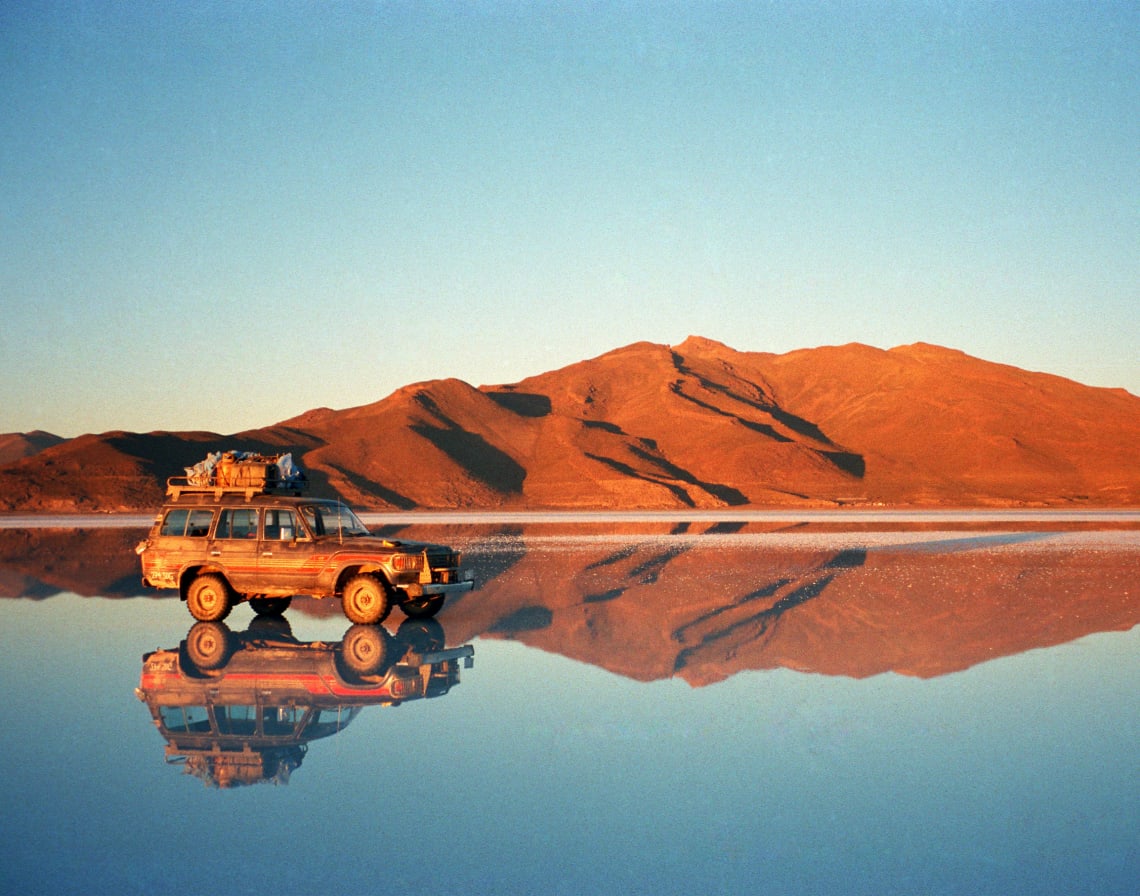 Christ the Redeemer, Brazil
As the largest Art Deco monument in the world, Christ the Redeemer sits atop Mount Corcovado in Rio de Janeiro, Brazil. It is a super well-known and cherished statue in Brazil that overlooks one of the country's most exciting cities.
A fun-filled place to volunteer in the heart of Rio de Janeiro is this hostel, which needs volunteers for playing music, party promoting, and bartending.
Machu Picchu, Peru
Another one of the most iconic places in Latin America is Machu Picchu. This 15th Century Inca village and citadel that sits atop a gorgeous mountain is one of the most scenic and special places to visit in Peru.
Cusco is a lively tourist city near Machu Picchu. Here you can work as a web developer for a tour company in exchange for free accommodation.
Chichen Itza, Mexico
One of the most famous tourist attractions in Mexico is Chichen Itza, an ancient Mayan city. The sacred site is very well preserved and is one of the world's most incredible archaeological sites.
You can do a work exchange in Valladolid, a city in the Yucatan Peninsula about 40 minutes away from Chichen Itza. This hostel needs help with painting and decorating.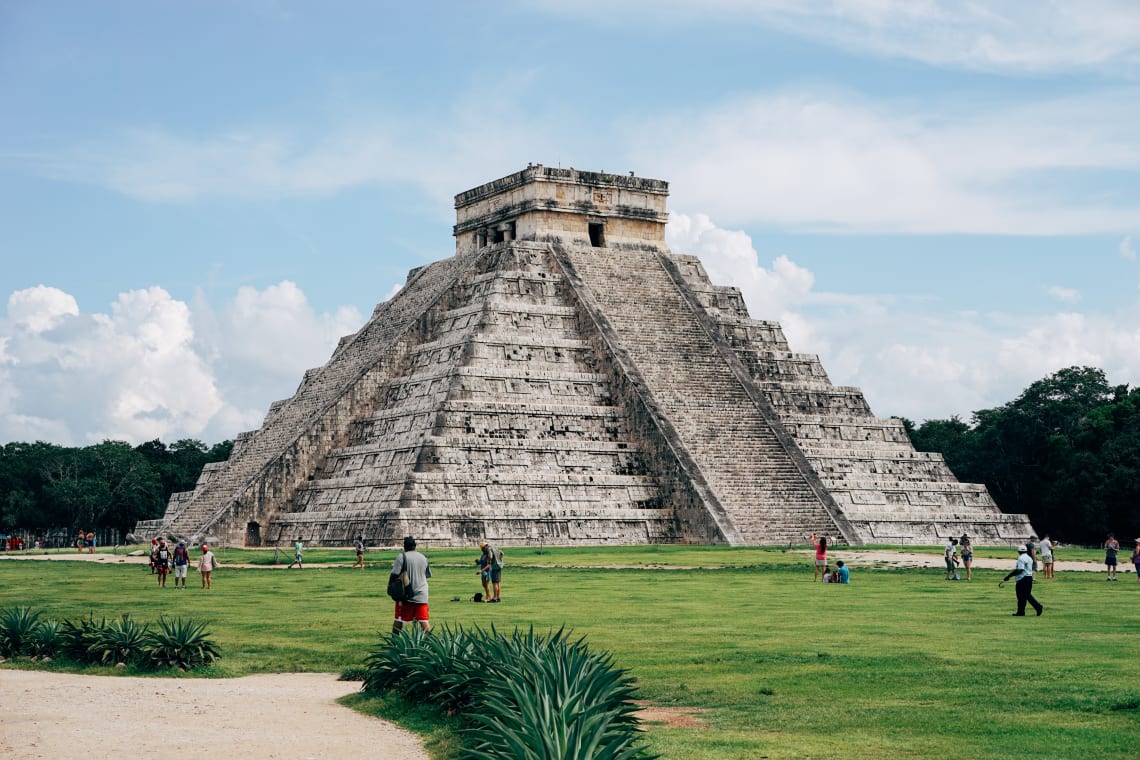 Lake Atitlan, Guatemala
Located in the Guatemalan Highlands of Central America, Lake Atitlan is a beautiful lake in a volcanic crater. Surrounded by charming Mayan towns and towering volcanoes, there is so much to do here in terms of culture, history, and exploring nature.
San Juan La Laguna is an artistic local town on the edge of Lake Atitlan. You can volunteer at an eco-lodge here doing reception and cleaning in exchange for a free stay.
Most iconic places in Europe
Big Ben, UK
Big Ben is one of the world's most famous tourist places. Located in the borough of Westminster in London, England, Big Ben refers to the bell of the clock that sits atop the Elizabethan Tower. The Tower sits next to the Houses of Parliament, another famous landmark in the UK.
To save money in London, you can help out in a family-run restaurant kitchen in exchange for a free stay in a flat in the heart of the city.
Eiffel Tower, France
The Eiffel Tower is undoubtedly one of the world's most iconic places. This wrought-iron tower in downtown Paris is a famous sight that lights up at night. You simply can't visit Paris without snapping a photo of the Eiffel Tower!
Just south of Paris lies a local farm that needs help with animal care and gardening from volunteers! On your days off you can tour Paris and check out other iconic places in the city like Versailles, Arc de Triomphe, and the Louvre Museum.
Colosseum, Italy
As the world's largest amphitheater ever built, the Colosseum is a famous landmark just for that reason. What makes the Colosseum even more amazing is that it's still standing tall today even though it was built between 70 and 72 AD.
Rome is full of ancient landmarks, and you can see them all on a budget by doing a work exchange. This family-run hostel needs outgoing and hospitality experienced volunteers to help with day-to-day runnings of the hostel.
Hagia Sofia, Turkey
This magnificent mosque in Istanbul, Turkey is a beloved cultural and historic site in the city. It has served many different purposes throughout many different times in history, including the Byzantine Empire and the Ottoman Empire.
A great way to get involved in the culture of Istanbul is working in a peaceful hostel in exchange for accommodation.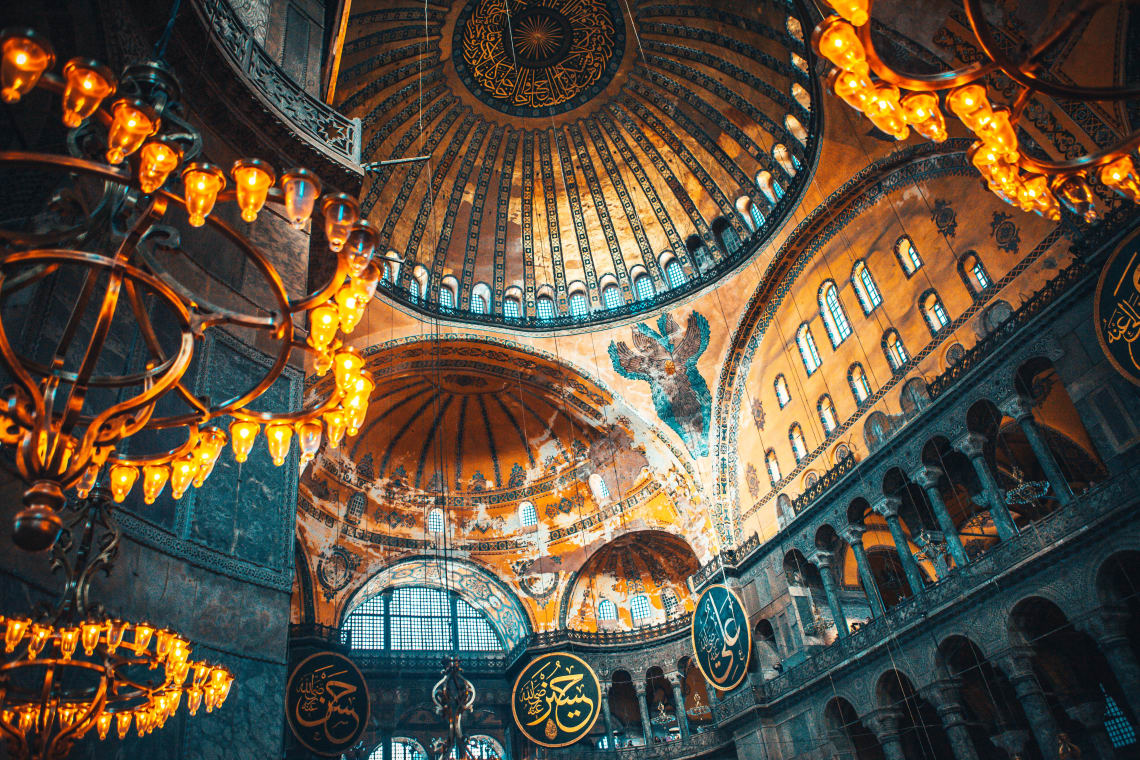 Stonehenge, UK
Another one of the most iconic places in Europe is Stonehenge. This prehistoric monument is a collection of carefully placed stones. It's a baffling sight, and is a unique insight into the history of the Neolithic and Bronze Age.
Save money in the UK by staying in a family home in Alton, England, just one hour away from Stonehenge. They're requesting help with daily tasks and taking care of the dogs.
La Sagrada Familia, Spain
One of Spain's most fascinating tourist attractions is the Sagrada Familia. This outrageous church was designed in the 1800s by architect Antoni Gaudi. Though it is still unfinished today, it is a fascinating piece of architecture in Barcelona.
For a work exchange in Barcelona, you can work for a startup company doing content writing, video making, and social media.
Acropolis, Greece
The Acropolis of Athens, Greece is one of the most complete ancient monuments that is still standing today. It is a symbol of ancient Greece that sits atop a rocky hill overlooking the city.
Experience Athens with locals by volunteering in this hostel. Work in reception and housekeeping in exchange for free accommodation, meals, and excursions with your hosts.
Berlin Wall, Germany
The large concrete barrier known as the Berlin Wall separated West Berlin from Communist East Berlin from the 1960s to the 1980s. The Berlin Wall "Fell" in 1989, symbolizing a political and social change in Europe. Nowadays, the historic spot is covered in colorful murals and art.
Berlin, Germany is a vibrant city filled with culture, history, and nightlife. Work the night shift in a hostel in Berlin to enjoy a free stay in the city. You can explore during your 3 days off per week!
Alhambra, Spain
One of the top tourist attractions in southern Spain is the Alhambra in Granada. This massive palace and fortress is one of the most impressive remnants of historic Islamic architecture in Europe.
If you have bartending experience, you can run a rooftop bar in a hostel in Granada in exchange for a free stay in this gorgeous city.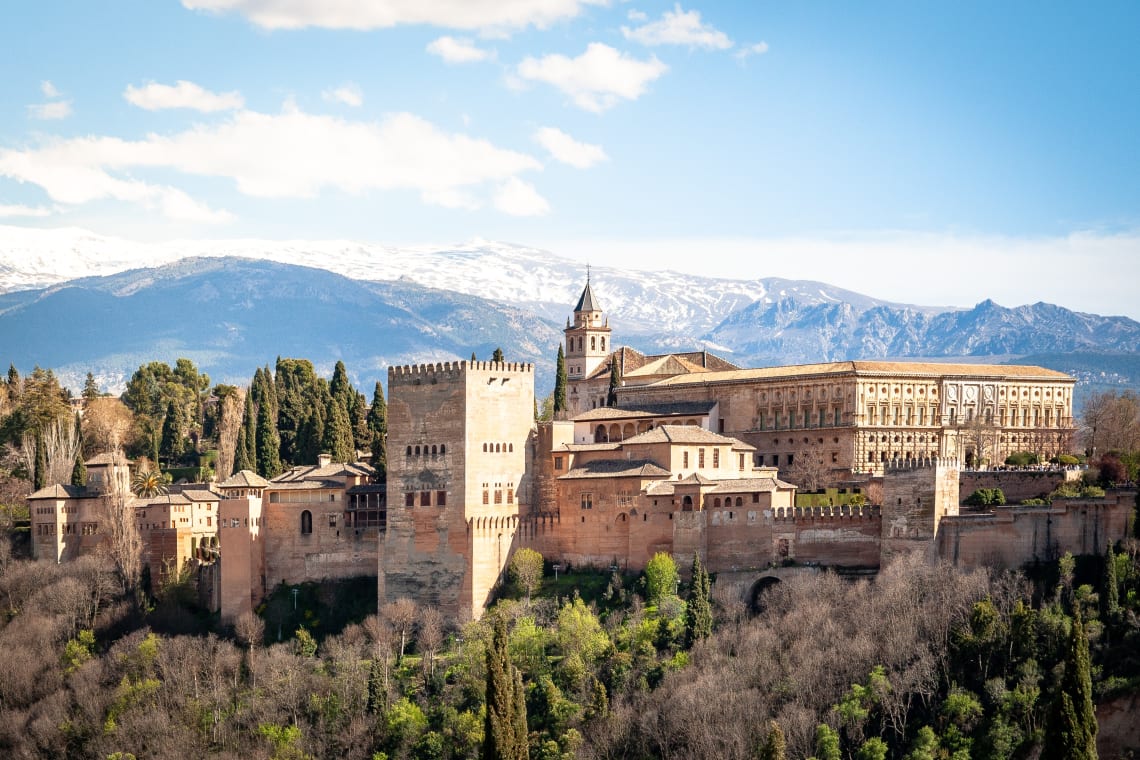 The Duomo, Italy
Whether you call it the Florence Cathedral, the Cattedrale di Santa Maria del Fiore, or the Duomo, this architectural masterpiece in Florence is one of the most famous tourist attractions in Europe. Designed by architect Filippo Brunelleschi, the cathedral is a revered symbol of the Italian Renaissance.
To fully experience the beauty and culture of Italy's Tuscany region, work in cleaning and housekeeping in a countryside hotel. You can explore the area and head into Florence on your days off.
Most iconic places in Asia/Oceania
Petra, Jordan
One of the most iconic places in the Middle East is Petra in Jordan. This archaeological site located in a canyon in the desert has entire temples and tombs carved into the cliffs. It's a world-famous UNESCO World Heritage Site that dates back to 300 BC.
For a unique cultural experience, try this work exchange in the Quairah District, 1.5 hours away from Petra. You'll be camping in the desert in exchange for painting murals of the local culture.
Ha Long Bay, Vietnam
The stunning Ha Long Bay in northeast Vietnam is known for its abundance of limestone cliffs and islands scattered throughout the vibrant turquoise sea. People flock here for hiking, rock climbing, scuba diving, and going on scenic boat tours.
A fulfilling work exchange to try in Vietnam is teaching English for an NGO in Hanoi, just 2.5 hours from Ha Long Bay.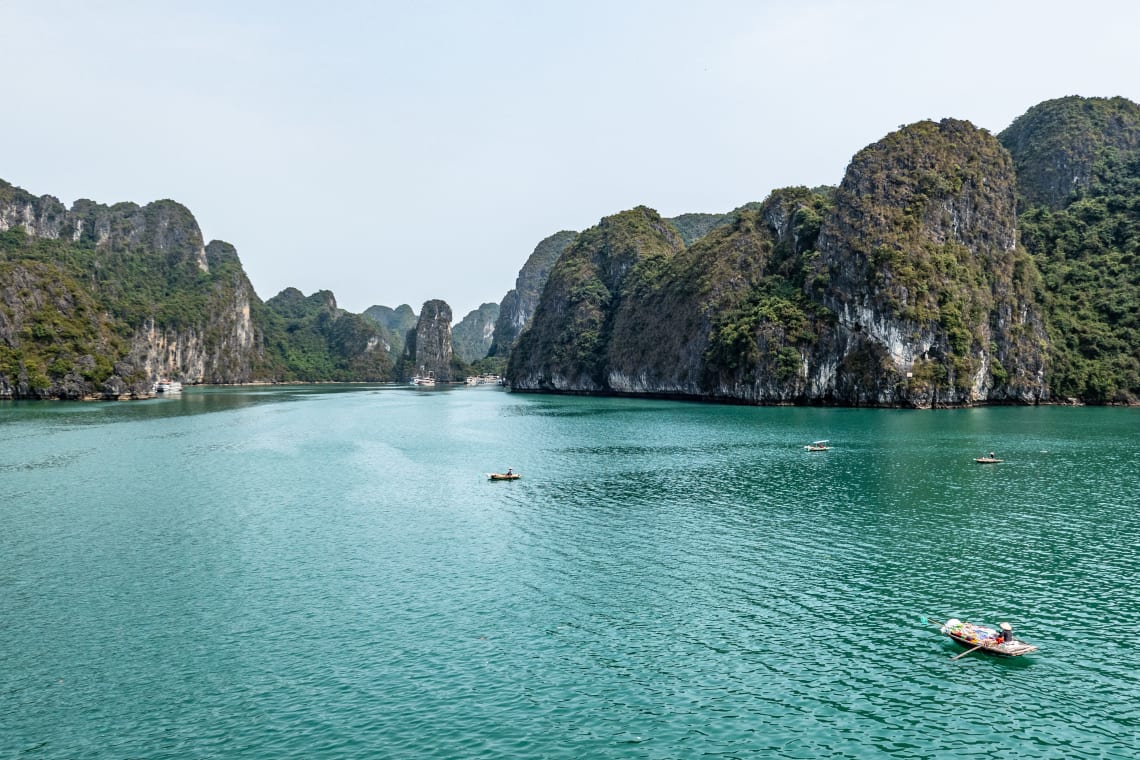 Mount Fuji, Japan
The tallest mountain in Japan, Mount Fuji is an iconic sight and sacred place for Japanese locals. You can embark on a challenging hike to the top, or just admire the views of the snow-capped summit from surrounding towns and cities in Japan.
There is an awesome hostel work exchange opportunity in Hakone, a mountain town known for its hot springs that is just 1.5 hours from Mount Fuji.
Great Wall of China, China
One of the most well-known tourist places in the world is the Great Wall of China. This series of fortifications from ancient Chinese states and dynasties used to act as protection from nomadic invaders.
There are no volunteer positions available in Beijing, which is the closest city to the Great Wall of China. But there are other work exchanges around China that you can fly to after visiting the Great Wall in Beijing. One option is helping with SEO and web development for a school in a beautiful town called Yangshuo in Southern China.
Mount Everest, Nepal
Mount Everest is famous for being the tallest mountain above sea level on the planet. Ambitious hikers flock here to climb the dangerous hike to the summit. Even if you don't plan on hiking, Mount Everest is one of the world's most impressive natural attractions.
To learn about the Nepalese lifestyle and culture, volunteer on a permaculture farm in Kathmandu, the capital city of Nepal.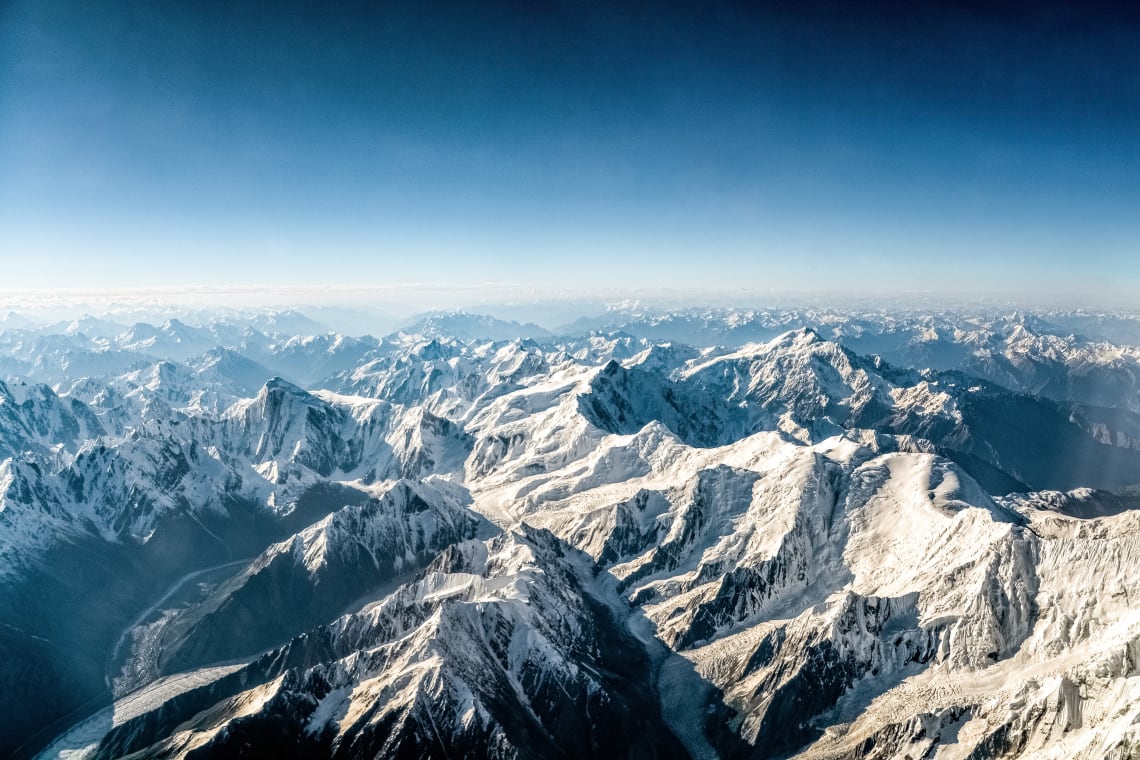 Angkor Wat, Cambodia
The largest religious monument in the world is the Angkor Wat temple complex near Siem Reap, Cambodia. The collection of temples from the Khmer Empire is a UNESCO World Heritage Site that is truly awe-inspiring.
Cambodia is an extremely cheap country to visit, so saving money won't be a huge concern for travelers. But if you want a rewarding cultural experience where you can give back to the community, consider volunteering for an NGO in Siem Reap.
Great Barrier Reef, Australia
The Great Barrier Reef off the coast of northeastern Australia is one of the seven wonders of the natural world. You can visit the world's largest coral reef system and go snorkeling or diving amongst the diverse marine life.
A super cool work exchange opportunity is volunteer at a wildlife park in Magnetic Island, which is right off the coast of Townsville, Queensland.
Grand Palace, Thailand
One of the top tourist attractions in Bangkok, the capital city of Thailand, is the Grand Palace. As the official residence of the Kings of Siam since the late 1700s, the Grand Palace is a complex of temples and buildings that are slathered in gold and colorful jewels.
If you're a certified yoga instructor, you can volunteer in a hostel in Bangkok teaching yoga to the guests in exchange for free accommodation.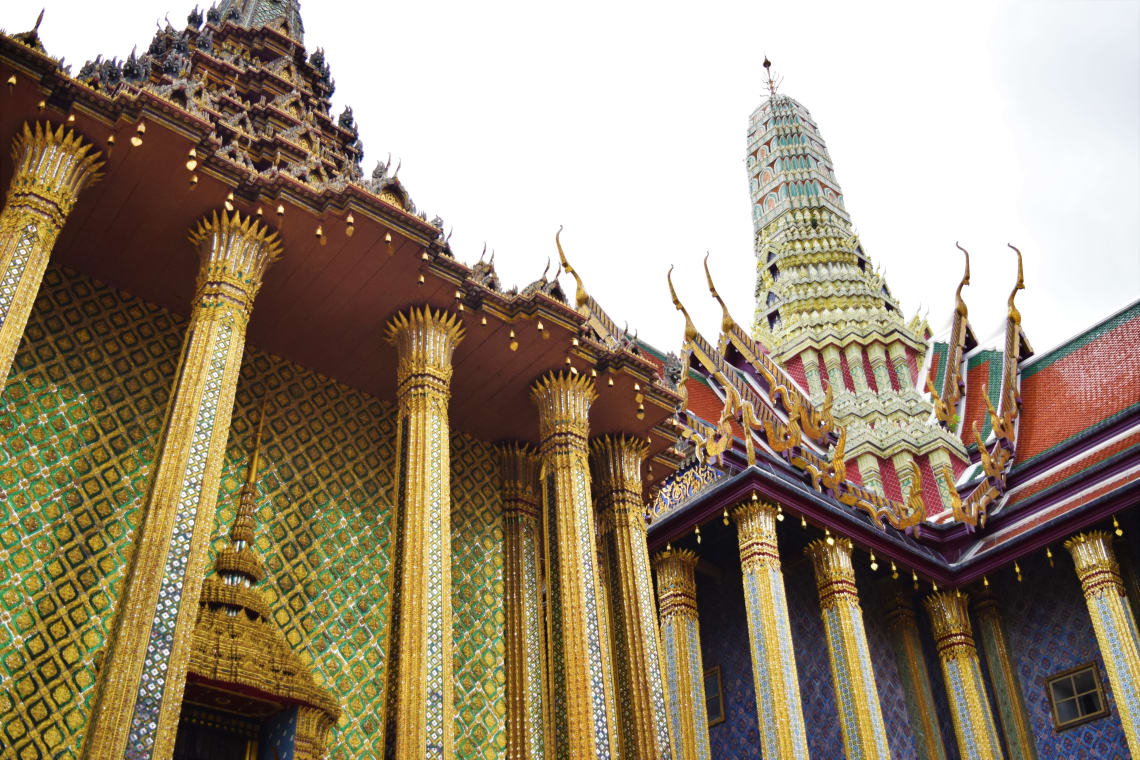 Taj Mahal, India
The stunning white building on the bank of the River Yamuna known as the Taj Mahal is another top tourist attraction in Asia. Located in Agra, India, the Taj Mahal is a mausoleum complex built to house the remains of Mughal Emperor Shah Jahan's wife. It's one of the most beautiful tombs in the world.
You can volunteer in a hostel in Agra, right next to the Taj Mahal! It's a great way to learn about the local Indian culture and save money on accommodation.
Sydney Opera House, Australia
The layered white sails of the Sydney Opera House is one of the most famous tourist attractions in Australia. Located in the center of Sydney Harbour, the performing arts venue is a huge draw for tourists exploring Australia's most populated city.
There are no work exchanges directly in Sydney, but there are some cool ones further up the coast. Experience the real rural Aussie lifestyle by volunteering at a bush campground in Crescent Head, about 4 hours north of Sydney.
Most iconic places in Africa
Mount Kilimanjaro, Tanzania
The dormant volcano of Mount Kilimanjaro is Africa's highest mountain. Located in northeastern Tanzania near the Kenyan border, travelers love to hike to the summit and then enjoy the wildlife and culture of eastern Africa.
Just 100km away from the mountain is a town called Arusha. Here you can volunteer with an NGO and spend time doing arts and languages with the local children.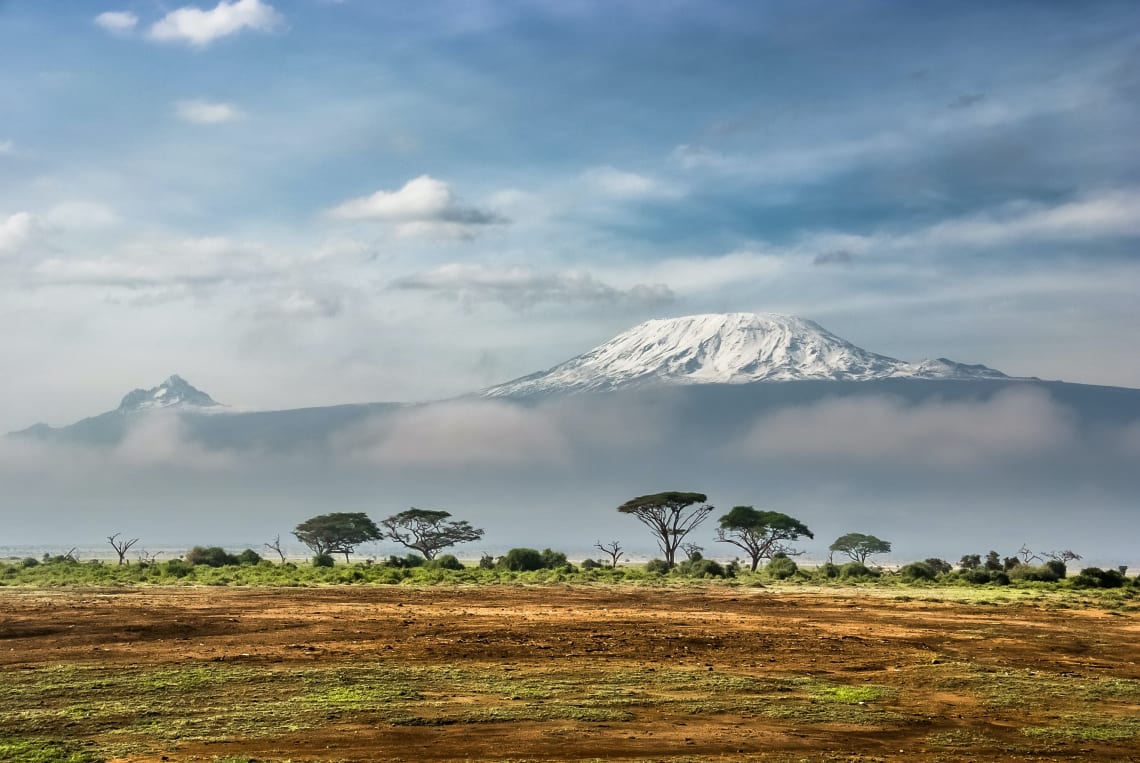 The Great Pyramid of Giza, Egypt
As the oldest of the Seven Wonders of the Ancient World, and the only one that still remains intact today, the Great Pyramid of Giza is a truly spectacular sight. It is the largest pyramid in Egypt and was built in the early 26th Century BC.
You can actually work at a guesthouse in Cairo, Egypt, where you can see the pyramids right from the property! Help with housekeeping, reception, and gardening in exchange for a free stay.
Table Mountain, South Africa
Table Mountain is a flat-topped mountain in the city of Cape Town, South Africa. You can hike to the top or ride the cable car and enjoy stunning views over the city, mountains, and beaches of Cape Town.
Cape Town is a fun and vibrant city. Help at a popular guest house in Cape Town doing reception, photography, bartending, and more.
Victoria Falls, Zambia
Another one of the world's largest waterfalls is Victoria Falls, which lies on the border of Zambia and Zimbabwe. It's one of the most famous natural landmarks in Africa, and the area is known for its unique geological features and flourishing wildlife.
You can work at a hostel in Livingstone, Zambia, which is right next to the famous waterfall. Help out with social media, photography, or playing music for the guests and have an epic time!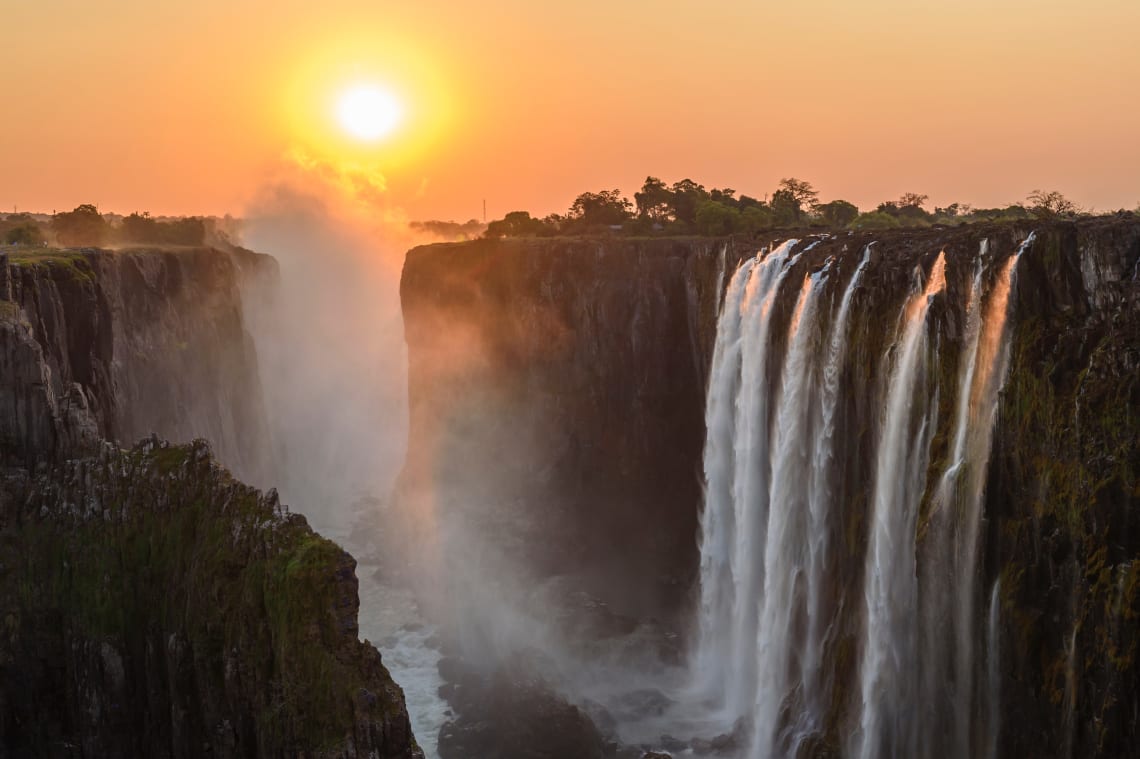 Thanks for reading about 35 of the world's most iconic places!
If you're interested in visiting any of these iconic places around the world or doing any of the work exchanges mentioned, subscribe to the Worldpackers Community for free and start saving your favorite volunteer positions until you are ready to get verified.
Check out this article on the 20 best historic places in the world